CBD drinks are popping up all around NYC and in all five boroughs. CBD, aka Cannabidiol, is being added to coffee drinks in creative ways and helps patrons take the edge off during the pandemic's numbing isolation.
CBD infused drinks are renowned for removing the caffeine jitters that accompany a memorable cold or hot coffee drink. Whether it's CBD Vape Juice or other CBD additions, you can bet it will make your day!
The CBD Infused drinks trend is booming, but don't despair if you're a tea lover. These hot-spots will gladly prepare a CBD-infused tea for your pleasure. The baristas in our 5 best places to get CBD Infused drinks in NYC will gladly customize your favorite coffee or other drink with an infusion of CBD, so you can enjoy being creative!
You can find the most popular CBD infused drinks in the local hipster cafes that dot the NY boroughs. From Queens to Brooklyn to Manhattan proper, here are the 5 best places to get CBD infused drinks in NYC. Happy sipping!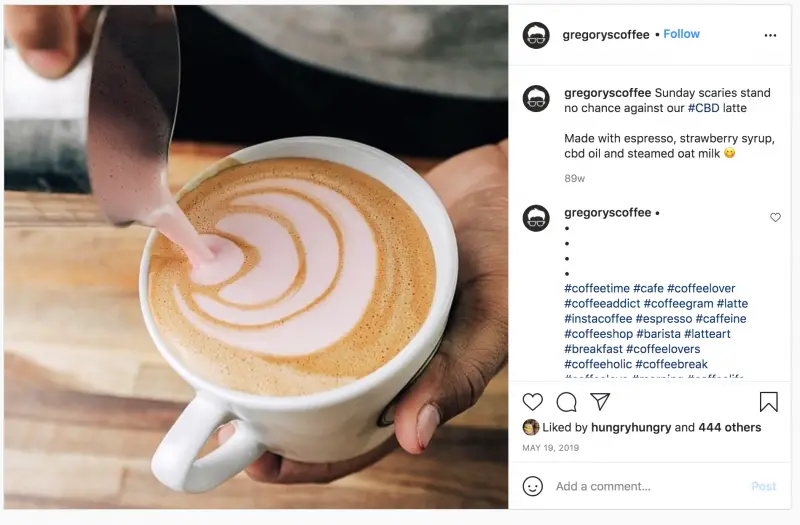 This latte is made with the finest espresso, some strawberry syrup, milk of your choice, and CBD oil.

Gregory's Coffee is a pioneer in NYC CBD infused drinks and they offer their drinks all over the city. With 28 locations, this is the big Daddy of CBD infused coffees, with lattes and other CBD specialty drinks on the menu. 
Each location offers a local neighborhood vibe, and their baristas are highly trained, friendly, and willing to create any drink you desire.
The cost is about $9 a cup for the strawberry latte, but adding a dash of sweetness to the CBD-infused latte is brilliant because it removes any bitterness trace.
To see a list of all 28 locations for Gregory's Coffee, click here.
This cafe is the very first place in NY to provide CBD-infused drinks to coffee lovers. One of the big attractions here is their 'Flower Power' CBD-infused coffee. Caffeine Underground also offers CBD-infused tea, so be sure to check out their "Trippin' Tea."
Caffeine Underground's  CBD-infused coffee drinks caught on like wildfire. The flexible Bushwick DIY cafe also features live music events happening all the time. It's a lively, fun place to kick back and sip your CBD-infused drink.
Nestled in the hip Flatiron District, Patent Coffee offers barista-created seasonal drinks that include CBD-infused options.
This coffee shop offers a whimsical, charming vibe and is reminiscent of a small cafe you might discover in Holland. The staff is welcoming, and as per the CBD infused drinks, they offer the perfect yin and yang of rich deep taste with a hint of sweetness to remove any bitterness.
The menu is brimming with unique drinks you can order with CBD, such as their S'mores Latte, Spiced Yam Cappuccino, Spicy Boy, and many more.
A popular choice is the CBD-infused Arnold Palmer, but don't miss the famous CBD cold brew, a bright, delightful refreshing drink.
A trip to Chinatown and the Lower East Side is always cool, and with Oliver Coffee on hand, it's even better. This beloved coffee spot is a one-of-a-kind NYC gem, with its sidewalk, open-window ordering, and spectacular coffees.
This creative cafe offers specialty lattes and will add CBD oil to any drink for just a few dollars. Created especially for CBD-infused drinks are the magnificent Rose-Infused Maple, Golden, and oat milk lattes.
Look for the people standing outside the colorful open windows when you arrive, and follow the scent of some hauntingly good drinks!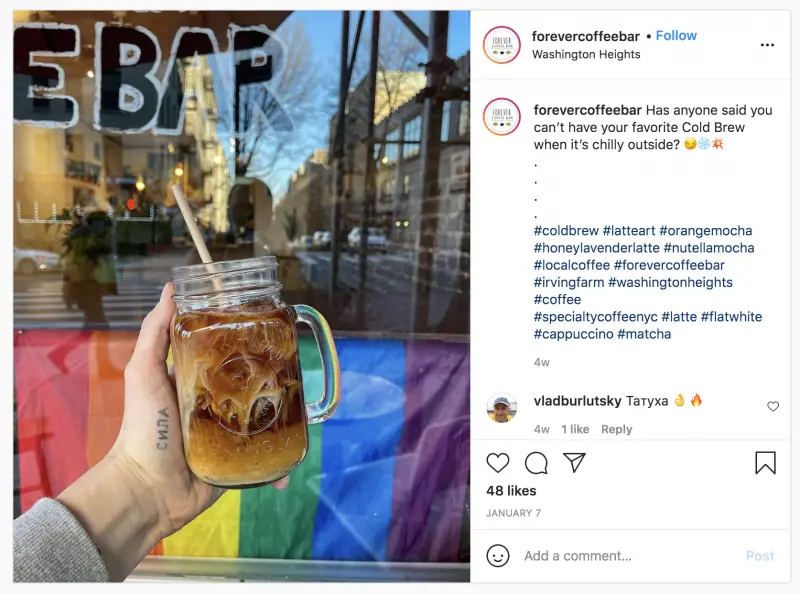 Forever Coffee Bar is famous for robust, excellent coffee served with a prominent NYC smile.
Instead of heading over to the spot for hot CBD-infused drinks, this is the artsy upper NYC place for a cold version.
At Forever Coffee Bar, they offer cold sparkling water with CBD, which is a game-changer as you rush around the city and need to hydrate fast.
This CBD-infused sparkling water is worth mentioning because not many places in the city offer it in such a charming, relaxing place.
When you're there, be sure to check out the art. Like all coffee shops and cafes found in NYC city and its boroughs, you'll appreciate the artsy vibe in this uptown coffee bar.
---
Your CBD Infused Coffee Take Away
In the city that never sleeps, a magical cup of java hit with an infusion of CBD is the perfect choice on any given day—or night. Enjoy these 5 best places to get CBD Infused drinks in NYC!