There are many places around New York City where you can indulge your taste for everyone's favorite bivalves—minus your passport. (Mussels are used to monitor the health of both fresh and seawater, but most of us think of them as a delicious food often served as "moules frites," i.e., mussels with fries, considered the national dish of Belgium.) Here are our picks for the best mussel spots in NYC.
B. Café East (240 E. 75th St.) is narrow and popular, therefore often crowded. Mussels are served five ways: Marinière, Provencal, Malay Laksa, (with red curry and coconut milk), garlic and beer, or Madrid with saffron, chicken broth, and wine, all versions cooked in the traditional pot, with "double fried fries" and Belgian mayo, $24. Other eats include a hearty Belgian beef stew, roast chicken, salads and burgers. Beers galore include Trappists, Lambics and drafts; the Beer Paddle brings a choice of any five 5oz glasses.
Lots of oysters ($3.75 apiece) are shucked at Blue Seafood Bar, (856 Ninth Ave. @56th.) At dinner enjoy a mussels and clams appetizer and sometimes a pasta special with sea creatures including a half lobster and mussels. There is a full bar, good service and the space can be rented for private events. Weeknight dinner starts at 4pm.
Flex Mussels (154 W. 13th St. and 174 E. 82nd St.) began life as a seafood shack in Prince Edward Island. Flex offers mussels cooked in twenty-plus ways; has a happy hour every day of the week and brunch at both locations Saturdays and Sundays. Mussels fall in categories like creamy, (Dijon has mustard, white wine and crème fraiche, $25); tomato includes The Angry Lobster with lobster, red wine and chili flakes,  $29.50), while the Flexy category skews Asian. Non-mussel fans can enjoy fish tacos, fried oysters or peel- and- eat Old Bay Shrimp. Wine, beer and cocktails are available; desserts include the "Flex Donut Collection" with flavors like Fluffernutter. Cinnamon, wild blueberry and Meyer lemon, 4 for $10/6 for $14.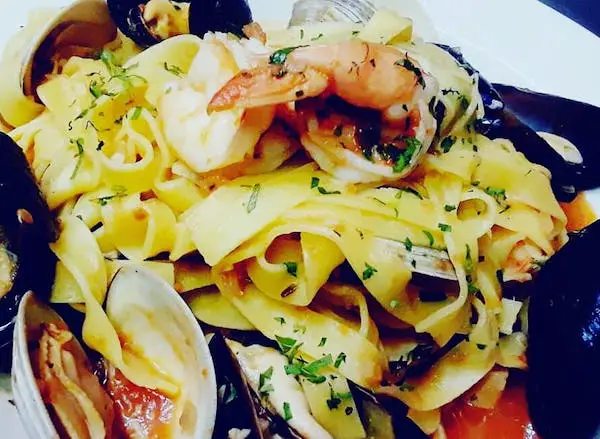 Tartine (253 W. 11th St., at W. 4th St.), is a West Village cash-only institution. In business for over 20 years, this French bakery-cum-bistro serves onion soup, escargot, an excellent pissaladiere (thin crust tomato and onion tart), and a pot of mussels steamed with shallots, garlic, thyme, parsley, and white wine that can be infused with lemongrass/cilantro or Indian curry, $22. Tartine's bakery, open at 9am, turns out pan au chocolat, $3, a real brioche, $2.50, and other goodies. Space is small; in warm weather there are outside tables.
There are three upper West Side Dive Bars, all known for bargain food and epic alcohol—especially beer—but only 732 Amsterdam Ave at 96th Street serves steamed mussels with fries, $18 or "open faced" with various toppings, $14. Dive Bar classics include mac and cheese $10; burgers of every persuasion mostly $14, and an all-the-time breakfast with omelets and scrambled egg tacos, laced with chorizo and served with rice, beans,  and salsa, $12. Cheap (relatively) and fun, Dive, originally a speakeasy, is aquarium-themed, has trivia nights, and stays open until the wee hours.  
Le Bateau Ivre (translation: The Drunken Boat), 230 E. 51st St., opened in 1999. It's trés French with hundreds of wines available by the glass. Weekend brunch, $17.95,  brings one drink and a host of choices; Fridays at 6pm customers can taste one red and one white wine. Dinner appetizers include asparagus hollandaise ($11) and tuna tartare $15; there is a steak frites, $35, as well as seared salmon with sunchoke puree, $25.50,  and desserts like crème brulee and chocolate mousse. Mussels with fries clock in at $22. Two can dine nicely with wine for about $55 depending on wine choice.
Right in the heart of the Theater District, BXL Café has served Belgian beer and food since 2004. Sunday and Monday nights bring an all-you-can-eat mussels special served with a side of soccer. A hefty serving of mussels (Grandmere style has cream, bacon,  and onions; Marocain means green olives, tomato, and cilantro) is $25. Beer is king whether you want a Trappist, Abbey, or Sour Ale, served along with live music on weekends. The joint jumps starting at 8am weekdays, 11am weekends.
In Chelsea at 626 Sixth Ave. at 21st St., Markt is a classic Belgian brasserie with dark wood, vintage beer posters, and an antique bar, as well as a huge list of Belgian beers. Locals and tourists alike love this place, hence the buzz. The raw bar carries an enormous variety of oysters; order mussels and get a full kilo (2.2 pounds) served with excellent fries, $25, ($22 steamed plain without sauce). Lunch runs 11am-5pm; dinner from 5 to 11pm and brunch on weekends is 10 to 5pm. There are "bar bites" like beef sliders with waffle chips, $14, and a smoked mackerel spread, $10; a dinner pork chop entree is $30, lasagna (with meat or vegetarian) and numerous seafood options including skate and bouillabaisse, $28. The full bar offers cocktails and many wines by the glass; finish with desserts the likes of lemon tarte or a waffle with ice cream, Belgian chocolate sauce, and whipped cream, $12. Yum!