Let's clink our glasses to mark the arrival of autumn with some champagne in NYC. Each one of these champagne bars has its own approach to the art of serving champagne. While some offer tasting flights organized by note, others are celebrated for being champagne destinations entirely funded by women. There's also an award-winning restaurant with a celebrated wine list and a specially-curated champagne cart. Cheers to that! Featuring Air's Champagne Parlor, Le Privé, 701 West at The Times Square Edition, and more.
Le Privé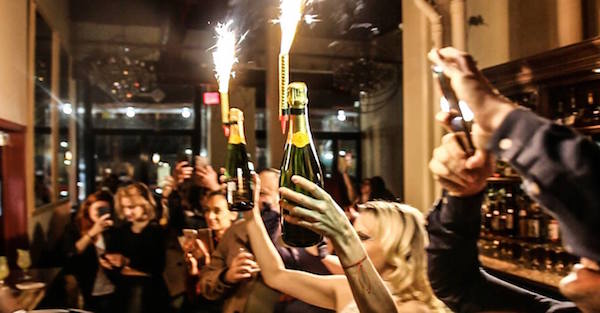 Chic brasserie Le Privé accommodates pre-theater diners as well as the weekend brunch crowd. Cocktails include Champagne-spiked Désobéissante or come to Le Privé for an inspired brunch with plenty of Veuve to go around (it's buy two bottles, get the third free during brunch hours). 626 10th Ave. , 212-837-2795, lepriveny.com
Air's Champagne Parlor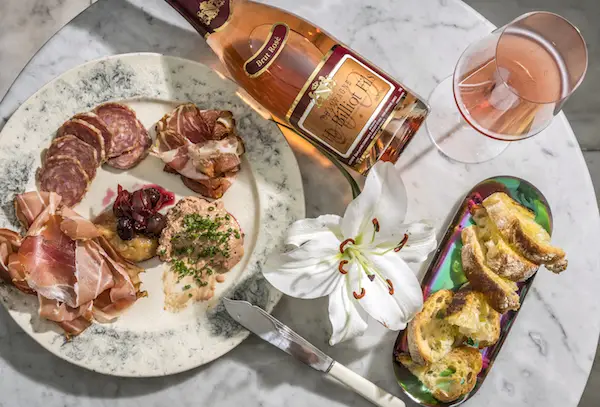 Credit: Kimberley Blanchot.
Air's Champagne Parlor aims to make the sipping of bubbly an accessible and fun experience. Its elegant, inviting 1920s-inspired space welcomes champagne enthusiasts to enjoy tasting flights for $40. It offers a wine menu that is organized by note. Think Fuji apples, smoked strawberries, or toasted almonds. Air's also features an extensive collection of vintage champagnes, blends, and sparkling wines that hail from Italy, Spain, the U.S., and beyond. Beyond the bubbly, guests can find unexpected pairings such as Air's caviar sandwich, or grilled cheese with apricot mostarda and lavender honey. For reservations, visit Resy. 127 Macdougal St., 212-420-4777, airschampagneparlor.com
Flûte Bar & Lounge
Flûte Bar & Lounge dates back more two decades. The decadent midtown-based champagne lounge opened its doors in 1997 in a space that once operated as a notorious speakeasy. Discarding the VIP nightclub service associated with the art—or lack thereof—of sipping champagne, Flûte opted for another type of ambiance—a chic, intimate yet comfortable setting. It's a place where French art de vivre mingles with the buzzing nightlife of New York City. Flûte Bar & Lounge welcomes champagne aficionados, those seeking a place to sip some bubbly with friends, or a romantic hideaway for a winning date night. It's also an ideal locale for toasting a celebration, or unwinding with colleagues. Beyond the bubbly, Flûte offers a full bar and a special menu of its own innovative sparkling cocktails, as well as small plates. 205 W. 54thSt., 212-265-5169, flutebar.com
The Riddler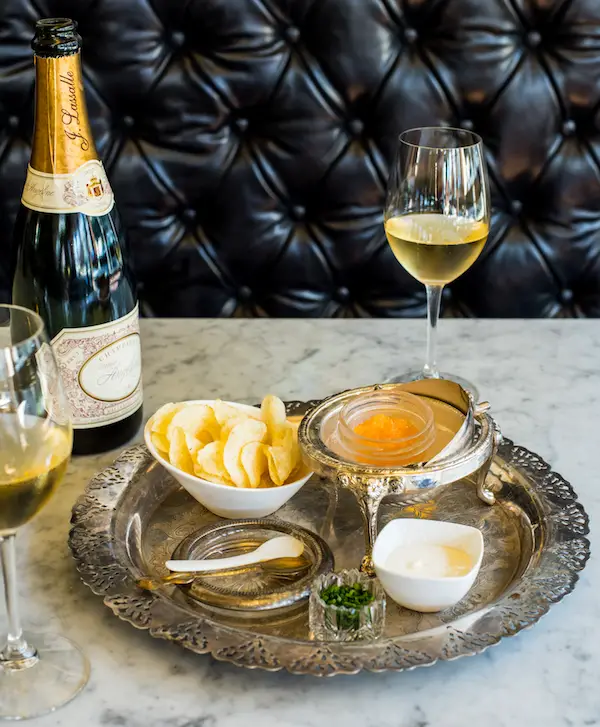 Photo credit: Kassie Borreson.
This month, the West Village welcomed the debut of The Riddler—an all-women funded champagne bar created by Jen Pelka. New York marks the second location of the esteemed destination, which has roots in San Francisco. The bubbly bar takes cues from the California locale, which recently nabbed Wine Spectator's "Grand Award." The Riddler's New York location offers an extensive wine list that boasts more than 100 champagnes by the bottle. It includes a vast library of reserves, vintage wines, an extensive selection of special club bubblies, and some rare finds. The menu also celebrates sparkling wines, still wines, and Miller High Life, "The Champagne of Beers." Playing up the "high-low approach," the menu highlights Pelka's most coveted champagne and food pairings. Her A-list includes an extensive raw bar, innovative takes on French classics, and The Riddler's signature tater tot waffles. Extra touches include antique service ware personally sourced by Pelka in destinations around the globe. The Riddler is home to a variety of champagne buckets uniquely hand-picked for each guest. 51 Bank St., 212-741-5136, theriddlerbar.com
701 West at The Times Square EDITION
701 West, which is located at The Times Square EDITION Hotel, recently made headlines when it was awarded three-stars from the New York Times. Wine Director Amy Racine is the sommelier behind the celebrated wine list and curated champagne carts, which greet guests as they enter the dining space. Racine encourages guests to kick off their food fetes with some chilled bubbly served by the glass. Selections include Krug, Grand Cuvée; Dom Perignon, Brut; Taittinger, Brut Prestige Cuvée; Paul Laurent, Brut; and Château Rives-Blanques among others. 701 Seventh Ave., 212-398-7017, 701westnyc.com