For those who crave a bit of zest come breakfast, consider the Mexican-inspired breakfast burrito or taco, which definitely up the flavor. Black beans, chorizo, guacamole, and salsa are just a few of the ingredients that make for memorable morning meals. Manhattan has a variety of places from sit-down to takeout, so take your pick for the best of Mexican breakfasts.
Gabriela's Restaurant and Tequila Bar 

Gabriela's gives its guests the choice of delicious breakfast tacos made with chorizo, bacon, ham, or steak. The handmade corn tortillas are filled with egg, avocado, cilantro, and radish. Cheese can be added to the mix. This Mexican breakfast is topped off with delicious avocado/tomatillo sauce. This family-friendly eatery also boasts outdoor seating, so head outside when the weather cooperates. 688 Columbus Ave., 212-961-9600, gabrielas.com 
Otto's Tacos
Pictured: Otto's in the West Village. New UES location set to open in May.
Otto's Tacos, which already has three Manhattan locations, is opening a new locale on the Upper East Side in May. Early risers can head to the Southern California-inspired taqueria to indulge in the Breakfast Gorgon, an exclusive offering for this location. The delish dish marks a first-ever breakfast item for Otto's. 141 Second Ave., ottostacos.com
The Press Shop
The bold new Breakfast Burrito at The Press Shop weighs in at nearly two pounds. It is stuffed to the brim with house-made home fries, farm fresh scrambled eggs, house-made pico de gallo, Nueske's bacon, cheddar cheese, and a swipe of creamy chipotle mayo. It is pressed to melty, crisp perfection. Those who can take the heat can top off their burritowith a dash of Queen Majesty hot sauce. 74 Bleecker St., 646-707-0264, thepressshopnyc.com 
Puebla Mexican Food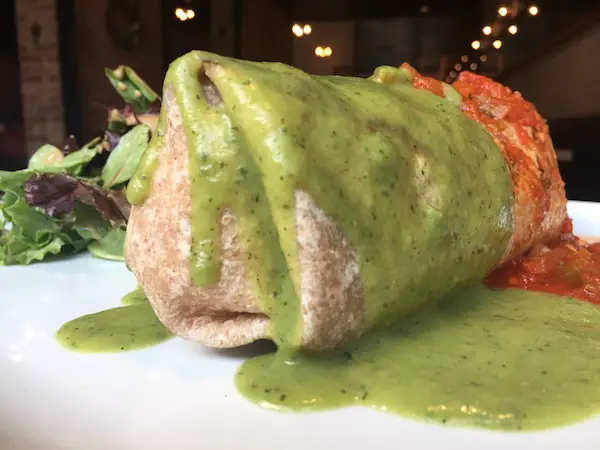 Craveable breakfast dishes at Puebla Mexican Food include the burrito de papa—a potato burrito made with eggs, cheese, and black refried beans. It is wrapped California-style in a flour tortilla and is drizzled with hot sauce. Caliente! There's also the chorizo breakfast burrito, which is also made with eggs, cheese, chorizo, and black refried beans—and is wrapped California-style and served with hot sauce on a flour tortilla. In a rush? Try the online ordering service. 120 Essex St., 212-473-6643, pueblamexicanfood.com
Spring Natural Kitchen

Via Facebook
Straying from the traditional Mexican menu is Spring Natural Kitchen. Its brunch menu offers its own health-conscious version of the breakfast burrito. It includes scrambled eggs, chorizo, black beans, Spanish rice, Monterey Jack cheese, guacamole, and green onions wrapped in a whole wheat tortilla. Ranchero and tomatillo salsas add some zest to this dish, which is served with baby greens. They also serve up tasty vegan burritos, too. 474 Columbus Ave., 646-596-7434, springnaturalkitchen.com
Those who want to try whipping up their own breakfast burrito can find recipes in chef John Currence's Big Bad Breakfast cookbook.