What to Pack When Visiting NYC in Winter
January 8, 2018 - by Merrill Lee Girardeau
Winter is a fun time to experience New York City, with holiday cheer and cozy interiors. However, the weather. The cold, wind, rain, and snow are no joke, and packing for these conditions can prove a challenge for visitors, even those accustomed to cold climates. Let these tips guide you to a better suitcase and a better, more bundled-up trip!
Packing Tips for Winter in NYC: Know Your Coat
No matter its style, your winter coat should first be practical. Make sure it's insulated with cotton, down, or another fluffy, puffy material to keep you warm when you brave the elements. Your coat should also be water-resistant or waterproof. You might like a slick synthetic material or something like waxed cotton, which is also waterproof. A hood also helps, particularly when it's lined with fur or fleece. We've found when your head is warm, your whole body tends to be warm too!
Packing Tips for Winter in NYC: Layer, Layer, Layer!
Whether you have long underwear, leggings, running tights, or long-sleeved t-shirts, do yourself a favor and wear them under your clothes if the temperature is predicted to be 32 degrees or below. Those temperatures might also necessitate multiple layers of socks (the bulkier the better!) and/or doubling up gloves. To cover your ears, bring a skullcap or beanie made of warm material like wool. Stop in Century 21 for a selection of extra layers that won't break the bank.
Packing Tips for Winter in NYC: Wear Snow Boots
In addition to leather boots, bring shoes or boots that are water-resistant and comfortable for long walks. To that end, you may want to walk them around your hometown to break in your shoes before they see the New York streets (which are great, but not always kind to our feet!). Make sure your shoes have traction on the soles as well to reduce your risk of slipping on wet or icy concrete. Fleece linings are a plus!
Packing Tips for Winter in NYC: Make Space in Your Suitcase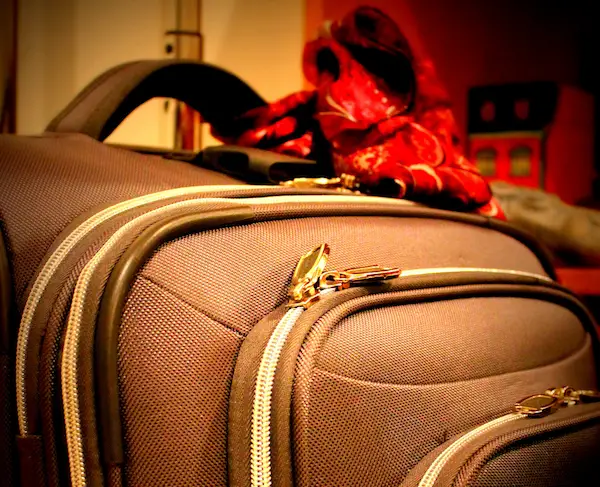 If you plan to shop in New York and want space in your suitcase, you have quite a packing challenge ahead of you. We recommend bringing only the bare essentials, i.e. no laptops or hair dryers (call ahead to make sure your hotel provides one). Roll your layers up so they take up less room, and wear bulky items like your coat and snow boots on the plane. Airplanes are always cold anyway, right?
You might also want to bring a suitcase that's easy to clean. Our leather roller bags have been the victim of one or two puddles of snowmelt and street salt, which leaves a yucky stain.
Packing Tips for Winter in NYC: Don't Forget the Extras
Make sure you purchase a US adapter, sucha as this Avenview adapter, available at B & H Photo & Video.
First and foremost, bring a portable phone charger. Your cellphone will likely lose battery a lot more quickly in the cold temperatures, particularly if you keep it in your hand or in an outside pocket (store it in the inside pocket of your coat, and avoid taking it out unless you're indoors). Don't forget to purchase a US adapter! Bring along a compact umbrella for inclement weather. If you have a camera, keep rain and snow out with a waterproof bag or pouch. Cold-weather accessories like ear muffs, scarves, and gloves with touchscreen-friendly fingertips can also add value to your trip. B&H Photo Video stocks every kind of phone / computer/ camera accessory you need when traveling.
Packing Tips for Winter in NYC: Make Reservations Now
After all the Central Park snowmen and walks in sparkly Greenwich Village, you are going to want plenty of time indoors to warm back up. Break up your day with cozy, warm restaurants, museums, shows, and shopping, and know that many other visitors will be doing the same. Go ahead and search City Guide for the top restaurants, theater, and other activities, and make reservations. You can always cancel them if you change your mind, but we think you'll be glad you booked them. And at dinner, ask if you can reserve the table by the heater.
Looking for Free Group Planning Services?
Get free advice on planning your group's trip to New York.
RESTAURANTS

Multi-concept restaurant offering modern Japanese cuisine, a...

THEATER

In a heartbeat, 38 planes with 6,579 passengers were strand...

SHOPPING

The world's largest source of cameras, camcorders, and more ...

SIGHTSEEING

Hop aboard these environmentally friendly twin-hulled catama...
SAVINGS OPPORTUNITIES
Carmel - $4 off any trip over $20. -12/31/2019