Umberto's Clam House opened on Mulberry Street in 1972, and for the past 45 years it's been serving up some of the freshest seafood in all of New York City. Located in the heart of Little Italy, Umberto's is a hot spot for both local New Yorkers and visiting tourists alike. Thanks to its welcoming environment and enticing seafood dishes, the restaurant is as much a draw today as when it opened.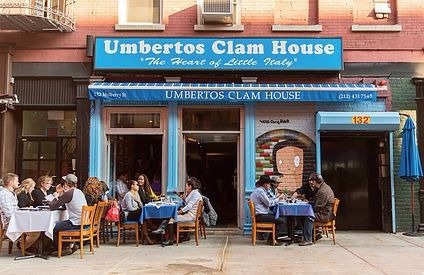 The History
Founded by Umberto Ianniello when he was only 35 years old, there's no denying the amount of history that plays a major role in Umberto's Clam House's atmosphere and customer service. During the early 1970s, Umberto realized that there really weren't many seafood restaurants in Little Italy, and he decided that he was going to change that. Encouraged by his parents, Umberto's Clam House opened its doors in 1972, and they've been wide open to the public ever since.
The Atmosphere
Looking for somewhere comfortable and cozy for dining in Little Italy? Umberto's Clam House won't disappoint. The atmosphere here is one that's friendly and casual, yet still lively with the likes of accordion players and strolling minstrels making appearances from time to time. The interior aesthetic is both classic and timeless, making Umberto's Clam House a place that every visitor to New York City must visit at least once.
The Food
While clams are the obvious specialty of Umberto's, you'll find a wide array of menu options that will impress the taste buds. The restaurant's lobster bisque is a local favorite, made to be creamy and rich, with a dash of sherry. The zuppa di clams can be ordered with either a red or white garlic sauce depending on your preference. Fresh calamari, shrimp, mussels, and celery make up the insalata frutti de mare, all tossed in fresh garlic and olive oil.
When it comes to entrees, the "Old Time Favorites" are not to be ignored. Mussels, fried calamari, fried shrimp, scungilli, and sauteed calamari can all be served solo or with linguini. The pasta at Umberto's is made fresh, leading to a culinary experience that's difficult to replicate. The penne a la vodka, lobster ravioli, and fettuccine Alfredo are all popular dishes, along with linguine & clam sauce, fettuccine carbonara, and baked ziti.
If seafood is more your style, then get ready to make a tough decision, because you'll be choosing between shrimp scampi, shrimp Francese, broiled scallops, lobster tail, red snapper Marechiaro, and fried clams. If you've arrive with a date, you may even want to consider the Fried Fishermen's Platter, which comes with shrimp, calamari, fried clams, filet, scallops, and French fries for two.
The Drinks
No meal is complete without the appropriate drink. You can find a wide selection of reds, whites, and sangrias at Umberto's, but it's their specialty cocktails that are the most famed of the beverages. The Umberto's Bloody Mary comes served with an oyster shooter, and the homemade limoncello is made from the zest of Femminello St. Teresa lemons.
Hours
Umberto's Clam House is open from 11:00am – 1:00am, seven days a week.
132 Mulberry St. (Hester-Grand Sts.), 212-431-7545, umbertosclamhouse.com