Sundays in Prospect Park (11am-6pm) just got a little sweeter. This year's open-air food fair Smorgasburg has some of the best dessert vendors from all around NYC. From over-the-top ice cream to decadently fried dough balls to creamy vegan sorbet, Smorgasburg will not disappoint. Read on for our picks for the best desserts of Smorgasburg in Prospect Park.
Best Dessert Vendors at Smorgasburg: Bona Bona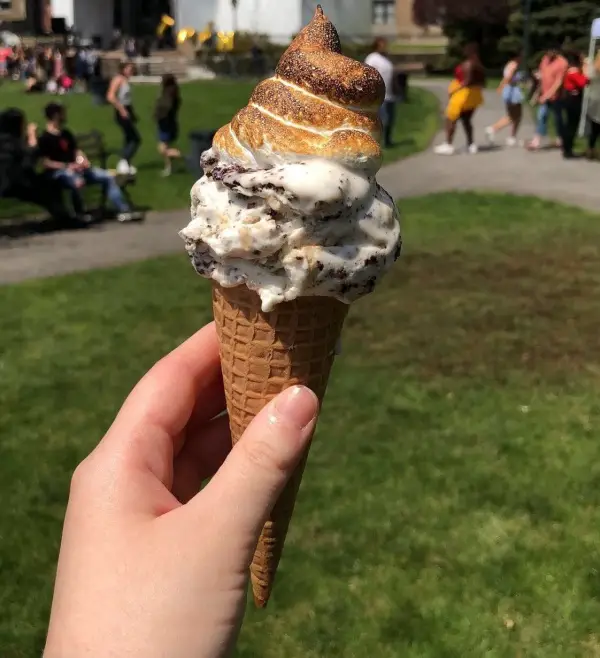 What's better than a creamy ice cream cone on a hot summer day? Toasted marshmallow topping! Bona Bona combines rich flavors such as brownie cookie dough, Nutella s'mores backyard mint chip, pistachio, coconut sorbet, and rainbow cookie with gooey marshmallow fluff that is torch-toasted right in front of you. No matter what flavor you choose the marshmallow taste and texture blend together for a delicious treat. (Although we will admit to being partial to the brownie cookie dough.)

Best Dessert Vendors at Smorgasburg:
Bonsaikakigori
If you're looking for something more refreshing than creamy, then Bonsaikakigoti is the place for you. This vendor brings traditional Japanese shaved ice to Brooklyn weekly. Bonsaikakigoti uses fresh fruit and homemade toppings to deliver a state-of-the-art creation. Enjoy all-natural flavors like Match Mountain and strawberries and cream. To top it off there's a vegan option to accommodate even more people! For example, coconut lime crunch is vegan and includes a coconut-lime-flavored vegan whipped cream that is a perfect treat to beat the heat!
Best Dessert Vendors at Smorgasburg: Cookie Do x Big Mozz
Cookie Do and Big Mozz have combined forces to bring deep-fried cookie dough balls to Smorgasburg. Each pack comes with two of each of their available three flavors: brownie batter, rainbow, and chocolate chip cookie. Each order is enough to share, or bring the leftovers home to enjoy later on!
Best Dessert Vendors at Smorgasburg: Malai
Another delicious ice cream cone can be found at Malai, a Brooklyn-based company that serves innovative flavors like sea salt vanilla, rose with cinnamon-roasted almonds, and golden turmeric. What makes Malai unique is that they also offer flavored cones for you to try. Five spice, coconut, and chocolate are your options. Don't feel like a cone? No problem—they have cups available too (single or split), and for an additional $2 you can add a flavored cone to any cup.
Best Dessert Vendors at Smorgasburg: Wowfulls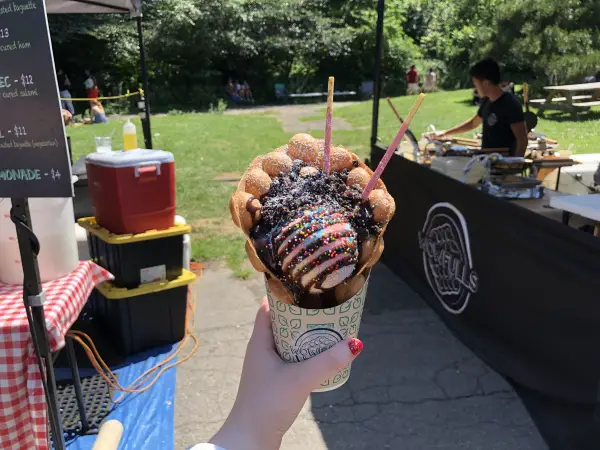 One of the most delicious treats Smorgasburg has to offer can be found at Wowfulls. The desserts here are based off a Hong Kong-styled, egg-based bubble waffle combined with creamy vanilla ice cream (or the flavor of the week), delicious toppings (such as Oreos, sprinkles, or Fruity Pebbles), and then drizzled with your choice of caramel or chocolate. Finally, it all gets topped off with powdered sugar and two sticks of strawberry Pocky (a Japanese treat made from a biscuit dipped in cream). We suggest getting the Crazy Vanilla flavor with half Oreos, half sprinkles, drizzled with chocolate, and topped off with powdered sugar and Pocky for an exquisite treat that's well worth the wait!
Best Dessert Vendors at Smorgasburg: Ube Kitchen
Looking for an all-vegan dessert vendor? All of the treats served at Ube Kitchen are plant-based, vegan, and based on Filipino culture. Their frozen sorbet looks unique thanks to its purple color, which comes from the purple yam ("ube") they use. Order the purple dragon cup, also known as the Halo-Halo, which includes ube ice cream, coconut strings, red dragon fruit, coconut flan, sweet jackfruit, black tea cubes, pineapple chips, rice crispies, coconut cubes, toasted coconut, and almond milk. For an extra $4, this dessert can be served in papaya instead of a cup for an Instagrammable winner!
---
Sundays in Prospect Park, weekly from April to October. Located on Breeze Hill East Drive (at the top of the hill; enter at Lincoln Road). Also every Saturday at East River State Park in Williamsburg (90 Kent Ave., at N. 7th St.).