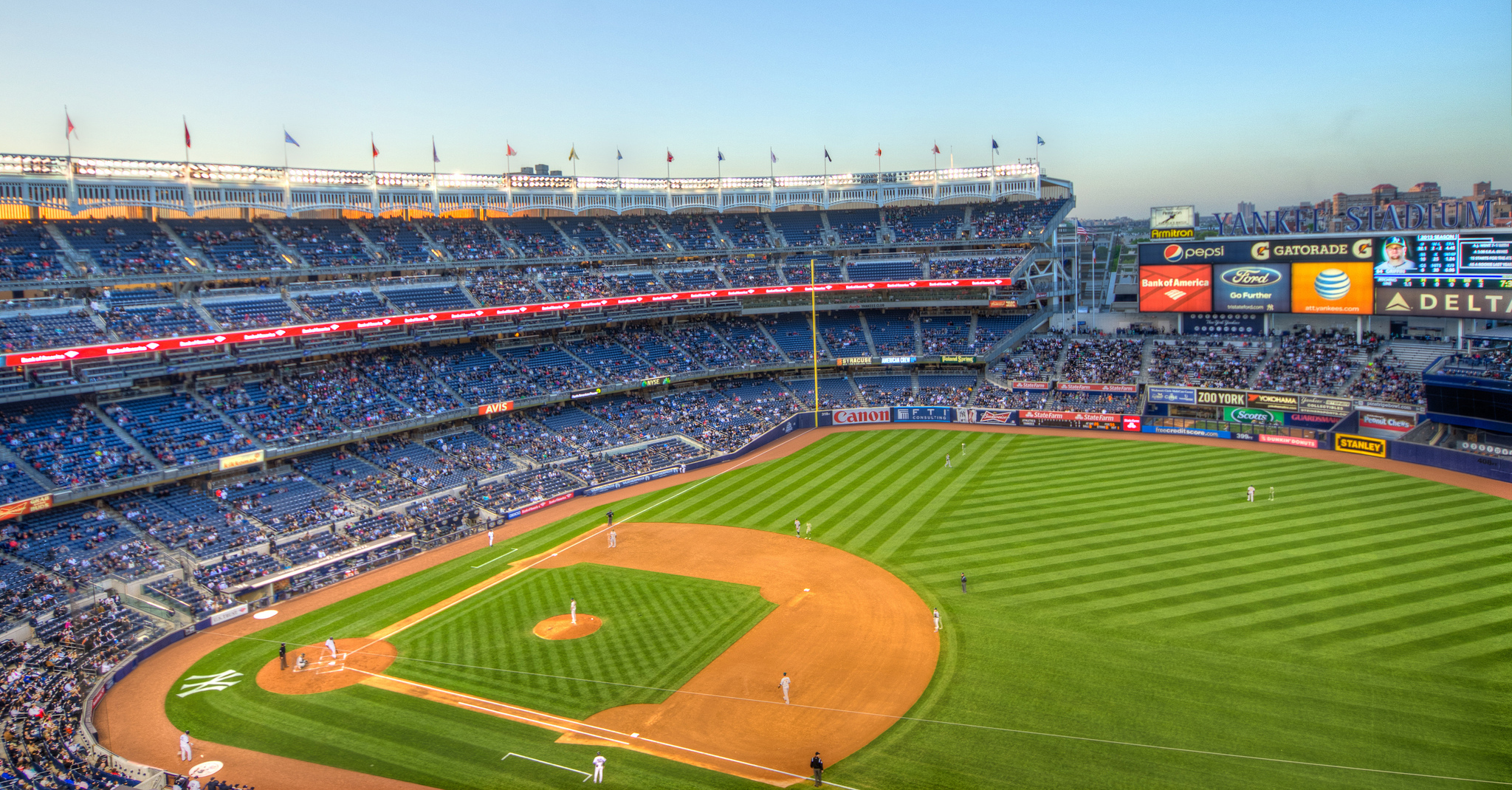 Photo: m01229/Flickr

NYC is home to the Knicks, the Yankees, the Jets, the Rangers, the Mets, the Nets, and the Islanders, so you can bet that there are sporting events happening in the city no matter the season. (There's also soccer, minor league baseball, marathons, and all kinds of college teams.) Find out what sports events in New York City are happening this weekend on City Guide's roundup and then snag some tickets for a game you'll never forget.


Cze vs Ita Iihf World Championship - Public Screening - Bohemian National Hall
May 17, 2019 - New York
Czech fans welcome! Come and see our skaters in the live transmission at Bohemian National Hall.
Summer Fitness Series - Brookfield Place
May 18, 2019 - New York
Get fit at Brookfield Place! Our fitness series returns this summer with a variety of fun and challenging classes taught by instructors from top NYC fitness studios. The series kicks off and concludes with run clubs in May and the last two weeks of September.
White Dress Dance Party - Bohemian National Hall
May 18, 2019 - New York
[4th Floor] Our popular dance party is back! Come out and spend the evening with us as we dance the night away - this time dressed in all white. Ballroom dance music with popular Paul Errico Band, Latin, Chacha, Fox Trots, Tango, Waltzes, Swing. Dress code: all white. Food buffet, wine bar, and dance show by Alexandra & Stefan.
Cycle for Suz 2019 - NYC Event - SoulCycle - West Village
May 18, 2019 - New York
Cycle for Suz is an energetic and very pink annual cycling event that raises awareness and funds for Bright Pink. We cycle for the powerful, strong, beautiful women in our lives, many of whom have fought breast and ovarian cancer. We cycle to empower our generation with the awareness and knowledge they need to live a proactive, healthy, cancer-free life. Not only does Cycle for Suz provide a significant contribution to support the organization's mission, it supports all participants with information and resources to support this life saving mission. Our New York ride will be on Saturday, May 18th. The date for our Chicago ride is still TBD, but we will be sure to share it once we have it. We are also very excited to share that we are working to host a ride in the South Florida this year. We will provide more details about that ride as well once they are confirmed.
Island Highlights Bike Tour - Randalls Island Park
May 18, 2019 - New York
Take a ride around the Island to learn about its many unique spaces, amenities, and pathways for commuting and recreation.
Welcome To My World - The Sheen Center for Thought & Culture
Through May 19, 2019 - New York
Actionplay presents Welcome To My World, an original musical devised in Actionplay's inclusive AIMS program about a teenage autistic girl named Aliza who is visited by an unexpected guest from another planet. After Party – Please join us directly after our May 18th show to mingle with the cast for our Encore After Party at the Sheen Center with food, drinks, music & fun. Actionplay is a non-profit organization dedicated to providing children, teens, and adults on the autism spectrum and related conditions equal access to education, arts, and culture. Actionplay's creative and compassionate learning environments, professional development, and training modules teach respectful ways of inviting people on the autism spectrum to experience education, arts, and culture.
Tampa Bay Rays at New York Yankees - Yankee Stadium
Through May 19, 2019 - The Bronx
Tampa Bay Rays at New York Yankees
Lose Weight Smarter with Balance 3H Plus® - Balance 3H Plus®
Through May 27, 2019 - Harrison
Join the thousands of everyday women transforming our bodies through Dr. Siobhan Kealy's Medically-Supervised Weight Loss Program for Women 40+… Balance 3H Plus®! Now you can melt away stubborn fat, tone troubled spots and lose up to 25 pounds or more in just 8 weeks. You can look and feel better than you did 10 or even 20 years ago! The Balance 3H Plus® Program is part of the new and exciting paradigm shift that is devastating some of the most iconic names in weight loss and leaving other generic diet programs lagging behind… Balance 3H Plus® Westchester Office 450 Mamaroneck Ave #413, Harrison, NY 10528 914-703-4811 Monday-Friday 9PM-5PM • Saturday & Sunday 9PM-1PM For more information, visit balance3hplus.com