The air might be cold, but New York City has plenty of great places to escape and enjoy some of the greatest (and most unique) retail experiences in the world.
B&H PHOTO VIDEO | SAVINGS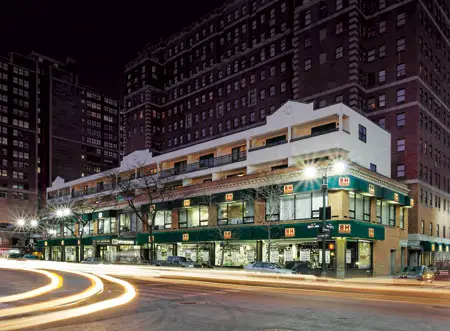 Offering an extensive line of products geared towards photo, video, and professional audio equipment, B&H Photo Video treats shoppers to the holy grail of shopping experiences. Their employees—often professionals in their field—are ready to assist you in their area of expertise, whether you are deciding to go with a Mac or PC, to finding the best professional darkroom equipment on the market.
For a full array of cameras, lenses and accessories, visit the superstore or head online to BandH.com, where you will also find extensive photography training guides, videos, reviews, and tutorials. 420 Ninth Ave. (34th St.) 212-444-6615
CARNEGIE HILL PHARMACY
Carnegie Hill Pharmacy is an immaculate pharmacy specializing in hard-to-find products & the best European brands with a unique selection of the best sundries & cosmetics, European & domestic beauty products, custom medication compounding, and more. Featuring hard-to-find brands like Anthony Logistics, Dr. Hauschka, Phyto, Tocca, Caudale, Mason Pearson, and more. 1721 Broadway (54th-55th Sts.), 212-246-0020
CENTURY 21 DEPARTMENT STORE | SAVINGS
Smarten up your wardrobe with the latest trends (at a fraction of the price) at Century 21 Department Store. They have over 15 departments of quality designer merchandise at 40-70% off retail, including European and American designer fashions for men, women, and kids. In addition to Century 21's long-standing location in lower Manhattan (as well as stores in Brooklyn, Rego Park, Long Island, and New Jersey), this fall marked the opening of a new store near Lincoln Center, on the Upper West Side. The sleek, 61,000-square-foot store features an exclusively edited, high-end designer selection at incredible values. 22 Cortlandt St. btw. Church St. & Broadway, 212-227-9092; 1972 Broadway (66th-67th Sts.), 212-518-2121; c21stores.com

DATAVISON | SAVINGS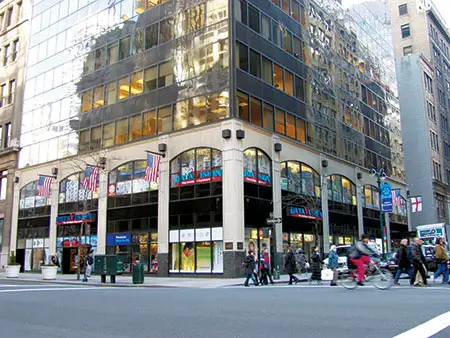 If Apple products such as the iPhone 5 or tech gadgets of any other sort are what you're looking for, head to midtown and DataVision, which remains one of New York City's largest computer and video retailers. Its three levels encompass 30,000 square feet of savings, featuring a full selection of computers, software, peripherals, cameras, camcorders, MP3 players, DVDs, video players, TVs, handhelds, GPS solutions, desktops, notebooks, carrying cases, and mobile phones. Must-stop shopping for technophiles! 445 Fifth Ave. at 39th St., 212-689-1111; datavis.com

GENESIS | SAVINGS

The New York leather jacket store, Genesis offers over 20,000 jackets, pants, and vests from brand names like Schott, Vanson, Evisu, Woolrich, Andrew Marc, Ed Hardy, Affliction, and many others at excellent prices. Located inside the shop, Genesis Watches/Sunglasses carries a tremendous selection of top-name watches and sunglasses at some of the best prices in town with brands such as Fossil, Kenneth Cole, Bulova, TechnoMarine, Gucci, Polo, Christian Dior, and Diesel. 690 Lexington Ave. btw. 56th & 57th Sts.; 212-980-1514
GOLFSMITH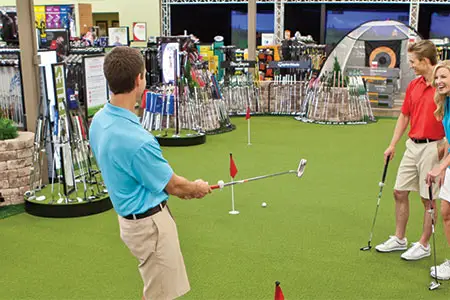 Golfsmith offers one of the city's best golf experiences, with over 45 years of proven expertise, an expertly trained staff, all major brands, men's and women's golf apparel, and expert custom club fitting that uses the latest launch monitors and swing analyzing technology. You can try out the latest gear in the advanced shot simulators or on the spacious putting green—you get to swing it, putt it and love it before you buy it. And for out-of-town guests, they ship worldwide, so everyone can get the right gear at the right price and play their best on their home course. 420 Fifth Ave. (38th St.), 212-221-7931; 641 Lexington Ave. (54th St.), 212-317-9720; golfsmith.com
KAUFMAN FURS | SAVINGS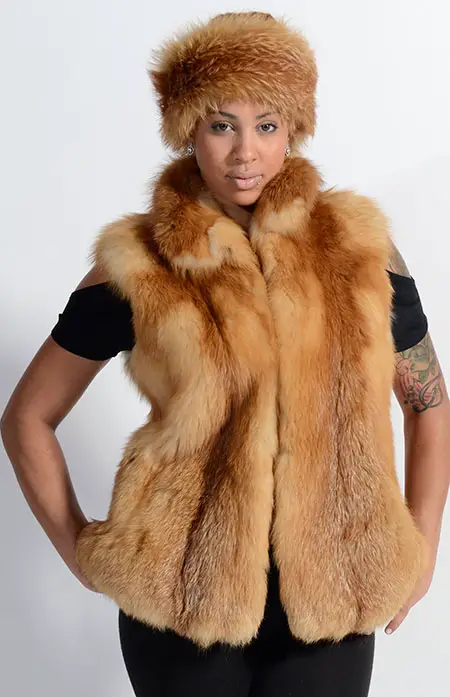 For over 30 years, Kaufman Furs has been home to New York City's most unique designer luxury mink, sable, chinchilla, and lynx furs, leather, shearling coats, hats, and jackets such as this red fox vest and headband. 232 W. 30th St., 212-564-0050; kaufmanfursny.com

MACY'S HERALD SQUARE | SAVINGS
If you're not sure where to begin your New York shopping adventure, an excellent place to start is the iconic department store, Macy's. The 11-floor flagship store located in Herald Square—just south of Times Square and close to the Empire State Building and Penn Station—is home to an enormous selection of fashion items, the hottest new items, products for family and home, great sales, and much more. Broadway at 34th St., 212-494-2922; macys.com
M&M'S WORLD NEW YORK | SAVINGS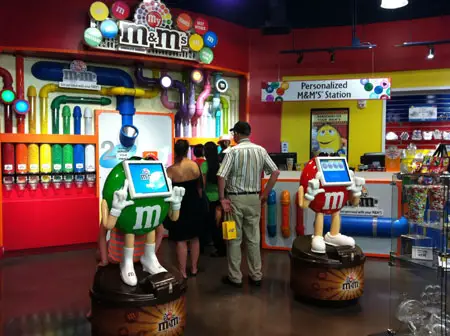 Located in the heart of Times Square, M&M'S World features 25,000 square feet on three levels that are packed with a huge range of exclusive M&M'S chocolates and merchandise, including clothing, kitchenware, bedding, jewelry, and glassware, as well as seasonal items and specially-designed New York-themed M&M'S branded products.
They also offer a Personalized Printer, allowing you to create customized M&M'S right in the store. You can can select from a variety of images, as well as create customized messages that will be printed on M&M'S candies in about two minutes.
The store, located at Broadway and 48th St., is open daily from 9am to midnight. For more information about the M&M'S® World, visit www.mmsworld.com, Facebook (www.facebook.com/mmsworld), and Twitter (@MMsWorldStores).

MOBILE CITY ONLINE | SAVINGS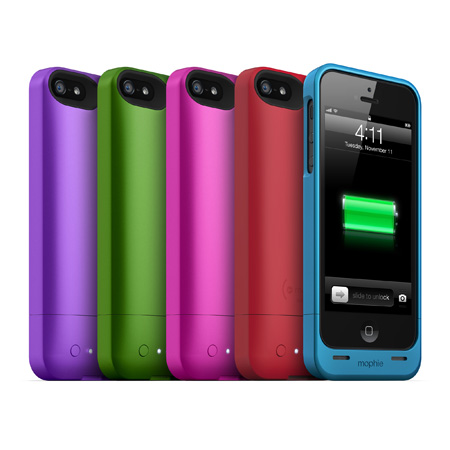 Nestled in the popular SoHo neighborhood and touted as "New York's Most Complete Wireless Store," Mobile City Online offers a vast selection of unlocked GSM mobile phones and Bluetooth headsets as well as over 5,000 unique phone accessories for BlackBerry, iPhone, and more—all under one roof. 248 Lafayette St. (Prince-Spring Sts.),
212-964-4444; mobilecityonline.com

NBA STORE | SAVINGS
The NBA Store on Fifth Avenue is the one-and-only NBA Store, a basketball fantasy land whose motto — "one store, every team" — gives you an idea of the wide range of team jerseys, hats, and tees they offer. If you're looking for something really special, check out their collectible autographed jerseys and team banners, or their life-size team player wall graphics. 590 Fifth Ave. (47th-48th Sts.), 212-515-NBA1; nba.com/nycstore
NBC EXPERIENCE STORE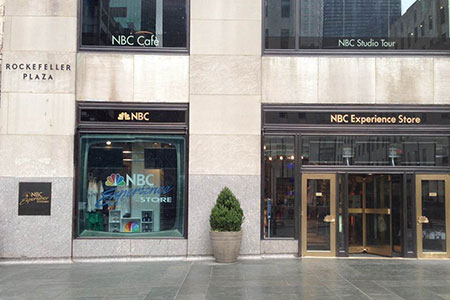 The NBC Experience Store is a 20,000-square-foot retail attraction with hundreds of items from NBC shows, as well as interactive activities. The store is also the departure point for the NBC Studio Tour, a behind-the-scenes look at TV production in New York from its earliest days as a radio station transitioning into television programming, to peeks at the sets of current shows such as The Today Show and Saturday Night Live. The Experience Store is also a great spot to do some shopping, with collectibles from upcoming 2014 Olympics in Sochi, The Office, Parks and Recreation, and The Biggest Loser. 30 Rockefeller Plaza, 49th St. btw. Fifth & Sixth Aves., 212-664-3700; nbcuniversalstore.com

SONY STORE | SAVINGS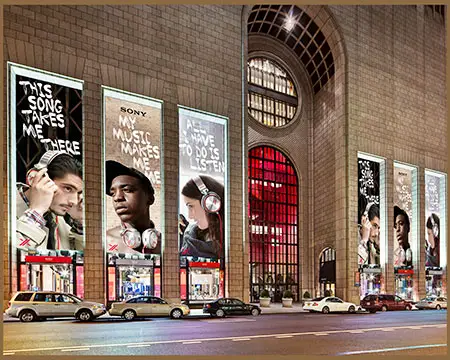 The Sony Store at 550 Madison Ave. between 55th and 56th Sts. is a unique destination where consumers can explore the best of Sony in one place, including electronics, games, movies, music, network services and future technologies.
Their goal is always to exceed guest expectations by providing an exciting, interactive, and entertaining shopping experience. They give shoppers an opportunity to interact with a bi-lingual and knowledgeable staff as well as preview, test, and compare the full line of their entertainment offerings.
Services include product set-up to service and repair facilitation for all products, activation of wireless services, and technical PC and IT support by certified technicians. Regular store hours are 10am-7pm Mon.-Fri.; 8am-7pm on Sat.; & 9am-7pm on Sun. Accessible by subway lines E, V & N, R, W. More info online at store.sony.com or call 212-833-5449.
TOYS"R"US TIMES SQUARE | SAVINGS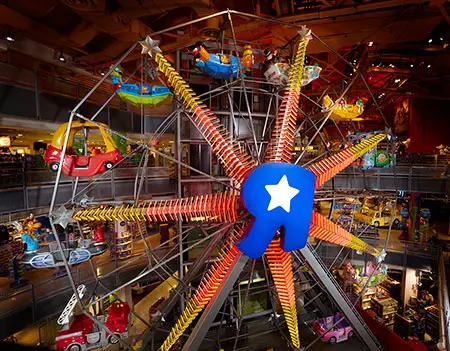 A trip to NYC wouldn't be complete without a visit to Toys"R"Us Times Square, their international flagship store, which combines the fun of an amusement park with the themes and excitement of a toy store. From the moment you walk through the door and glimpse the 60-foot Ferris wheel, you'll feel as though you've stepped into a veritable wonderland—which is confirmed as you glimpse the animatronic Jurassic Park T-Rex or the life-size Barbie's Dollhouse.
They also offer 45-minute private tours one hour prior to the store's opening at 9am. Beginning with a "candy raid" of the WONKA candy shop, you'll learn about the history of Toys"R"Us while encountering all of the latest and greatest toys, features and demos the store has to offer. The tour concludes with the first ride of the day on the iconic Ferris wheel. To find out more, including fees, or to schedule your very own tour, call 866-742-6423 or e-mail personalshoppingtsq@toysrus.com. 1514 Broadway at 44th St.,
800-869-7787; www.toysrusinc.com/about-us/times-square/