Comedy shows can be found all throughout the city, but rarely do you find an affordable show as authentic and fun as Casual Town. This weekly stand-up show is hosted, produced, and starred by a powerhouse comedy crew and really gives "underground comedy" a whole new meaning. Casual Town takes place every Thursday in the basement of the unique and eclectic East Village karaoke bar Sing Sing Ave.A, which serves $4 beer and well drinks and $3 well shots until 9pm. If you're feeling extra feisty, you can pay $2 to sing karaoke at the bar for all of your fellow happy hour dwellers to enjoy.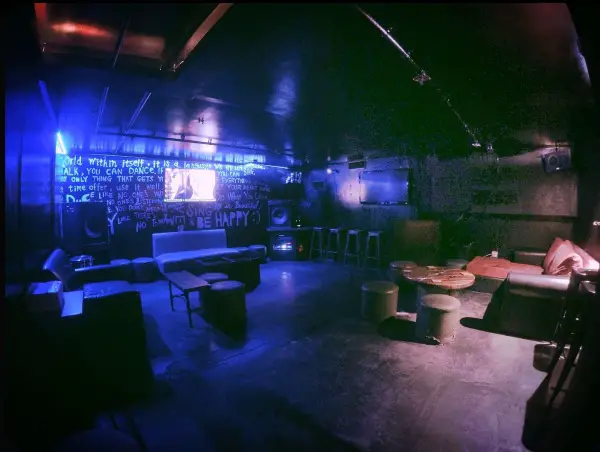 VIP karaoke room at Sing Sing Ave.A.
Casual Town isn't your typical basement-of-a-bar comedy show. The lineup provides varying perspectives on what it's like to live in New York, from those who have been here their whole lives to those who moved here recently or are just visiting. Casual Town also provides varying perspectives on the issues we as New Yorkers face every day, making it easy for almost anyone to relate to (and also laugh at).

This unique, intimate comedy show is for people looking for something different in a familiar setting. The small, dark room in the basement of Sing Sing has a mish-mosh of chairs and couches, good lighting, and great sound quality. The space provides a comfortable and relaxed atmosphere, but it's perfect for crowd work, so beware, you might get called out! The show, along with two other comedy shows in Brooklyn and Manhattan, is produced by Jamie Rabinovitch, an East Village resident who has worked with comedians with credits including Netflix, Hulu, The Tonight Show with Jimmy Fallon, Jimmy Kimmel Live, and NY Times contributors.
The hosts alternate weekly between Albert Kirchner, who has appeared in the Bridgetown Comedy Festival; Jane Harrison, who has appeared at San Francisco Sketchfest; and Evan Morrison, who has appeared at Bumbershoot. Kirchner, a Seattle native who moved to New York just a few years ago, moves the show along like a machine. You never know if his jokes are predetermined or improv because he makes them fit as the perfect transitions between comics.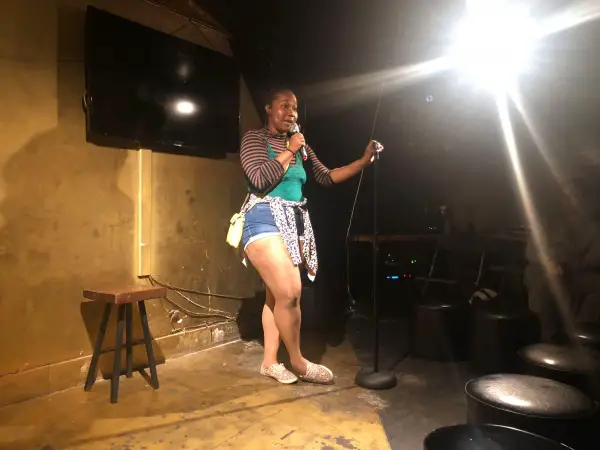 Producer Rabinovitch utilizes her extensive network of comedians to book a lineup of diverse comedians from all over the country. Presenting varying perspectives on living in the Big Apple, locals will love it. Rebecca O'Neal, seen on 2 Dope Queens and a multitude of shows throughout New York and Portland, brought her Chicago-born flair to the stage in a recent performance. She tells us what its like moving from Chicago to New York, adding comic relief to topics like feminism, sex, drugs, and odds and ends jobs—things most New Yorkers are all too familiar with.
Following O'Neal was Jack Comstock, host of the RoomHate podcast, as well as co-host of a show at Carolines on Broadway. Comstock, however, didn't take the stage as himself per se. Instead, her performed as his alter ego "Dave Matthews Matthews," a Coachella frequenter, poking fun at the music festival stereotype we all love to hate.
What made the show flow is that as each comedian came up, they played off the one before. When Richard Sarvate, visiting from Los Angeles, took the stage, he didn't hesitate to take a jab at Dave Matthews Matthews, before going on to describe what it's like being an Indian guy from Los Angeles in New York.
Julia Claire, a Boston-born New Yorker, poked fun at not only herself, but also her dad for his Boston accent. She discussed her relatable tales of dating in New York, not dating in New York, and of course the topic of the hour: Bitcoin.
Evan Morrison relived the traumatizing tales that some non-native New Yorkers may unfortunately be familiar with: going to a Yankee game as a non-Yankee fan.
To close the show, Petey DeAbreu, host of the podcast The Hope of the Hood, got nonstop laughs as he ripped apart the MTA, 7/11, and the streets of New York.
---
Sing Sing Ave.A is located at 81 Ave. A in the East Village. Call 212-674-0700 or visit singsingavea.com for more information.