Random Happenings in New York City This Week - June 10-June 17
June 10, 2018 - by CG Directory Editor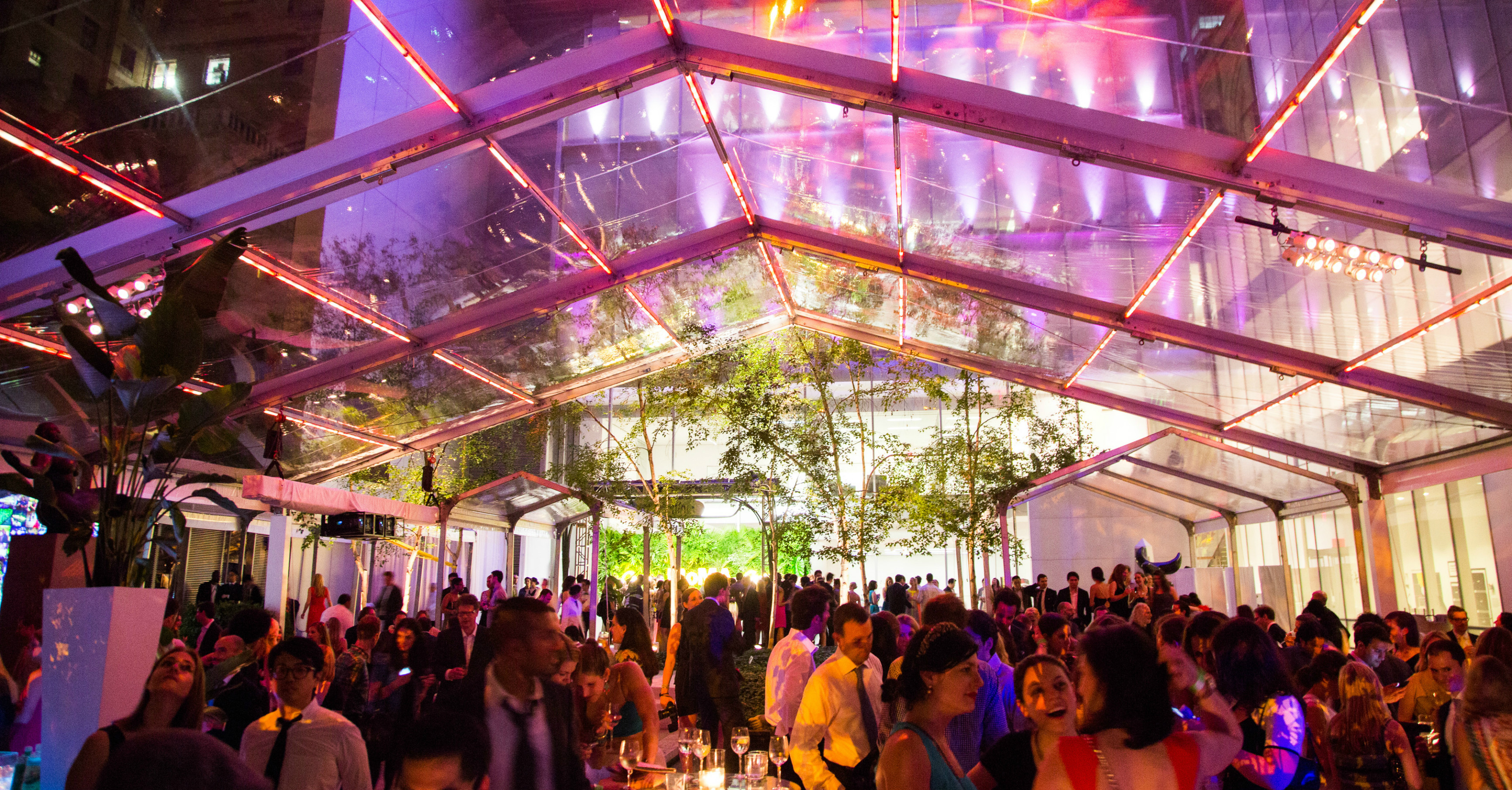 Photo: Nicholas Ruiz/Flickr / 2013 Scott Rudd

If you're looking for the best of miscellaneous things to do in NYC, check out City Guide's 'Potpourri' category, which has dining specials, pop ups, shopping, charity events, literary events, lectures, readings, awards shows, galas, and even more.


Choir Rehearsal - Judson Memorial Church
June 10, 2018 - New York
MEETING ROOM (Enter by way of 55 Washington Square South)
Central Park Nature Walk - Central Park
June 10, 2018 - New York
Back for the fifth year in a row—one of our most popular events: a nature walk in Central Park with urban naturalist, Ken Chaya. (Header photo by Bob Eckstein) Did you know that all of the mature trees in Central Park have been identified and mapped by a local expert? Today, Central Park Nature's Ken Chaya will take you on a walk through his Central Park: a place with over 20,000 trees and woody plants featuring over 180 species. You will explore the park woodlands, learning to identify birds and trees, along with wildflowers and their pollinators. You will learn about the natural history of Central Park including the significant contributions of the park's designers, Frederick Law Olmsted and Calvert Vaux.
OutdoorFest 2018 Closing Party - HI New York City Hostel
June 10, 2018 - New York
Every year we end our 10-day outdoor adventure extravaganza relaxing and partying. This year, we're adding in a Day of Service to give back to our local community who makes all this possible. The service projects will take place in the afternoon and culminate with beer from Sierra Nevada, live music, cool people to hang out with and over $2,000 worth of prizes and swag we'll need to get rid of!
Unity of New York Sunday Service - Symphony Space
June 10, 2018 - New York
Unity of New York is a joyful, diverse, and welcoming spiritual community that honors all paths to God. Their mission is to serve the NYC community through spiritual teaching, music, prayer and outreach. They come together at their weekly Sunday Celebration Services (11am, right here at Symphony Space) to discover the power within all to unleash divine potential, know Oneness with God and each other. Unity affirms the power of prayer and the power of thoughts to create our own reality, helping people experience a stronger connection with God every day. Come for the Music... Stay for the message!
Passport to Japan - Industry City
June 10, 2018 - Brooklyn
Brooklyn Kura and The Sake Export Association invite you to Passport to Japan. $25.00 for tasting of 13 different sake breweries from Japan + fresh pressed sake from Brooklyn Kura.
Steep Rock Clinic: Worthless Boulder - Steep Rock Bouldering
June 10, 2018 - New York
Have you been craving real rock? Take the skills you've learned indoors outside! Whether you're a beginner or intermediate climber, this intimate outdoor clinic will get you psyched! $35 covers gear and class! Ages 18+ Depart Steep Rock East at 8:30AM (please plan to arrive at least 15 minutes earlier if you need rentals).
Rail-trail Brewery Bike Tour on the 'Old Put' presented by offMetro - Grand Central Terminal
June 10, 2018 - New York
This bike tour with Gotham Bicycle Tours will take you on the northernmost 35 miles of this trail – a ride that is mostly free of cars, with plenty of scenic views along the way. You won't believe how close you are to NYC and its suburbs while you are on this trail! Historic markers and remnants of the old railroad line the route, giving you an opportunity to learn about the history of the railroad and the communities it served. When you reach the end of the ride, you'll get experience Captain Lawrence Brewery! and have a tasting of up to 10 beers! This event is supported in part by offMetro.com - where you can find the best getaways from NYC without a car! You can read Lukas from Gotham Bike Tours Guide to biking in the Hudson Valley here.
Kids Bazaar Pop-Up - Grand Bazaar NYC
June 10, 2018 - New York
For National Children's Day we're organizing a family-friendly pop-up featuring unique and fun handmade baby and kids clothing, toys, skincare and great accessories form talented local artisans. You will also find rare vintage children's books, toys, and more form independent dealers. Be sure to come hungry as there will be family-friendly food to enjoy, including sweets and ice cream, to satisfy everyone's cravings. The pop-up will be joining Grand Bazaar NYC's weekly curated market; the largest in NYC. 100% of Grand Bazaar NYC's profits are donated to four Upper West Side public schools, benefiting over 4,000 children. Come find unique one-of-a-kind gifts items for friends, family, or yourself, while supporting talented artists, makers and independent dealers. When you need a shopping break, enjoy some tasty artisanal bites in our food court.
650 at The Loft - City Winery
June 10, 2018 - New York
Read650's mission is to promote writers through live performances that celebrate the spoken word. It's a popular literary series that captivates audiences with true personal stories—five minutes and 650 words at a time. With a strong emphasis on the craft of writing, Read650's submission-based events are developed around broad themes that invite a wide range of expression. In a publishing environment with a shrinking number of opportunities to showcase new voices, Read650 is a high-quality platform for both aspiring and established writers. "Summer Jobs" A dozen talented writers recount memories of their most memorable summer jobs — positions involving physical labor, low pay, embarrassing costumes, kids, animals, and more. Come hear—and then meet—our burger flippers, dog walkers, camp counselors, pool skimmers, pizza drivers, and lawn mowers.
Rock 'N' Rods Automobile Show - Lyndhurst Grouns
June 10, 2018 - Tarrytown
Lyndhurst's historic grounds will feature a unique range of classic and vintage cars shown by Rock 'N' Rods NY. Entry fee is $5 per person and can be credited toward a Mansion Tour. Stop by from 10 am – 3 pm on Sunday, June 10th to see these autos!
Naaya Yoga - Ace Hotel
June 10, 2018 - New York
Naaya's aim is to work within communities where wellness isn't a buzzword. Currently people of color are highly impacted by not having access to resources needed to help with their mental and physical health. By providing affordable classes Naaya hopes to democratize this access. Naaya will cultivate a community where people of color can afford to prioritize their physical and mental health. Through the practices of yoga and mindfulness people are given the tools of self-care which assist in helping people cope with whatever they might be dealing with. Sunday sessions at Ace Hotel New York provided a chance to get grounded before the week starts. The practice will encompass breath work and basic yoga asana. Proceeds for the Sunday sessions are in support of the Naaya initiative. Sinikiwe Dhliwayo is a creative producer, yoga instructor and founder of Naaya. Born in Zimbabwe, she has an obsession with yoga that rivals that of her obsession with her kid sister. Sinikiwe can be found off the mat reading all the things, cooking and smiling. Her heart skips a beat at the prospect of disseminating tools of yoga and meditation to people of color. Tickets and Schedules handled dir... (read more)
Masma Dream World - Ace Hotel
June 10, 2018 - New York
Masma Dream World's unique sound bath combines vibroacoustic technologies with sound healing techniques to promote meditation as a means to become acquainted with our deeper selves, improving interpersonal communication, awareness and intention. Participants lay comfortably on yoga mats with blankets and sound pillows —vibroacoustic pillows that resonates low frequencies throughout your body— and experience a guided meditation aided by singing crystal bowls, drums, rattles and overtone singing. The journey will be lead by Sound Therapist Devi Mambouka —certified by the Globe Institute of Sound Healing in San Francisco, California and a Experimental vocal artist. Her musical project Masma Dream World is a sonic healing journey from stage performances to one-on-one Sound Therapy. Her inspiration comes from her Indian, Chinese, and African background in combination with leading edge vibroacoustic technologies. Ace Hotel New York is proud to host Masma Dream World every Sunday this summer at 3:00 PM in Liberty Hall. All ticket sales and admission for the series is being handled directly by Masma Dream World. Tickets available via their Eventbrite page, and more info available ... (read more)
Psychic Sundays - Ace Hotel
June 10, 2018 - New York
Psychic Sundays, curated by Bruno Coviello, are inclusive, relaxed afternoons of interdisciplinary readings and cosmic insights by mediums, readers and psychics from NYC's new generation of personal guides. The future is out there. Peel the orange and see what's inside. Each Sunday in June from 5-8pm, guests are welcome to meet our guest readers in the Lobby on a first come, first served basis. Look for the sign by the couches right when you walk in. If our mediums are all with guests, you'll be able to add your name to a waiting list and, we predict they'll be with you shortly. Grab a coffee and enjoy the vibes, as Bruno curates music for the afternoon, too. Please note the following, as Psychic Sundays are a popular affair: The event is truly first come, first served. No advanced RSVP, secret list or palm to grease. Our host begins accepting sign-ups for a given Sunday at about 4:45 and slots are limited and fill quickly. Readings are approximately 20 minutes long, are scheduled on a half-hour cycle and the evening has a hard-stop time of 8:00. If you are not present when your name's called, we move on. We'll also be giving wait-list priority to hotel guests with a roo... (read more)
Fairway Food Festival 2018 - Armory Track, The Armory
June 10, 2018 - New York
Get your tickets now for Fairway's first-ever Food Festival where saavy foodies will come together for a fooding adventure like no other. Festival-goers will experience hundreds of fabulous tastings, new faves and chat with experts about the latest and upcoming food trends. It's a culinary journey of the appetite all for just $5.00!
American Aquarium Things Change Tour - Gramercy Theatre
June 10, 2018 - New York
Good For Them!: A Tony Awards Party - Caveat
June 10, 2018 - New York
We're celebrating the Tony Awards! Because without them, our most accomplished artists would be known for winning an EGO. Join your host, Larry Owens (Larry's Musical Breakdown) for a Tony Awards screening that will have it all: a drinking game, trivia, karaoke, and commercial break musical performances that the rest of the world will WISH were televised.
Prospect Park History Walking Tour - Prospect Park Alliance
June 10, 2018 - Brooklyn
Explore Prospect Park with a season of special guided walking tours of this iconic park in the heart of Brooklyn, presented by Turnstile Tours in partnership with Prospect Park Alliance. These two-hour tours will examine the Park's many layers of natural and human history, from the flora and geology to the architectural eras visible in the built environment.
Smorgasburg Prospect Park - Prospect Park Alliance
June 10, 2018 - Brooklyn
Smorgasburg, the celebrated open-air food fair presented by Brooklyn Flea in partnership with Prospect Park Alliance, returns to Prospect Park this spring! On Sundays from April through October, over 100 local and regional food purveyors will gather on Breeze Hill to offer a range of cuisines.
Tammy Faymous Cabaret featuring Alexander Kacala - Sid Gold's Request Room
June 10, 2018 - New York
PIX11/SKTCF Running Of The Balls 5K & 10K - Firefighters Field, Roosevelt Island
June 10, 2018 - New York
We are back on Roosevelt Island with the Sean Kimerling Testicular Cancer Foundation for the sixth annual Running of the Balls. Opt to run a 5k or 10k—either way, you'll have stunning views of Manhattans and Queens on course and be met with NYCRUNS' fantastic bagel and fruit spread at the finish. TE CAUSE: Every hour of every day one man in the U.S. is diagnosed with testicular cancer–let's do something about it! Join us at the event and help raise funds via Crowdrise to support the Sean Kimerling Testicular Cancer Foundation's fight.
Annual White Party - Seguine Mansion,
June 10, 2018 - Staten Island
All White Garden Attire Only Musical Entertainment, Wine & Light Fare
The Telephone Show - The PIT Loft
June 10, 2018 - New York
Patrick Keene hosts a show inspired by Chicago's Mullaney Chain, where improvisers call each other one by one to form a team! No one knows what the line-up will be! $1 for both the audience and participants!
Basic kombucha & Jun in June - La Plaza Cultural
June 10, 2018 - New York
Learn to brew Kombucha (black tea & sugar) As well as Jun (green tea and honey) Claudia M. Costa will be teaching us the basics and sharing recipes for Kombucha as well as CBD Jun. Join us for this rare treat guided by a professional Fer Mentor with 23 years experience. We will be going over general fermentation basic steps, sterilization and how to make your own scobies. Bring pen & paper. Video and audio recording ok if it's done in a non disruptive manner.
Sierra Party - La Plaza Cultural
June 10, 2018 - New York
The Middle East in Turmoil: Is There a Future? - 92nd Street Y
June 10, 2018 - New York
The Middle East has long been critical in world politics — oil, wars, terrorism, religious tensions, etc. Recent developments (eg. Saudi assertive, Sunni-Shia divided, Syrian/Yemen Wars, refugees, ISIS) have had dramatic impacts. Is the region heading for major implosion with big powers involved or for collapse? Can it recover stability? Will it become irrelevant? What is the future of this key Arab-Islamic region and its importance in world affairs?
China: What's Next — A Conversation with China Expert Elizabeth Economy - 92Y
June 10, 2018 - Upper East Side
In the wake of President Trump's recent visit to China, what does the future hold for the relationship between the ever-growing Asian superpower and the United States? What are the economic stakes for the two countries? How will President Xi Jinping's reforms affect human rights within China and its interactions with the outside world? Get key insights from Professor Ralph Buultjens and China expert Elizabeth Economy, whose latest books is The Third Revolution: Xi Jinping and the New Chinese State, when they sit down for a timely and informative discussion.
Aimee Marcoux ~ Summer with Sondheim - Triad Theatre
June 10, 2018 - New York
Summer with Sondheim
Rose Garden Weekend - The New York Botanical Garden
Through June 10, 2018 - Bronx
Celebrate the peak of the Peggy Rockefeller Rose Garden's spring color with live music, plant care demonstrations, expert-led tours, and refreshments.
Cirque du Soleil: VOLTA - Nassau Veterans Memorial Coliseum
Through June 10, 2018 - Uniondale
Cirque du Soleil VOLTA is coming to NYCB LIVE, home of the Nassau Veterans Memorial Coliseum May 17-June 10. The name VOLTA refers to a sudden about-face, a change in emotion or idea often used in poetry. It also speaks to the jolt of energy delivered through the show. VOLTA tells a spellbinding story about the freedom to choose and the thrill of blazing your own trail. Inspired in part by the adventurous spirit that fuels the culture of action sports, the show weaves the adrenaline rush of acrobatics into a visually striking world driven by a stirring melodic score. VOLTA is a story of transformation. It is about being true to oneself, fulfilling one's true potential, and the power of the group to make that possible. It celebrates freedom as a movement. VOLTA is Cirque du Soleil's 41st original production since 1984, and its 18th show presented under the Big Top. The company has brought wonder and delight to more than 160 million spectators in more than 400 cities on six continents. Cirque du Soleil has close to 4,000 employees, including 1,300 performing artists from close to 50 different countries.
Elevator Repair Service: Everyone's Fine with Virginia Woolf by Kate Scelsa - Abrons Arts Center
Through June 10, 2018 - New York
Opening Night: June 12 All seats are reserved. "Premium Orchestra" seats are center orchestra. "Orchestra" seats are front, side, and rear orchestra. Previews June 1-10: Premium Orchestra $65, Orchestra $55. Performances June 13-24: Premium Orchestra $75, Orchestra $65 $40 tickets throughout the entire orchestra offered Sunday matinees. STUDENT Tickets in Front/Side/Rear Orchestra $25 - enter code STUDENT to unlock discount, may be purchased only by persons with a valid student ID, one per patron, subject to availability. ID must be shown at time of pick up. ARTIST Tickets in Front/Side/Rear Orchestra $40 - - enter code ARTIST to unlock discount, one per patron, subject to availability. Must present some indication of artistic endeavors at Abrons Box Office (this can include a program from a recent production, a postcard/flyer bearing your name or other print collateral) when picking up ticket. CHILD CARE ADD ON $15 per child added to base ticket price - with code CHILD June 9th, 10th, 16th, and 23rd only from 1:30-3:45 PM. As part of a new family friendly initiative, Abrons Arts Center will offer onsite childcare for children ages 4-12 during the above named matinee per... (read more)
OutdoorFest Basecamp 2018 at Columbia - Columbia Sportswear
Through June 10, 2018 - New York
Bernstein at 100 - City Center
Through June 10, 2018 - New York
Astoria Park Carnival - Astoria Park
Through June 10, 2018 - Astoria
Queens' picturesque Astoria Park comes alive with the sights, sounds and aromas of the colorful midway with rides for all ages, carnival games and favorite fair food. There is no charge for parking and admission to this family-friendly event, which takes place under the RFK Bridge. Ride tickets are $1.50 each, $25 for 20 tickets, or $50 for 50 tickets plus 1 free ride. (Rides take 2 or more tickets each.) Visit the website for $5 coupon savings on a 50-ticket Super Saver Family Pack. For more information, call 866-666-3247.
Base Jam - The PIT Underground
June 11, 2018 - New York
Come to Base Jam: New York City's most fun improv jam with an awesome party vibe! This jam is not only ideal for those new to the stage, but also improv veterans. We welcome all to participate. Let's face it: Getting better at improv is about getting stage time and practicing in front of an audience. So leap first, then look for a place to land....or just keep flying!
Julia Fierro: Gypsy Moth Summer Paperback Launch - Books are Magic
June 11, 2018 - Cobble Hill
Vivid with young lovers, gangs of anxious outsiders; a plotting aged matriarch and her husband, a demented military patriarch; and a troubled young boy, each seeking his or her own refuge, escape and revenge, The Gypsy Moth Summer is about love, gaps in understanding, and the struggle to connect: within families; among friends; between neighbors and entire generations. Julia Fierro is the author of the novels The Gypsy Moth Summer and Cutting Teeth. Her work has been published in Poets & Writers, Buzzfeed, Glamour, The Millions, Flavorwire, and other publications, and she has been profiled in Brooklyn Magazine, the L Magazine, The Observer and The Economist. A graduate of the Iowa Writer's Workshop, she founded The Sackett Street Writers' Workshop in 2002, which has grown into a creative home to 4,000 writers in NYC, Los Angeles, and online. Julia lives in Brooklyn and Santa Monica with writer Justin Feinstein and their two children. Gabriel Packard is the associate director of the Hunter College MFA and author of the novel The Painted Ocean. He is a recipient of a K. Blundell Trust Award and was named to the W.H. Smiths' Fresh Talent series by Britain's largest bookstore cha... (read more)
Amber Martin Presents The Amber Zone! - Sid Gold's Request Room
June 11, 2018 - New York
Celebrated comedian, singer and cabaret star, Amber Martin, curates and hosts a weekly showcase of some of the most brilliant performers in NYC, thus the world. A TimeOutNY Pick! The Amber Zone happens each Monday, with doors at 7pm and show at 8pm, Amber Martin will present a different one-hour program starring a bevy of downtown and beyond artists (Amber's very talented friends!). Each week, a different show by a different performer. You never know who or what you'll get, but you can rest assured it will be fun, truly brilliant and most importantly, intimate.
Open Mic Monday - Nuyorican Poets Café
June 11, 2018 - New York
A Nuyorican Poets Cafe Production Open Mic Mondays: Play us a song, show us your stand-up, read us a poem - perform in any genre you want! You get five minutes to show us one piece: Stun us, impress us, and make it count. But only the first 25 people can sign up! So get down, sign up, and show us what you got! $8 online and at the door.
The Moth StorySLAM: Impostor - Housing Works - Bookstore Cafe
June 12, 2018 - New York
10 stories, 3 teams of judges, 1 winner.
Movie Trivia - Videology Bar & Cinema
June 12, 2018 - Brooklyn
Voted "Best Bar Trivia (2015)" by The Village Voice "This trivia night is hotter than a 1996 VCR that just played both tapes of Titanic." – Time Out New York Break out your brains, cinephiles! Every Tuesday at 8:30 Videology Bar & Cinema presents Movie Trivia, hosted by Maggie Ross! Our Tuesday night trivia is our original and signature trivia event, as featured in The New York Times, Time Out, Brooklyn Magazine, and more! Each week we bring you 6 rounds of incredibly tough movie trivia. We've got clips rounds, general knowledge rounds, picture rounds, theme rounds including famous movie quotes, not so famous movie quotes, our trademarked DVD Chapter Round™, taglines, Nicolas Cage quotes, dramatic scene recreations, and more! Every week our winning team gets a free round of drinks. Plus, we've got free drink bonus questions in between every round. So bring your thinking caps, and your friends, and your friends' thinking caps, and join us for a night of fun! Doors open at 7PM.
Diversity Jam - The PIT Loft
June 12, 2018 - New York
An improv jam in celebration of diversity and inclusion. You are welcome here!
Private Wealth Management Group Meeting - CFA Society New York
June 12, 2018 - New York
he Private Wealth Management Thought Leadership Group seeks to enrich and enable finance professionals to meet the modern needs of private clients, and to remain at the forefront of professionalism and knowledge in serving private clients. The Group welcomes CFANY members who manage assets for individuals and for themselves. Our group members are creative, well-read, and forward-thinking in our private discussions and in our presentations to the general membership of CFANY. Their professional practices encompass portfolio management, investment research, investment advisory, financial planning, and firm leadership. We focus discussions and meetings on investment strategy, implementation, and communications with the goal of enriching our professional experience and practice. The Group pursues collaboration with other CFANY groups in programming, especially with the Value Investing and Market Integrity Interest Groups. The group encourages its members to participate in other activities at CFANY, such as volunteering to grade reports, mentoring a university team, or judging the Final Four in the Investment Challenge.
2018 Gala Benefit - The National Jazz Museum in Harlem
June 12, 2018 - New York
Our 2018 Annual Benefit Concert will feature amazing artists soon to be announced. Don't miss this joyous night of celebration.
The Sporkful Presents: The Bucatini Dialogues - Caveat
June 12, 2018 - New York
Which is better, spaghetti or fettuccine? Are bowties magical or awful? In this live taping of The Sporkful podcast, host Dan Pashman moderates a debate about pasta shapes between Splendid Table's Francis Lam and Good Food's Evan Kleiman. The discussion will involve food science, history, culture and an inordinate amount of passion.
Get Schwifty (PIT ATTIC) - PIT Striker Mainstage
June 12, 2018 - New York
It's time to get SCHWIFTY at this Attic Open Mic!
Latin Jazz Big Band Night Featuring: the Bronx ConexióN - Nuyorican Poets Café
June 12, 2018 - New York
The Bronx Conexión is a driving 20-piece Latin-Jazz Big Band lead by drummer/ percussionist, Victor Rendón. The ensemble, with its home base at Lehman College, brings a group of veteran musicians with a wide variety of experience in the field. The Bronx Conexión keeps the tradition of Tito Puente, Machito, Mario Bauza, among others, with it's own rendition of popular tunes as well as original compositions and arrangements by various members in the band. Admission: $10 general admission/$7 with Student ID at the door/$25 two tickets plus two drinks
The Editorial Board - Pine Box Rock Shop
June 12, 2018 - Brooklyn
Watch comedians put on their journalist hats
Auction: Rothschild Estate and Various Art & Antiques - Manhattan Art & Antiques Center
June 12, 2018 - New York
Property and estate from Jane N. Rothschild including sterling silver, English furniture, artwork, Ernest Hemingway signed letter, Baccarat crystal, early Chinese reverse glass painting, early Renoir etchings, Hiroshige Japanese woodblock print. Jean Francois Millet. William Meyerowitz. Mink coat and more. Other properties include Art Nouveau glass, porcelain from Royal Copenhagen, Royal Vienna, Meissan. Art and antiques from Russia, France, England, Chinese, Japanese, Indonesian, and more. Islamic weapons, Indian miniatures, and antiquities.
Accessories The Show - Jacob K. Javits Convention Center
Through June 12, 2018 - New York
[PRE] Coterie - Jacob K. Javits Convention Center
Through June 12, 2018 - New York
Launching this June, [PRE] COTERIE is a pre-collections event and exclusive shopping experience for the global fashion elite. Featuring women's apparel and accessories designers in expertly merchandised environments including resort, international women's wear, designer accessories and fine jewelry, swim, and active. Beauty and vintage are open to buyers and the public.
Recess - PIT Striker Mainstage
June 13, 2018 - New York
Come play at RECESS. A weekly open jam where master improvisers from the PIT's Super Free Monday and Wednesday shows, students taking PIT classes, and YOU (the public, the curious, at any or no skill levels) come together to perform scenes, play, polish skills, watch the fun and have a great ol' time. And it's FREE! Hosted by Gregory Levine.
Wednesday Night Poetry Slam Open Hosted by Jive Poetic - Nuyorican Poets Café
June 13, 2018 - New York
A Nuyorican Poets Cafe Production Wednesday Night Slam Every Wednesday except the first Wednesday of the Month. Hosted by Jive Poetic! Line forms outside a half hour before doors open. Doors open at 9:00pm and admission is $10.
Bar Convent Brooklyn - Brooklyn EXPO Center
Through June 13, 2018 - Brooklyn
The Bar Convent started as a small industry meeting in Berlin and quickly became one of the most important international bar & beverage trade shows. The show is now expanding to Brooklyn, NY in June 2018. Bar Convent Brooklyn serves as a channel between premium brands and influencers in the bar and beverages industry across the globe. The show offers a place to network, share knowledge, explore the newest trends and products, and realize great business opportunities.
Surface Decoration Techniques for Glass Beads - UrbanGlass
Through June 13, 2018 - Brooklyn
Take your beads to the next level! This class will cover a variety of surface techniques, including complex dot patterns and layering, stringer control, mixing colors on the surface of the bead, precise shaping, troubleshooting. Each class will start with a 30 min demo of a specific technique, followed by practice time, assistance, and conversation. Please come to class a little early to set up your workstation. All skill levels welcome! Perfect for recent Bead Project Graduates.
Happy Hour Karaoke with Matt Hartman - Sid Gold's Request Room
June 14, 2018 - New York
Matt grew up listening to Ben Folds, Elton John, and Billy Joel. When he's not playing at Sid Gold's, you can find him playing on the Internet.
Chance Encounters Jam - The PIT Loft
June 14, 2018 - New York
Chance Encounters is an improv jam where a dice roll determines the number of performers on stage. $3 to watch or play! Hosted by: Jon Monje, Glorillis Tavarez, Trumane Alston, and Julien Darmon. $3 for Citizens, $1 for PITizens
Laroche & Clark Comedy Night - Pine Box Rock Shop
June 14, 2018 - Brooklyn
They are a show AND two humans. Together, they have one goal in mind...to assemble the BEST audience, the BEST possible talent and the BEST night of love, comedy, coolness and weirdness. The underground comedy scene of NY has many unique and wonderful shows, but few that strive for diverse voices, stories, mediums and FEELS to be highlighted and praised. We aren't just a show, we're a SOUL. Living, breathing, learning, loving and growing. We guarantee all the love, peace, oneness and laughter. If you're into the hippy dippy, lovey-dovey, 100% genuine and truthful positivity of this description, this is the show for you. Join us!
2018 High Yield Bond Master Class & Conference - CFA Society New York
Through June 14, 2018 - New York
This program focuses on the basic building blocks of high yield investment. Leading practitioners will describe state-of-the-art practice in high yield credit analysis and portfolio management techniques. Another focus will be high yield's distinctive market structure and trading environment. The Master Class will benefit existing and aspiring high yield practitioners, providers of services to high yield managers, and institutional asset allocators and investment advisors who seek to understand the role that high yield bonds can play in their portfolios.CFA Society New York's longest-running conference brings attendees up to the minute on the market outlook and key innovations. Leading market participants will address the challenges of changing economic conditions and regulatory developments. Expert presenters will discuss current developments in the new issue market and leveraged loans. This program is recommended for credit analysts, fixed income portfolio managers, institutional investors and financial advisors who allocate to the high yield asset class, and providers of services to money managers
Narrative Imagery - Explorations in Graal Techniques - UrbanGlass
Through June 14, 2018 - Brooklyn
This course is about combining blown glass and imagery. The participants will use the Graal technique to create their own visual expressions. Contemporary glass artists are using illustration techniques on blown glass in expressive ways as a means for storytelling. With a blown glass vessel, one can play with transparency, different viewpoints, and with inner and outer space – ideally this will create an interplay with the shape and the illustration.
Happy Hour - The PIT Underground
June 15, 2018 - New York
Show up ready to be challenged, meet new people, and improvise! This jam will get you ready for the next level of improv while being the perfect pregame to your weekend. There are four rotating formats with different hosts.
Lucky Cheng's Drag Cabaret Restaurant & Bar Presents: Drag Dinner featuring Stivy Schatzi Paris - Stage 48
June 15, 2018 - New York
Join us Friday, June 15th when Stivy Schatzi Paris from Quebec, Canada makes her NYC debut on the Lucky Cheng's stage!
Friday Night Poetry Slam - Nuyorican Poets Café
June 15, 2018 - New York
Come check out the Nuyorican's most popular weekly event! Watch professional poets perform and our Wednesday night Slam winners spit! Judges of our Friday Night Slams are 5 randomly chosen members of our audience (in other words, it could be you!). $13 General admission at the door (a line forms outside an hour before admittance, general admittance starts at 10pm). Tired of waiting on line? Buy VIP Tickets online and mingle with da poets! $25 VIP admission (online only). Arrive at the Main Entrance (and not in the line) by 9:30pm SHARP!
Broadway Sessions - Laurie Beechman Theatre
Through June 15, 2018 - New York
Every Thursday night, as the curtains fall on Broadway, Host BEN D (from Broadway's Wicked, Aida and Footloose) and his crew of amazingly talented folks welcome a new Broadway cast to perform in this fun and zany musical theater variety show. Get up close and personal with Broadway's brightest as the stars bare their souls, interact with the crowd and celebrate all things BROADWAY.
Summer Tippler - New York
Through June 15, 2018 - New York
THIS SUMMER, COOL OFF WITH THE SUMMER TIPPLER. NAVIGATE NYC'S COCKTAIL SCENE WITH NYC COMPASS' HAND CRAFTED COCKTAIL PASSBOOK. EXPERIENCE SIGNATURE COCKTAILS AT OVER 15 OF THE CITY'S BEST VENUES.
Watson Adventures' Escape From Grand Central Scavenger Hunt - Grand Central Terminal
June 16, 2018 - New York
Congratulations: You've been poisoned! That's the bad news at the start of this scavenger hunt for adults in Grand Central Station. The good news is that the evil genius who did this is giving you two hours to come up with the combination to a box that contains the antidote. To find it, you'll have to follow a trail of clues to answer tricky questions, tackle sneaky puzzles and ultimately crack the secret code that will unlock the box. Does your team have what it takes to unlock the box and escape Grand Central? Your life may depend on it. A smartphone is required for each team to participate on this hunt. Advance ticket purchase required.
Bloomsday on Broadway XXXVII - Irish Arts Center
June 16, 2018 - New York
We continue our 40th anniversary celebration of Symphony Space with a return to the essential source of Bloomsday in an evening dedicated to the brilliance of Ulysses. From the stately plump entrance of Buck Mulligan to the "yes I said yes I will Yes" of Molly Bloom, we present a whirlwind tour through the first 17 episodes and wrap up with a chorus of Mollys led by Kirsten Vangsness (Criminal Minds). With music inspired by one of the most important works of modernist history and an after-party in Bar O'Thalia!
Jazz for Kids Oran Etkin's Timbalooloo Duo Workshop - National Sawdust
June 16, 2018 - Brooklyn
Have you tried Jazz for Kids? Timbalooloo strives to fundamentally reimagine the way music is taught and language is formed. The Timbalooloo Method was developed by internationally renowned musician Oran Etkin. Through the Timbalooloo Method, children learn to express themselves by making instruments come alive and speak the language of music. The method adds character, humor and emotion to music. Through fun games, stories, songs and movements, children engage with rich musical and cultural heritage – from Tito Puente to Mozart, Willie Nelson to Herbie Hancock. "Our son was talking about Herbie Hancock, Mozart, Samba and African music – and he knew the difference!." – Harvey Keitel
The Elastic Time Cannon - The PIT Loft
June 16, 2018 - New York
The Elastic Time Cannon is a mind bending, time blending, never ending adventure through the space-time continuum. With the suggestion of an opening line of dialogue this extratemporal cast creates an expanding and eventually collapsing universe of characters all born from the same moment in time. ETC shows are marked with causal loops, dimensional incursions, and a multiverse of high stakes moments. It's an absurd, laugh out loud thrill ride of a show!
Byov - Pine Box Rock Shop
June 16, 2018 - Brooklyn
Always thinking of making a video, but you've never gotten around to it? Let this be your excuse. Tired of posting videos online and never hearing a live reaction? Premiere your next video at BYOV. BYOV is a monthly supportive open mic for video content. Whether it's your first time making a video, or you're a seasoned director, we will show your video to a live audience.
Video Music Brunch: Old School VS New School Fathers Day Edition Brunch & Day Party - MIST Harlem
June 17, 2018 - New York
Remember when MTV actually played music videos instead of all those ratchet reality TV shows? At one time, music videos were a really BIG DEAL! C'mon… you know you used to race home after school to watch The Box ("Music Television You Control"), and Video Soul or Rap City on BET. If you were in NYC back then, you remember how we lived for Video Music Box with Ralph McDaniels and The Bobby Simmon's show. But no matter where you grew up, chances are that at some point you spent time watching music videos – imitating the dance moves, learning the lyrics, and copy the fashion trends… Man, those were the days! Well, The Alumni Group is taking you on a trip down memory lane at our Video Music Brunch. Along with our delicious brunch food specials, we'll not only be spinning the classics, we'll also be showing off the visuals that go along with them. Enjoy our dope music video playlist, featuring your old school favorites as well as the new-new hotness, as you sip on unlimited brunch cocktails. The song says that "videos killed the radio star", but at this brunch we'll celebrate the role videos have played in shaping our culture over the years. Trust us, you won't want to miss this visual,... (read more)
Jesse Krakow Presents the Krak House - Sid Gold's Request Room
June 17, 2018 - New York
Jesse Krakow is a multi-instrumentalist who currently plays in the cult 1960's avant-garde band THE SHAGGS, with Nona Hendryx & Gary Lucas in THE WORLD OF CAPTAIN BEEFHEART, and the all-male Madonna tribute MANDONNA. He has worked with Shudder To Think, Julee Cruise, Nina Persson, Robyn Hitchcock, Kate Pierson, Gene Ween, Paul Rudd, Michael Showalter, Bill Laswell, John Zorn, Dr. Know, Gail Ann Dorsey, The Loser's Lounge, Joy Askew, and a zillion others. He has hosted his own show on NJ's legendary radio station WFMU, been a professor at Bootsy Collins' online "Funk University" – alongside bassists such as Victor Wooten, Stanley Clarke, & Jack Bruce, been commissioned by The Brooklyn Philharmonic, recorded for Sony, Team Love, Alternative Tentacles, & Tzadik, and toured the country more times than he remembers.
The Men's Bazaar (Father's Day) - Grand Bazaar NYC
June 17, 2018 - New York
The Amazing Father's Day Scavenger Hunt - Slattery's Midtown Pub
June 17, 2018 - New York
POGO Events presents The Amazing Father's Day Scavenger Hunt. A series of clues leads you around the city performing physical and mental challenges along the way. This hunt celebrates Dad's and all they do in a fun, interactive way! Each member of the winning team receives a New York City gift package. The hunt takes three hours. Please wear comfortable shoes and bring a Metrocard. One member of the team should have a smart phone (either Android or I-Phone). The hunt is run through an app called ScanQuest. Please download that before you come to the event. It is a great way to connect with friends or meet new ones.
The Telephone Show - The PIT Loft
June 17, 2018 - New York
Patrick Keene hosts a show inspired by Chicago's Mullaney Chain, where improvisers call each other one by one to form a team! No one knows what the line-up will be! $1 for both the audience and participants!
Broadway 92Y Chorus Concert - 92Y
June 17, 2018 - Upper East Side
Join us for the concert of the Broadway at 92Y Chorus – founded by Robbie Capp in 1994, it remains the only community chorus in New York devoted to classic repertory from the American musical theater, stage and screen.
Treatment: The Plan for Rain - Knockdown Center
Through June 17, 2018 - Maspeth
Treatment: The Plan for Rain is a project by Nicholas O'Brien that rethinks the NYC Department of Environmental Protection's (DEP) stormwater collection program by focusing on soil biodiversity, transparency, maintenance, and its impact on citizens. Through a series of animations and sculptures, artist Nicholas O'Brien questions how the DEP's plan employs System Engineering principles that often ignore the human element in undertaking large-scale urban infrastructure projects. The animations in the exhibition render components from the stormwater collection systems, and are overlaid with segments of audio from interviews with various experts as well as DEP officials. The exhibition attempts to shed light on the often opaque decision making that occurs when trying to reshape the city into a more environmentally conscientious place.
Eternal Con - Nassau Veterans Memorial Coliseum
Through June 17, 2018 - Uniondale
Eternal Con, Long Island's premier Comic Book and Cosplay convention, will return for its sixth anniversary, a two-day extravaganza on June 16 & 17 at NYCB LIVE, home of the Nassau Veterans Memorial Coliseum. This is the second year that Eternal Con will be held in the Exhibition Hall at NYCB LIVE. Throughout the weekend, attendees will have the opportunity for Portfolio Reviews, gaming tournaments, informative panels, a car show with iconic movie vehicles including the 2005 Batman Begins Batmobile – "The Tumbler," the 1966 Batmobile, Mad Max's V8 Police Interceptor, the DeLorean time machine from Back to the Future, a jeep from the original Jurassic Park and Supernatural's Chevrolet Impala, an expanded art show, cosplay groups, special performances, and a vendor room with over 150 tables of toys, jewelry, clothing and collectibles.
Borough Con - Brooklyn EXPO Center
Through June 17, 2018 - Brooklyn
Chloë Bass: The Book of Everyday Instruction - Knockdown Center
Through June 17, 2018 - Maspeth
Knockdown Center presents Chloë Bass: The Book of Everyday Instruction, an eight-chapter investigation of one-on-one social interaction, exploring an expanded understanding of "the pair." This exhibition will be the first time the project is exhibited in its entirety, and includes all eight chapters developed by Bass between January 2015 and January 2018 as well as additional interventions created in response to Knockdown Center's public spaces outside of the gallery. Bass uses daily life as a site of research to study the modes and scales of intimacy, locating where patterns hold and break as group sizes expand. Her works prioritize the fostering and observing of everyday interpersonal situations, and take a variety of forms across photography, text, video, sculpture, performance, a mobile phone app, poetic modes of documentation, and site-specific interventions. Presented in sequential chapters, each with its own central question and focus, Bass' inquiries expand in scale and scope; she begins with an investigation of intimacy between herself and a stranger, and expands outward to study the relationships between individuals and their safe spaces, institutions, and finally citi... (read more)
Fantastic Bits and Where to Use Them - UrbanGlass
Through June 17, 2018 - Brooklyn
Take your glass practice to the next level with hot bits! In this class we will focus on adding embellishments to glass forms by learning a variety of hot glass bits and different ways to use them. We will be covering things like handles, wraps, chick-chicks, Spock ears, caterpillars and several other made up sounding things that will add some character and flair to any of your glass work! Open to all levels.
Broadway Commons Carnival - Broadway Commons
Through June 17, 2018 - Hicksville
This family-friendly annual event ushers in summer fun with midway rides for all ages, from enchanting kiddie rides to exhilarating thrill rides, carnival games and a variety of fair food. Carnival admission and parking are free. Unlimited ride wristbands are $25 Monday - Thursday and $30 Friday - Sunday. Ride tickets are $1.50 each, $25 for 20 tickets, or $50 for 50 tickets plus 1 free ride. Rides take 2 or more tickets each. Visit the website for coupon savings on rides and food. Carnival hours are 5 to 11 pm Monday - Friday and noon to 11 pm Saturday - Sunday. For more information, call 866-666-3247.
BoroughCon 2018 - Brooklyn Expo Center
Through June 17, 2018 - Brooklyn
We're back! BoroughCon will be returning for its second year in June 2018! Be sure to check back for more info as we make more and more announcements as we lead up to the convention! For the time being, if you have any questions you can contact us at [email protected]
Dancing on the Surface: Small Scale Glass & Metal, a collaboration with Brooklyn Metal Works - UrbanGlass
Through June 26, 2018 - Brooklyn
Students will learn to use the lathe, flat wheels, sanding belts, and dremels to achieve texture and a variety of finishes, as well as practical applications in preparing glass to be joined with metal. The BKMW section of this course will teach metal fabrication techniques to create settings for the carved glass objects. The focus will be on jewelry applications, specifically pendants, though students may apply these techniques to create small scale sculptures. Processes will include sheet metal and wire manipulation, sawing, filing, surface embellishments, and finishing in the metal. Both cold connections and high temperature silver soldering will be taught. Students will learn how to rivet glass with metal, solder metal in close proximity of glass, create tab settings in sheet metal, and create modified prong settings for more complex and clean designs.
Transplants: Greek Diaspora Artists - John Jay College of Criminal Justice
Through June 27, 2018 - New York
National Geographic Encounter: Ocean Odyssey - National Geographic Encounter
Through June 30, 2018 - Times Square
Through ground-breaking technology, audiences will go on a digital "underwater" dive and come face-to-face with life-size photo-real versions of some of the largest and most interesting creatures of the sea at this one-of-a-kind immersive entertainment experience. This is a walk-through experience and lasts approximately 90 minutes.
This Ain't No Disco - Atlantic Theater Company: Linda Gross Theater
Through July 01, 2018 - New York
World Premiere Musical THIS AIN'T NO DISCO Musical & Lyrics by STEPHEN TRASK & PETER YANOWITZ Book by STEPHEN TRASK & PETER YANOWITZ and RICK ELICE Directed by TRIP CULLMAN Linda Gross Theater, 336 West 20th Street Set against the grit, the garbage strikes, the graffiti of 1979 New York City, This Ain't No Disco tells the story of drifters and dreamers searching for their place in the night world of Studio 54 and Mudd Club. In their uptown/downtown quest for revelry and kinship, every decision is fateful in a city where one's fate can turn on a dime bag. An electrifying new musical from composer/lyricist of Hedwig and the Angry Inch, Stephen Trask, along with Peter Yanowitz (The Wallflowers), directed by Trip Cullman (Atlantic's I'm Gonna Pray For You So Hard, Broadway's Six Degrees of Separation). "Trask's songs have everything: melody, swagger, piano, wit, electric guitar, harmony, fun, angst, a little filth. The band, [Yanowitz & co], combine the look of old-school glam and punk with the one thing the genre currently lacks: youth." – The New Yorker
Branded Content - Pine Box Rock Shop
Through July 07, 2018 - Brooklyn
BRANDED CONTENT ™ is a monthly variety show hosted and curated by Simone Norman and Jackson Fisher; featuring stand up, improv, and messages from our corporate sponsors! Each month we'll give our favorite comedic performers a chance to showcase their talents and #promote their favorite #brands. Maybe one day our sponsors will finally return the favor.
Demian DinéYazhi' and R.I.S.E.: Radical Indigenous Survivance & Empowerment: A Nation Is a Massacre - Pioneer Works
Through July 08, 2018 - Brooklyn
Join us as we celebrate the opening of Demian DinéYazhi' and R.I.S.E.: Radical Indigenous Survivance & Empowerment: A Nation Is a Massacre on view in our third floor galleries from May 17 – July 8 2018. In A Nation is a Massacre, the first New York institutional solo exhibition by artist and activist initiative R.I.S.E.: Radical Indigenous Survivance & Empowerment and Demian DinéYazhi', its founder, provides a space aimed at creating awareness about ongoing inhumane acts of settler-induced violence against Indigenous bodies.
Little Rock - Sheen Center for Thought & Culture
Through August 05, 2018 - New York
This docudrama with music chronicles the true story of nine brave students poised to integrate the formerly all-white Little Rock Central High School. At the dawn of the civil rights movement, three years after Thurgood Marshall successfully litigated the 1954 Brown v. Board of Education Supreme Court case, Little Rock, Arkansas became ground zero in the fight to integrate public schools across America. Through a series of events and with the aid of an emerging technology called television, living rooms across the world would witness a real life drama featuring a brave and stalwart group of black teenagers, who would become known as The Little Rock Nine, along with a supporting cast including a defiant Governor, a resolute President Eisenhower, and 11,000 federal and state troops. Integrating Little Rock Central High School would become an important and dramatic prerequisite step in implementing the new federal law. Successfully completing the school year would become its ultimate test. N.B. Strong language To receive and email alert when tickets go on sale, sign up here!
A Light on the Path to Inner Wisdom with Scott Tusa - Tibet House US
Through August 06, 2018 - New York
Starting in April, Scott Tusa will be in residence to guide and help launch a twelve week practicum focused on developing a personal relationship to the Buddhist path. Through a combination of experiential learning and meditation, the series will explore the intersections of core Buddhist principles and our everyday lives, where integrative practices meet our own inner potential. Along with weekly teachings and discussions, each four week module will include readings and practice recommendations to support participants in both their understanding and personal paths. We hope you can join us for this exciting new series, and please stay tuned for more information! Scott Tusa is a Buddhist teacher based in Brooklyn, New York. He teaches meditation and Buddhist psychology nationally and supports Tsoknyi Rinpoche's Pundarika Sangha as a practice advisor. He trained in Buddhist philosophy and meditation with some of the greatest living masters since his early twenties, including Lama Zopa Rinpoche, Tsoknyi Rinpoche, and Tulku Sangag Rinpoche. Ordained by His Holiness the Fourteenth Dalai Lama, he spent nine years as a Buddhist monk, with much of that time engaged in solitary meditatio... (read more)
Being: New Photography 2018 - The Museum of Modern Art
Through August 19, 2018 - Manhattan
Every two years, MoMA's celebrated New Photography exhibition series presents urgent and compelling ideas in recent photography and photo-based art. This year's edition, Being, asks how photography can capture what it means to be human. At a time when questions about the rights, responsibilities, and dangers inherent in being represented—and in representing others—are being debated around the world, the works featured in Being call attention to assumptions about how individuals are depicted and perceived. Many challenge the conventions of photographic portraiture, or use tactics such as masking, cropping, or fragmenting to disorient the viewer. In others, snapshots or found images are taken from their original context and placed in a new one to reveal hidden stories. While some of the works might be considered straightforward representations of individuals, others do not include images of the human body at all. Together, they explore how personhood is expressed today, and offer timely perspectives on issues of privacy and exposure; the formation of communities; and gender, heritage, and psychology. Exploring new ground and the many forms that the photographic image can take, ... (read more)
Georgia O'Keeffe: Visions of Hawai'I - The New York Botanical Garden
Through October 28, 2018 - Bronx
Pioneering American modernist Georgia O'Keeffe (1887–1986) conveyed a distinct sense of place with innovative depictions of her surroundings, from stark New Mexican landscapes to New York cityscapes. Yet flowers and plants were subjects that engaged O'Keeffe throughout her career. Curated by Theresa Papanikolas, Ph.D., of the Honolulu Museum of Art, this landmark exhibition will offer a rare focus on 20 of O'Keeffe's depictions of Hawai'i from a nine-week sojourn in 1939 while on commission to produce images for a Hawaiian Pineapple Company promotional campaign. A lush exhibition in the Enid A. Haupt Conservatory of Hawaiian flora and a stunning display in the LuEsther T. Mertz Library Art Gallery that includes more than 15 of O'Keeffe's Hawai'i paintings—not seen together in New York since their debut in 1940—will spotlight a transformative experience in the legendary artist's life, revealing O'Keeffe's deeply felt impressions and the enduring influence of the Islands' dramatic landscapes and exotic plants.
The Central Park Walking Tour - Manhattan and Beyond Tours llc
Through October 28, 2018 - New York
The Central Park Walking Tour Daily 12pm—2 hours—2 miles—$25/person Gain a complete picture of Central Park's origins, wit-ness its design, experience the cultural influences and feel the calming effect being in nature brings from the hustle and bustle of city life.
The Central Park Walking Tour - Manhattan and Beyond Tours llc
Through October 28, 2018 - New York
The Central Park Walking Tour Daily 12pm—2 hours—2 miles—$25/person Gain a complete picture of Central Park's origins, wit-ness its design, experience the cultural influences and feel the calming effect being in nature brings from the hustle and bustle of city life.
Looking for Free Group Planning Services?
Get free advice on planning your group's trip to New York.
MORE Activity Planner ARTICLES
RESTAURANTS

Multi-concept restaurant offering modern Japanese cuisine, a...

THEATER

In a heartbeat, 38 planes with 6,579 passengers were strand...

SHOPPING

Specializing in the great vineyards of California, France, A...

SIGHTSEEING

Manhattan's premier all-glass, European-inspired dining crui...