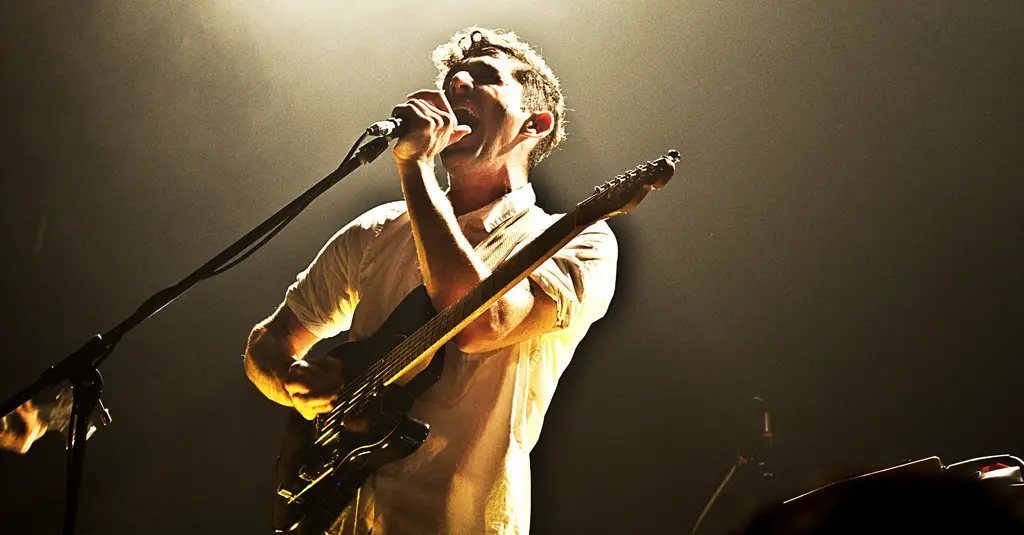 Photo: Mike Cicchetti/Flickr

All of musical greats make their way through the Big Apple at one point or another, making NYC one of the best locations for catching pop and rock shows. Whether you like the big names or go more for the rising talent of the music industry, be sure to snag tickets to these weekend New York City pop and rock shows compiled by City Guide.


'Classic Deep Purple Live' Performed by Glenn Hughes - Iridium
Through April 17, 2019 - New York
Glenn Hughes, Former Bassist And Singer Of Deep Purple, Known To Millions As The 'Voice Of Rock', Rock And RollHall Of Fameinductee, And The Current Front Man For Rock Super Group Black Country Communionis Pleased To Announce That He Will Be Performing Deep Purple Only Material With His "CLASSIC DEEP PURPLE LIVE"Nationwide US Tour In August-Sept.2018. As Well As Glenn On Lead Vocals And Bass Guitar, The Touring Band Also Features Soren Anderson (Guitar), Jesper Bo Hansen (Keyboards) And Fer Escobedo (Drums). The Tour Promises To Be Dynamic, A Turn-Back-The-Clocks, Two-Hour Live Extravaganza Homage To His Tenure In MK 3 And MK 4 Incarnations Of Deep Purple– One Of Music History's Most Seminal And Influential Rock And Roll Groups. All Tour Dates Will Be Announced Shortly. With A Facebook Following Of A Quarter Million Fans
Better Jeopardy - UCBT Hell's Kitchen
April 26, 2019 - New York
Everybody agrees that Jeopardy! is the best show on television. But what if it was...better? Better Jeopardy!! takes the classic version of Jeopardy!, which already totally rocks, and adds new rules, tweaks, and surprises to make it rock even harder. Join host Noah Forman, who is younger, hotter and more Jewish than Alex Trebec, as he leads three money-grubbing contestants through a gut-busting gauntlet of tough trivia, confounding clues, and emotional soul-searching. Welcome to the XFL of Jeopardy. Better questions, better rules, no fair catches. By attending this show, you will be able to personally make Jeopardy better. "It's better than Jeopardy." "What is Better Jeopardy!!?" "Correct!" Featuring your one-woman clue crew Kristen Acimovic! Brought to you by Aleve Liquid Gels.
Frankie & the Street Angels - The Bowery Electric
April 26, 2019 - New York
This Event Is 21 And Over EmailSHARE THIS EVENT Sync event to iCal Sync event to Google Calendar Frankie Rage is the Original Singer for "Luigi & The Wiseguys" which started out in the late 70's at CBGB's and at "Max's Kansas City". Frankie Rage has performed at The Bowery Electric for the last MAX'S Kansas City Reunion; and with "Luigi & The WiseGuys" and twice with "Frankie and the Street Angels". As Vocalist "Frankie Rage" also performed in the House Band for the Max's Kansas City 40th LP Release. Show History in NYC: "Frankie and The Street Angels" have performed at TheBowery Electric; at Niagara; at Delancy; at Sidewalk Cafe; at Hank's Saloon. Instrumentation: The Rock Band "Frankie and The Street Angels" has (4) Instruments, Guitars, Bass, Drums, 2 Mics. The Band has been together for 2 1/2 Years. Music is Rock&Roll, a mix of Originals and some Covers.
Electric Feel Dance Party! Dj Ilan DJ Matt Basile - The Bowery Electric
April 26, 2019 - New York
This Event Is 21 And Over
Reigning Sound - Hank's Brooklyn
April 26, 2019 - Brooklyn
Cliff Westfall The Reigning Sound was born in Memphis, TN. Its daddy was a Flash & The Memphis Casuals 45 and its mother a Barbara Pittman single. Cliff Westfall writes songs about heartache, loss, and addiction… you know, funny songs. Or he can turn on a dime and dive headlong into a sentimental weeper. The Kentucky native delivers with a mixture of wit and bravado that, for Westfall, is central to what country music is all about. His debut album, Baby You Win, appeared on multiple Best of 2018 lists, and received acclaim in publications including Saving Country Music, No Depression, Magnet, PopMatters, Country Music People (UK), Lonesome Highway (Ireland) and many others. Backed by a crew of some of NYC's finest musicians, his songs combine clever and insightful lyrics with classic honky tonk hooks.
Foxing / Now, Now - Warsaw
April 26, 2019 - Brooklyn
Nash Fm Presents Cassadee Pope: Cmt Next Women of Country Tour 2019 - Gramercy Theatre
April 26, 2019 - New York
Just a few blocks from Madison Square Park, Gramercy Theatre's intimate live experience remains unmatched by any other Manhattan venue. Get up close and personal with the performers in the general admission section, or enjoy a full view of the unforgettable environment in our authentic theatre seating. Grab a cold drink from one of the many bars located in the venue, including the downstairs lounge.
Sylvia Cuenca Band - Fat Cat
April 26, 2019 - New York
Sylvia Cuenca Band
Martin Barre Celebrating 50 Years Of Jethro Tull In America A 2019 Us Concert Tour Showcasing Tull's Music History With Official Tull Band Members: Martin Barre/clive Bunker/jonathan Noyce - Boulton Center for the Performing Arts
April 26, 2019 - Bay Shore
MARTIN BARRE has played on all the Tull albums over the years and his riffs and writing have been a major part of selling 65million Jethro Tull albums worldwide. Martin won a Grammy for his playing on Crest of a Knave and is regularly in the polls for his guitar playing. Martin plays mandolin as well as flute. Clive Bunker – played drums on Stand Up/Benefit/Aqualung etc. Clive was part of the historic band that stormed the USA from 1969 onwards. Jonathan Noyce – played bass on more than 10 Tull albums. Clive is a highly recognized musician, playing with many famous bands including Gary Moor and Gentle Giant. Martin Barre has been the guitarist of Jethro Tull for 43 years, his sound and playing having been a major factor in their success. Album sales have exceeded 60 million units and they continue to be played worldwide, representing an important part of classic rock history.Martin's guitar playing has earned him a high level of respect and recognition; he was voted 25th best solo ever in the USA and 20th best solo ever in the UK for his playing on 'Aqualung'. His playing on the album 'Crest of a Knave' earned him a Grammy award in 1988.As well as numerous Jethro Tull albums, ... (read more)
A Birthday Tribute to Ella Fitzgerald - Smoke jazz & Club
April 26, 2019 - New York
Featuring Charenée Wade
The Midnight Show with Johnny O'Neal - Smoke jazz & Club
April 26, 2019 - New York
Invited Guests This fine pianist and singer is a throwback to the long-gone days when performers had to know any song that was thrown at them, and then toss it off with authority. He has built a coterie of devoted listeners entranced by his old-school erudition. O'Neal celebrates the release of his album "In the Moment"…" - The New Yorker
Dennis Deyoung: The Grand Illusion 40th Anniversary Album Tour - St. George Theatre
April 26, 2019 - Staten Island
In 1977, history was made upon the release of THE GRAND ILLUSION album. DENNIS DEYOUNG AND THE MUSIC OF STYX celebrate that history by performing the album in its entirety plus all eight Top Ten hits LADY, BABE, COME SAIL AWAY, TOO MUCH TIME ON MY HANDS, BEST OF TIMES, MR. ROBOTO plus classic rock anthems RENEGADE, BLUE COLLAR MAN, SUITE MADAME BLUE and many more. DENNIS DEYOUNG is a founding member of STYX and the lead singer and songwriter on seven of the bands eight Top Ten hits. DENNIS is a legendary singer, songwriter, keyboardist, composer and record producer with a career spanning over 40 years. His voice is one of the most recognizable in the music world today and continues to inspire new generations of fans. THE ORIGINAL VOICE….ALL THE CLASSIC HITS….ALL THE MEMORIES….ONE UNFORGETTABLE EVENING.
Derek Hough: Live! The Tour - Palace Theater
April 26, 2019 - Albany
From the EMMY® award winning mind of Derek Hough, the live dance show is the first-ever solo tour for the dynamo. The show features brand-new stage production, astounding versatility and, as always, Derek's magnetic stage presence. Fans will journey through a true fusion of dance and music, as Derek explores styles ranging from ballroom and tap to salsa and hip-hop and everything in between. Creative team and two-time EMMY® winners, Napoleon and Tabitha Dumo, also known as NappyTabs (Jennifer Lopez: All I Have Residency; Michael Jackson: The Immortal World Tour; GRAMMYs® creative direction), will co-create, direct and supervise choreography for the tour.
Queen v's Spring Fling 2019 - Cutting Room
April 26, 2019 - New York
Following the success of the 2018 installment, Queen V and her band return to The Cutting Room for The Second Annual Spring Fling! V will have a number of special guests opening the show and sitting in during her set. There will be drink specials and other fun surprises in store for the night, stay tuned for more info!
Max Weinberg's Jukebox - Daryl's House
April 26, 2019 - Pawling
Limit 10 Per Person Hall of Fame E Street drummer and his crack 4 piece band invite the audience to help create the setlist of songs from the glory days of rock n roll. VIP Meet and Greet – includes photo-op with Mr. Weinberg and one (1) autograph on a personal item of VIP guests choosing. Select your concert tickets on this screen then you'll select the amount of VIP Meet and Greet experiences you'd like on the next!
Hot Water Music - Music Hall of Williamsburg
Through April 26, 2019 - Brooklyn
2019 will mark Hot Water Music's 25th year as a band. To celebrate this landmark, the band will be playing their albums "Caution" and "No Division" in full. From the band: "If anyone would have told us in 1994 that we would be a band for 5 years--let alone 25--we would have never believed them. We've been kicking around the idea of doing full album shows for a few years, and this finally seemed like an appropriate time to go for it. If we were ever going to do any album shows, we knew "Caution" would be the top choice. But we also wanted to do something a little more "old school," so we literally did a Twitter poll to see what albums people wanted to hear. "No Division" won out for 2nd place."
Kodak Black: Dying To Live Tour - Hammerstein Ballrom
Through April 26, 2019 - New York
Concerts
The Claypool Lennon Delirium - Brooklyn Steel
Through April 26, 2019 - Brooklyn
The Claypool Lennon Delirium
Goat - UCBT Hell's Kitchen
April 27, 2019 - New York
GOAT will pull information from your mind and create a fully-improvised show that entertains and amazes you! Members of GOAT have written for or appeared in Saturday Night Live, 30 Rock, Orange is the New Black, Broad City, Difficult People, Above Average, etc. etc.
Jules & the Jinks - Bar Chord
April 27, 2019 - Brooklyn
Jules & the Jinks
Shamilton - UCBT Hell's Kitchen
April 27, 2019 - New York
Baby Wants Candy presents "Shamilton!", the hit Hamilton inspired hip hop musical created in 2016 at UCBLA, developed in Chicago, sold-out at DCM...and now returning to UCB! Ever heard of this show "Hamilton"? Shamilton is just like that, but (ahem) better! Expect the same level of hip hop, incredible songs, stunning choreography and powerhouse singing... except made up on the spot! Join the Shamilton cast as they improvise an epic musical based on a historical figure of your choosing- from Genghis Khan to Frederick Douglas to Kim Kardashian. It's the show Lin-Manuel Miranda calls, "cease and desist!"
Alfredo Sings Jacques Brel Chansons in French with the Life and Story of Brel Told in English. Flamenco Beats and Latin Flavors - Club Bonafide
April 27, 2019 - New York
Alfredo Merat interprets "Chansons" Of the Belgium/French Giant Jacques Brel, gone to soon. After his discovery of "Jacques Brel is Alive & Well in Paris", Alfredo decided to set the record straight…. with his guitar he offers a ONE MAN SHOW that will keep you at the edge of your seat. The world of Brel, his passions, contradictions, fears, hatred will be marked by Alfredo's Fiery guitar playing over most of his most famous songs. "Ne me Quitte Pas, Amsterdam, La Valse, La Chanson de Jacky, On N'Oublie Rien, Vezoul, Le Plat Pay, Au Suivant, Je ne sais pas and many more…
Bowery Comedy with Shalewa Sharpe (2 Dope Queens on HBO), Mara Wiles (High Planes Comedy Festival), Rohan Padhye (Boston Comedy Festival), Sallyann Hall (Devil's Cup Winner), Lane Pieschel (Fancy Show) - The Bowery Electric
April 27, 2019 - New York
This Event Is 21 And Over
10 Year Anniversary Show: Alpaca Wolves, Hartley's Encore, Fondude - The Bowery Electric
April 27, 2019 - New York
This Event Is 21 And Over
Natural Born Leaders Upright Man Petal Crush - The Bowery Electric
April 27, 2019 - New York
This Event Is 21 And Over
Electric Feel Dance Party! Dj Ilan DJ Jordan - The Bowery Electric
April 27, 2019 - New York
This Event Is 21 And Over Weekend dance party featuring all top 40 hits - today and yester year. 5 bars, 2 floors. One of NY's long running weekend dance parties. The party begins at 10pm and rocks til 4am. The music encompasses your favorite party and sing along rock and pop tunes, both classic and contemporary hits. Get ready to go all night long! Call for reservations 327-586-7247.
Crystal Bowersox - The Madison Theatre
April 27, 2019 - Rockville Centre
Crystal Bowersox, a northwest Ohio native currently calling Nashville home, has built her life around music. For her, music was always the most effective form of catharsis, and she would play for anyone, anywhere. In her own words, "my guitar was an appendage. I couldn't live without it." Crystal moved to Chicago as a teenager, ultimately auditioning for the ninth season of American Idol. Crystal's time on the show proved to be well spent, as she immediately left the soundstage for the recording studio. Since her introduction to the world through television, Crystal has released two LPs, two EPs, and several singles. Additionally, she has used her talents to benefit several causes close to her heart and has become an advocate and inspiration for people living with Type 1 Diabetes. The accomplished singer-songwriter is set to release a new project – a live album, recorded at the Kitchen Sink Studio in Santa Fe, New Mexico, cleverly titled Alive. Not only is the title a play on words, representing the rawness of the tracks, but it pertains to the place where Crystal currently is in her life. That place is one of joy, fulfillment, and stability for Crystal and her eight-year-o... (read more)
ACTORS with special guests Bootblacks - Saint Vitus
April 27, 2019 - Brooklyn
The Red Party presents: ACTORS & Bootblacks Live at Saint Vitus Bar with DJs Sean Templar & Matt V Christ spinning Post-Punk & New Wave Throughout the Evening
Ship of Fools #23: Wigjam - Grateful Dead Tribute - Rocks Off
April 27, 2019 - New York
Calling All Shakedown Fleet! Get ready to shake the cobwebs out of your peg-legs for the 23rd Annual Ship of Fools cruise. Groove in style on the mighty Jewel as it sails through New York Harbor on a 3-hour journey. Enjoy spectacular views of the city, a cash bar, and music from the premiere Grateful Dead tribute band in the land Wigjam. Proceeds from this cruise will go to support the Morning Dew radio show heard every Saturday night on WBAI 99.5 FM New York City.
For the Benefit of MR. Kipp - Hank's Brooklyn
April 27, 2019 - Brooklyn
For the benefit of Mr. Kipp Legendary booker, sound engineer, and all around rock'n'roll bad-ass Kipp Elbaum has hit a bit of a rough patch, so it's time to step up and raise some dough to help him get back on his feet! HEAP, CASH REGISTERS, and THE LIVE ONES will be playing live'n'loud, a clutch of boss DJs will be spinning records, and there will be a killer raffle, all to benefit the big-hearted rocker everyone loves.
Patty Smyth & Scandal - Suffolk Theater
April 27, 2019 - Riverhead
This April, PATTY SMYTH & SCANDAL will be SHOOTING UP THE WALLS OF HEARTACHE this April at The Historic Suffolk Theater. Multiplatinum rock legends with hits including THE WARRIOR * SOMETIMES LOVE JUST AIN'T ENOUGH (with Don Henley) * GOODBYE TO YOU and many many more, SCANDAL created a legacy that included the largest selling EP in the history of Columbia Records and a look and sound that set MTV on fire! Welcome to the inimitable PATTY SMYTH & SCANDAL! GOODBYE TO YOU
Manila Killa - Brooklyn Steel
April 27, 2019 - Brooklyn
Manila Killa
The Curfew - UCBT Hell's Kitchen
April 27, 2019 - New York
Eight of the UCBT's most seasoned improvisers create hilarious worlds from scratch in this long-running show. In addition to being veteran performers at the UCBT, members of The Curfew have appeared on Unbreakable Kimmy Schmidt, 30 Rock, Comedy Central, Adult Swim, MTV, and Late Night with Conan O'Brien. On the web they've starred in projects by Improv Everywhere, The Onion, Funny or Die, and College Humor.
Wishbone Ash - Boulton Center for the Performing Arts
April 27, 2019 - Bay Shore
The Beatles, the Blues Boom and Psychedelia had made their impact on Classic Rock and the creative possibilities were infinite. Pioneering the use of twin lead guitars, WISHBONE ASH jumped on board the burgeoning Progressive Rock scene in 1969. Taking full advantage of the fertile musical environment, they produced a distinctive brand of melodic rock, readily apparent on such hits as "Helpless", "Runaway", "Lorelei", "Persephone", "You Rescue Me", "Outward Bound", "Mother Of Pearl", "Rest In Peace" and "Bad Weather Blues". Power and melody have made the Ash a hard act to follow, while they are currently being discovered by new generations of loyal rock fans.
A Birthday Tribute to Ella Fitzgerald - Smoke jazz & Club
April 27, 2019 - New York
Featuring Brianna Thomas Vocalist Brianna Thomas pays homage to the one and only First Lady of Song, Ella Fitzgerald with this birthday tribute. One of the most impressive jazz singers to emerge in recent years, the Wall Street Journal says, "She may well be the best young straight-ahead jazz singer of her generation." Although Fitzgerald was well-known for singing Songbook Classics, Thomas focuses on Ella's equally important blues singing. As she said to Forbes magazine, "I once heard someone say she could have been an opera singer. But Ella still sang the blues. The blues isn't just someone growling and hollering real loud. It's something that isn't only sad, but joyful when we share it. It's a feeling."
Star Dust - Lehman Center For The Performing Arts
April 27, 2019 - New York
After a year on tour and a triumphant run at Broadway's, Joyce Theater, Complexions Contemporary Ballet brings this powerful, loving and emotional tribute to David Bowie's musical career! The International hit rock ballet, "Star Dust, A David Bowie Tribute," commissioned by Detroit's own Music Hall makes its Lehman Center debut to dazzle audiences with its spellbinding glamour! Founders Desmond Richardson and Dwight Rhoden, along with their New York City based company of dancers, have awakened audiences to a new and exciting genre that combines the best of athleticism and virtuosity.
Sir Paul & 45rpm - 89 North Music Venue
April 27, 2019 - Patchogue
This Event Is 21 And Over For this show, advanced tickets for reserved seating on the upper level are available. Table service included. Sir Paul is a dedication to the music of Paul McCartney Six slightly deranged musicians playing the cheesiest songs of the 70's. Performing all the songs that were never cool enough for bands to play live and they play them like they're the most important music of our time, performing note-for-note recreations of songs you thought you hated but, it turns out, you love. This band is a lot of FUN!
Ship Of Fools #23: Wigjam - Grateful Dead Tribute - The Harbor Lights - Rocks Off Concert Cruise
April 27, 2019 - New York
This cruise is aboard THE HARBOR LIGHTS and will depart from Skyport Marina - East 23rd Street & FDR Drive (EAST side). We will be boarding and departing at the times listed on your ticket and are not able to allow refunds if you miss the boat. So don't be late - it sure ain't pretty to be standin on the dock, watching the party sailing away! There are cash bars on board so make sure to swing by the ATM on your way to the boat. There will be food available for purchase. All cruises are 3 hours unless otherwise noted. If you have any questions about the show or your purchase, please contact Sancho Dominguez at [email protected] or check out our FAQ page on www.rocksoff.com
Ultimate 80s Explosion 2019: The Best In Freestyle - St. George Theatre
April 27, 2019 - Staten Island
The best in freestyle! Featuring: TKA – Tears May Fall, Scars of Love, Maria George Lamond – Bad Of The Heart, Without You, Look Into My Eyes The Cover Girls – Show Me Rockell – In A Dream (My Love) Joe Zangie – Can't We Try C-Bank – One More Shot Soave – Cryin' Over You, If You Want Me David of Nice N' Wild – Diamond Girl Sammy Zone – Running Hosted by Joe Causi of WCBS 101.1 FM and Sal Abbatiello of Fever Records Featuring music by Whiteboy DJ KYS
Say My Name - Kings Hall
April 27, 2019 - Brooklyn
Sam Gellaitry
Bluegrass Brunch: Pluck & Rail - Daryl's House
April 27, 2019 - Pawling
Limit 10 Per Person Gritty songwriting, tight vocal melodies and soaring cello runs that navigate the waters of folk, blues and country.
Back In Black: The True AC/DC Experience - Daryl's House
April 27, 2019 - Pawling
Limit 10 Per Person Back In Black - AC/DC Tribute - The "True AC/DC Experience" show performed by BACK IN BLACK has been touring the United States since 1990, entertaining audiences with their accurate replication of AC/DC's music old and new.The high energy live show will surely leave you wanting more. Back In Black has an unlimited set list of hits we all know, but what separates BACK IN BLACK from other tributes is that they have an array of B tracks on the list, songs such as, "It's A Long Way To The Top", "Overdose" and "Down Payment Blues", the list goes on.
'Classic Deep Purple Live' Performed by Glenn Hughes - The Iridium
Through April 27, 2019 - New York
*Meet and Greet available. This is a separate item and does not include a ticket to the show.* Glenn Hughes, former bassist and singer of Deep Purple, known to millions as the 'Voice of Rock', Rock and Roll Hall of Fame inductee, and the current front man for rock super group Black Country Communion is pleased to announce that he will be performing Deep Purple only material with his "CLASSIC DEEP PURPLE LIVE" nationwide US tour in August-Sept. 2018. As well as Glenn on lead vocals and bass guitar, the touring band also features Soren Anderson (guitar), Jesper Bo Hansen (keyboards) and Fer Escobedo (drums).
Sam Gellaitry - The Brooklyn Mirage
Through April 27, 2019 - Brooklyn
Sam Gellaitry has been making waves in electronic music ever since his debut EP came out on Soulection in 2015, his unique sound clearly defined in a way that takes most artists multiple albums to achieve. Inspired by the natural beauty of his native Scotland, Sam creates gorgeous, multilayered soundscapes with hip-hop driven grooves, drawing from various musical styles to build these vivid, cinematic worlds that encourage joy in listeners around the world. His refined command over complex percussion programming and lush synth work results in warm, graceful textures that make it easy to understand what the hype is about.
A Beautiful Celebration of Jazz Classics, Bossa Nova & Originals Feat. Julie E. & Alex Blake with Special Guest Yoichi Uzekibrazilian Guitar Fest Feat.Guitar Hero Richard Milleruitar Fest Feat.Guitar Hero Richard Miller - Club Bonafide
April 28, 2019 - New York
A Beautiful Celebration of Jazz Grammy-winning lyricist and cabaret favorite Julie Eigenberg, also known as Julie E., takes the stage at Club Bonafide with award-winning Bassist Alex Blake for an afternoon of cool jazz.Together With Pianist YOICHI UZEKI they'll bring you Eigenberg's soulful interpretations of jazz classics plus some lively original jams. Relax, kick back and enjoy The Show as you take in this sure-to-be swinging show.
Gatsby in Paris French Chansons & Jazz Standards from the 20s to the 40s Feat.Chloé Perrier & the French Heart Band - Club Bonafide
April 28, 2019 - New York
Gatsby in Paris: French Chansons & Jazz Standards From the '20s to the '40s, featuring enchanting French singer Chloé Perrier and her new band, the French Heart Jazz Band. This irrepressibly charming show is a mix of French chansons and American jazz standards from the '20s to the '40s with a continental flare. Chloé sings an intriguing mix of jazz, chanson, Brazilian and occasionally Romany-tinged numbers in French, as well as in English. The group is known for its reinvention of the old chestnut "My Heart Belongs to Daddy" as a bolero-tinged Twin Peaks theme, an obscure '20s hot jazz tune that Perrier had found in a history book, and the classic "La Vie en Rose." Come to Club Bonafide in New York City and listen as exes get dissed and relationships gone wrong are dissected and remembered through glasses that aren't exactly rose-colored.
Kevin Quinn's Protocol Pinkie Promise Emi Trevena Mercury Matinee Jiyoun Lee (Queen of Arpeggios) Quartet - The Bowery Electric
April 28, 2019 - New York
This Event Is 21 And Over Born and raised in New York, Kevin began his musical studies on guitar when he was 18 years old. While attending the State University of New York at New Paltz, Kevin began to take an interest in jazz. He pursued a Bachelor's degree in Jazz Studies studying with Mark Dziuba, Vinnie Martucci, John Menegon, and Jeff "Siege" Siegel. After graduating, he started his career as a sound engineer at the ShapeShifter Lab in Brooklyn, NY, where he studies with bass virtuoso Matthew Garrison. Working at the ShapeShifter has allowed Kevin to meet and play with many musicians such as Aaron Parks, David Savitsky, Rachel Therrien, Dean Sharp, Sean Wayland, Mark Ferber, Andrew Atkinson, Ira Coleman, Jeremy Powell and many more. Continuing his journey, he has played at ShapeShifter Lab, Shrine, Highline Ballroom, Muchmore's, Silvana, Wiliamsburg Music Center, The Falcon, Tomi Jazz, Pianos, Garment District Art Festival, and a myriad of bars and restaurants.
Autism Speaks – The Rock 'n' Rollers Band - Palisades Center
April 28, 2019 - West Nyack
The Rock 'n' Rollers help celebrate Autism Awareness Month with a concert filled with classic rock songs. These 6 teens and young adults will knock your socks off with their talent and passion for music. The Rock 'n' Rollers rehearse under the direction of Music For Life Creative Arts Therapy PLLC by music therapist, Jeffrey Friedberg MT-BC, LCAT. The event will take place within East Court, on Level One near H&M.
Greg Dayton Band with Towera Smith & Clayton Bryant---ROCK/BLUES - Triad Theatre
April 28, 2019 - New York
A night of funky original blues-rock including new music from Greg's upcoming album. Greg Dayton, guitar, vocals; David Inniss, bass; Josh Solomon, guitar; Anthony Robustelli, keys; Tony Lewis, drums; Towera Smith, vocals; and Clayton Bryant, vocals. Please Note: The Triad has a 2-beverage minimum per person.
Will Haven Architect Locked in a Vacancy Nerveshatter - Saint Vitus
April 28, 2019 - Brooklyn
Hardcore/noise metal band from Sacramento, CA (USA). Formed in 1995 the band released a self titled EP in 1996 on Landscape Records, leading to a deal with Revelation Records (8). In 1997 the acclaimed debut "El Diablo" was released, followed by tours with Limp Bizkit, Deftones and Soulfly. Vocalist Grady Avenell left in 2002 and the band ended. They reunited in 2005 and continued with a new frontman (Jeff Jaworski) in 2007. As of their latest release in 2011 their original vocalist Grady Avenell is back.
Sunday Supper with Cynthia Scott - Smoke jazz & Club
April 28, 2019 - New York
For three decades, the vocal artistry of the multi-talented Arkansas-born vocalist Cynthia Scott has encompassed the swing of jazz, the soul of blues, R&B, and the sacred stirrings of gospel music. She is loved by audiences from New York to Africa, Europe and Asia; by musicians from Wynton Marsalis to Ray Charles – who discovered her – and by jazz critics like the Chicago Tribune's Howard Reich, who called her "a mesmerizing vocalist."
Blues Brunch: Erin Harpe & The Delta Swingers - Daryl's House
April 28, 2019 - Pawling
Limit 10 Per Person Their unique brand of dance music is rooted in vintage 1930's Mississippi delta blues, then shaken and stirred with other genres like soul, funk, and reggae, evoking a wild southern juke joint where the whiskey and gin are flowing and everybody's dancing.
Carbon Leaf - Daryl's House
April 28, 2019 - Pawling
Limit 10 Per Person Virginia Quintet uses folk, Celtic, bluegrass, Americana, rock and pop traditions to create what they call ether-electrified porch music.
2019 WFMU Record Fair - Brooklyn Expo Center
Through April 28, 2019 - Brooklyn
Astound yourself with the array of vinyl at Jersey indie radio legend WFMU's annual Record Fair. Live performances, row after row of dealers, and a range of records from 2-for-a-$1 all the way up to priceless collectible rarities await. $30 Early Admission Friday 1 – 4 pm (+ free entry ALL weekend) $8 Regular Admission Friday 4 – 8pm, Saturday 10am – 7pm and Sunday 10am – 6pm
Rebel Rebel: the Secret David Bowie NYC Tour - West Village
Through September 15, 2019 - New York
HALLO, BOWIE'S NYC Experience an immersive adventure featuring David Bowie's little-known NYC haunts. By the time of his death, Bowie had lived in New York for over 20 years. "I've lived in New York longer than I've lived anywhere else. It's amazing. I am a New Yorker." Discover the story of Blackstar and the history of Ziggy as you trace the footsteps of David's life in NYC, visiting locations where he recorded, and the notable spots significant to the Thin White Duke as an artist and New Yorker.