Pop and Rock Shows in New York City This Week - June 10-June 17
June 10, 2018 - by CG Directory Editor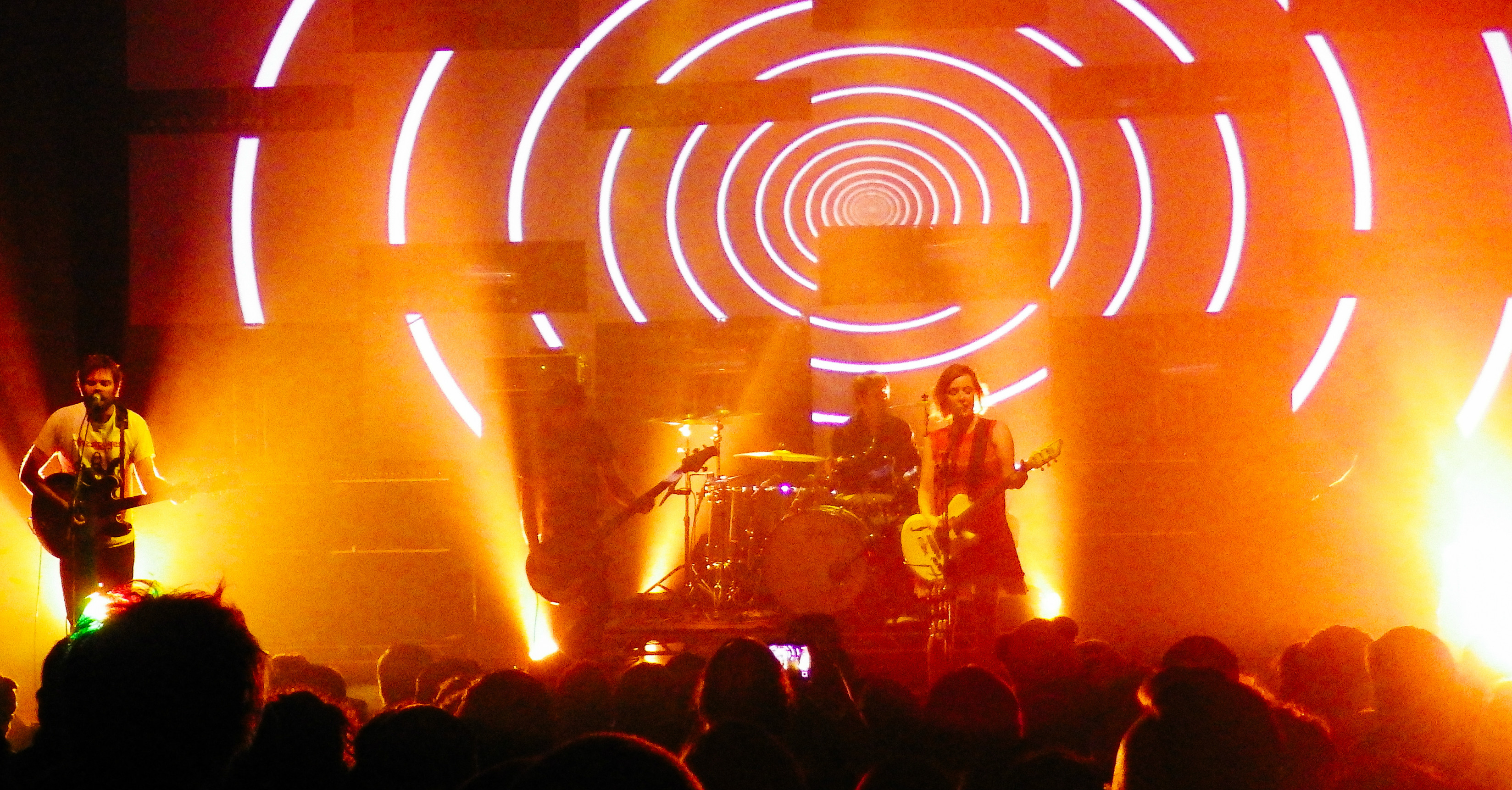 Photo: Flickr/Sean Benham

From big arena shows to small venues, New York has an incredible array of pop and rock music performances. From intimate spaces like Rockwood Music Hall through The Bell House and the Music Hall of Williamsburg onto Madison Square Garden, you can find indie rock, classic rock, alt, country, singer-songwriters, and everything in between on City Guide's activities listings.


Ben Harper & Charlie Musselwhite - The Bowery Ballroom
June 10, 2018 - New York
Beginning with his 1994 debut, "Welcome To The Cruel World," Ben Harper began his career by releasing a string of eight studio albums over a decade and a half. This extraordinary run, featuring the Innocent Criminals, established him as a singularly powerful songwriter and performer with range across multiple genres and an unmatched ability to blend the personal and political. The accolades poured in – Rolling Stone hailed his "jewels of unique and exquisitely tender rock & roll," while Entertainment Weekly praised his "casual profundity," and Billboard said his music "reminds us of the power and beauty of simplicity." Massive, international sold-out tours, Top 10 debuts in the US, Gold and Platinum certifications worldwide, and a slew of TV appearances cemented Harper and the band's status as genuine global stars.
Woodstock Revival at Old Bethpage Village Restoration - Old Bethpage Restoration Village
June 10, 2018 - Old Bethpage
Bach to Rock: Battle of the Bands - City Winery
June 10, 2018 - New York
Join us at the fabulous City Winery, NYC where student bands from B2R Port Washington and B2R Mamaroneck (ages 7-18) go head-to-head in this year's Battle of the Bands. City Winery offers a full menu, so enjoy delicious food and beverages while you listen to the kids rock the house!
Elvis Depressedly, Spencer Radcliffe & Everyone Else, Horse Jumper of Love - Knitting Factory
June 10, 2018 - Brooklyn
Serge Clivio: Sticks and Stones - The Cutting Room
June 10, 2018 - New York
Fresh off of a sold out show in Boston, Serge Clivio is thrilled to bring his solo concert, Sticks & Stones to the legendary Cutting Room in New York City. Backed by his incredible band, this one-night-only concert will feature original songs as well as an array of pop favorites (old and new) — some theater standards, country and even classic rock songs that audiences of all ages will enjoy. Serge will guide the audience through a journey of love, heartbreak and growing up through intimate stories and personal songs. Sticks & Stones is music directed by Michael Stapleton and will run approximately 2 hours (including a 10 minute intermission).
School of Rock - DROM
Through June 10, 2018 - New York
Mayan Warrior - Avant Gardner
Through June 10, 2018 - Brooklyn
Positively Bob Dylan: 77th Birthday Tribute Feat. Paula Cole, James Maddock, The Bluebirds of Paradise - City Winery
June 11, 2018 - New York
Bob Dylan arrived in New York City in January 1961 and the music world was forever changed! Please join us for a special evening of Bob Dylan classics in celebration of The Bard's 77th birthday. Featuring Paula Cole, James Maddock, The Bluebirds of Paradise, The Kennedys, The Prop Men, and more artists to be announced!
Vance Joy - Palace Theatre
June 11, 2018 - Albany
Byron Isaacs at The Loft - City Winery
June 12, 2018 - New York
All shows in The Loft are seated, general admission. Seats are first come first served so we recommend arriving early. Check out the new menu at The Loft! Bass player, singer-songwriter Byron Isaacs is releasing his first solo album, DISAPPEARING MAN, at the Loft at City Winery on June 12th. Isaacs is a founding member of Ollabelle and Lost Leaders, and is currently recording and touring with The Lumineers. Over the past fifteen years he has also recorded and/or performed with Levon Helm, Willie Nelson, Joan Baez, Bruce Springsteen, Patti Scialfa, Roseanne Cash, Nina Nastasia, Ryan Adams, Chris Smither, Richard Shindell, Mary Fahl, Amy Helm, and Larry Campbell & Teresa Williams. The album was co-produced by Hector Castillo (David Bowie, Bjork, The Brazilian Girls) and Brian Cullman (Lucinda Williams, Ghazal). Isaacs will be joined onstage by guitarist Oren Bloedow (Elysian Fields, The Lounge Lizards, Chocolate Genius), drummer David Berger (Amy Helm, Alice Texas, Justin Bond, Mary Fahl), keyboardist Glenn Patscha (Ollabelle, Sheryl Crow, Marc Cohn) and multi-instrumentalist Will Bryant (Donald Fagen and the Nightflyers, Mike and Ruthy). The album's songs combine the ... (read more)
The Fifth Annual Taste of Bushwick - Brooklyn Steel
June 12, 2018 - Brooklyn
Jimmy Eat World: Integrity Blues The Tour with Alex Lahey (2nd show) - Brooklyn Steel
June 13, 2018 - Brooklyn
Before Jimmy Eat World entered the studio to record their ninth full-length album, Integrity Blues [RCA], the members of the multiplatinum Mesa, AZ rock band did something they've never done in over two decades. "We took a little break," smiles lead singer and guitarist Jim Adkins. After a successful 10th anniversary tour revisiting Futures, the musicians briefly went their separate ways at the end of 2014. Adkins released a series of 7" & embarked on his first worldwide solo tour, Lind released an EP and toured with his wife in The Wretched Desert, Linton took up boxing, and Burch opened up CaskWerks Distillery in Arizona. When the band reconvened in November 2015, they teamed up with producer Justin Meldal-Johnsen [Paramore, M83] and began sifting through ideas. "I came to a realization," admits Adkins. "In the break, writing was a little trickier. I wanted to change things up. So, instead of writing about a problem, I wanted to write about a solution. If you look at your life for what's going wrong, it won't be too hard to find things. If you start looking at what you have rather than what you're missing out on, you come away from things with a much different perspec... (read more)
7th Annual Real Estate Rockers in Relief - Irving Plaza
June 13, 2018 - New York
Join prominent New York real estate giants as we rock out for charity. Bands include Little Darlings, Local Law, Corner Lot, The Adventure, Joey and the High Tones, the Doo Dahs, Normal by Day and many special guest performers. All proceeds will benefit NECHAMA.
Hall & Oates /w Train - Madison Square Garden
June 14, 2018 - New York
ALT-J - Forest Hills Stadium
June 15, 2018 - Forest Hills
Every online ticket purchased includes your choice of CD or digital copy of an upcoming release from alt-J. You will receive instructions via email on how to redeem your album once it is released (date yet to be confirmed). RELAXER is alt-J's third album, the follow up to the band's Grammy-nominated This is All Yours. Like the first two albums Charlie Andrews produced it. In December 2015, alt-J finished touring for This Is All Yours. They had gone straight from touring their debut album, the Mercury Prize-winning An Awesome Wave into writing and recording the second album and then touring non-stop for it (including a sold-out show at Madison Square Garden in NY). "There weren't any fallings out," clarifies Newman. "It was just three very close friends who had just spent a lot of time on the road who needed to go somewhere where it wasn't about music or touring or capitalizing on the demand."
Michael Brun Presents Bayo - Irving Plaza
June 15, 2018 - New york
MICHAEL BRUN In Haitian Creole, 'Bayo' means 'to give', which refers to both generosity in Haitian culture and the sense of duty that a new wave of Haitian musicians feel toward the country that they hope to represent on a global stage. Today, Michael Brun's Bayo conveys this uniquely Haitian concept. Bayo follows Michael's turn away from EDM to focus on a body of work inspired by his home land, which included Wherever I go and Gaya, which became certified hits in Haiti and amassed millions of play on Spotify. Like those, Bayo is rich with Haitian-cultural influences - Afrobeat, Rara, Konpa, Hip-hop, and Reggaeton beautifully weaved into Michael's own contemporary electronic style, resulting in a track that's distinctly Haitian but fits squarely in the current pop moment. Bayo is the sound of contemporary Haiti, featured on the record is Haitian pop sensation J. Perry, whose infectious voice makes the track shimmer, the king of Haitian Hip-hop Baky and rapper Strong G, who Brun discovered during a recording session on the small island of La Gonave, deliver powerful verses in traditional Haitian Creole.
King Gizzard and the Lizard Wizard - Brooklyn Steel
June 16, 2018 - Brooklyn
A concept album to end all concepts, Murder Of The Universe is the new collection by head-bending psychedelicists King Gizzard & The Lizard Wizard Murder Of The Universe is a face-melting musical assault concerned with the downfall of man, the death of the planet....the murder of the whole goddamn universe. "We're living in dystopian times that are pretty scary and it's hard not to reflect that in our music," says front man Stu Mackenzie. "It's almost unavoidable. Some scientists predict that the downfall of humanity is just as likely to come at the hands of Artificial Intelligence, as it is war or viruses or climate change. But these are fascinating times too. Human beings are visual creatures – vision is our primary instinct, and this is very much a visual, descriptive, bleak record. While the tone is definitely Apocalyptic, it is not necessarily purely a mirror of the current state of humanity. It's about new non-linear narratives." Lit by thunderclaps and lightning, Murder Of The Universe inhabits a sonic landscape of death, decay, ossification, fossilisation, rebirth. It is a place occupied by wandering shape-shifting beasts, bleeding skies, pools of blood, great fire... (read more)
Jupiter and the Stars- Alt. Rock - Silvana
June 16, 2018 - New York
Jupiter & The Stars is a conceptual alternative rock outfit based out of North Carolina. Drawing influences from artist like Radiohead and Pink Floyd, Jupiter & The Stars combine elements from various genres with distinctive hard hitting choruses and catchy, pop like melodies. Through the music of the band, a story is illustrated about its main protagonists, Jupiter, and his struggles with love, power, and sense of self.
Tragedy (All Metal Tribute to the Bee Gees and Beyond) - Mercury Lounge
June 16, 2018 - New York
NYC's Tragedy: A Metal Tribute to the Bee Gees & Beyond, is an over-the-top bombast of Disco, Metal, Glitter and Magic - the #1 Party Band. METAL RULES: "The greatest heavy-metal-meets-disco party you could possibly wish for." LOUDWIRE: "One of the hottest videos on the internet...this isn't just fun and catchy — it rules!" VH1: "Crazy outfits, wild hair, guitars, and locker room parties, the only question left to ask is, why hasn't this idea been adapted into a full length movie yet? We want more!" Born out of the impenetrable divide of Disco and Metal, these six fearsome brothers fearlessly obliterated the truce line that had been set in the great Disco/Metal Peace accord of 1977 when they seamlessly blended the two genres with the debut album, We Rock Sweet Balls and Can Do No Wrong, which was a collection of Bee Gees songs redone in a heavy metal treatment reminiscent of Iron Maiden, Guns N Roses and Aerosmith. Since then, they have crisscrossed the globe with their spectacular live shows and having stormed across the USA, UK, France, Holland, Germany and Switzerland. Subsequent albums, Humbled By Our Greatness, Death To False Disco-Metal, The Solo Albums and The Jo... (read more)
Kings of Soul - Triad Theatre
June 17, 2018 - New York
The Creators of the Broadway Bound MIGHTY REAL: A FABULOUS SYLVESTER MUSICAL and AN EVENING OF PHYLLIS HYMAN invite you to experience their new show KINGS OF SOUL: A TRIBUTE CONCERT TO OUR REIGNING KINGS. This Soul Stirring show will feature some of the Top Powerhouse Male Vocalists in New York City spanning from the Church Choirs to the Broadway Stage. Get ready for a memorable experience! This show will have you up on your feet as you listen to classics delivered from all of the KINGS: Luther Vandross, Sam Cooke, Stevie Wonder, Donnie Hathaway, Charlie Wilson, Al Green, Barry White, R. Kelly and Many More! This Show Will SELL OUT! A MUST SEE!
Roger Daltrey Performs the Who's 'Tommy' - Forest Hills Stadium
June 17, 2018 - Forest Hills
WITH THE NEW YORK POPS STEVEN REINEKE, MUSIC DIRECTOR AND CONDUCTOR Special offer! Add a CD copy of Roger Daltrey's upcoming album to your purchase for $16.16. If you choose this option, you will receive your album in 5 to 7 business days after release day. Please allow 7 business days to receive your CD and then contact [email protected] for assistance. Forest Hills Stadium, the historic sporting and entertainment venue located in the idyllic Queens, New York neighborhood of Forest Hills, will welcome back two longtime friends on June 17 when legendary frontman Roger Daltrey and The New York Pops unite for a special, one-night-only, Father's Day performance of The Who's 'TOMMY,' backed by the symphonic orchestra and a band of seasoned Who players.
Nacho - La Criatura Tour 2018 - Irving Plaza
June 17, 2018 - New York
Venezuelan pop urban singer announces his first USA tour in10 cities, starting May 25 in Miami. SPOTIFY SENSATION 9.8 Million active monthly listeners. Collaborations with top latin artists Bad Bunny, Daddy Yankee, Yandel, Wisin, Sebastian Yatra, Franco de Vita, Emmanuel and many more. SOCIAL INFLUENCER With 8 Million Instagram Followers, outstanding engagement level with his fans, Nacho has become one of the most influential latin artists of all times. AWARDED COMPOSER Nacho composes all of his songs, and has also composed for Jennifer Lopez, Paulina Rubio and Silvestre Dangond
School of Rock - DROM
Through June 17, 2018 - New York
Varisound Concert Series - Pine Box Rock Shop
Through July 04, 2018 - Brooklyn
Looking for Free Group Planning Services?
Get free advice on planning your group's trip to New York.
MORE Activity Planner ARTICLES
RESTAURANTS

Multi-concept restaurant offering modern Japanese cuisine, a...

THEATER

In a heartbeat, 38 planes with 6,579 passengers were strand...

SHOPPING

An array of quality branded merchandise showcasing HBO's® aw...

SIGHTSEEING

SPYSCAPE is the world's preeminent spy museum and experience...