Opera in New York City This Week - March 17-March 24
March 17, 2019 - by CG Directory Editor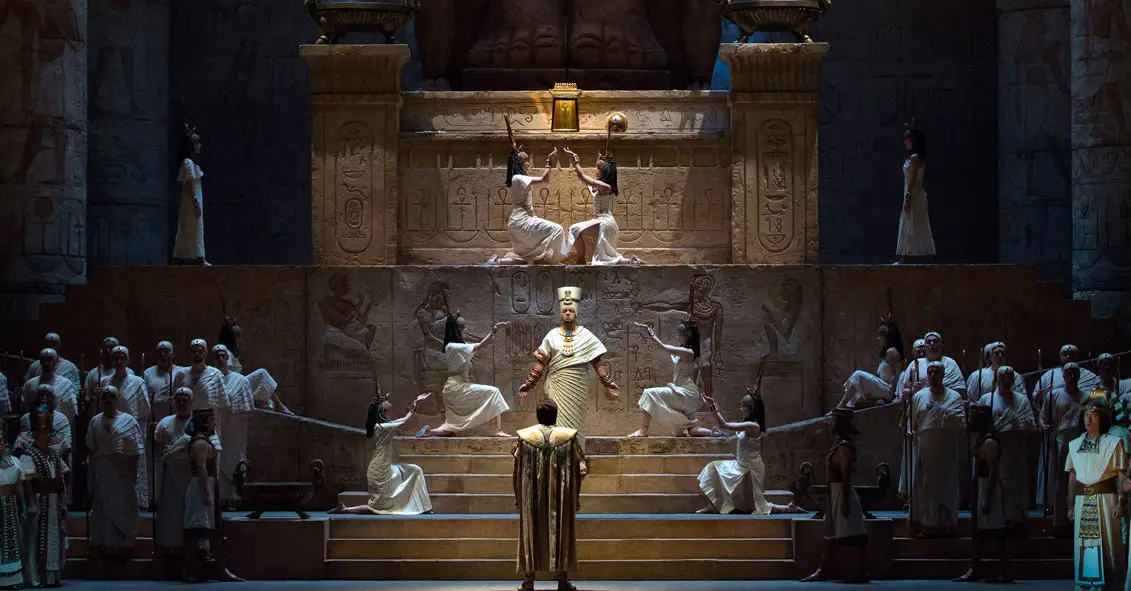 The Metropolitan Opera is world-class and world famous, and it's among the comprehensive opera listings you can find on City Guide's calendar. In addition to the famous season of the Met Opera, full of huge opera stars, famous classics, and world premieres, you'll also find listings for the New York City Opera and operatic performances at places like Lincoln Center and Carnegie Hall.


UNCF 75th Anniversary New York "A Mind Is..." Gala - The Lighthouse
Through February 21, 2019 - New York
This very special annual "A Mind Is" New York Gala raises funds for UNCF and honors those who have made a difference through their support of our mission and education. Proceeds fund UNCF programs and help support our 37 member-historically black colleges and universities. Join us and help UNCF celebrate its 75th anniversary!
Fritz Hansen Sample Sale - Fritz Hansen Store
Through March 17, 2019 - New York
SAVE UP TO 50% ON EXCLUSIVE FLOOR SAMPLES DURING THE FRITZ HANSEN SAMPLE SALE. FRIDAY, MARCH 15, 9AM – 5PM SATURDAY, MARCH 16, 10AM – 4PM SUNDAY, MARCH 17, 10AM – SOLD OUT
St. Patrick's Day Booze Cruise - Hornblower Cruises & Events - Pier 15
Through March 17, 2019 - New York
All aboard for a St. Patty's Day you'll never forget! The luck of the Irish will be on your side as we set sail with plenty of drinks, music, and fun to keep you partying till the top of the morning. Our 3 live DJs will be spinning your favorites all night long, so wear your best green outfit, put on your headphones, and get ready to shake your shamrocks! PLEASE NOTE: Boarding: 9:30-10:30 pm **If you are late, the boat does not wait!** Set Sail: 10:30 pm Return: 2:00 am Your 3 Live DJs are spinning all night: DJ 1 (Green): Top 40 Dance Hits DJ 2 (Red): 80's, 90's & 2K Throwbacks DJ 3 (Blue): Hip Hop/R&B Your Experience Includes: • A pair of Quiet Events headphones • Glow in the Dark gear • 3 live DJ's battling for your attention • Amazing views of Statue of Liberty, Brooklyn Bridge, & NYC Skyline Special Notes: • 21+ to party • Rain or shine • Dress Code: Dress to impress, green is highly encouraged! What to bring: • Valid ID • You MUST have a credit or debit card for the check-in process. If the headphones are NOT returned, there will be a $100 charge to your credit or debit card after the event. • No need to print your ticket, just show the code ... (read more)
Change Every Day: Invest in Your Neighborhood - The Greene Space at WNYC & WQXR
March 19, 2019 - New York
From joining food co-ops to shopping local, communities are talking about how to invest in themselves. Learn from leaders with startups that are leveraging the power of the collective to approach community building — and how every community can take steps toward fully owning local initiatives and solutions. Hosted by WNYC's Shumita Basu. Use comp code INVEST for free tickets.
Historic Trolley Tours - Green-Wood Cemetery
March 20, 2019 - Brooklyn
Experience the most magnificent and historic 478 acres in New York City. Join our expert tour guides to hear fascinating stories of Green-Wood's permanent residents, see breathtaking views of Manhattan, tread where George Washington and his troops fought the Battle of Brooklyn, and much more (scroll down for schedule of different themed tours available).
Join us at the Talenti Gelato Spooneasy March 20-21 - The Talenti Gelato Spooneasy
Through March 21, 2019 - New York
We have a sweet secret, and you're the first to know. The Talenti Spooneasy is opening in New York City on March 20 and 21. This hidden gelato speakeasy is the most exclusive way to experience the newest offering from Talenti - Talenti Gelato Layers. Admission is free and open to the public, but you know how it is, a reservation always works best. With your reservation, you'll enter a true speakeasy experience complete with decadent tastings of Talenti Layers, a signature crafted cocktail or mocktail inspired by your favorite Talenti flavors, and who knows ... maybe another secret or two hidden within. See you at the Talenti #Spooneasy.
FLOS Offers 15% Discount during Spring Season Sale - FLOS Showroom
Through March 21, 2019 - New York
FLOS, the world-renowned Italian lighting brand, is pleased to announce that from March 4th to March 21st the company will host their spring season sale at participating dealers, offering 15% off their decorative collection, excluding replacement parts. This is a great opportunity to own some of the world's most distinguished lighting fixtures for below retail value. Sale items include lamps from the Gaku collection (originally $279, now $237), the Snoopy Green table lamp (originally $1,495, now $1,271), and Wirering (originally $1,195, now $1,016) as well as the remainder of FLOS decorative collections.
The American Symphony Orchestra presents "The Key of Dreams" - Carnegie Hall
March 22, 2019 - New York
The American Symphony Orchestra presents "The Key of Dreams" Friday, March 22, 2019 at Carnegie Hall, Stern Auditorium/Perelman Stage Conductor's Notes Q&A 7 PM – 7:30 PM Concert 8 PM – 11 PM The American Symphony Orchestra presents "The Key of Dreams" conducted by Leon Botstein. Based on the French play Juliette, ou La clé des songes (Juliette, or The Key of Dreams) by Georges Neveux, Martin?'s operatic masterpiece Julietta, one of the greatest 20th-century works for the stage, explores the intersection of dreams and reality. Set in a seaside town, this psychological drama follows Michel, a traveling salesman, who finds himself in search of a mysterious girl whose voice he has been hearing for more than three years. In love with Julietta and realizing he is caught in a dream world, he must decide—should he stay in the dream or wake up? This Friday night program includes: Bohuslav Martin? – Julietta (US Premiere in Czech) With the Bard Festival Chorale Program and artists subject to change. Tickets on sale September 4. Prices $25 / $40 / $55
Subway Silent Disco - Overlook
March 22, 2019 - New York
Limited to just 75 people, this dance party combines elements of a flash mob, night club, and city tour all mixed into one incredible night. Wearing headphones playing two channels of non-stop party music, we go underground as we hit several iconic NYC subway platforms and terminals, as well as bars! Unlike your normal subway ride, your Party Tour Guide/Emcee will not only teach you about the NYC subway system, but have you doing some crazy things to surprise the unsuspecting passengers and onlookers. Check-in location: Overlook Bar Check-in time: 7:00-8:00pm // Leave at 8:00pm *Party ends at Overlook Bar Two channels of music: Green Channel: Top 40 Dance Hits Blue Channel: 90's, 2k Throwbacks, Hip-Hop Your experience includes: • A pair of Quiet Events headphones • An experienced tour guide/emcee • Glow in the dark gear • Fun NYC facts to tell your friends! Special Notes: • 21+ to party • Limited tickets so act fast! • Comfortable shoes are recommended What you'll need: • Metrocard with at least two swipes • Valid ID • Credit/debit card for check-in process How it works: When you arrive you'll receive a pair of special wireless headphones. Each h... (read more)
The 16th Annual Colon Cancer Challenge - Randall's Island
March 24, 2019 - New York
2019 marks the 16th Anniversary of the Colon Cancer Challenge and we are thrilled to be returning to Icahn Stadium on Randall's Island Across the United States teams of families, friends, co-workers and local and national corporations will come together to raise awareness of colorectal cancer, support those battling the disease and raise funds for the Colon Cancer Challenge Foundation strategic initiatives of Public Awareness, Prevention, Screening and Research. Why Take the Challenge? While we have made great progress in reducing incidence and death rates of those 50 or older over the last decade through the prevention and early detection of colorectal cancer through screening – the simple fact is colorectal cancer is still the third most commonly diagnosed cancer and the second leading cause of cancer-related death. And, incidence rates and death of those under 50 have increased at an alarming rate each year. In 2018 over 135,000 (estimated) Americans will be diagnosed with colorectal cancer and over 50,000 Americans will lose their battle with the disease. Most frustrating is the fact that most of these cases could be prevented with early detection. If caught early the ... (read more)
Birding in Peace - Green-Wood Cemetery
March 24, 2019 - Brooklyn
Just because it's winter, doesn't mean that there aren't interesting birds to discover in Green-Wood. For some bird species that migrate south after the breeding season, Brooklyn is their Miami during the cold months. Spend the early morning exploring the cemetery, looking for overwintering waterfowl, nuthatches, woodpeckers, sparrows, finches and any half-hardy birds that decided to stick around. By February we'll see some of the early north-bound birds beginning to trickle back into the area.
Silent Saturday @ Hudson Station - Hudson Station
Through March 24, 2019 - New York
It's Saturday night and we know where the party's at! Hudson Station is about to be lit with our three live DJs spinning your favorite jams all night long. This bar has all the booze and snacks you need for an amazing night. We'll even sweeten the deal with $5 beer, $6 wine, and $10 Titos drinks. So what are you waiting for? Get your tix today! Your 3 Live DJs are spinning all night long: DJ 1 (Green): Top 40 Dance Hits DJ 2 (Red): 80's, 90's & 2K Throwbacks DJ 3 (Blue): Hip Hop/R&B Your Experience Includes: • A Pair of Quiet Events headphones • Glow in the Dark gear • 3 live DJ's battling for your attention • Drink deals all night long Special notes: • 21+ • Rain or shine • Dress Code: Dress to Impress What to bring: • Valid ID • You MUST have a credit or debit card for the check-in process. If the headphones are NOT returned, there will be a $100 charge to your credit or debit card after the event. • No need to print your ticket, just show the code on your phone or they will have your name at the door. How it works: With your pair of Quiet Events headphones you can adjust the volume and choose between our three DJ's with the flick of a switch. Each... (read more)
Dessert Goals: Party Animal - Sound River Studios
Through March 24, 2019 - Queens
TICKETS AVAILABLE FEBRUARY 12TH NYC's most instagrammable dessert festival, Dessert Goals, is back for a sixth round in the city on March 23 + 24, with more opportunities to snap, share and indulge than ever before! Hosted at Sound River Studios in Long Island City, this year's theme is Party Animal, and festival mastermind Miraya Berke is leaving no treat un-tasted with dessert options for sweet-tooths of all shapes and sizes from 20+ can't-miss vendors. This is the perfect occasion to eat and be seen so #DessertFestivalFashion is encouraged! The event will include: Exclusive desserts crafted specifically for Desert Goals A candy bar with FREE candy from classic faves Red Vines and Sour Patch Complimentary beverages from Bodum, Boxed Water + Harmless Harvest A savory Salt Bar for a delicious palate cleanser between sweet bites An Instagram Garden designed specifically to fulfill all your social media #goals, complete with custom backdrops Free admission for children under 6 More surprises to come! General Admission tickets will go on sale at $17/pp on Tuesday, February 12th at 12pm EST, in addition to Extra Sugar Rush tickets for those seeking more opportunities t... (read more)
Riding Solo - Moxy Times Square
Through March 31, 2019 - New York
If you are traveling solo, taking a solo getaway, or in need of a relaxing vacation the Riding solo Package is for you! During the month of March, stay at The Moxy Times Square for a Solo experience you won't find anywhere else. Start your luxurious stay with a complimentary Prosecco at Bar Moxy. Then, enjoy a delicious, complimentary Breakfast at Bar Moxy. Ned a haircut? The Moxy is giving you 20% off a cut at Blind Barber! That's not all. To find out more awesome details visit Moxy-hotels.marriott.com.
Carolee Grand Central Pop Up - Grand Central Terminal
Through April 30, 2019 - NEW YORK
CAROLEE Is Popping Up In Grand Central! Join us to shop a curated edit of our favorite styles and gifts. Spend $100 and receive an Exclusive gift with purchase. Plus, enter to win a $100 gift card! We will be located near Graybar passage at the Lexington Avenue entrance. 20% of proceeds will be donated to RAINN, the nation's largest anti-sexual violence organization. Learn more about RAINN: https://www.rainn.org/ Dates and times: February 1st - April 30th Monday- Friday: 8:00 AM - 8:00 PM Saturday: 10:00 AM - 6:00 PM For inquiries please contact us at: 917.428.5947 or [email protected]
Explore the World of Colors - Color Factory
Through May 14, 2019 - New York
Welcome to Color Factory: a collaboratively-produced art experience in New York City. This multisensory exhibit, inspired by the colors of the city, guides visitors through 16 participatory installations, designed to awaken audiences to the brilliant, everyday presence of color. Featured collaborators include: Lakwena Maciver, Mmuseumm, Emmanuelle Moureaux, Jason Polan, Tamara Shopsin, Kassia St Clair, Molly Young, Kendra Dandy, James Rosa/LAND Gallery, 826NYC, Christine Wong Yap, Rebecca Wright, Randi Brookman Harris, Leah Rosenberg, Erin Jang, and Oh Happy Day. Highlights include ombré floating balloons with wishes for the world written by students at 826NYC, a walkable infographic leading you to your "secret color", a palette of colorful treats featuring a custom color ice cream scoop, a unique activity on color and human connection, a luminous dance floor, and Color Factory's signature ball room. Put on your favorite hue and come to us for color.
TAMPONS, TEARS AND TRIUMPHS (TTT) - The PIT (Peoples Improv Theater)
Through May 23, 2019 - New York
Exciting news. We're inviting you to one big girly sleepover, where you share weird secrets about your body and let out all your feelings. Except, it's an hour, and guys can come. And we think the invitation is long overdue. There are SO many things that women go through with cheesy grins on our faces like nothing's happening! That's what we're expected to do, isn't it? Because if we complain about it, or cry about it, or really say anything about it, we're just being "girls." Welp, F that noise. This storytelling and show is an open conversation about the things we usually hide – FINALLY – cause the painfully real stuff is the funny stuff.
UNIVERSAL STANDARD OPENS WORLD'S FIRST SIZE 00-40 STORE in SoHo - Universal Standard
Through August 01, 2019 - New York
Universal Standard, the fit experts specializing in elevated, modern wardrobe essentials opens their first brick and mortar shopping location in SoHo. The 2,300 square foot store will carry their complete line, including their Foundation Collection, a seven piece collection of elevated basics for the full spectrum of sizes--00-40. The location also features a 1,500 square foot by-appointment showroom on the lower level. This is the first store to offer equal access to fashion for all women across the sizing spectrum, from 00 to 40.
Terez: Explore. Shop. Create. Pop-Up - Terez: Explore. Shop. Create.
Through December 02, 2019 - New York
For the first time in brand history, Terez will be inviting New York City to connect face-to-face, shop the newest Terez products, and partake in memorable experiences, with creative inspiration and activations to be discovered around every corner. Modeled after NYC, where Terez was founded and still maintains its headquarters, design and manufacturing operations, the two-level store will take guests through a reimagined New York City setting, complete with a Terez subway station. The in-store experience will be enhanced by an ever-changing programming calendar, empowering guests to let their inner light shine through immersive, personalized activations. Programming partners will include Dana's Bakery, Petite 'N Pretty, Stretch*d, sundays, Florabrook, Olfactory NYC, MisterKrisp, Donna D'Cruz, and more. Terez: Explore. Shop. Create. will be open Monday-Friday,11:00AM-7:00PM, Saturday, 10:00AM-8:00PM, Sunday, 11:00AM-6:00PM, and closed on Thanksgiving, November 22, with extended hours on Black Friday, 8:00AM-8:00PM.
Looking for Free Group Planning Services?
Get free advice on planning your group's trip to New York.
MORE Activity Planner ARTICLES
RESTAURANTS

Multi-concept restaurant offering modern Japanese cuisine, a...

THEATER

Gaston Leroux's famous period thriller is now one of Broadwa...

SHOPPING

An array of quality branded merchandise showcasing HBO's® aw...

SIGHTSEEING

SPYSCAPE is the world's preeminent spy museum and experience...