If you're looking for things to do in New York City in November, we've got the inside scoop on the best exhibits, sightseeing, fun for kids, concerts, nightlife, and more, as NYC gets ready for all the holiday and winter excitement. We're especially looking forward to the return of ice skating, the Rockettes, holiday markets, the 2018 TCS New York City Marathon, and, of course, the Macy's Thanksgiving Day Parade.
ICE SKATING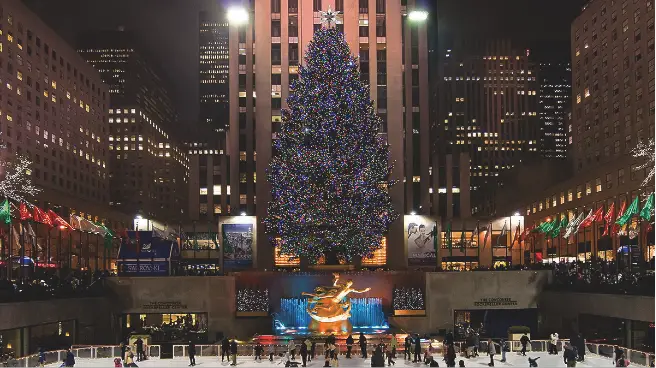 (Opens 10/8) The iconic Rockefeller Center Ice Skating Rink opens for the winter season. For information on reservations, skate lessons or season passes, call 212-332-7654 or visit therinkatrockcenter.com. VIP packages are also available. For more information on Rockefeller Center, visit rockefellercenter.com.
(Opens weekend of 10/22) Wollman Rink in Central Park is also open. For schedules and rates call 212-439-6900 or visit wollmanskatingrink.com.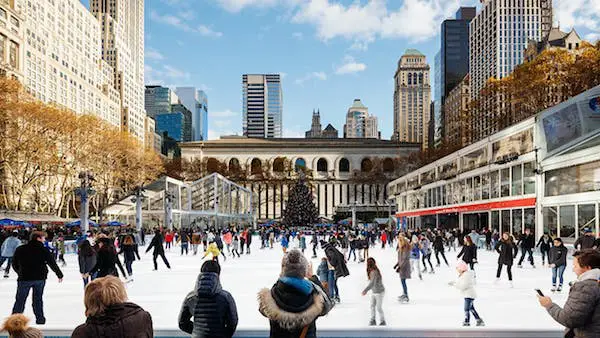 Colin Miller.
(10/27-1/19/19) Bryant Park's Winter Village returns. Ice skating, shopping, hot chocolate and other tasty treats, and more!
PLUS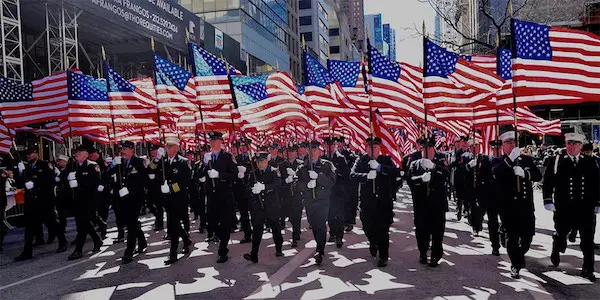 (11/11) The annual New York City Veterans Day Parade takes place along Fifth Avenue, rain or shine. It's the largest one in the nation. The parade proceeds north on Fifth Avenue from 26th to 52nd Sts., from 11:15am to approximately 3:30pm.
THE TCS NEW YORK CITY MARATHON

(11/4) When November hits, the city's thoughts turn to pounding pavement and the excitement of the TCS New York City Marathon. Some 50,000 runners from 125 countries will be cheered on by millions across all five boroughs of the city. tcsnycmarathon.org
(11/1-11/3) TCS New York City Marathon Expo Presented by New Balance. The largest running exhibition in the U.S., and one of the top 10 health and fitness expos in the world. Join race participants, health enthusiasts, and runners as they prepare for race day, shop fitness products, and experience the excitement. Free and open to the public at the Jacob K. Javits Convention Center.

If you're looking to do some carb loading before or after a jog (or a marathon), don't miss the pasta pros at New York's favorite Italian restaurants. In Midtown West our go-tos are Buca di Beppo, La Masseria and its new sister spot Masseria dei Vini, and Patsy's Italian Restaurant. For a quick pick-me-up in midtown, the Zibetto Espresso Bars have desserts and coffees as only the Italians can do it. Over in Midtown East, you'll find us at Allora Ristorante, or Obicà Mozzarella Bar, Pizza E Cucina down in the Flatiron. Further downtown, Villa Mosconi and Monte's have been Village favorites for decades. On narrow, ancient streets downtown you'll also find one of the most vibrant places in Manhattan: Little Italy. For decades now, bold-face names and hungry New Yorkers have come here for pizza, pasta, and the best cannoli in the city. Our recommendations include family-owned classics like Il Cortile, and the legendary Umberto's Clam House. When you're ready for a sweet ending to your Little Italy adventures, Caffé Palermo is your destination. Baby John "The Cannoli King" serves up cannolis that keep to that perfect balance between sweet cream and satisfying crunch, making these the best in the city. And you don't have to be in training for a marathon to enjoy them.
(11/23-12/31) The first ever Winterfest at Brooklyn Museum will feature a wide variety of attractions including a Vinopolis Wine Tasting Experience, a beer garden, an enchanted tree maze, Santa Land, where the little ones can pose for photos , enjoy story time and snacks, an interative chocolate dome, a giant snowglobe, a spectacular menorah, food and beverages, and more.
(11/26) Light up the Upper West Side with the 19th Annual Winter's Eve at Lincoln Square, an evening of music, food, dancing, children's activities, and fun for everyone. Look for processional groups, multicultural dance troupes, ice sculpting, Jazz at Lincoln Center, youth choruses, jugglers, stilt-walkers, and more! At Dante Park on Broadway between 63rd and 64th Sts., beginning at 5:30pm. Arlo Guthrie returns for a performance this year. Along Broadway from Columbus Circle to 68th St., 212-581-7762, winterseve.org


EXHIBITS

(11/17-1/21/19) The Holiday Train Show at New York Botanical Garden. Enchanting model trains zip through a display of 150 landmarks, each re-created with bark, leaves, and other natural materials—all under the twinkling glow of the Enid A. Haupt Conservatory. Marvel at G-scale locomotives humming along among familiar sights such as the Brooklyn Bridge, Statue of Liberty, and Rockefeller Center on nearly a half-mile of track.
PLUS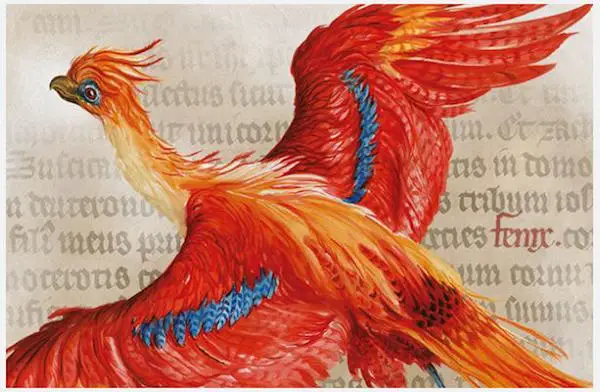 (Now-1/27/19) Harry Potter: A History of Magic arrives at the New-York Historical Society. In celebration of the 20th anniversary of the U.S. publication of J.K. Rowling's Harry Potter and the Sorcerer's Stone, New-York Historical will display illustrator Brian Selznick's artwork, which will appear on the covers of the Harry Potter series to be published by Scholastic later this year. Also on view to the public for the first time will be Mary GrandPré's illustrations created for Scholastic's original editions of the novels. Costumes and set models from Harry Potter and the Cursed Child, which opened on Broadway in April, will be showcased in the exhibition. A long list of events will take place in conjunction with the exhibit, including trivia night, talks, an adult costume party, and more. nyhistory.org
PLUS
(11/12-3/31/19) Andy Warhol-From A to B and Back Again at The Whitney. This exhibition—the first Warhol retrospective organized by a U.S. institution since 1989—reconsiders the work of one of the most inventive, influential, and important American artists. Building on a wealth of new materials, research and scholarship that has emerged since the artist's untimely death in 1987, this exhibition reveals new complexities about the Warhol we think we know, and introduces a Warhol for the 21st century. Explore the artworks below to learn more about the life and work of Andy Warhol.
(Now-2/3/19) Before abstract art was a speck in Kandinsky's eye, the painter Hilma af Klint (1862-1944) was pioneering non-representational painting in Sweden. A spiritualist who claimed to communicate with the dead, af Klint worked in near-obscurity, forbidding her paintings from public exposure until 20 years after her death. Upon her death in 1944, she left 1300 paintings behind, a body of work constituting some of the world's first abstract art. Discover Hilma af Klint, a woman before her time, at the new Solomon R. Guggenheim Museum exhibit Hilma af Klint: Paintings for the Future, opening October 12.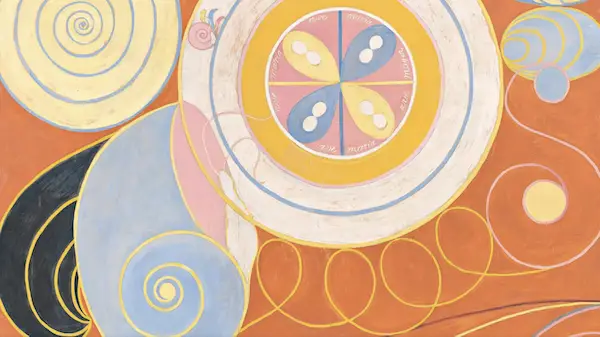 Group IV, the Ten Largest, No. 3, Youth, 1907, from Untitled Series. Photo: Albin Dahlström, Moderna Museet, Stockholm

(9/17-1/6/19) Delacroix at the Metropolitan Museum of Art. This is the first comprehensive U.S. retrospective of the work of French artist Eugene Delacroix (1798-1863). The Met has teamed up with The Louvre, showcasing in chronological order some 150 pieces, including paintings, drawings, manuscripts, and prints.
(Now-2/3/19) Even over a century after his birth, Dutch artist M.C. Escher (1898-1972) continues to astound. Catch more than 200 of Escher's mind-bending works at Escher: The Exhibition & Experience in Brooklyn's Industry City. Exploring the intersection of art, mathematics, science, and poetry, the exhibition will feature interactive immersive experiences that bring the artist's optical illusions to life. eschernyc.com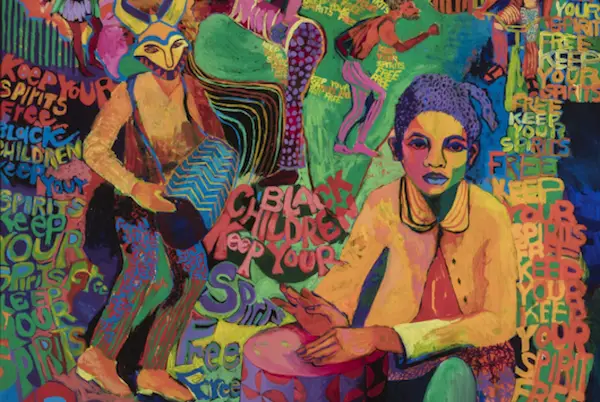 Carolyn Lawrence, Black Children Keep Your Spirits Free. The exhibition, which opens September 14, presents a wide range of painting, photography, and sculpture from over 60 artists on the fourth and fifth floors of the museum. Photo by Michael Tropea.
(Now-2/3/19) Soul of a Nation: Art in the Age of Black Power Proponents of Black Power had no better advocates than the artists among their ranks. Painters, sculptors, and performance artists rose up during this era to make protest art that spoke to the black experience in America and critiqued the white establishment that resisted them. Soul of a Nation: Art in the Age of Black Power at the Brooklyn Museum features over 150 works of art inspired by this vital sociopolitical movement.
(Now-12/9) Rivers and Torrents: Oil Sketches from the Thaw Collection at the Morgan Library. Even advanced painters struggle to capture moving water in their work. The play of light on the ripples, the wind on the surface, the current moving it all along—it's one of the many reasons we're all captivated by Monet's Water Lilies. See the work of other artists from the 19th century onward through oil studies of Rivers and Torrents. Click here for more about exhibits at Morgan Library.
(Now-12/2/18) Art of the Mountain: Through the Chinese Photographer's Lens at the China Institute. Featuring over 60 photographs from a range of modern Chinese photographers, this exhibition will allow visitors to consider the role of mountains in China's geography, history, art, and philosophy.
(Permanent) The Jim Henson Exhibition at the Museum of the Moving Image will celebrate the life and legacy of the famed Muppet creator, exploring both his prolific career and the enduring effect his work has on pop culture to this day. Visitors can expect to learn more about the creation of such beloved works as The Muppet Show, Sesame Street, Fraggle Rock, The Dark Crystal, and Labryinth, as well as to discover the cutting-edge experimental works Henson made throughout his career.
(Permanent)
The Museum of the City of New York
presents
NY at Its Core
.
Ten years in the making,
New York at Its Core
presents the compelling story of New York's rise from a striving Dutch village to today's "Capital of the World." The exhibition captures the human energy that drove New York to become a city like no other and a subject of fascination the world over. Entertaining, inspiring, important, and at times bemusing, New York City "big personalities," including Alexander Hamilton, Walt Whitman, Boss Tweed, Emma Goldman, JP Morgan, Fiorello La Guardia, Jane Jacobs, Jay-Z, and dozens more, parade through the exhibition
.
COMEDY

(11/5-11/11) Now in its 15th year, the New York Comedy Festival features a star-spangled lineup of comedians, including Conan O'Brien, GLOW's Marc Maron, Tracy Morgan, Jo Koy, Queer Eye's Jonathan Van Ness and Antoni Porowski, and more. newyorkcomedyfestival.com
PLUS
(11/2-11/3) Dov Davidoff at Gotham Comedy Club.
(11/9-11/10) Joey Coo Diaz at Gotham Comedy Club.
(11/21) Amy Schumer at Kings Theatre.
(11/23-11/25) Adam Ray at Gotham Comedy Club.
KIDS
(11/7-11/11) Disney on Ice: Mickey's Search Party at Barclays Center. Join Mickey and his friends at Barclays Center for Disney On Ice presents Mickey's Search Party, a brand-new adventure filled with world-class skating, high-flying acrobatics, and unexpected stunts! Help them follow Captain Hook's treasure map and look for clues in the search for Tinker Bell in immersive, fantastic worlds. Explore the colorful spirit realm of Coco in Miguel's Disney On Ice debut, sail away with Moana as she bravely saves her island, see Belle in the sky above you as the enchanted chandelier comes to life, and sing-along with Elsa in the icy world of Frozen.
PLUS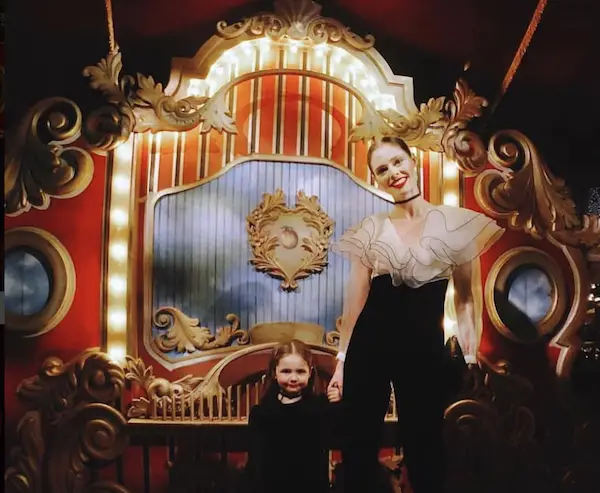 (Now-1/27/2019) Big Apple Circus at Lincoln Center's Damrosch Park is back, and while it's still appealing for kids, it's gotten a makeover, making a concerted effort to appeal to young and old alike, with a selection of high end cocktails now on sale, a VIP tent, new performers, and more. bigapplecircus.com
(11/4) KidzBop Live at the Beacon Theatre.
(11/17) 12th Annual Children's Book Fair at Brooklyn Museum. This FREE event features author readings, illustrator presentations, and book-related art-making opportunities with over forty creators presenting storybooks, picture books, and graphic novels.11:30am-4pm.
MUSIC & NIGHTLIFE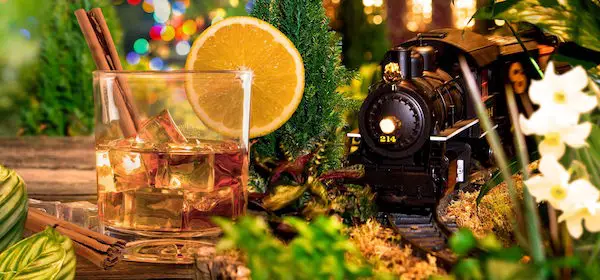 (11/17, 11/23-11/24, 11/30, 12/1, 12/7-12/8, 12/21, 12/28, 12/29, 1/5/19, 1/12/19) Bar Car Nights at New York Botanical Garden. On these nights exclusively for adults 21 and over, the wintry landscape of NYBG sets the scene for festive outdoor adventures, with an after-dark viewing of the Holiday Train Show® as the centerpiece. Sip a cocktail as you journey through a series of station stops, including pop-up acts featuring some of NYC's favorite street performers.
PLUS
(11/3-11/4) Tenacious D at Kings Theatre.
(11/2) Chris Stapleton at Madison Square Garden.
(11/4) Chris Robinson Brotherhood at Brooklyn Steel.
(11/5) Hanson String Theory with Orchestra at Beacon Theatre.
(11/6) November is Movember at Refinery Rooftop. Taste your way through New York City's best meatballs, while sipping on seasonal cocktails as The Third Annual Movember Ball at Refinery Rooftop. 6:00pm. Join celeb emcee Michael Chernow (Seamores) at this delicious fête, pitting 8 of New York's best meatball slingers in a friendly competition.You'll savor balls by The Meatball Shop, Tavern on the Green, Red Rooster, Refinery Rooftop and others; all while helping the celebrity judges pick the "Best Balls in the City!"
(11/9) Wasabassco Burlesque at the Loft at City Winery.
(11/11) Kamasi Washington at Brooklyn Steel (16+).
(11/13) Hanson at Beacon Theatre.
(11/14) Neil deGrasse Tyson at Beacon Theatre.
(11/15-11/16) The Doobie Brothers at Beacon Theatre.
(11/17) Killer Queen performs at Kupferberg Center. Featuring the great Patrick Myers as Freddie Mercury, the group will deliver a memorable concert while performing all your favorite Queen songs, such as "Another One Bites The Dust," "We Will Rock You," "Don't Stop Me Now," "Bohemian Rhapsody," and plenty more. Don't miss this premier tribute to one of the best bands of all time! Buy tickets here.
(11/17) Jack White performs at Kings Theatre.
(11/18-11/19) Bob Weir and Wolf Bros. at Beacon Theatre.
(11/18) Josh Groban & Idina Menzel at Madison Square Garden.
(11/21) Hot Tuna at the Beacon Theatre.
(11/23-12/1) Bob Dylan and His Band at Beacon Theatre.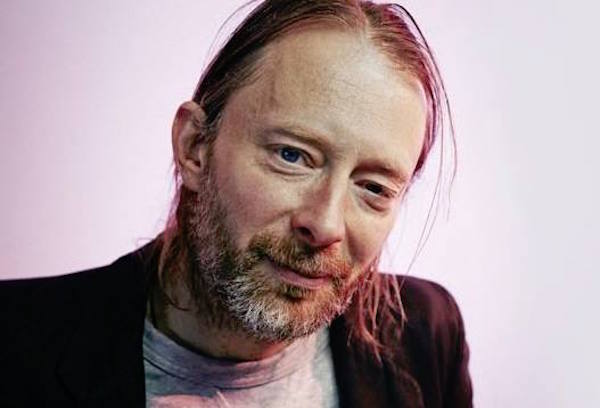 (11/26-11/27) Radiohead's Thom Yorke performs music from Tomorrow's Modern Boxes at Kings Theatre.
(11/28) Kurt Vile at Brooklyn Steel (16+).
SIGHTSEEING/HOLIDAY MARKETS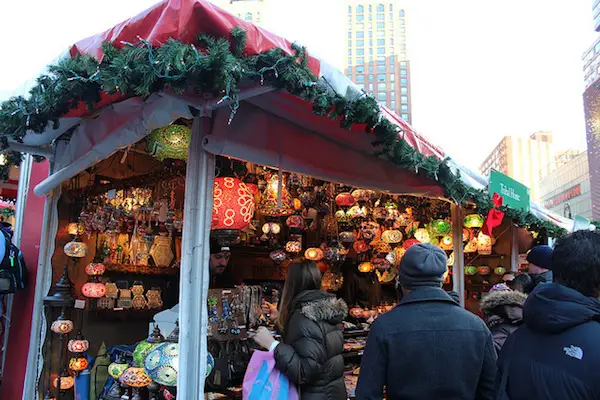 Union Square Market. Photo: flickr/Shinya Suzuki.
(11/15-12/24) Union Square's Holiday Market. urbanspacenyc.com
(11/12-12/24) The Grand Central Holiday Fair returns to Grand Central Terminal with 40+ artisans in Vanderbilt Hall selling art and home goods; holiday-themed items; bath and body products; toys; and clothing and accessories for men, women, and children. The Holiday Fair is open Monday through Friday, 10am-8pm, until 7pm Saturdays, and 11am-6pm Sundays. Closed Thanksgiving and open 10am-6pm on Christmas Eve.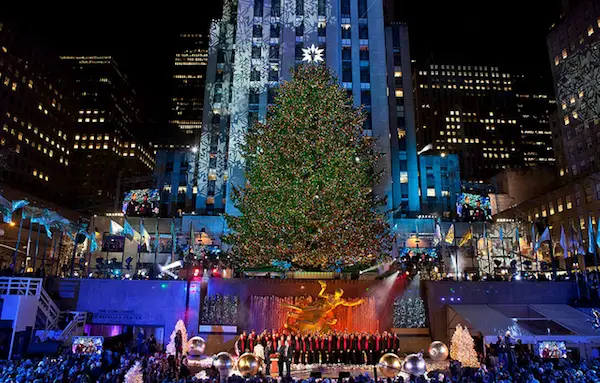 (11/28) The Rockefeller Center Christmas Tree Lighting, 8pm. The towering tree in Rockefeller Center is a world-renowned symbol of the holiday spirit. This year's lighting will feature live performances from 7 to 9pm. The tree will remain lit, and can be viewed, through Jan. 9, 2019.
(Ongoing) A Slice of Brooklyn's Brooklyn Chocolate Tour visits artisanal chocolate sites Jacques Torres Chocolate in DUMBO, The Chocolate Room in Cobble Hill, Raaka in Red Hook, and Li-Lac Chocolates in Industry City, Sunset Park. Offered every Monday, Wednesday, Friday. All tours depart and return to Union Square.
MACY'S THANKSGIVING PARADE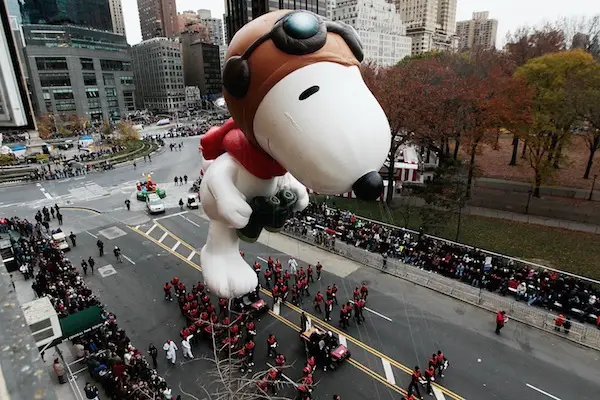 (11/22) The Macy's Thanksgiving Parade is a longstanding New York City tradition, responsible for unofficially kicking off the holiday season. Dating back to 1924, the parade sees generations of families—locals and visitors alike—lining up to see floats, live entertainment, iconic hot air balloons (Snoopy, Hello Kitty, Spiderman, and many others), plus a glimpse of Santa on his sleigh at the end. The parade gained popularity after being prominently featured in the film classic Miracle on 34th Street, starring a very young Natalie Wood. The parade route runs down Central Park West from 77th Street to Columbus Circle, along Central Park South to Sixth Avenue, down Sixth Avenue to 34th Street and along 34th Street to Macy's Herald Square. Line up early! Starts 9am. Check here for performers and more information on the parade.
SHOWS

(11/9-1/1/19) The NYC perennial holiday favorite Christmas Spectacular Starring The Radio City Rockettes® returns. Fan favorites include "New York at Christmas," where the Rockettes® board a real double-decker bus, and the high-energy tap number "Twelve Days of Christmas." Of course, beloved classics like "The Parade of the Wooden Soldiers" and "The Living Nativity" will also be back. rockettes.com/christmas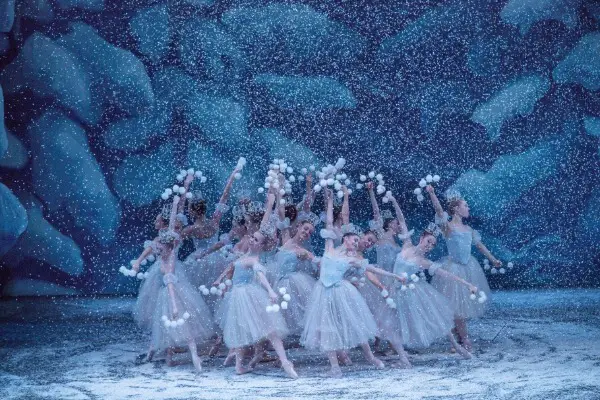 Photo credit: © Paul Kolnik
(11/23-12/30) Tschaikovsky's beloved melodies transport viewers to a world where mischievous mice besiege a battalion of toy soldiers, and an onstage blizzard leads to an enchanted Land of Sweets. George Balanchine's The Nutcracker at nycballet.com.
WEATHER IN NEW YORK IN NOVEMBER
Winter has not officially arrived in New York in November, but you can expect the weather to be brisk all the same. Lows average around 40 degrees Fahrenheit, with highs getting up into the mid-50s. You can expect some outlier days, warmer or colder, but extremes of weather (snow, sleet, freezing rain) are definitely rare. Hurricane season in the Atlantic continues through the month of November, but occurrences of heavy winds and flooding are also very rare. You will want your heavier jacket, but not the heaviest parkas yet. Gloves, hats, and scarves are smart to pack, and maybe a (stylish) pair of boots, too.