Live Music in Clubs and Bars in Brooklyn This Week - June 10-June 17
June 10, 2018 - by CG Directory Editor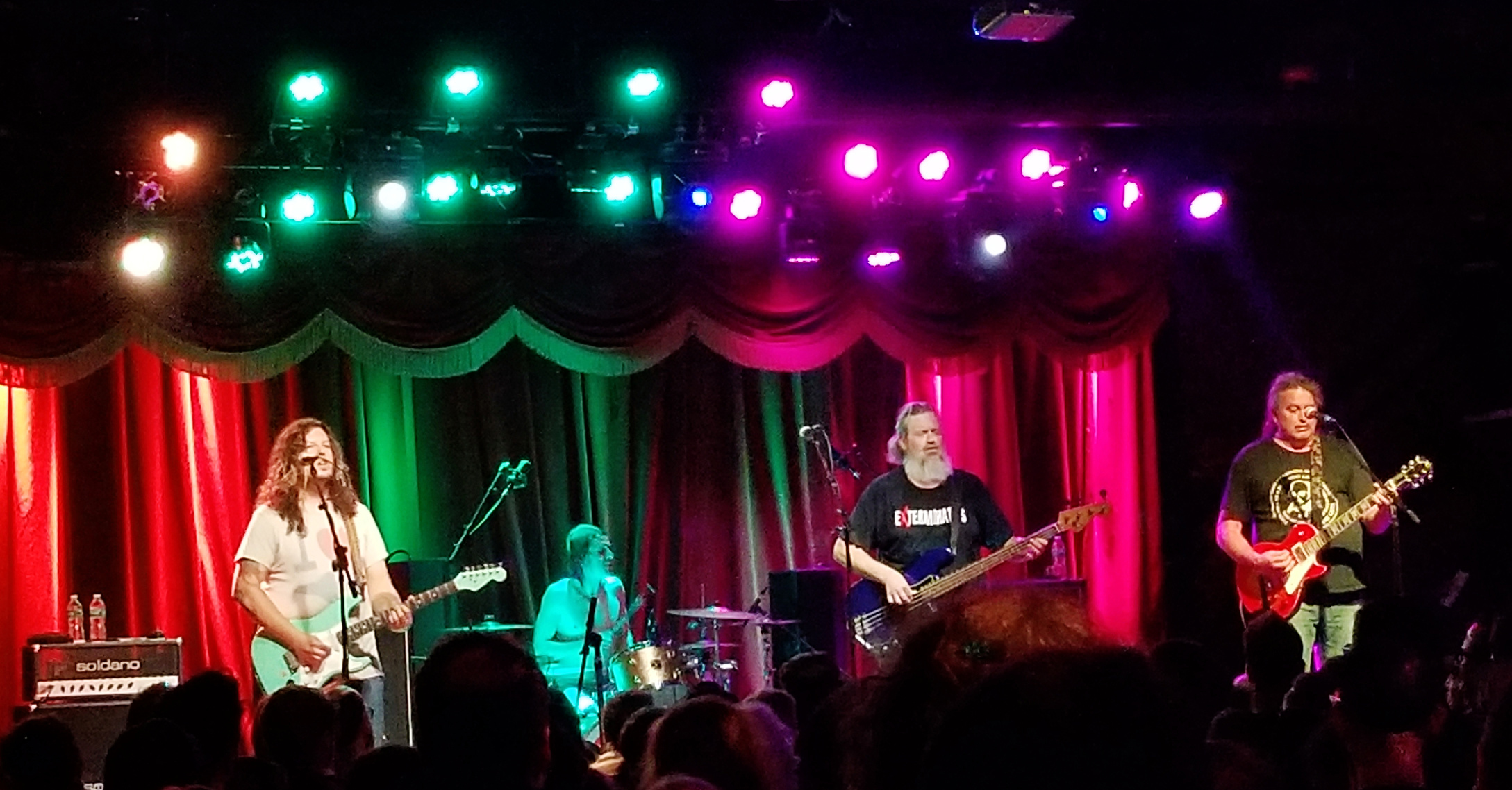 Photo: Vladimir/Flickr

Brooklyn is as happening as cities get, with live music in the bars and clubs from Williamsburg to Park Slope to downtown. With a younger crowd taking to the always trending burough, you can bet that great shows can be found all over Brooklyn. Whether you're more into a rock scene or music that's an eclectic mix, check out places like Brooklyn Steel, Barbes, and the Pine Box Rock Shop all around Brooklyn.


Elvis Depressedly, Spencer Radcliffe & Everyone Else, Horse Jumper of Love - Knitting Factory
June 10, 2018 - Brooklyn
The Fifth Annual Taste of Bushwick - Brooklyn Steel
June 12, 2018 - Brooklyn
The Editorial Board - Pine Box Rock Shop
June 12, 2018 - Brooklyn
Watch comedians put on their journalist hats
'Regarding Whitney' Featuring August Kleinzahler, Du Yun and Shayna Dunkelman, Carl Hancock Rux, and Esperanza Spalding - National Sawdust
June 13, 2018 - Brooklyn
As waves of 90s rediscovery and revisionism ebb and flow around her, we still don't know quite what to say about Whitney Houston, how to situate the woman and her music in the stories we tell ourselves about culture and race, superstardom and tragedy. In this special evening created by NationalSawdust+ and the London Review of Books, writers and musicians will reflect on Whitney Houston as artist, actress and icon, and help us consider her anew. Poet, critic, and melomaniac August Kleinzahler and musicians such as Du Yun and Shayna Dunkelman, Carl Hancock Rux, and Esperanza Spalding will share performances and readings inspired by Houston's sweeping body of work.
Jimmy Eat World: Integrity Blues The Tour with Alex Lahey (2nd show) - Brooklyn Steel
June 13, 2018 - Brooklyn
Before Jimmy Eat World entered the studio to record their ninth full-length album, Integrity Blues [RCA], the members of the multiplatinum Mesa, AZ rock band did something they've never done in over two decades. "We took a little break," smiles lead singer and guitarist Jim Adkins. After a successful 10th anniversary tour revisiting Futures, the musicians briefly went their separate ways at the end of 2014. Adkins released a series of 7" & embarked on his first worldwide solo tour, Lind released an EP and toured with his wife in The Wretched Desert, Linton took up boxing, and Burch opened up CaskWerks Distillery in Arizona. When the band reconvened in November 2015, they teamed up with producer Justin Meldal-Johnsen [Paramore, M83] and began sifting through ideas. "I came to a realization," admits Adkins. "In the break, writing was a little trickier. I wanted to change things up. So, instead of writing about a problem, I wanted to write about a solution. If you look at your life for what's going wrong, it won't be too hard to find things. If you start looking at what you have rather than what you're missing out on, you come away from things with a much different perspec... (read more)
Laroche & Clark Comedy Night - Pine Box Rock Shop
June 14, 2018 - Brooklyn
They are a show AND two humans. Together, they have one goal in mind...to assemble the BEST audience, the BEST possible talent and the BEST night of love, comedy, coolness and weirdness. The underground comedy scene of NY has many unique and wonderful shows, but few that strive for diverse voices, stories, mediums and FEELS to be highlighted and praised. We aren't just a show, we're a SOUL. Living, breathing, learning, loving and growing. We guarantee all the love, peace, oneness and laughter. If you're into the hippy dippy, lovey-dovey, 100% genuine and truthful positivity of this description, this is the show for you. Join us!
King Gizzard and the Lizard Wizard - Brooklyn Steel
June 16, 2018 - Brooklyn
A concept album to end all concepts, Murder Of The Universe is the new collection by head-bending psychedelicists King Gizzard & The Lizard Wizard Murder Of The Universe is a face-melting musical assault concerned with the downfall of man, the death of the planet....the murder of the whole goddamn universe. "We're living in dystopian times that are pretty scary and it's hard not to reflect that in our music," says front man Stu Mackenzie. "It's almost unavoidable. Some scientists predict that the downfall of humanity is just as likely to come at the hands of Artificial Intelligence, as it is war or viruses or climate change. But these are fascinating times too. Human beings are visual creatures – vision is our primary instinct, and this is very much a visual, descriptive, bleak record. While the tone is definitely Apocalyptic, it is not necessarily purely a mirror of the current state of humanity. It's about new non-linear narratives." Lit by thunderclaps and lightning, Murder Of The Universe inhabits a sonic landscape of death, decay, ossification, fossilisation, rebirth. It is a place occupied by wandering shape-shifting beasts, bleeding skies, pools of blood, great fire... (read more)
Jazz for Kids Oran Etkin's Timbalooloo Duo Workshop - National Sawdust
June 16, 2018 - Brooklyn
Have you tried Jazz for Kids? Timbalooloo strives to fundamentally reimagine the way music is taught and language is formed. The Timbalooloo Method was developed by internationally renowned musician Oran Etkin. Through the Timbalooloo Method, children learn to express themselves by making instruments come alive and speak the language of music. The method adds character, humor and emotion to music. Through fun games, stories, songs and movements, children engage with rich musical and cultural heritage – from Tito Puente to Mozart, Willie Nelson to Herbie Hancock. "Our son was talking about Herbie Hancock, Mozart, Samba and African music – and he knew the difference!." – Harvey Keitel
Byov - Pine Box Rock Shop
June 16, 2018 - Brooklyn
Always thinking of making a video, but you've never gotten around to it? Let this be your excuse. Tired of posting videos online and never hearing a live reaction? Premiere your next video at BYOV. BYOV is a monthly supportive open mic for video content. Whether it's your first time making a video, or you're a seasoned director, we will show your video to a live audience.
Varisound Concert Series - Pine Box Rock Shop
Through July 04, 2018 - Brooklyn
Branded Content - Pine Box Rock Shop
Through July 07, 2018 - Brooklyn
BRANDED CONTENT ™ is a monthly variety show hosted and curated by Simone Norman and Jackson Fisher; featuring stand up, improv, and messages from our corporate sponsors! Each month we'll give our favorite comedic performers a chance to showcase their talents and #promote their favorite #brands. Maybe one day our sponsors will finally return the favor.
Looking for Free Group Planning Services?
Get free advice on planning your group's trip to New York.
MORE Activity Planner ARTICLES
RESTAURANTS

Multi-concept restaurant offering modern Japanese cuisine, a...

THEATER

In a heartbeat, 38 planes with 6,579 passengers were strand...

SHOPPING

The world's largest source of cameras, camcorders, and more ...

SIGHTSEEING

Rosé Mansion is back for another summer residency in NYC aft...