All aboard! This February, Kids Week returns to The Intrepid Sea, Air & Space Museum, and the theme is "Full STEAM Ahead." During this week of science demos, animal shows, and crafts, kids can develop their skills in Science, Technology, Engineering, Art, and Mathematics. Concurrent with NYC school system's midwinter break, Kids Week lasts from Sunday, February 17 through Saturday, February 23.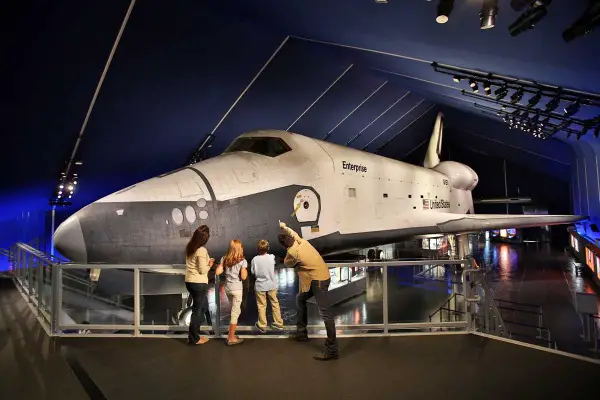 Enterprise photo by Svetlana Jovanovic.

Intrepid is a decommissioned U.S. aircraft carrier now serving as a museum of science and technology. Every day of Kids Week, children and parents will visit Hangar 3 of the Intrepid for day-long events and activities, as well as special events held on the stage nearby. Many offerings recur throughout the week so your kids won't miss their chance to meet a scientist—or a python—in real life.
Kids can interact with animals throughout the week as zoologists bring in kangaroos, chinchillas, parrots, geckos, cockroaches and more. These animals come courtesy of the Bronx Zoo, zoologist Jarod Miller, the Beardsley Zoo, Two by Two Zoo, and Animal Embassy. These representatives will not only show kids the wonderful diversity of the animal kingdom but explain how conservation issues affect these species' survival. Primatologist Natalia Reagan will also be on hand during Kids Week to explain evolution using a plush primate and to teach kids a few primate calls.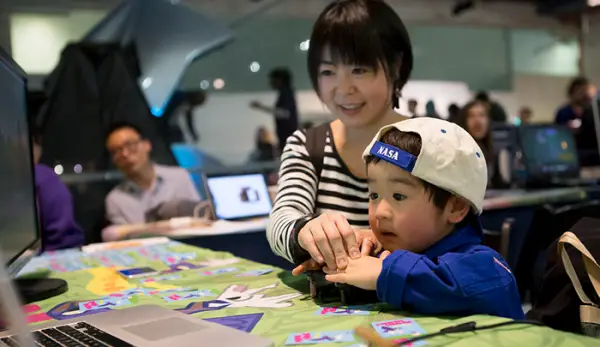 Combining wildlife exploration with advanced puppetry, the Broadway musical King Kong will showcase a special performance for Kids Week on Monday, February 18 at 2:30pm. Additional puppetry performances by the Wildlife Theater Group will playfully showcase the symbiotic relationships between polar bears and plankton (Feb. 20) and butterflies and milkweed (Feb. 21).
Every day of Kids Week, children will get the chance to explore their creativity with crafts. They'll make paper birds with New York City Audubon, learn the art of origami, make puppets, and dip their brushes into watercolor paints with New York Aquarium.
Kids can dance to their own beat as they play instruments from Brooklyn Music School, as well as make their own instrument courtesy of El Museo. During this activity, offered Sunday and Monday of Kids Week, they'll discover the Latin American percussion instrument called the güiro. On Wednesday, Sprout Up NYC will lead an instrument-making workshop that encourages children to recycle, as their materials will all be repurposed.
Other crafts coincide with scientific discovery, facilitated by skilled educators. Kids can make a marble roller coaster and explore the physics of real-life loop-de-loops or ride on a Mad Science Hovercraft during a demonstration of atmospheric pressure. They can build model rockets or indulge in some more mad science with experiments that go Spin, Pop, Boom.
Every day from noon to 3pm, the Michael Tyler Fisher Center for Education will offer narrated presentations inside the pop-up planetarium, during which kids will learn the history of space exploration.
Intrepid Education Demonstrations include How Do Things Fly?, Astronauts Behaving Badly, and Intrepid Space Academy, demonstrating what it takes to be an astronaut. Kids will ride the Multi-Axis Trainer featured at the U.S. Space & Rocket Center's Space Camp, and try their hand at the flight simulation game Kerbal Space Academy on Friday and Saturday of Kids Week.
Tuesday, February 19, kids will learn about sustainability and conservation. Sprout Up NYC will present an experiment inspired by tooth-brushing, and the NYC Department of Environmental Protection will challenge kids to think about where their water comes from. Thursday's sustainability activities include a chance to build a renewable energy circuit with The Climate Museum.
Tickets to Kids Week are free with museum admission. Come explore the diverse activities and all the amazing vessels aboard Intrepid this February!
The Intrepid Sea, Air & Space Museum is located at Pier 86 at West 46th Street and 12th Avenue. Call 877-957-SHIP or visit intrepidmuseum.org for more information.
Kids Week is February 17 through 23. Find a full schedule at intrepidmuseum.org/kidsweek.