Stuff your face with the city's best artisan food offerings, find rare gifts to surprise that hard-to-shop-for someone, and open your eyes to witness some of the coolest architecture in New York. These indoor marketplaces in Manhattan and Brooklyn dole out craft goods that you never knew you needed, and delectable food cooked up by culinary visionaries.
MANHATTAN

Hours: Sat.-Sun., 11am-5pm

Go for: Your fresh-brewed jolt from Irving Farm Coffee Roasters, Italian-American comfort food by Sunday Gravy, and sweet proximity to the Seaport for a waterfront jaunt.

Hours: Mon.-Sat., 7am-9pm; Sun., 8am-8pm

Go for: An unbeatable selection of artisan cheeses from top dairy purveyor, Lucy's Whey, fine wines and small plates from the grape masters at Corkbuzz Wine Studio, a bevy of reading material from Posman Books, and eye-catching design throughout the Market featuring distressed brick and textured metals.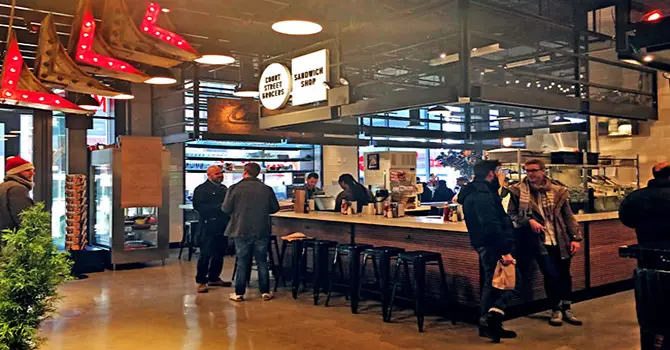 Hours: 7am-11pm daily; see website for individual vendor hours

Go for: Oodles of noodles in sinfully flavored broths from Ivan Ramen Slurp Shop, carnivorous splendor from the team at The Cannibal, and Blue Bottle Coffee pour-overs to perk up your day.

Hours: Mon.-Sat., 8am-7pm; Sun., 10am-6pm

Go for: Diverse works on display at Cuchifritos Art Gallery from independent and emerging artists, Saxelby Cheesemongers' selection of American farmstead cheeses, and ethically-sourced cuts from Heritage Meat Market.

200 Fifth Ave. (24th St.)
212-229-2560
Hours: 10am-11pm daily
Go for: Mario Batali's culinary compound transports eaters to the heart of Italy, boasting two caffes for on-point espresso, five gourmet grab-and-go stations serving up everything from housemade gelato to sandwiches piled high with Italian meats, and seven sit-down restaurants, which are each specialized with tailored menus for fish, vegetables, pizzas, etc. Birreria, a rooftop beer garden, allows guests to sip on sudsy brews while gazing at the New York skyline.

The Market
159 Bleecker St. (Between Sullivan & Thompson Sts.)
646-69-4525
218 Bedford Ave., Williamsburg, Brooklyn
Hours: Bleecker: Weds. & Sun., 12-7pm; Thurs.-Fri, 12-8pm; Sat., 11am-8pm; Brooklyn: Open Weds.-Sun., call for hours.

Go for: Vintage threads, a wellspring of casual and costume jewelry, plus high-end hair treatments and customizable nail art from Akiko Sugiyama's dream team.

Hours: 9am-9pm daily

Go for: Freshly cracked lobster bursting from warm rolls courtesy of Ed's Lobster Bar, a food truck experience brought indoors by authentic Mexican taco slingers, Tacombi, and modern architecture with a rustic twist.

BROOKLYN

917-488-4203
88 10th Ave. inside Chelsea Market, Manhattan
917-488-0044
Hours: Williamsburg: Sat.-Sun., 10am-7pm; Chelsea: Mon.-Sat., 10am-9pm; Sun., 10am-8pm

Go for: More than 100 vendors in Williamsburg, including Daly Pie dishing out flaky good stuff, unisex bow ties from Dap Kitsch, and revived fashion from Gypsy Nation Vintage. The Chelsea Market outpost features Brooklyn Charm, a DIY jewelry set-up where you can tout your own personal style with delicate adornments.
Hours: Fri.-Sat., 7pm-1am

Go for: Nefariously good nibbles from Momofuku and Brooklyn Crab, a rotating roster of local bands jamming out for your hearing pleasure, handcrafted perfumes and skincare treats from Hi Wildflower Botanica, and you can even ink up your appendages with a fresh design from Sarah Gaugler's Snow Tattoo.

Hours: Pop-Up Shop: Tues.-Fri., 11am-7pm; Market of Makers: Sat.-Sun., 11am-7pm

Go for: Taproot Organic's line of soaps, sea salts, and pampering products, snappy, refreshing Bruce Cost Ginger Ale, and trendy workout gear from Whiptail Athletic.