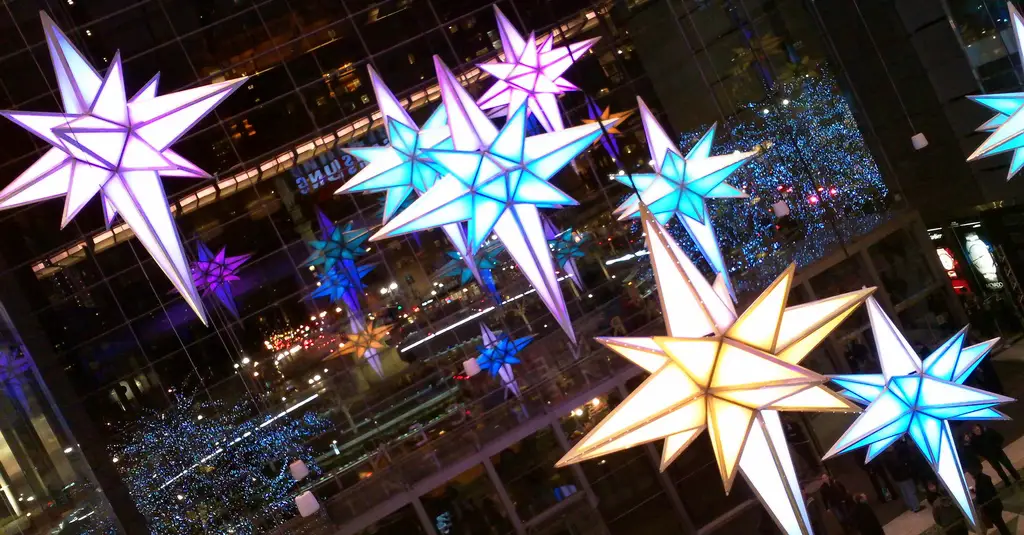 Photo: Shannon McGee/Flickr

New York City takes its seasonal specials and holidays seriously. City Guide's got all the latest and greatest news on the holiday events and specials coming up in New York City this weekend. From scoping out the windows on Saks Fifth Avenue during the Christmas season to catching a round of fireworks on the Hudson on the Fourth of July, you won't miss a thing.


Twas the night before Christmas: A Reading - The Church of the Intercession and Trinity Church Cemetery & Mausoleum
December 16, 2018 - New York
Al Taylor, Assembly member of the 71st assembly District of Upper Manhattan, reads the classic poem by Clement Clarke Moore, son of Bishop Benjamin Moore (also a former Trinity rector). Reception at Trinity Church Cemetery and Mausoleum. Information: intercessionnyc.org.
Compline by Candlelight: Ceremony of Carols - St. Paul's Chapel
December 16, 2018 - New York
The Trinity Youth Chorus presents Ceremony of Carols, Britten's marvelous setting of ancient Christmas texts that sparkles with the wonder of the season. This annual tradition is a favorite of Trinity audiences.
New York's Oldest Christmas Tradition - Church of the Intercession
December 16, 2018 - New York
Young People's Chorus at Washington Heights (YPCWH) conducted by YPC Assistant Conductor Maria Peña opens the church's century-old holiday tradition with a performance of holiday music, followed by a candlelight reading of Clement Clarke Moore's "Twas the Night Before Christmas" and a lantern procession and wreath-lay ceremony at Clement Moore's mausoleum at Trinity Church, across from Intercession Church.
The Christmas Show – 15th Annual - St. George Theatre
Through December 16, 2018 - Staten Island
15th Annual 12/14 at 7pm The Tradition Continues! Now in its 15th year, this two-hour production is a high energy, rhinestone-studded series of songs and dances that the whole family will enjoy! Featuring an all-volunteer cast of over 100 performers, the show features performances from local favorites like Vinnie Medugno, Marcus Simeone, Bill Newstad, Jenny Kelly, and Enid Stein, an excerpt from "The Nutcracker", and the fabulous Richmondettes comprised of superstars from various dance companies across Staten Island. The show revolves around a grandmother reading a Christmas story to her grandchildren about the various things that make the holiday season special. Set in grandmother's house, the story takes the audience on a magical journey through numerous scenes and scenarios from the North Pole to Times Square, Clove Lake Park to The Rainbow Room, and culminates in a justifiably renowned Living Nativity. The production includes such popular tunes as "White Christmas", "Sleigh Ride", "Let it Snow", and "Silver Bells" as well as religious numbers including "O Holy Night" and "Go Tell It on the Mountain" performed to a live orchestra led by musical director Michael Morreal... (read more)
Alaska - The Laurie Beechman Theatre
Through December 17, 2018 - New York
This year Alaska and Jeremy are going to be spending the holidays... in space. Join international siren of stage and screen, Alaska, and her psychic sidekick Handsome Jeremy, as they take a musical journey through space and time. What perils await them beyond the galaxy we call home? Will they meet certain danger, or will they find a civilization even more beautiful and wondrous than our own? And what is the best way to hang tinsel in space?
Epic New York Beer Tour - Bars, Taprooms, Breweries - Empire State Building
Through December 22, 2018 - New York
The Beer Adventures app offers 150+ highly curated tours in 75 cities around the globe. Currently in 25 US cities, we take you to all of the best bars, taprooms and breweries in town giving you a day out to remember on your own terms. For this 'Epic New York Beer Tour' we invite you to join us in NYC as we hit up to 10 venues across Manhattan and Brooklyn in one day. This is one of our favourite Beer Adventures and it's done best by a combination of walking, subway and whatever else mode of transport is for you! Starting by the Empire State Building you'll pass loads of famous landmarks, go over and under the East River, hit both villages (Greenwich and East) and of course visit all the very best beer bars NYC has to offer. Come thirsty, hungry and ready to make a day of it! HOW IT WORKS: Search for 'Beer Adventures' in the Apple appstore or Google Play and download for free. You can then select the city and tours you want in-app. The Beer Adventures app acts as a magical mystery tour directing beer fans around a city at the touch of a few buttons. Available on iOS and Android, we offer highly curated, built in itineraries in most major cities. STARTING O... (read more)
Urban Zen's Holiday Marketplace - Urban Zen
Through December 23, 2018 - New York
Donna Karan's Urban Zen is collaborating with the International Folk Art Market to create a winter market experience at the Urban Zen store in New York City. The marketplace will feature more than 30 international artisans from countries like Colombia, India, Thailand, and South Africa. Products range from accessories to clothes, textiles and home décor. This collaboration is an extension of our summer partnership. For the opening weekend, come meet these six artisans will be at Urban Zen sharing their stories and engaging with customers • Marie Alexandrine Rasoanantenaina • Bounkhong Signavong • Porfirio Gutierrez • Abduljabbar Khatri • Farzana Sharshenvieva • Jabulile Nala* Preservation of Culture is at the core of Urban Zen's mission. This collaboration manifests our mission to preserve cultures, and create a soulful economy where we craftsmanship is our focus. The Holiday Marketplace will take place from December 6th through the 23rd Mon - Wed, 10AM - 6PM Thurs, 10AM – 7PM Fri, 10AM – 6PM Sat, 11AM – 6PM Sun 12PM - 5PM
Deck the Stalls Holiday Market - Seaport District NYC
Through December 23, 2018 - New York
NYCEDC Public Markets presents Deck the Stalls, a multi-cultural market event, celebrating the best of the New York City's public markets in partnership with Fulton Stall Market's farmers and producers. In the Seaport District NYC on Water Street between Fulton & Beekman Streets. SUNDAYS December 2nd, 9th, 16th and 23rd! FREE for all ages! 11:00am - 5:00pm. Market-goers can enjoy holiday gifts, locally made food, multi-cultural performances, Seaport tours, live music, wine and craft beverages. Co-sponsored by Edible Manhattan, Sullivan Catskills, RubyFrost Apples, SnapDragon Apples, and The Howard Hughes Corporation. Musical performances by The Good Morning Nags, Michael Feinberg Music, Lauren Lee, and more.
Santa's Visits to Winter ONEderland - One World Observatory
Through December 24, 2018 - Financial District
For a limited time, the observatory has been transformed into Winter ONEderland: A Holiday Experience Above It All. The experience (which includes visits from Santa himself) will open to the public on Monday, November 26, continuing through January 7. Schedule for Santa's Visits to Winter ONEderland at One World Observatory: Monday, November 26th: 8am-6pm Saturday and Sunday, December 1st & 2nd: 10am-6pm December 8th through the 24th: 10am-6pm
Grand Central Holiday Fair - Grand Central Terminal
Through December 24, 2018 - New York
The 2018 Grand Central Holiday Fair will open on Monday, November 12, 2018. Please check back for vendor information and Fair hours closer to the date. In the meantime, watch our video of the 2016 Fair build out in historic Vanderbilt Hall!
New York Makers Showcases Statewide Artisans - Grand Central Terminal
Through December 24, 2018 - New York
New York Makers, the first-of-its-kind digital marketplace + magazine celebrating the makers, movers, and shakers of the Empire State, will have its inaugural shop in Grand Central Terminal this holiday season. As part of the beloved Grand Central Holiday Fair, New York Makers has specially curated a collection of high-quality, distinctive New York products created by more than 20 talented artisans from Buffalo to Westchester and everywhere in between. Holiday shoppers will have six weeks to see and shop at the Holiday Fair, beginning November 12 through December 24, 2018.
The Velvet Underground Experience - Velvet Underground Experience
Through December 30, 2018 - New York
Revisit New York City in the early 1960's to explore how this iconic American rock band influenced modern music, fashion, art, and popular culture in frontman Lou Reed's native city. From their go-to Lower East Side hangouts to Andy Warhol's Silver Factory, explore the band's favorite NYC haunts through Matali Crasset's original scenography.
Owners Pop Up - Refinery Hotel
Through December 31, 2018 - New York
Come and shop Owners at the Refinery Hotel this December. Open Wednesdays - Sundays, 11am - 7pm, we are showcasing elevated fashion, beauty, and accessories all designed by female-owned brands in NYC. Owners is a highly curated multi-brand pop-up focusing on women-owners in the realm of sustainable and ethical fashion. Our brands are hand selected based on aesthetic, values, quality, and thoughtful production. We bring together a group of brands who share your values so that together we can have a larger impact. Owners offers you an approachable venue for discovering independently owned brands so that you can feel good about your dollars going directly to a small business owner.
Nyc Winter Lantern Festival - Snug Harbor Cultural Center & Botanical Garden
Through January 06, 2019 - Staten Island
This holiday season, the first ever NYC Winter Lantern Festival is coming to Staten Island! The NYC Winter Lantern Festival is the China National Tourist Office New York 2018 signature event, produced by New York Events & Entertainment (NEWYORKEE) and Haitian Culture, and co-sponsored by Empire Outlets and Snug Harbor. Between November 28, 2018 and January 6, 2019, seven acres of Snug Harbor Cultural Center & Botanical Garden will be illuminated by 40 LED installations that stretch up to 30 feet tall. The LED lanterns will be accompanied by live performances of traditional Chinese dances and art. Along with this, NEWYORKEE is partnering with a variety of holiday vendors to create an experience for guests of all ages.