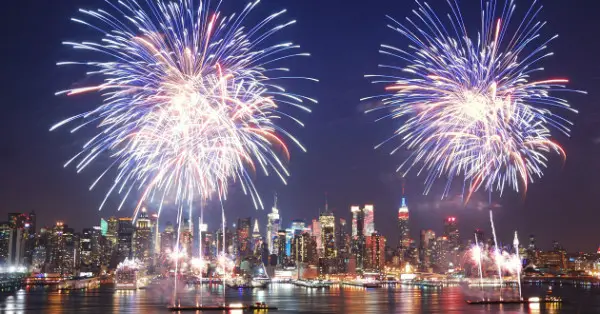 Holiday events and specials join parades and celebrations in City Guide's New York specials activity planner. From the Macy's Thanksgiving Day Parade to New Year's Eve to Christmas, Easter, Valentine's, and St. Patrick's Day, you'll find the best in New York holidays on City Guide's calendar listings. You'll also find amazing street fairs, festivals, and more.


Descalzo Swimwear Pop-up - Punto Space
February 10, 2019 - New York
Located on 38th Street, this beautiful store front venue will be our home this year. From 10am - 3pm come shop our Swim + Resort Pop Up open to the public while mingling & networking with designers & today's movers & shakers within the luxury swim & resort industry.
Sweethearts Bazaar (Valentine's Day Special) - Grand Bazaar NYC
February 10, 2019 - New York
Come pick-up handmade Valentine sweets and gifts from talented local designers and makers, or find a hidden gem form one of the independent vintage and antique dealer Bring your sweetheart with you and have some fun exploring New York City's biggest weekly market, indoors and outdoors, filled with the most unique vendors
The Moth Storyslam - The Bell House
February 11, 2019 - Brooklyn,
This event is 21 and over The Moth StorySLAMs are story telling competitions where the stage is open to any and all with a story to tell on the evening's theme.
Valentine's Treats at MarieBelle Chocolates - MarieBelle New York
February 14, 2019 - New York
MarieBelle Chocolates' signature artisanal ganache, lavish truffles and tantalizing chocolate bars are promptly placed throughout to inspire the appetite for giving and eating this Valentine's Day. Nestled at the back of the Soho store is the Cacao Bar which features a menu of desserts and pastries perfect for any tea time in addition to their exceptional hot chocolate drinks to enjoy this season. MarieBelle New York is artfully wrapping and customizing luxury candy confections. Relish in the sweetest gift for any occasion, available in-store or delivered same day anywhere in the Manhattan area. Also, this Valentine's Day, MarieBelle has the sweetest gift for that special chocolate lover in your life with their Valentine's Day Lace Collection. MarieBelle's new Valentine's Lace Collection of ganache boxes is accentuated by a soft pastel pink, enchanting lace details and closed with a delicate lacy garter that would make Marie Antoinette proud. For more information, visit www.mariebelle.com
Valentine's Day at Bobby Van's The Original - Bobby Van's The Original
February 14, 2019 - New York
For the steak lover, visit esteemed Bobby Van's Steakhouse this Valentine's Day. Bobby Van's has earned its place as a venerable New York dining institution, thanks in part to a continued commitment to cooking techniques perfected years ago by the founding fathers of New York steakhouse cuisine. Bobby Van's a la carte menu features favorites such as Crispy Calamari, Lemon Pepper Shrimp and Maxie's Meatballs for Starter and Veal Milanese, Chilean Seabass and N.Y. Sirloin Steak for Entrée. The restaurant also offers a wide variety of dining options outside of prime beef and seafood, including supremely-prepared pastas, wood-fired pizzas and freshly tossed salads. To accompany the meal, diners have a choice of delicious sides, which include Cauliflower Carbonara, Thick Cut Applewood Bacon and Sautéed Mushrooms. For reservations and more information, please visit: www.bobbyvans.com
Golden Girls Bingo Courtney Antonioli & Chris Chan Roberson - QED
February 14, 2019 - Astoria
Picture it. Queens 2019. Valentine's Day. You, your pals and your confidants are sitting in Q.E.D. watching 3 classic Golden Girls episodes. You play bingo. Win Dorothy's moist cupcakes. You participate in the super secret St. Olaf game. You even wore your best Devereaux sequined shoulder pads in case your very own Mr. Burt Reynolds shows up. Come join this special Valentine's Day themed party! Costumes welcomed!
Valentine's Fiesta at Union Cantina - Union Cantina
February 14, 2019 - Southampton
Valentine's Day couples craving Mexican with a spin will enjoy Union Cantina's A La Carte Menu, featuring delectable dishes such as Avocado Fries, Hearts of Palm Salad, Baja Tacos, Skirt Steak Tacos, Spicy Guava BBQ Baby Back Ribs, Adobo Chicken Deconstructed Enchilada and Charred Shrimp. Do not miss the popular Guacamole En Molcajate, prepared mild or spicy. A selection of Chef Specialties will also be offered on the day. Union Cantina's winning Everyday Happy Hour is offered as usual from 3:00pm to 6:00pm. If you and your special someone are fans of delectable hamburgers, Union Cantina recently opened their all-new Union Burger Bar. The restaurant extension is co-located with the contemporary Mexican restaurant, offering an assortment of specialty gourmet burgers, fresh hand-cut fries, maniacal milkshakes & desserts and of course an elaborate craft beer and small batch bourbon selection. Union Burger Bar is first come, first served, no reservations, and is open for both lunch and dinner. For more information, visit www.unioncantina.net
Valentine's Treats at Demarchelier - Demarchelier Restaurant
February 14, 2019 - New York
This Valentine's Day, Demarchelier is serving a special Prix Fixe menu for you and your loved one at $48 per person. Appetizer, Salmon Pastrami or Terrine de Foie Gras; Main Course, Lamb Chops with String Beans and Tomato Provençal or Filet of Halibut with a Sorrel Sauce; Desert, Valentines Cake served with a complimentary choice of Prosecco, Chardonnay or Merlot. For reservations and more information, visit www.demarchelierrestaurant.com 212-249-6300
Valentine's Day at MAMO Restaurant - MAMO Restaurant
February 14, 2019 - New York
Valentine's Day Prix Fixe Menu $105 pp This Valentine's Day, MAMO NYC will delight couples looking to dine in a rustic chic atmosphere, with a Valentine's Day Prix Fixe menu including: Tonno e salmone scottati, lamponi e Carciofi (Seared tuna and salmon, artichokes, raspberries), Raviolini al tartufo, their signature fresh truffle raviolini, and Capesante arrosto, broccoli, cavolfiori, salsa all'astice (Roasted scallops, broccoli, cauliflowers, lobster sauce) MAMO Restaurant is a purveyor of affectionate Italian and Provençal dining experience. Whether you prefer enjoying a relaxing lunch with your closest friends, intimate gatherings, business dinners, or a grand cocktail party, we are certain to provide with an unforgettable experience and promise you'll enjoy the incredible service & food. For reservations and more information, visit www.mamonyc.com
Valentine's Dining at T-Bar Steak & Lounge - T-Bar Steak & Lounge
February 14, 2019 - New York
T-Bar Steak and Lounge is the popular spot for couples looking for a romantic dinner with outstanding cuisine in a casual yet elegant space. The restaurant's charm is brought to life by a stylish, dark-wood accented dining room, frosted glass details and subtle back lighting. This Valentine's Day under the watchful eye of Restauranteur Tony Fortuna, T-Bar will offer its regular a la carte menu, which features its signature prime beef steaks along with a mélange of grilled fish, chopped salads and pastas. Swoon over the decadent desert menu crafted by Executive Chef Ben Zwicker, which includes the famous Banana Parfait Mille Feuilles with coconut and caramel sauce. T-Bar Steak & Lounge 1278 3rd Ave, New York, NY 10021 212-772-0404 • www.tbarnyc.com
Valentine's Day Market - Bulova Corporate Center
Through February 14, 2019 - East Elmhurst
The Blumenfeld Development Group (BDG) in partnership with Made in Queens will host a pop-up Valentine's Day Market, where shoppers and community members can pick up gifts from local Queens businesses. The market will take place Wednesday, February 13 and Thursday, February 14, 2019, from 11:00 a.m. to 1:00 p.m. at the Bulova Corporate Center (75-20 Astoria Blvd, East Elmhurst). Over 10 Queens small businesses will participate including: Michelle Benjamin, Treestar, R+D Designs, Hiromi Niizeki, Around Eco, Hooks and Luxe, You are Here Studios, Marikit Designs, BootBand, Queens Knits and Paige's Candle Co.
Ecstatic Music Festival: Deerhoof & Tigue - Merkin Hall
February 16, 2019 - New York
Boundless energy, laser-like precision, and an endless array of sonic possibilities are the common ground where Deerhoof, "Earth's most exuberant art-pop band" (Time Out New York), meets Tigue, the "high octane" (New York Times) upstart band-that-happens-to-be-a-percussion-trio. They'll perform Deerhoof's widely-beloved 2007 album, Friend Opportunity, with new percussion additions by Tigue, and Tigue will write a new piece for the two bands together, plus more TBA.
Lunar New Year Celebration - Abrons Arts Center
February 16, 2019 - New York
Abrons Arts Center and Wing on Wo's W.O.W Project bring in the "Year of the Pig" with a celebration for the Lower East Side community. The W.O.W. Project's youth art and activism program "Resist Recycle Regenerate" will lead a confetti collection through the streets of Chinatown during Manhattan's Lunar New Year parade, culminating in a celebration at Abrons featuring live performances, art activities, karaoke, DJ sets and refreshments from local restaurants.
Free Chocolate at GODIVA Stores Nationwide (2/2-2/16) - GODIVA Chocolatier
Through February 16, 2019 - New York
GODIVA is making this Valentine's Day season even sweeter with a limited-time promotion exclusively available in stores nationwide. While supplies last, chocolate lovers can enjoy a free piece of GODIVA's Dark Chocolate Strawberry G-Cube February 2 through February 16 -- so you can still indulge even after Valentine's Day!
Chinese New Year Temple Bazaar - Flushing Town Hall
February 17, 2019 - Flushing
Chinese New Year Temple Bazaar is also supported by Tai Wang/WAC Lighting, Shandong Association, Amy Mak Chan, Dr. Hsing-Lih Chou/ New York Institute of Culture and the Arts, Flushing Bank, and Shanghai Commercial Bank. Flushing Council on Culture and the Arts dba Flushing Town Hall is a not for profit organization which receives major support from the National Endowment for the Arts; New York State Council on the Arts with the support of Governor Andrew Cuomo and the New York State Legislature; New York State Assembly Member Ron Kim; New York City Department of Cultural Affairs, Mayor Bill de Blasio; Queens Borough President Melinda Katz; Council Members Adrienne Adams, Costa Constantinides, Daniel Dromm, Barry Grodenchik, Peter Koo, Karen Koslowitz, Francisco Moya, Paul A. Vallone, and Jimmy Van Bramer; and the Howard Gilman Foundation, the Fan Fox and Leslie R. Samuels Foundation, and the Lily Auchincloss Foundation
The New York/New Jersey Franchise Show - Meadowlands Expo Center
Through February 17, 2019 - Secaucus
Take the next step in finding your success at the Franchise Show. This event is your opportunity to meet face to face with representatives from top franchise concepts who want to expand or develop in your area. Attend FREE educational seminars and speak with industry professionals who are on-site all weekend to answer your questions. Get FREE legal, financing and business planning advice. Gather all the information you need to find the franchise that matches your skills and budget. Save hours of research time, compare opportunities and source valuable information in an informal, no pressure atmosphere.
Morning Boot Camp with The Rise NYC - Bank of America Winter Village at Bryant Park
Through February 27, 2019 - New York
Exerskate - Bank of America Winter Village at Bryant Park
Through February 28, 2019 - New York
Exerskate offers free ice-skating-based exercise classes on Thursday mornings, conducted by trained figure skaters and hockey players with the goal of giving skaters an excellent workout while sharpening their skills on the ice
THINX Pop-up Store - THINX Pop-up Store
Through February 28, 2019 - New York
Touch, feel, and shop THINX IRL. Shop all our styles and customize the *perfect* underwear collection to go with your unique flow. Our period experts will help you build a money-saving Cycle Set and answer Qs about our products and sister brands, Icon and THINX (BTWN).
Celebrate Party Showcase - Mitzvah Market
Through March 31, 2019 - New York
Each of the annual Celebrate! Party Showcases attract hundreds of families who are all looking to meet Bar Bat Mitzvah vendors. All showcases are held from 12 noon – 4:00pm. These showcases are especially effective for exhibitors who have something special and different to present to families who are looking for the newest, hottest and greatest for their child's celebration. These Bar Bat Mitzvah families get to spend an afternoon meeting face-to-face with Bar Bat Mitzvah experts who can make their child's celebration different from the rest. Some vendors sign business right at the event. It's fun to sample the food, try out the newest entertainment and learn what's unique in Bar Bat Mitzvah planning. ** We distribute our annual Mitzvah Market Magazine at these events. Editions are also distributed throughout New York City, Northern/Central New Jersey and Westchester/Rockland/Fairfield. Interested in a showcase booth? Contact Sheri Lapidus, [email protected], 516-445-2394
Shopping and Champagne - Trina Turk and Mr. Turk
Through October 08, 2028 - New York
Sip champagne as you shop our new Holiday Collection at 25% off! Plus enter for a chance to win a 1000$ Shopping Spree!