NYC Halloween Events for Families
October 13, 2017 - by Evan Levy
If it seems like Halloween comes earlier and earlier every year; it's not just your imagination. The good news is that you have a seemingly endless array of Halloween choices coming up in New York. Let's boo!
10/31 Halloween on The High Line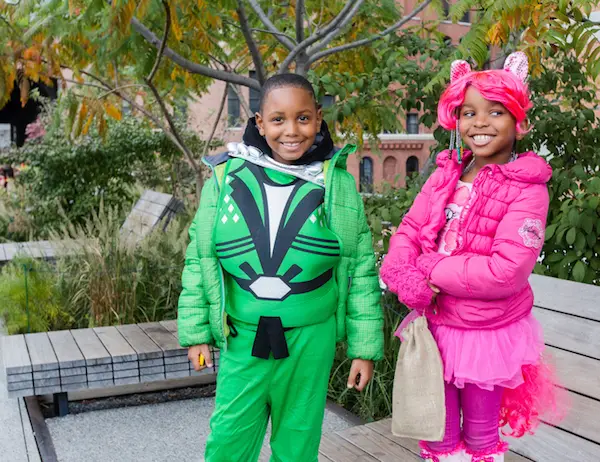 This Halloween event on New York's elevated walkway has a somewhat gruesome backstory—street-level trains used to pose such danger to pedestrians that many people lost their lives; 10th Avenue actually used to be referred to as "Death Avenue." In a bid to make trains safer, an elevated track was built. Once a year, the ghosts from the accidents supposedly rise up to haunt the living. The event itself, however, is both benign and enjoyable—it includes face painting, dancing, a photo booth, plus that very cool setting. 11am-3pm. Register online. The High Line between 14th and 16h Streets, thehighline.org
Through 10/31 Haunted Hollywood at Planet Hollywood
When they've outgrown face painting and decorating treat bags, what to do with older kids during the Halloween season (because yes, now it's a season)? Luckily, through the end of the month, Hollywood film memorabilia from horror movies is on display at Planet Hollywood. Such iconic objects as Freddy Krueger's glove (A Nightmare on Elm Street), the Book of Spells from Hocus Pocus, the mask from Creepshow, Leatherface's chainsaw from Texas Chainsaw Massacre, and more are all on view. Hey--nothing says Halloween like scary movie memorabilia. 1540 Broadway, planethollywoodintl.com
10/21 Tompkins Square Park Halloween Dog Parade
If you ooh and aah every time you see a bulldog wearing little rain boots go by (and really, who doesn't?) this one's for you. For the Tompkins Square Park annual Halloween Parade, humans aren't the only ones who get to dress up—their dogs do, too. Look for matching or complementary costumes, of course, and you'll want to be prompt, because literally hundreds of dogs and thousands of spectators show up. Suggested donation is $5. 500 E. 9th St., Noon-3pm, tompinssquaredogrun.com
Weekends Through 10/29 Bronx Zoo's Boo at the Zoo
Why celebrate Halloween just once this year? Every weekend through the end of October, the Bronx Zoo offers "Boo at the Zoo," activities for families such as pumpkin carving, magic shows, a hay maze, and live music. For older kids, there's the Haunted Forest, and for their parents, the chance to sample autumnal food and beverages at Bootoberfest. And of course, you'll want to pay a visit to some animals while you're there--perhaps the vultures or cobras? (They just seem appropriately Halloween-like, somehow.) Weekends through the end of October. Bronxzoo.com
10/29 Central Park Pumpkin Flotilla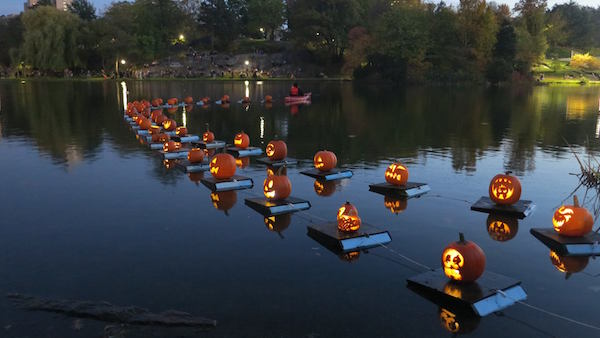 Although this event has storytelling, music and pumpkin carving demonstrations, the real draw is the pumpkin flotilla, which sets sail at twilight, and is a sight to behold. You haven't experienced a New York Halloween until you've seen ghostly pumpkins floating across the Harlem Meer as the sun goes down. 3:30pm-7pm. Harlem Meer, 106th-110th Street, East Side, centralparknyc.org
NYUO1 Halloween Program
NYUO¹, one of the premier orchestras of New York University, will perform its first-ever Halloween program in a free concert at the Frederick Loewe Theatre on Friday, October 27 at 8pm. The program will be conducted by Adam Glaser as part of Glaser's first season as the NYU Orchestras' principal conductor. Professor Jonathan Hall will give a pre-concert talk at 7:30pm. The festive program includes original and classic compositions designed to invoke a Halloween spirit:
Adam Glaser: March of the Little Goblins
Humperdinck: Hansel und Gretel: "Hexenritt" ("Witch's Ride")
Falla: El amor brujo: "Ritual Fire Dance"
Dvo?ák: The Noon Witch, Op. 108
Mussorgsky, arr. Rimsky-Korsakov: Night on Bald Mountain
Saint-Saëns: Dans Macabre, Op. 40
Dukas: The Sorcerer's Apprentice
The concert is free and open to the public, and audience members are encouraged to come in costume. Admission to the Frederick Loewe Theatre, located at 35 W. 4th Street, is on a first-come, first-served basis.
10/27 Halloween at New York Public Library
The New York Public Library offers Halloween events throughout the month and at different branches. On October 27, for instance, kids can dress up and have their pictures taken with a therapy dog at the Epiphany Branch; refreshments and games will also be offered. Over at the Columbus branch, kids can make a paper plate witch. On October 30, head on over to the St. Agnes branch for a Halloween dance party, while on the big day itself, you can choose from a series of spooky events, from trick or treating at Hamilton Grange to a scavenger hunt at the Mulberry Street library. A full list of events is available on the library's website. nypl.org
10/28 Harry Potter-Inspired Halloween/Deathday Party at Bloomingdale Library
For a Halloween event with a Harry Potter-ish flair, this one offers arts and crafts, costume and trivia contests, and Deathday-inspired cupcake decorating. Crafts, trivia and costume contest, other cool stuff. $30 adults, $25 kids 12 and under, 10% discount for City Guide readers! Wands at the ready. Advance registration required.
Bloomingdale Library, 150 West 100th Street, 11am-1pm. (Please note, this is not an NYPL sponsored event.) [email protected]; or call 917-513-4081, [email protected], etccustomevents.com
10/27, 10/29, 10/31 Harry Potter-Inspired Halloween Tours at the Metropolitan Museum of Art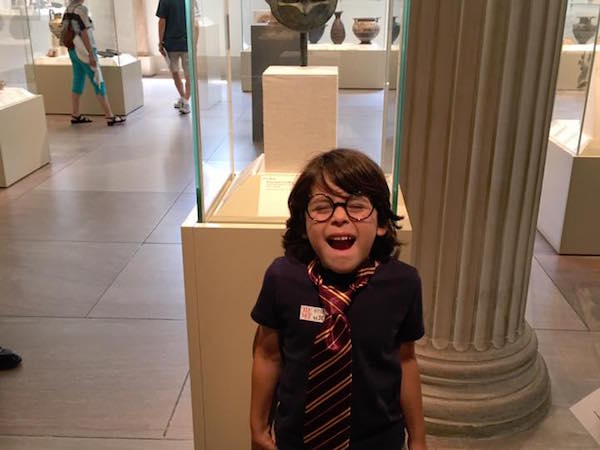 Special Harry Potter inspired Halloween tours at the Metropolitan Museum of Art, beginning at 11am (*Halloween Day, afterschool 3:30pm), come in costume. $50 at door, $45 adults, $35 for kids. Book through City Guide and save 10%! etccustomevents.com
Looking for Free Group Planning Services?
Get free advice on planning your group's trip to New York.
RESTAURANTS

Multi-concept restaurant offering modern Japanese cuisine, a...

THEATER

Gaston Leroux's famous period thriller is now one of Broadwa...

SHOPPING

An array of quality branded merchandise showcasing HBO's® aw...

SIGHTSEEING

SPYSCAPE is the world's preeminent spy museum and experience...