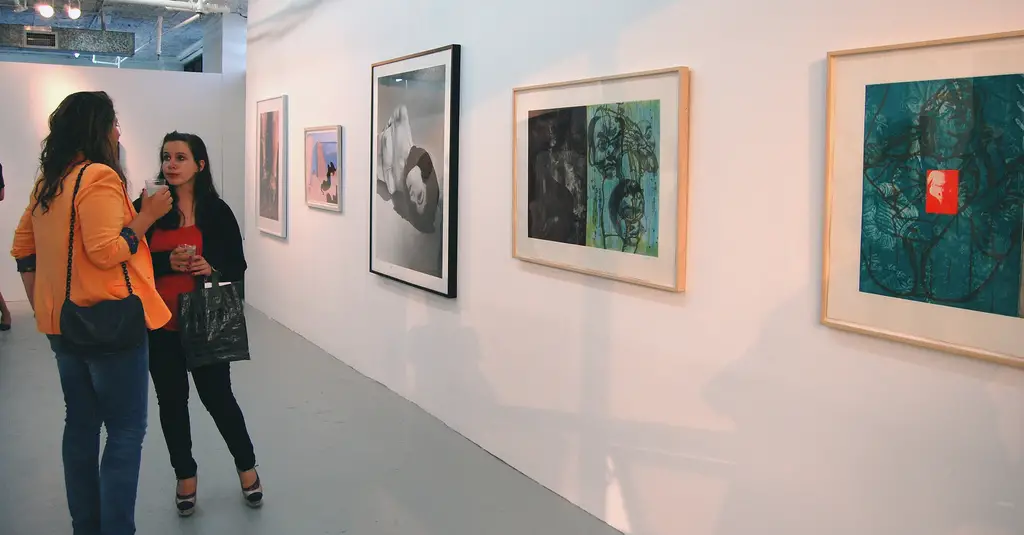 Photo: Andrew Russeth/Flickr

Many of the world's most acclaimed artists live in New York City, including up-and-coming painters, sculptors, video and performance artists, and photographers. Take advantage of the rich art scene by checking out some gallery shows in New York City this month. City Guide has the best gallery events rounded up here.


Artists and the Art of Fencing - Manhattan Fencing
January 12, 2019 - New York
The mirror forms of human excellence and achievement, fencing and fine art will be presented at the inaugural fundraiser NEW YORK, NY, January 4 – The inaugural fundraiser 'Artists and the Art of Fencing: an Exhibit of Fine Art and Celebration of Excellence in Fencing' will take place on January 12, 2019. The event is a collaboration between artists and fencers to highlight the paths each take to achieve excellence in their artistic discipline through guest interaction with the artists and athletes. Yury Gelman, the founder of the Yury Gelman Foundation, the five-time US Olympic fencing team coach, explains the reasoning for such a unique collaboration "I believe fencing and fine art are mirror forms of human excellence and achievement. A fencer is an artist who masters their weapon the same way as an artist masters their chosen tool for creation." The 2019 art show will feature works of five artists. Hali Nelson, an emerging artist from New York, until recently fenced for the Harvard team, placing second in the women's Ivy League in 2016. Together with another female artist from St. Petersburg, Russia, Elizaveta Kudryavtseva, Ms. Nelson focuses on exploring the psychological co... (read more)
Resurge - Bento on Hudson
January 12, 2019 - New York
Featuring: Micayla Bransfield/ Stephanie Cortazzo/ Emily Dalton/ Karissa Gannon/ Natasha Gohil/ Emma Gordon/ Nefertiti Jenkins/ Ayana Kareem/ Emily Knowles/ Judy Koo/ Laura Marciniak/ Taylor Mathues/ Anna Palaski/ Rin Parké/ Hirah Park/ Annie Pollock/ Deborah Rodriguez/ Kat Schneider/ Nora Wimmer Resurge presents a group exhibition featuring the works of select alumni from Mason Gross School of the Arts at Rutgers University. The exhibition will be on view for one day only with a public reception on Saturday, January 12, from 2-6 pm. Resurge, curated by Stephanie Cortazzo, is a visual conversation between former colleagues. This evening celebrates women and non-binary artists and showcases their professional developments. The exhibition honors the groups' combined motivation to extend their art making practice outside the incubator of art school. The interdisciplinary structure allows for a breadth of mediums including painting, photography, mixed media, video, and design. Bento on Hudson Bento on Hudson is a private membership community and intentionally designed environment to host and promote brands in the heart of the historic Meatpacking district. They are a premie... (read more)
Lydia Cabrera and Édouard Glissant: Trembling Thinking - Americas Society
Through January 12, 2019 - New York
Lydia Cabrera and Édouard Glissant: Trembling Thinking focuses on the ideas developed by the prominent Caribbean thinkers Lydia Cabrera (Havana, 1899–Miami, 1991) and Édouard Glissant (Sainte-Marie, Martinique, 1928–Paris, 2011) and an archipelago of modern and contemporary artists whose works respond to their notions of identity. Artists include: Etel Adnan, Kader Attia, Tania Bruguera, Manthia Diawara, Mestre Didi, Melvin Edwards, Simone Fattal, Sylvie Glissant, Koo Jeong A, Wifredo Lam, Marc Latamie, Roberto Matta, Julie Mehretu, Philippe Parreno, Amelia Peláez, Asad Raza, Anri Sala, Antonio Seguí, Diamond Stingily, Elena Tejada-Herrera, Jack Whitten, and Pedro Zylbersztajn. This exhibition is cocurated by Hans Ulrich Obrist, Gabriela Rangel, and Asad Raza.
Yasumasa Morimura: Ego Obscura - Japan Society
Through January 13, 2019 - New York
This fall, join us for the first NY institutional solo exhibition of one of Japan's most prolific and versatile contemporary artists, Yasumasa Morimura. Ego Obscura highlights Morimura's 30-year-long project of excavating "the self" from layers of art history, Japanese postwar history, and personal history. In addition to major photographic self-portraits, for which Morimura transformed himself into iconic artistic and pop culture figures, the exhibition will also feature the U.S. premiere of the artist's first full-length video work, Egó Sympósion (2016) and his latest cinematic installation Egó Obscura (2018), in conjunction with a live performance, Morimura's Nippon Cha Cha Cha!, staged by the artist on the opening weekend.
BHS 18th Annual Winter Art Show - Bayside Historical Society
Through January 27, 2019 - Bayside
Our annual Winter Art Show features contemporary Queens artists working in all media. All artists are welcome! The opening reception will take place on Sunday, January 13, 2019 at 2:00pm; the show will close on Sunday, January 27, 2019 at 3:00pm. The registration deadline is Saturday, December 29, 2018. The exhibit and reception are open to the public. Viewing hours for the duration of the exhibit will be Thursday & Friday, 10:00 am to 4:00 pm, and Saturday & Sunday, noon until 4:00 pm. Admission is $5 per person, or free for BHS members. For more information and to download a registration form, go to: https://www.baysidehistorical.org/bhs-winter-art-show
Liliana Porter: Other Situations - El Museo del Barrio
Through January 27, 2019 - New York
Born in Argentina in 1941, Liliana Porter, originally educated in printmaking — a discipline that deeply influenced her practice — moved to New York in 1964, where she cofounded the New York Graphic Workshop with artists Luis Camnitzer and José Guillermo Castillo. Since then, Porter has worked in a variety of media including painting, drawing, printmaking, photography, assemblages, video, installation and, more recently, theater. Porter's art has been exhibited in more than 35 countries in over 450 group shows, and is a part of public and private collections including El Museo del Barrio. Her work has been reviewed in Artforum, Art in America, and Sculpture Magazine, among other publications. In 2013, the Fundación Patricia Phelps de Cisneros published the book Liliana Porter in Conversation with Inés Katzenstein as part of the Conversaciones/Conversations series. Galleries in Europe, Latin America and the United States represent the artist.
Dana Czapnik: The Falconer w/ Kaitlyn Greenidge - Books are Magic
January 31, 2019 - Brooklynl
Told in vibrant, quicksilver prose, The Falconer is a "wholly original coming-of-age story" (Chloe Benjamin, New York Times bestselling author of The Immortalists), providing a snapshot of the city and America through the eyes of the children of the baby boomers grappling with privilege and the fading of radical hopes. New York Times bestselling author Claire Messud calls The Falconer an "exhilarating debut," adding that "Dana Czapnik's frank heroine has a voice, and a perspective, you won't soon forget." Dana Czapnik is a 2018 NYSCA/NYFA Artist Fellow in Fiction from The New York Foundation for the Arts. In 2017, she was awarded an Emerging Writers Fellowship from the Center for Fiction. Czapnik earned her MFA at Hunter College where she was recognized with a Hertog Fellowship. She's spent most of her career on the editorial side of professional sports including stints at ESPN the Magazine, the United States Tennis Association and the Arena Football League. A native New Yorker, she lives in Manhattan with her husband and son.
Mickey: The True Original Exhibition - Mickey Exhibition
Through February 10, 2019 - New York
Mickey: The True Original Exhibition celebrates 90 years of Mickey Mouse's influence on art and pop culture. Opening in November 2018, this immersive experience is inspired by Mickey's status as a 'true original' and his consistent impact on the arts and creativity in all its forms. Guests will have the chance to explore the 16,000 square-foot exhibition featuring both historic and contemporary work from renowned artists.