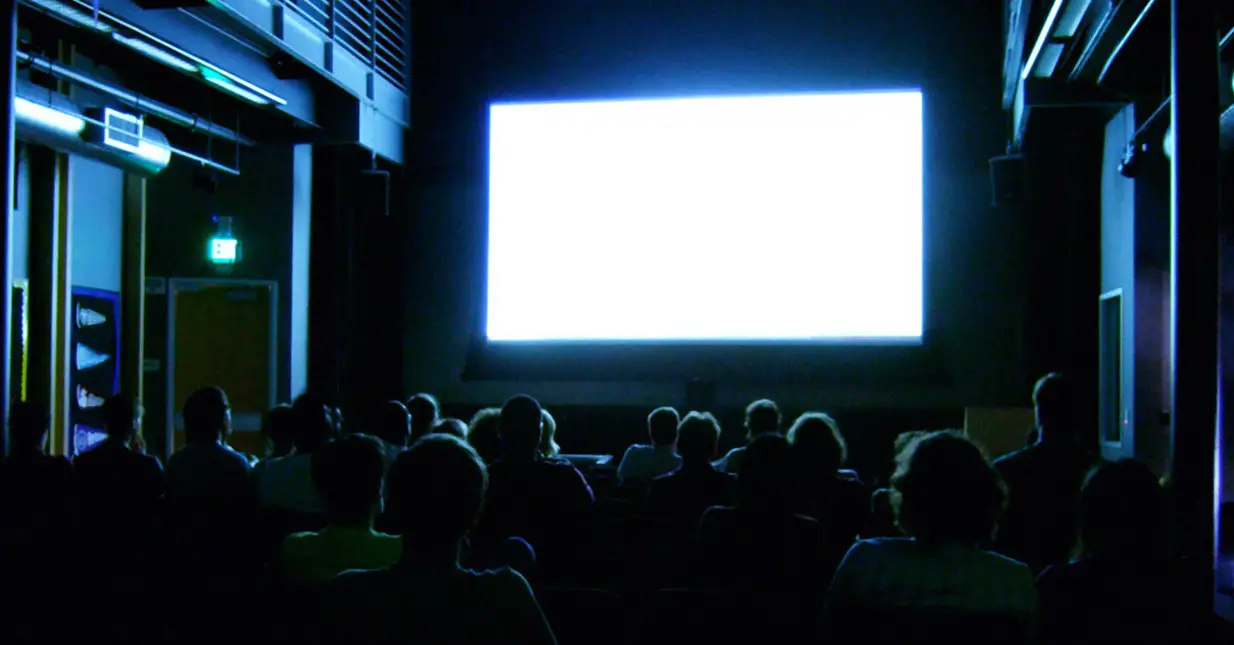 Photo: Flickr/Kenneth Lu

New York has a vibrant repertory film scene, with classic movie houses like Film Forum joined by newer venues like Metrograph, Videology, and Nitehawk Cinema. You can also find movie specials, premieres, and simulcasts like the Metropolitan Opera Live in HD listed in City Guide?s film calendar section.


I Am - 59E59 Theaters C
Through July 14, 2019 - New York
Written and directed by Stacy Lynn Gould Music and lyrics by Lauren Hendon With Lauren Hendon, Margot Dale, Courtney Megaro, Aleksandr Krapivkin, and Amber Lageman What if you could meet your inner demons? Delve into a woman's mind and watch her demons fight for power over the light. Originally from Tacoma, WA. Trained in musical, contemporary, and classical theatre. Performed and/or worked with professional companies and venues including: the Globe Theatre (London), Hudson Theatre (Bwy), American Airlines Theatre (Bwy), Fundamental Theater Project (member), and the South Dakota Shakespeare Festival. Specializes in site-specific and devised work. MA from Royal Conservatoire of Scotland.
2019 Filmmakers Breakfast Panel - Filmmakers Lounge
July 15, 2019 - New York
A cross section of Filmmakers from 2019 LIIFE are selected to recount their experiences making their independent films. This panel always proves to be entertaining and informative and downright hilarious! Moderated by Mitchell Bard of Snapper Films.
Animation Nights New York (ANNY) at The Gutter - The Gutter
July 16, 2019 - Brooklyn
Animation Nights New York is a curated monthly screening of Animated Short Films of our In Competition Films from all around the world. Admission is PAY WHAT YOU DECIDE -- donations are greatly appreciated, while no one turned away for lack of funds. We hope to see you there. Support Independent Animation! FAQs Are there ID requirements or an age limit to enter the event? Yes. You must be 21 years or older and have proof of ID. (This venue is a bar.) What are my transport options getting to the event? L to the Bedford Ave Stop, G to the Nassau Ave Stop.
An Evening with Morbid Anatomy: The Mask - Nitehawk Cinema
July 16, 2019 - Brooklyn
Morbid Anatomy and Nitehawk Cinema present a night of many masks with a special 3D presentation of psychedelic, freaky-deaky horror classic The Mask (1961) (with replica 1961 3D masks!), preceded by the 2018 short documentary, Past Life: The Maskwork of Candice Angelini, presented by The Midnight Archive. Contemporary Shaman Langston Kahn will briefly discuss his work using masks for healing purposes.
Outdoors Summer Film Series: Best in Show - Nowadays
July 17, 2019 - Ridgewood
Free movies out back every Wednesday night. Here's a little bit of background about the film: Directed by Christopher Guest, this hilarious mockumentary follows a group of hapless but unforgettable eccentrics who happen to show great dogs.
Rio - Cohoes Music Hall
July 17, 2019 - Cohoes
Taken when he was just a hatchling, a bird, Blu, never learned to fly and lives a happy life with his owner. Blu is thought to be the last of his kind, but when word comes that Jewel a female lives, Blu and Linda go to meet her. Smugglers take the two, but when the pair escapes, will they make it back to their homes?
Mad Science Presents Big Top Science - Highland Park
July 17, 2019 - Cypress Hills
Step into three rings of fun for a series of chemistry and physics demos. When it comes to fun science this is the greatest show on earth!
Exhibition on Screen: Young Picasso - Symphony Space
July 17, 2019 - New York
2019. UK. 85 min. Phil Grabsky Pablo Picasso is one of the greatest artists of all time – and right up until his death in 1973 he was the most prolific of artists. Many films have dealt with these later years – the art, the affairs and the wide circle of friends. But where did this all begin? What made Picasso in the first place? Too long ignored, it is time to look at the early years of Picasso; the upbringing and the learning that led to his extraordinary achievements. The film explains how this young artist acquired his craft. Looking carefully at two key early periods – the so-called Blue Period and Rose Period – the film takes us all the way to 1907 and the creation of a critical painting in the history of art – Les Demoiselles d'Avignon. It was a painting that shocked the art world but changed it irrevocably. Picasso was only 25 years old. Working closely with all three Picasso Museums in Malaga, Barcelona and Paris this film explains how he rose to such great heights.
In a Glass Cage (Introduction by Bruce Labruce) - Nitehawk Cinema
July 17, 2019 - Brooklyn
Years after committing atrocities as a torturer of interned children during the Holocaust, Nazi doctor and certified pedophile Klaus (Günter Meisner) continues to murder little boys. After a gruesomely botched suicide attempt leaves Klaus imprisoned in an iron lung, he gives up his sickening pastime. But when a mysterious teenager named Angelo (David Sust) arrives at his home claiming to be a nurse, Klaus happily hires the boy as his new attendant — a decision he soon regrets
Artist's Choice Summer Film Series - Hauser & Wirth
Through July 17, 2019 - New York
Artist's Choice Summer Film Series is a program of free evening film screenings that will take place on the rooftop of the gallery's West 22nd Street location in June and July. With films selected by gallery artists Rita Ackermann, Jenny Holzer, Roni Horn, Amy Sherald, and Lorna Simpson. Summer Film Series will present a vibrant collection of cinematic works that illustrate the many ways in which the moving image provides a rich source of inspiration for­­ visual artists.
Static - 59E59 Theaters C
Through July 17, 2019 - New York
Written and performed by Daniel Amedee and Conor Kelly O'Brien A hybrid theater/live concert production that tells the story of a son using music as a means to cope with losing his father to dementia. New Vintage Ensemble, founded in 2013, is a collective of actors from Northeastern Pennsylvania dedicated to producing innovative and interactive theater while helping the arts community of the Scranton region thrive. Their distinctive style and passion for engaging audiences has resulted in award-winning and internationally-recognized productions, as well as regional premieres of original works. New Vintage Ensemble has had original works presented at Cincinnati Fringe, Ithaca Fringe, multiple shows in the Scranton Fringe Festival, and Edinburgh Fringe Festival.
Straight to Video - Improv Asylum New York
July 18, 2019 - New York
Think you've seen a lot of movies? You've never seen one like this. Based on a suggestion from the audience and using the tropes and cliches of Hollywood classics new and old, Straight to Video will improvise a never-before-seen movie right in front of your very eyes.
Hell's Angels '69 - Nitehawk Cinema
July 18, 2019 - Brooklyn
Thrill-seeking brothers, Chuck and Wes, hatch a plan to take Ceasar's Palace for a bundle – just for fun (!) – that involves "joining" the titular titans of the two-wheelers as cover for their covert chicaneries! But the brothers' new (shared) biker-babe, Betsy – "bought" from true-life Angel, Terry The Tramp, for a pack of butts – may just throw a monkey-wrench into the works! Featuring members from the Oakland Hell's Angels Motorcycle Club playing themselves – Sonny Barger, the aforementioned Terry The Tramp, Skip, Tiny, Magoo, and more – makes for some Motorcycle Mayhem as only these true maniacs can deliver! Beer-drinking! An air of authentic grit and grime despite the PG-ness of the shenanigans at hand! A desert dirt-bike chase!! Stilted line-readings!!! And – oh – all those choppers! An at times languid, relaxed, hang-out of a film… HELL'S ANGELS '69 knows how to throttle the action when action is due – delivering a wacky, wild ride where the "good guys" are sometimes born to be bad… Celebrate America with The Deuce!
Haunted History - A Paranormal Experience at Cohoes Music Hall - Cohoes Music Hall
July 19, 2019 - Cohoes
"This experience was very real. I loved how it was set up! I went in thinking I was going to get nothing and came out with an entirely different experience! It wasn't scary. I felt comfortable even after the fact of feeling a presence." - May Event Attendee "The genuineness of the leaders made an unbeliever a believer." - April Event Attendee Experience the history and hauntings of Cohoes Music Hall at the venue's first ever series of paranormal events. Since it's reopening in 1974, the Music Hall has been shrouded in stories and legends of supernatural activity that have captivated the curiosity of staff and patrons alike. Join us for an evening of up close investigation as you explore the Hall's many spaces and secrets guided by the Northern New York Paranormal Research Society (NNYPRS). Founded in 2001, NNYPRS is the 2nd oldest continuously operated paranormal research team in NY State. NNYPRS primarily uses scientific tools and techniques to investigate reports of hauntings. They seek to debunk claims with natural explanations before turning to supernatural justifications. Their motto is Seek Truth!
Featured Film: If Beale Street Could Talk - Gravesend Public Library
July 19, 2019 - Brooklyn
Friday at the Movies! --Weekly movies showing for Older Adult audience. --Enjoy great contemporary or classic movies weekly. --Big-screen projection; comfortable seating.
The Deer Hunter - Smith Opera House
July 19, 2019 - Geneva
Starring Robert DeNiro, John Savage, Christopher Walken, and Meryl Streep, this war drama follows a group of men from rural Pennsylvania whose lives are changed forever after serving in Vietnam. As Roger Ebert said in his review, "The Deer Hunter is said to be about many subjects: About male bonding, about mindless patriotism, about the dehumanizing effects of war, about Nixon's 'silent majority.' It is about any of those things that you choose, if you choose, but more than anything else, it is a heartbreakingly effective fictional machine that evokes the agony of the Vietnam time." Doors open at 6:30pm, movie starts at 7pm The Smith would like to thank our film sponsor, Bank of the Finger Lakes.
Daniel Weiss Group - Fat Cat
July 19, 2019 - New York
Daniel Weiss Group
A Scanner Darkly - Nitehawk Cinema
July 19, 2019 - Brooklyn
Set in a future world where America has lost the war on drugs, an undercover cop, Fred, is one of many agents hooked on the popular drug Substance D, which causes its users to develop split personalities. Fred, for instance, is also Bob, a notorious drug dealer. Along with his superior officers, Fred sets up an elaborate scheme to catch Bob and tear down his operation.
Luz - Nitehawk Cinema
July 19, 2019 - Brooklyn
A young female cab driver drags herself into the brightly lit entrance of a rundown police station. A demonic entity follows her, determined to finally be close to the woman it loves.
Rooftop Films | The Great Hack - Industry City
Through July 19, 2019 - Brooklyn
Uncover the dark world of data exploitation with astounding access to key players on different sides of the explosive Cambridge Analytica/Facebook data scandal. Date: Thursday, July 18th Venue: Industry City Address: 51 35th St., Sunset Park, Brooklyn 8:00 PM: Doors Open 8:30 PM: Live Music 9:00 PM: Film Begins 10:30 PM: Q&A 11:00 PM: After-Party The Great Hack Karim Amer & Jehane Noujaim | US | 110 Data has surpassed oil as the world's most valuable asset. It's being weaponized to wage cultural and political warfare. People everywhere are in a battle for control of our most intimate personal details. From award-winning filmmakers Karim Amer and Jehane Noujaim, The Great Hack uncovers the dark world of data exploitation with astounding access to the personal journeys of key players on different sides of the explosive Cambridge Analytica/Facebook data scandal. Academy Award nominees Amer and Noujaim (The Square, Control Room, Startup.com) continue their tradition of exploring the seismic ripples of social media with this riveting, complex film. The Great Hack forces us to question the origin of the information we consume daily. What do we give up when we tap that phone or... (read more)
Bill & Ted's Excellent Adventure - Prospect Park
July 20, 2019 - Brooklyn
Keanu Reeves, Alex Winter, George Carlin On the verge of failing their most heinous oral history exam, Bill (Keanu Reeves) and Ted (Alex Winter) find themselves on a most excellent adventure…traveling through history in a telephone booth with a guide named Rufus (George Carlin). On their journey they meet the likes of Billy the Kid, Socrates, Joan of Arc, Napoleon, Genghis Khan, and Freud and then bring them back for their test. They must also find a way to stay together in the present because the future depends on it.
Somm III 2018 and an Evening with Dustin Wilson - Smith Opera House
July 20, 2019 - Geneva
Please join us for an evening of fine wines, film, and conversation! The Smith will host a screening of the critically acclaimed third installment of the Somm series (Somm III), along with a pre-screening tasting and post-screening Question and Answer session with Dustin Wilson: star of the film, master sommelier, and co-owner of Verve Wine. Saturday, July 20th, 2019 Doors open at 6:30 Tasting: 7:00 Screening: 8:00 Q and A: 9:30 Wilson's career has spanned some of the top restaurants across the United States, including Frasca Food & Wine in Boulder, CO; The Little Nell in Aspen; and RN74 in San Francisco. He is perhaps best known for his position as Wine Director of the 3 Michelin-starred restaurant Eleven Madison Park. His work is chronicled in Jason Wise's award-winning Somm films, and in Somm III, he takes on a central role, organizing tastings for the some of the most discriminating palates in the industry.
The Defiled Bed 2 - Symphony Space
July 20, 2019 - New York
10 years ago Senator Joshua Brown was murdered and to many of the people he wounded, they've rejoiced in his death. Senator Joshua Brown has manipulated, stole, cheated, lied and created so much scandal during his time in office, that Hell was ready to receive him. However, God had other plans for Senator Joshua Brown. Senator Joshua Brown wakes up from death to discover that he is now standing in a place called in-between Heaven and Hell. The only way Senator Joshua Brown can obtain his wings as an Angel; he must accept his earthly assignment. God sends Senator Joshua Brown to earth to face the people he wounded and to obtain their forgiveness. Through this journey Senator Joshua Brown discovers what kind of man he was on earth and how he destroyed the lives of the people who loved him. Think about it - There is Pain in Forgiveness – Can you truly forgive?
Dangerous Liaisons - Nitehawk Cinema
July 20, 2019 - Brooklyn
Adapted for stage and screen several times over the past century, French author Francois Choderlos de Laclos' 1782 novel Les Liasons Dangeureuses was the basis for this Academy Award-winning Stephen Frears film. The plot is motivated by a cruel wager between the beautiful but debauched Marquise de Merteuil (Glenn Close) and her misogynistic former lover, the Vicomte de Valmont (John Malkovitch). The Marquise challenges Valmont to seduce the virginal Cecile de Volanges (Uma Thurman) before the girl can be wed. Valmont offers a more difficult counter-challenge: He bets the Marquise that he will be able to bed the very moral and very married Madame de Tourvel (Michelle Pfeiffer). In the course of carrying out his plan, Valmont is stricken with a sudden case of honor and remorse, while the Marquise becomes all the more vicious.
Spoons, Toons & Booze Plays Ball! (July) - Nitehawk Cinema
July 20, 2019 - Brooklyn
Your Favorite Saturday Morning Cartoons + Booze & Free Cereal + a Special Menu of Cartoon Episodes With Sports-Loving 'Toons! We're taking you out to the ball game at Spoons, Toons & Booze Plays Ball! Step onto the field with your favorite Saturday morning and weekday afternoon toons while they play catch, shoot hoops, score goals, hang ten, run track, hit the slopes, pirouette, ollie…or get the football pulled away at the very last second. Hosted by cartoon and cereal experts Michael Austin and Nell Casey.
Bill & Ted's Bogus Journey - Prospect Park
July 21, 2019 - Brooklyn
Everything's excellent for everyone's favorite surf-speaking dudes! With their own apartment, a pair of bodacious princess babes and a spot on the upcoming Battle of the Bands, life couldn't be any better! But all that goes down the tubes when Bill and Ted's evil robot twins kill the San Dimas duo and then take over their lives! Replaced on Earth by the bogus robots, the real Bill and Ted embark upon a most unwanted expedition – straight to Hell! Can Bill and Ted cheat death, save the world from evil, rescue the princess babes and be back in time to win the Battle of the Bands? Or will their heinous metal twins change the duo's destiny forever?
Sleepwalkers - The Bowery Ballroom
July 21, 2019 - New York
Sleepwalkers
Voice of Authority - 59E59 Theaters C
Through July 21, 2019 - New York
Written and performed by Dean Temple Directed by Carol Lee Sirugo When Dean goes to work for his rich uncle, he thinks he's got it made. But now his uncle has disappeared and the US Department of Justice is after Dean for $19 million he doesn't have. The true story of turning a complete catastrophe into a pretty damn good musical number.
Coney Island Flicks on the Beach - Coney Island Boardwalk
Through July 22, 2019 - Coney Island
A giant 40-foot inflatable screen turns the beach at West 10th Street into an outdoor movie theater on select Mondays in July and August. The Flicks on the Beach Series is presented by the Alliance for Coney Island. Movies include a variety of thrillers, kids movies and comedies.
Movies with a View - Brooklyn Bridge Park
Through July 25, 2019 - Brooklyn Heights,
Celebrating 20 years of evening film screening, Movies with a View attracts tens of thousands of people each summer to the waterfront park. The 2019 theme: Better the Second Time Around. Sweet treats, savory snacks, and drinks, including beer and wine, are available for purchase, thanks to a partnership with Smorgasburg - including cheeseburgers and crab cakes from Burger Supreme, Belgian-cut fries from Home Frite, pizza from Wood Fired Edibles, and homemade ice cream from Bona Bona Ice Cream. Food options rotate throughout the season, with new concessions added every week! In addition to food, each night also includes pre-show music sets spun by Brooklyn Radio DJs, and short films curated by Bamcinématek.
I'm Just Kidneying - 59E59 Theaters C
Through July 26, 2019 - New York
Written and performed by Amanda Nicastro Directed by Frankie Johnson and Geoff Grimwood Amanda donated her kidney and saved two lives! From carrying her urine on the NYC subway to enduring needle-happy nurses to passing resounding farts, this whimsical comedy questions what it takes to be a "hero." Amanda Nicastro is a writer/comedian/actress living & working in New York City by way of Charlotte, NC. Other festival credits for I'm Just Kidneying include The Orlando International Fringe Festival, BOOM Fringe (Charlotte,NC), SoloCom Festival (NYC), Frigid Fringe Festival (NYC), and Estrogenius (NYC). If you would have asked college-aged Amanda, "Is your dream to write and produce your own work?" She would have said, "Heck, no! I want people to cast me in their stuff so all I have to do is memorize the lines." But life throws you some delightful curveballs. She holds a Bachelors in Theatre from The University of North Carolina at Greensboro and has completed courses of study at Stella Adler Studio, LAByrinth Theater Company, & Upright Citizens Brigade.
Hello, Daddy - 59E59 Theaters
Through July 27, 2019 - New York
Written and performed by Sam Morrison Featured in The New York Times and Time Out, Morrison is a master at finding hilarity in the awkward adventures of being a closeted gay man...who wants to have sex with your dad. This 24 y/o stand up prepares to debut a hilarious and deeply uncomfortable queer coming of age story. Sam Morrison is a New York City-based comedian has appeared on the Travel Channel, SiriusXM and will be featured on a PBS documentary about up and coming stand up comedians. He has been in commercials for Apple, Mattress Firm, HIV Pharma, and more. He was named one of Mogul Magazine's Comics to Watch in 2018, is the 1st place winner of the Make Me Laugh Comedy Competition, and was called "a rising star" by Broadway Kingdom.
Hetaira - 59E59 Theaters C
Through July 27, 2019 - New York
By Allie Jessing Directed by Kaitlyn Schirard With Allie Jessing and Steph Babirak What do Socrates, Galileo, and Mozart have in common? Aspasia. A muse for millennia, Hetaira is here to entrance you with a cabaret that is sure to entertain, allure, and inspire.
Movie Night at Habana Outpost - Habana Outpost
Through July 28, 2019 - Brooklyn
Habana Outpost projects classic films onto its big outdoor screen from late spring to late fall.
Summer of Michel Legrand with Melissa Errico - FIAF French Institute Alliance Française
Through July 30, 2019 - New York
FIAF honors the great French composer Michel Legrand, who died in January this year, with a special CinéSalon series devoted to his life and work. Curated by one of his longtime collaborators and greatest interpreters, singer and actress Melissa Errico, Summer of Michel Legrand brings together seven of his films from his best known triumphs such as The Umbrellas of Cherbourg and The Young Girls of Rochefort to lesser known gems such as the enchanting fairy-tale musical Donkey Skin. Errico, who starred in Legrand's 2002 musical Amour, spurring a prolific and fulfilling artistic collaboration over two decades, will take part in a Q&A following the screening of The Thomas Crown Affair on July 16.
Red Hook Flicks - Valentino Pier
Through July 30, 2019 - Brooklyn
Red Hook Flicks, in association with Red Hook Labs, presents Summer Movies on the Pier. All films start at 8:30pm (or as soon as it's dark enough).
Regal Summer Movie Express - UA Sheepshead Bay Stadium 14 IMAX & RPX
Through July 31, 2019 - Brooklyn
At multiple locations around town, Regal Cinemas offers $1 movies for little ones on Tuesday and Wednesday mornings this summer. A portion of the proceeds goes to supporting The Will Rogers Institute. July 2-3: Despicable Me 3 and Dr. Seuss' The Grinch July 9-10: Lego Movie 2 and How to Train Your Dragon: Hidden World July 16-17: SmallFoot and The Secret Life of Pets July 23-24: The Lego Movie and Captain Underpants July 30-31: Sing and How to Train Your Dragon 2
Movie Nights at Bryant Park - Luma Hotel
Through August 10, 2019 - New York
Movie Nights are presented by Netflix with support from Chandon and Vulture. Lawn and food and wine concessions open 5pm;. Film begins at sunset.
HBO Bryant Park Summer Film Festival - Bryant Park
Through August 12, 2019 - New York
Bring a blanket and sit on the Lawn to enjoy great food, friends, and a classic Warner Brothers cartoon before the start of each film. Lawn opens 5pm, film begins at sunset. Food items for sale curated by Hester Street Fair on the Fountain Terrace.
Hudson Riverflicks - Iconic NYC Films - Pier 63 in Chelsea
Through August 21, 2019 - New York
Nothing screams endless summer like an outdoor movie with friends. HRPK presents iconic New York films on our Pier 63 Lawn Bowl. Each movie is set in the magnetic and mythic city you call home. Plus for the first time in NYC — CAN I KICK IT?, produced by SHAOLIN JAZZ is coming to HUDSON RIVERFLICKS. The Warriors and The Last Dragon will be screened and scored (scene-by-scene) with a blend of Hip Hop, Soul, and Funk—mixed live by DJ 2-Tone Jones. The result is a live, remixed soundtrack so bring your friends & a blanket for a truly unique NYC film experience.
BUILD Brunch - Build Series NYC Studio
Through September 10, 2025 - New York
Digital entertainment program BUILD Series takes its popular and extensive live interview show to the next level, adding a new, daily morning talk show "BUILD Brunch," as BUILD Series continues its commitment to bring its fans closer to culture. Airing weekdays at 11am live on BUILDseries.com/Brunch, it will feature a roundtable of diverse, young and influential personalities speaking to breaking news, hot topics and the latest in entertainment. PLEASE READ BEFORE ARRIVAL: Doors open 30 minutes before showtime and CLOSE 5 minutes prior to each show. There will be a standby line for every show. VALID ID REQUIRED FOR ENTRY for security purposes (No age minimum). Please note we clear the studio after every event and we DO NOT permit autographs on our premises. This event will be streamed LIVE on BUILDseries.com! Make sure to check out the BUILD Series Newsletter for updates and information about our events:

Want free advice on what to see and do in NYC? Join our Facebook group Everything to Do NYC, a place for people to ask questions and get tips on how to make the most of the city.