The Best Bar Views in Midtown: Rooftops Open All Year Long
January 16, 2019 - by Samantha Aronson
Don't let the winter cold keep you from the views of New York City's rooftop restaurants and bars. Skylines mix with lavish ambiance to make for impeccable evenings. From The Hudson Terrace to Ophelia, there's always a rooftop party to attend.
Rooftop Bars Open All Year Long: The Moxy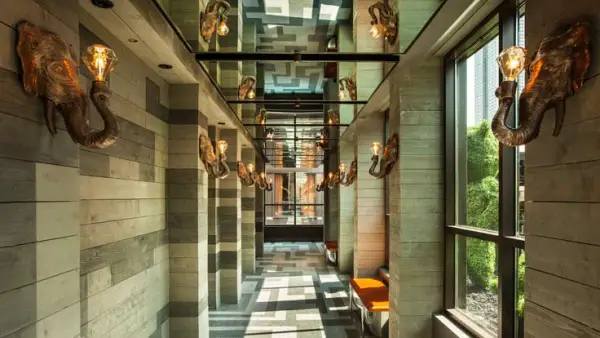 Eighteen stories high, the Moxy boasts an over-the-top rooftop scene. The Magic Hour Rooftop Bar and Lounge boasts amazing cocktails and two separate outdoor areas named after their locations. The "East Side" faces the Empire State Building and has elegant décor and a garden-esque atmosphere, while The West Side is more playful with a carnival theme that includes a rotating, carousel-like floor in one section. 485 Seventh Ave., 212-268-0188, moxy-hotels.marriott.com
Rooftop Bars Open All Year Long: The Royalton
What's better than a rooftop bar that's open all year round? A rooftop bar that features a heated pool! Visit the rooftop at the Royalton Park Avenue to experience amazing cocktails poolside at any time of the year. 420 Park Ave., 212-317-2900, royaltonparkavenue.com
Rooftop Bars Open All Year Long: Refinery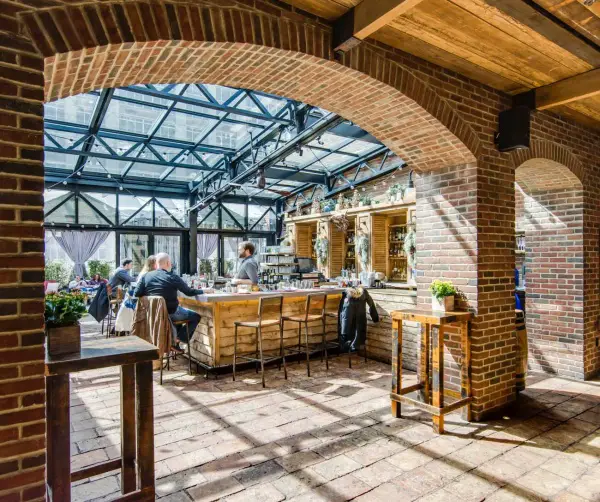 Refinery Rooftop is one of the most accommodating rooftops the city has to offer. It's enclosed with a retractable glass roof which does not take away from the view in any way. There are heat lamps during the colder months. Refinery also features a special allergy menu where every possible allergy is marked so those with sensitivities can enjoy a night out with zero worries. 63 W. 38th St., 646-664-0372, refineryrooftop.com
Rooftop Bars Open All Year Long: Ophelia's
See a 360-degree view of the city and the East River at Ophelia, which stands 26 floors high above the far east side of midtown. Spend your funday at the bar with Sunday specials like Ophelia's Mimosa featuring Villa Sandi prosecco, Mandarine Napoléon liqueur, orange foam, and orange bitters. It goes perfectly with Ophelia's lobster and corn fritters. 3 Mitchell Pl., 212-980-4796, opheliany.com
Rooftop Bars Open All Year Long: The Hudson Terrace
Whether you are looking for a night out, a happy hour fun, or a private event, the Hudson Terrace is a great space. The Terrace has had an iconic view of the Hudson River since its opening in 2008. Attend one of their rooftop nightclub parties for an evening you won't forget. 621 W 46th St., 212-315-9400, hudsonterracenyc.com
Rooftop Bars Open All Year Long: Mondrian Terrace
With a space that overlooks Park Avenue South and 30th Street, Mondrian Terrace has a prime location for all your rooftop needs. We suggest trying one of their specialty cocktails like the Mondrain Manhattan (High West double rye, Carpano Antica, Peychaud's Bitters) along with an order of the lamb meatballs with spicy tomato, feta cheese, pine nuts, and naan. 444 Park Ave. S., ingoodcompany.com
---
Looking for Free Group Planning Services?
Get free advice on planning your group's trip to New York.
RESTAURANTS

Multi-concept restaurant offering modern Japanese cuisine, a...

THEATER

In a heartbeat, 38 planes with 6,579 passengers were strand...

SHOPPING

The world's largest source of cameras, camcorders, and more ...

SIGHTSEEING

In addition to 360-degree views from Midtown Manhattan, the ...