Obicà Mozzarella Bar, Pizza e Cucina
928 Broadway (btw. 21st & 22nd Sts.)
212-777-2754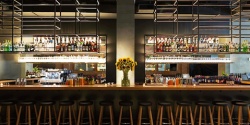 Obicà Mozzarella Bar is a casual contemporary Italian restaurant, offering a genuine Italian dining experience centered on the freshest Mozzarella di Bufala Campana DOP from Italy, fresh homemade pasta, and authentic products from Italy's rich regional heritages. Across the street from the famous Flatiron Building. Started in Italy in 2004, today Obicà has restaurants in Rome, Milan, Florence, London, New York, Tokyo, and Los Angeles.
Looking for Group Booking ?
Got a group headed to New York? City Guide provides free expert planning assistance and buying services-just complete the quick form below.