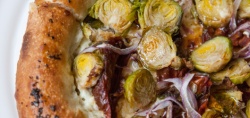 Inside Scoop: David Burke at Bloomingdale's
The Craveable Hospitality Group's dual-concept restaurant opened in 2005 and spans the 59th Street frontage of the world-famous Bloomingdale's department store in New York. It offers a stylish, full-service Burke Bar Cafe on one side and a convenient Burke in the Box eat-in/take-out concept on the other.
Chef Hilary Ambrose Jr. oversees the kitchen, where sandwiches, award-winning burgers, salads and small plates highlight the menus. Apres-shopping lunchtime favorites include a Classic Lobster Wedge Salad and a contemporary mac n' cheese featuring aged cheddar, bacon, and Szechuan bread crumbs. Sandwiches and burgers run the gamut here, from braised short rib buns, to cheeseburger sliders and a honey roasted turkey club. Main course choices include BBQ Miso Salmon, Chicken and Turkey Chili Skillet, and grilled hangar steak.
This Craveable Hospitality Group location also services all sorts of catering needs. Whether for vast social functions or small corporate meetings, Chef Ambrose's inspired cuisine is available to go for events of any kind, and the staff can manage every detail, down to supplying plates, forks and napkins. The team here specializes in offering their signature whimsical style and trail-blazing flavors for each and every order, for pick up or delivery.
Bringing together delicious, affordable fare, top-notch service and a festive atmosphere, David Burke at Bloomingdale's satisfies the cravings of the city's most discerning shoppers, visitors, and residents.
David Burke at Bloomingdale's Photos