(11/6-11/12) Looking for what to do in New York? We've got the latest on all the goings-on in NYC this week, from concerts to museum exhibitions to comedy to the best in city sightseeing. Read on for our picks for the best of this week in New York City.
THE BIG EVENT
(11/11) On Sunday, November 11, Manhattan will honor, recognize, and send a big thanks to America's veterans and their families at the 2018 Veterans Day Parade. The U.S. Army was selected as this year's featured branch of service. The 2018 parade, led by Grand Marshal Florent Groberg, will commemorate the 100th anniversary of the end of the World War I. Read more about How to Mark Veterans Day in NYC here.
PLUS
(11/8-11/10) Smorgasburg has teamed up the Port Authority of New York and New Jersey to host its iconic food festival and block party at the World Trade Center campus over three days this week, from November 8 through 10 (noon to 7pm each day). The Thursday event will include music, a beer garden, and multiple family-friendly children's activities. On Friday and Saturday, November 9 and 10, Smorgasburg will operate a curated version of its world-class food market with about 20 vendors at the World Trade Center campus from noon to 7pm each day.
(11/9-1/1/19) NYC perennial holiday favorite Christmas Spectacular Starring the Radio City Rockettes® returns. Fan favorites include "New York at Christmas," where the Rockettes® board a real double-decker bus, and the high-energy tap number "Twelve Days of Christmas." Of course, beloved classics like "The Parade of the Wooden Soldiers" and "The Living Nativity" will also be back. rockettes.com/christmas
EXHIBITION OF THE WEEK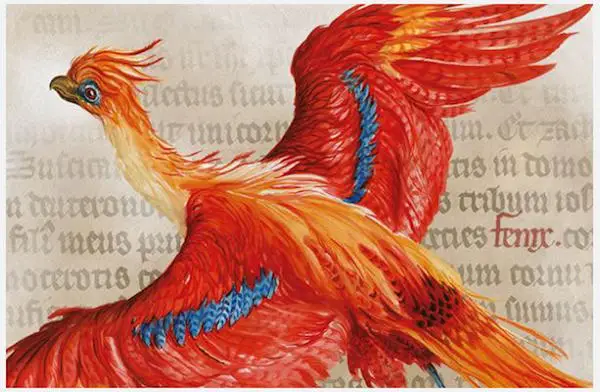 (Now-1/27/19) Gather round ye muggles and wizards, squibs and witches, tourists and natives: magic is on its way. Harry Potter: A History of Magic, commemorating the beloved series's 20th anniversary, is now open at the New-York Historical Society. One of the most eagerly anticipated exhibits to hit the city since, well, ever, the show comes straight from the British Library in London, where, not surprisingly, it was the institution's most successful exhibition. Artifacts like crystal balls, Leonardo da Vinci notebooks, and the first written record of the magic word "abracadabra" are among the treasures on display, joined by original materials from author J.K. Rowling's archives. Also on view to the public for the first time will be Mary GrandPré's illustrations created for Scholastic's original editions of the novels. Costumes and set models from Harry Potter and the Cursed Child, which opened on Broadway in April, will be showcased in the exhibition. On Friday the 9th, catch the special evening program Potions and Painting: History of Magic, a 21-and-over event with wine, cheese, and the chance to try your hand at art making. nyhistory.org
(Now-1/27/19) Psst! Catch HP star Daniel Radcliffe, alongside Cherry Jones and Bobby Cannavale on Broadway, in Lifespan of a Fact!
PLUS
(11/12-3/31/19) Andy Warhol-From A to B and Back Again at The Whitney. This exhibition—the first Warhol retrospective organized by a U.S. institution since 1989—reconsiders the work of one of an inventive, influential, and important American artist. Building on a wealth of new materials and research that has emerged since the artist's death in 1987, this exhibition reveals new complexities about the Warhol we think we know, and introduces a Warhol for the 21st century.
(11/8-11/18) Portals, a Photo Experience by Canon at 107 Grand Street. This 11-day pop-up will be built around photo moments that transport visitors to an entirely new world by embedding camera tips and tricks into the journey. Made up of five unique photography setups, PORTALS allows photographers (amateur and experienced) to open up their imaginations while producing exciting—and Instagram-able—photos.
(Now-2/3/19) Before abstract art was a speck in Kandinsky's eye, the painter Hilma af Klint (1862-1944) was pioneering non-representational painting in Sweden. A spiritualist who claimed to communicate with the dead, af Klint worked in near-obscurity, forbidding her paintings to receive public exposure until 20 years after her passing. Discover Hilma af Klint, a woman before her time, at the new Solomon R. Guggenheim Museum exhibition Hilma af Klint: Paintings for the Future. Over 170 of af Klint's non-figurative paintings are on display, richly colored and often staggering in scale. Many pieces play with geometry and floral shapes that seem to swim across the canvas. As af Klint worked on her series The Paintings for the Temple, she envisioned a spiral temple as their eventual home. She got her wish over a century later with this eye-opening exhibition at the Guggenheim.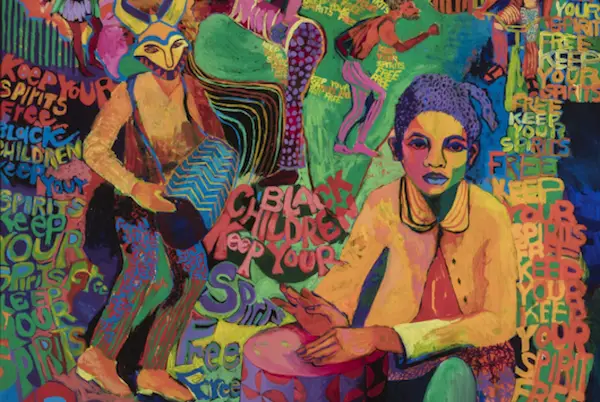 Carolyn Lawrence, Black Children Keep Your Spirits Free. The exhibition, which opened September 14, presents a wide range of painting, photography, and sculpture from over 60 artists on the fourth and fifth floors of the museum. Photo by Michael Tropea.
(Now-2/3/19) A new exhibition at the Brooklyn Museum brings together for the first time the disparate practices of more than 60 Black artists from the revolutionary years of 1963 to 1983. Soul of a Nation: Art in the Age of Black Power offers an unparalleled opportunity to see these extraordinary creations side by side. Among the 150 works on display you'll find a diversity of expression, including figurative and abstract painting, prints, and photography; assemblage and sculpture; and performance art. Although the political and social justice perspectives may vary, the show is tied together by a universal spirit of aesthetic innovation. On October 6th, you can also catch a Target First Saturday, a free night at the museum, which this month will have the theme "Come Together in Honor of Brooklyn's Latinx Communities."
(Now-1/6/19) Delacroix at the Metropolitan Museum of Art. This is the first comprehensive U.S. retrospective of the work of French artist Eugene Delacroix (1798-1863). The Met has teamed up with The Louvre, showcasing in chronological order some 150 pieces, including paintings, drawings, manuscripts, and prints.
(New!) The first tremors of the American Revolution were felt in New York City, as a group of colonists came together to fight for freedom. The new exhibition at Fraunces Tavern Museum, Fear and Force: New York's Sons of Liberty, tells the story of these early resisters. The show relays the first bloodshed of the Revolutionary War (it took place just a couple of blocks from here), shows off relics like part of the original Bowling Green Park fence present when King George III's statue was torn down, and gives context to pivotal moments in the birth of America.
Photo: Jin Lee
(Ongoing) Sports in America provided a unique form of solace after the seismic losses of the terrorist attacks of September 11th, 2001. Comeback Season: Sports After 9/11, a special exhibition at the National September 11 Memorial & Museum, delves into uplifting moments at games in the aftermath of the attacks. Explore the stories of Mike Piazza's home run during a New York Mets home game, President George W. Bush's first pitch at a World Series game at Yankee Stadium, and the New York City Marathon on November 4th, 2001. Video, artifacts, and moving images help provide context for a nation coming back together.
(Now-12/2/18) Art of the Mountain: Through the Chinese Photographer's Lens at the China Institute. Featuring over 60 photographs from a range of modern Chinese photographers, this exhibition will allow visitors to consider the role of mountains in China's geography, history, art, and philosophy.
(Permanent) The Jim Henson Exhibition at the Museum of the Moving Image will celebrate the life and legacy of the famed Muppet creator, exploring both his prolific career and the enduring effect his work has on pop culture to this day. Visitors can expect to learn more about the creation of such beloved works as The Muppet Show, Sesame Street, Fraggle Rock, The Dark Crystal, and Labryinth, as well as to discover the cutting-edge experimental works Henson made throughout his career.
(Permanent) The Museum of the City of New York presents NY at Its Core. Ten years in the making, New York at Its Core presents the compelling story of New York's rise from a striving Dutch village to today's "Capital of the World." The exhibition captures the human energy that drove New York to become a city like no other and a subject of fascination the world over. Entertaining, inspiring, important, and at times bemusing, New York City "big personalities," including Alexander Hamilton, Walt Whitman, Boss Tweed, Emma Goldman, JP Morgan, Fiorello La Guardia, Jane Jacobs, Jay-Z, and dozens more, parade through the exhibition.
COMEDY

(11/5-11/11) Now in its 15th year, the New York Comedy Festival features a star-spangled lineup of comedians, including Conan O'Brien, GLOW's Marc Maron, Tracy Morgan, Jo Koy, Queer Eye's Jonathan Van Ness and Antoni Porowski, and more. Various venues. nycomedyfestival.com
PLUS
(11/8-11/10) Joey "Coco" Diaz performs at Gotham Comedy Club.
(Ongoing) Catch the hottest new comedy talent in at LOL Times Square Comedy Club. Use code CITYGUIDE and get 50% off tickets!
KIDS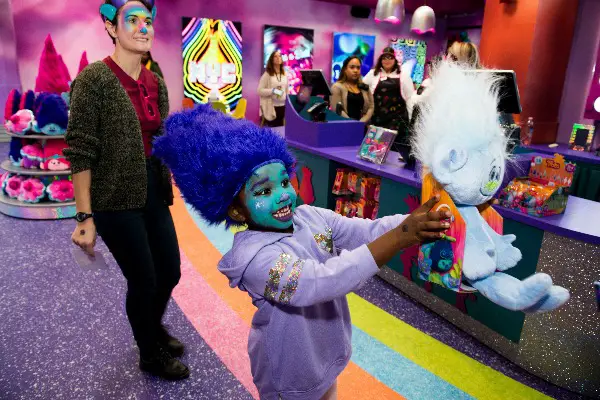 (New!) DreamWorks Trolls The Experience, with its world of rainbows, sparkles, and very big hair, has arrived in midtown. Sprawled across multiple floors, this interactive adventure will thrill fans of the movie Trolls and pretty much any kid who likes to dress up, bang on things, collect glitter, or dance. During this preview period, tickets are $25 (the experience opens officially Nov. 15). Use our coupon and take $5 off admission now! trollstheexperience.com
PLUS
(Now-1/27/2019) Big Apple Circus at Lincoln Center's Damrosch Park is back, and while it's still appealing for kids, it's gotten a makeover, making a concerted effort to drawn in young and old alike. This year there's a selection of high-end cocktails, a VIP tent, and new performers. bigapplecircus.com
(Ongoing) Fans of virtual reality are flocking to VR World, the largest VR entertainment center in the Western Hemisphere. Check out special experiences for some spooky good fun during month of Halloween, with more than over 50 options to choose from.
(Ongoing) Exhilarating Family Fun at Stomp NYC. Special discount packages available!
Click here for more kids activities this weekend.
For more kids activities, check out our sister site nymetroparents.com!
SIGHTSEEING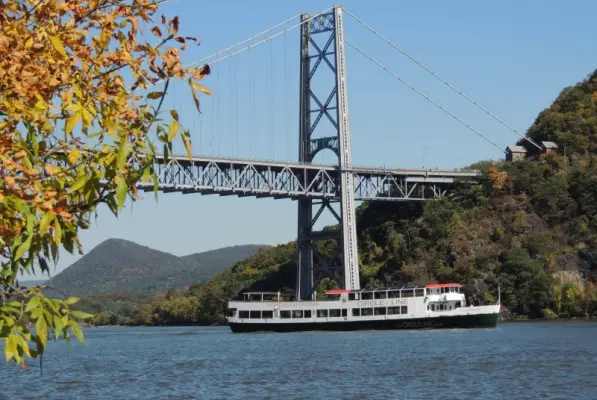 (11/10-11/11) Final weekend! Take advantage of Circle Line's Bear Mountain Cruise, or as it has come to be known by many, the Oktoberfest Cruise. Peak fall foliage, live bands, craft vendors, and the largest pretzels known to mankind all welcome you to a hoppy universe far away from the daily grind. You can burn off all those beer and brats, plus stock up on fresh air, with a gorgeous three-hour hike along one of the 50 hiking trails in Bear Mountain State Park. $65 adults, $52 kids. Boards 8:30am sharp. circleline42.com
PLUS
(11/8) Madame Tussauds' newest attraction is Irish mixed martial artist and boxer Conor McGregor. Celebrate this latest wax immortal at a special celebrity-filled (well, wax celebrity-filled) boxing session at Church Street Boxing downtown. Registration is required HERE. Reveal at 8am, class at 8:15am.
(11/10) Assassins, Poisons, and Honey Traps at SPYSCAPE. This Saturday, guests are invited to join Christopher Andrew, professor, historian of secret intelligence, and author of the book "The Secret World: A History of Intelligence," and Daniel Hoffman— former CIA Chief of Station in Moscow—for a night of covering hacking to the art of seduction to fake news to political meddling. Doors open at 6pm and the talk beings at 7pm followed by a book signing with author Andrew.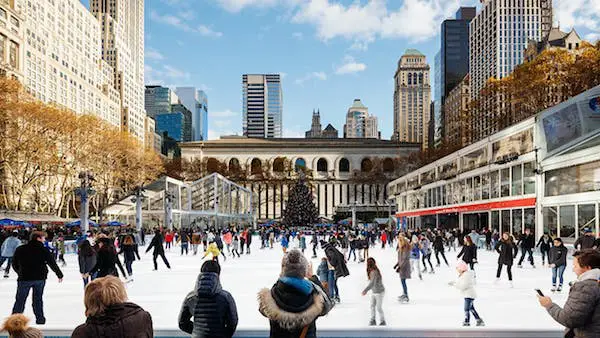 Colin Miller
(Now-1/19/19) Bryant Park's Winter Village returns. Ice skating, shopping, hot chocolate and other tasty treats, and more!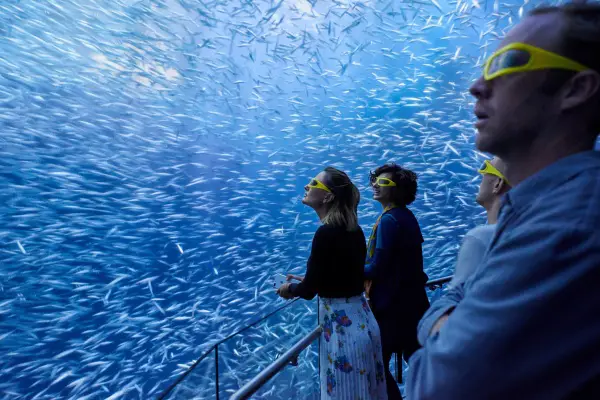 Immerse yourself in the deep, dark depths of the ocean, where Humboldt squid fight to the death, 50 foot whales ride overhead, play with sea lions, navigate a sea kelp maze and more at National Geographic Encounter: Ocean Odyssey! Here's a $10 off coupon!
Bring a loved one to take in the breathtaking view at Top of the Rock.
(Ongoing) The Rink at Rockefeller Center has officially opened for the season. The most famous ice rink in the world will continue its time-honored tradition as the first New York rink to open each year.
Zip up 100 stories in 60 seconds and see New York City atop One World Observatory. Use this coupon and save: 20% off!
Explore New York City from the best vantage points with Helicopter Flight Services Tours. Choose from four different itineraries.
Mark Hamill as Luke Skywalker in Star Wars: The Empire Strikes Back.
For a limited time! With over 500 exhibitions, many of them world-famous relics, there's something to hold anyone's attention at Ripley's Believe It or Not! Times Square. (Robert Ripley himself tracked down many of the items in the collection—he was a long-time presence in New York.) This month from a galaxy far, far away comes an original Star Wars Lightsaber. This is the actual prop used by actor Mark Hamill, Luke Skywalker himself, in Star Wars: The Empire Strikes Back! The Lightsaber was constructed from a vintage 1930s Graflex camera flash gun, with the original Graflex logo still etched into the handle. In addition to the Lightsaber, you'll find other unique Star Wars memorabilia like a Darth Vader portrait constructed entirely from staples. Here's a coupon for discount Ripley's admission!
MUSIC & NIGHTLIFE
(11/8-11/9) Elton John: Farewell Yellow Brick Road Tour stops at Madison Square Garden.
PLUS
(11/7) Lucinda Williams and her band Buick 6 perform at the Beacon Theatre.
(11/8) Shooter Jennings, Zephaniah OHora, Joshua Morningstar at Knitting Factory.
(11/9) Wasabassco Burlesque at the Loft at City Winery.
(11/10) Visions Contemporary Ballet: Healing Works II at Riverside Church.
(11/11) Kamasi Washington at Brooklyn Steel (16+).
(Now-11/12) Bring your dog for a series of Instagrammable snaps at the West Village pop up Human's Best Friend. You'll even find some cuddly dogs to adopt.
Updated! Read about more Instagrammable Pop Up Exhibits in NYC here.
Click here for more nightlife ideas this weekend.
For information on LGBTQ nightlife, visit our brother site metrosource.com!
SNEAK PEEK, NEXT WEEK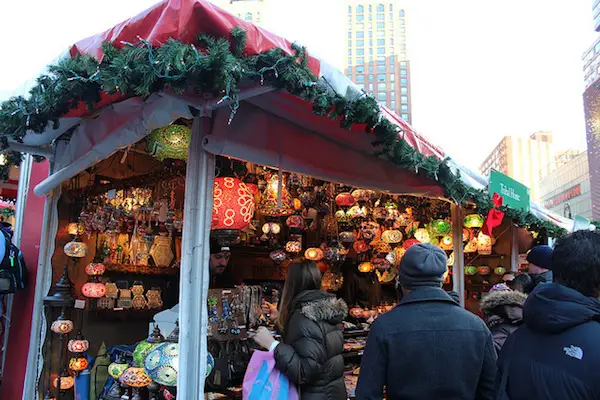 Union Square Market. Photo: flickr/Shinya Suzuki.
(11/15-12/24) Union Square's Holiday Market returns. urbanspacenyc.com
PLUS
(11/12-12/24) The Grand Central Holiday Fair returns to Grand Central Terminal with 40+ artisans in Vanderbilt Hall selling art and home goods; holiday-themed items; bath and body products; toys; and clothing and accessories for men, women, and children. The Holiday Fair is open Monday through Friday, 10am-8pm, until 7pm Saturdays, and 11am-6pm Sundays. Closed Thanksgiving and open 10am-6pm on Christmas Eve.
(11/14) StarTalk Live with Neil deGrasse Tyson and Eugene Mirman at Beacon Theatre.
(11/15-11/16) The Doobie Brothers at Beacon Theatre.
(11/17) Samsung SmartThings Tracker Bark N' Browse Pop-Up. Calling all dog lovers! The open-to-the-public 'pup-up' located at 9 West 8th St. encourages guests to bring their dogs and learn how the Samsung SmartThings Tracker can keep tabs on all the things that matter most, from pets to luggage and beyond. While inside the large indoor pet park, dogs can roam free and play with toys and other furry friends while humans learn how Samsung SmartThings Tracker can attach to, track, and locate a wide variety of items. Loaded "barkery" carts will feature free dog treats provided by Lord Jameson Dog Patisserie (they'll have people treats, too!) A local NYC caricature artist will be set up in the Bark N' Browse park, offering fun, live drawings to any dogs looking for a vibrant selfie. Plus, every hour there will be raffle giveaways for a free tracker and a loaded swag bag. 10am-5pm. Learn about the Samsung SmartTracker here.
(11/17) Killer Queen performs at Kupferberg Center. Featuring Patrick Myers as Freddie Mercury, the group will deliver a memorable concert while performing all your favorite Queen songs, such as "Another One Bites The Dust," "We Will Rock You," "Don't Stop Me Now," "Bohemian Rhapsody," and plenty more. Don't miss this premier tribute to one of the best bands of all time! Buy tickets here.
(11/17) Jack White performs at Kings Theatre.
Thanksgiving is two weeks away! Read our suggestions on Where to Dine for Thanksgiving 2018 in NYC.
---
Like what you see here? Share it with your friends on Facebook! Find out more about what to do in November. We've got December covered, too!
---