The pre-theater options in Midtown are endless, but not all are created equal. We invite you to consider elegant dining options at two up-and-coming Japanese restaurants near the Theater District. You'll have some of the best sushi in the city, a dash of Peruvian chili, innovative chicken, buttery wagyu beef, and sake for days at Sen Sakana and Suzuki.
Sen Sakana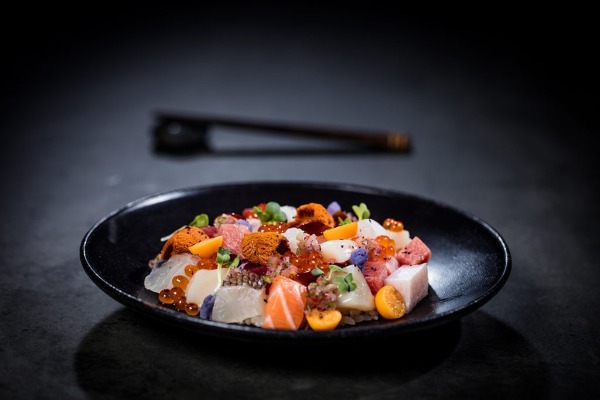 A large, sleek interior with a sizeable bar and sushi counter, the dining room can accommodate groups and intimate dinners alike. The prix fixe pre-theater menu at Sen Sakana is an affordable $49 per guest. The menu is available 5 to 6:30 pm, Monday through Saturday and all day Sunday.
The prix fixe menu provides four courses: soup, appetizer, main, and dessert. For an appetizer, bring the fusion flavors to the next level with salchipapas: mini potatoes with kurobuta sausage, miso mustard, and salsa verde. Of the four Main Course options, we'd point you to the chicken nanban, fried chicken with crunchy quinoa crust, along with spicy sauce and vinegar sauce. The oyakodon is comfort-food elevated: chicken thigh over rice with added pumpkin, cilantro, and a fried egg. For dessert on the prix fixe menu, Sen Sakana offers a selection of ice creams (go for the matcha flavor).
28 W 44th St., 212-221-9560, sensakana.com
Pre-Theater Japanese Restaurants: Suzuki
Another relative newcomer, Suzuki champions the kaiseki culinary traditions of Japan from its dining room near Rockefeller Plaza. Kaiseki indicates fresh ingredients, a rotating selection of seasonal dishes, and a set format for the menu. As architect of the menu, Chef Takashi Yamamoto designs appetizers, soups, sashimi, hot main courses, and desserts that are beautiful to taste and beautiful to look at.
Standouts include the A5 wagyu beef, Hokkaido uni sashimi, and a cocktail shaped like Mount Fuji. Prix-fixe menus are detailed according to price and duration of your meal. If you're unfamiliar with kaiseki, consider the Introduction to Kaiseki choice, which lasts one hour and costs $75 per guest. Alternatively, you might prefer the gluten-free menu (one hour, $120) or the deluxe Chef Yamamoto Tasting Menu (two hours, $180).
In the adjoining space is Suzuki's sushi bar, Satsuki. Recent recipient of a Michelin star, this 10-seat counter has quite a reputation. Exquisitely plated sushi made with incredibly fresh ingredients are guarantees at Satsuki, whereas the menu rotates often. The omakase approach means Chefs Kantaro Sawada and Toshio Suzuki decide each day what to prepare for their guests.
Two stellar pieces of sushi that consistently pop up are marinated tuna and gizzard shad with kelp. The two prix fixe options are Sushi Omakase, consisting of 10 nigiri pieces and a hand roll ($130), and Full Omakase, including these sushi selections in addition to appetizer, sashimi, and dessert ($250).
Book as soon as you can at Suzuki and Satsuki! Tables fill up quickly, and advanced notice is needed in order to procure the best ingredients possible.
Suzuki and Satsuki are located at 114 W. 47th St. Suzuki: 212-278-0100, opentable.com. Satsuki sushi bar: 212-278-0047, suzukinyc.com.
---