New York restaurants have plenty of color, flavor, and energy, covering everything from rustic-casual neighborhood spots to the world's most elegant experiences. What New York restaurants don't have is much space. With reservation books that fill up months in advance and tables too tight for even a foursome, the city is notorious for making life hard for group outings. We've gathered up some great exceptions—restaurant destinations that can take on everything from a romantic dinner for two on up to a birthday, reunion, holiday party, or other special occasion event that requires a private party group space as only New York can do it.
Best Holiday Group Dining NYC: Benjamin Steakhouse Prime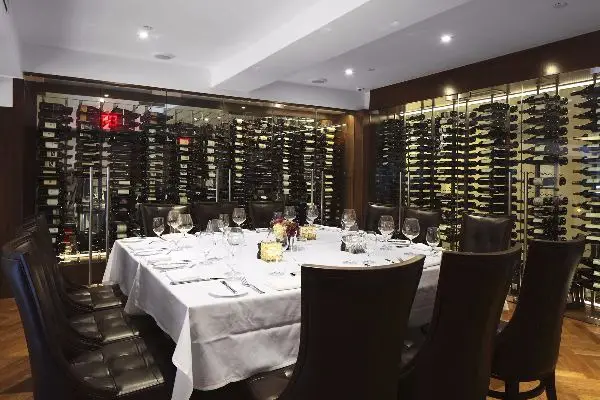 Benjamin Steakhouse (see above), the 2018 Concierge Choice Awards winner for steak, has spun off New York's newest steakhouse destination, Benjamin Steakhouse Prime, which by no coincidence took home the 2017 Concierge Choice Award for best new restaurant. Serving both dry-aged USDA prime beef and fresh, succulent seafood, the sleek and modern spaces here can support groups from 10 to 250. The upstairs at Benjamin Steakhouse Prime offers five customizable private dining rooms, capable of holding up to 250 guests. With so many choices, the options work well for holiday dining, special occasions, product launches, or a business function (complete state-of-the-art A/V capabilities are available). 23 E. 40th St., 212-338-0818, benjaminsteakhouse.com/prime
Best Holiday Group Dining NYC: Buca di Beppo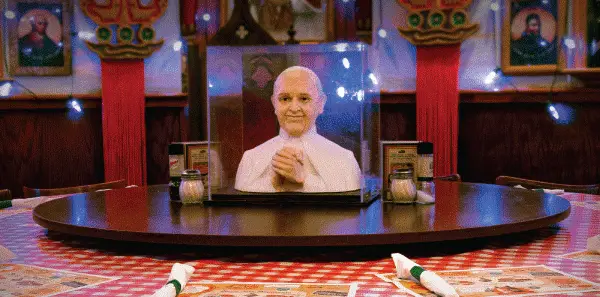 Hearty Italian dishes are served family-style at Buca di Beppo, making them perfect for sharing. Eclectic décor, lively music, and engaging staff all add to the fun. There are five private party spaces to choose from, including the famous "Pope's Table." Buca is also a great resource for catering. Check in online or call 844-EAT-BUCA and you can get set up with a half pan (serves 10) or a full pan (serves 20) of Italian favorites. Think spicy chicken rigatoni, chicken & sausage ziti, fettuccine Alfredo, mac 'n' cheese, lasagna, shrimp Fry Diavolo, and dozens of other tasty choices. Salads, sides, and desserts are all available as well. 1540 Broadway, 212-764-6527, bucadibeppo.com
Best Holiday Group Dining NYC: Chazz Palminteri Italian Restaurant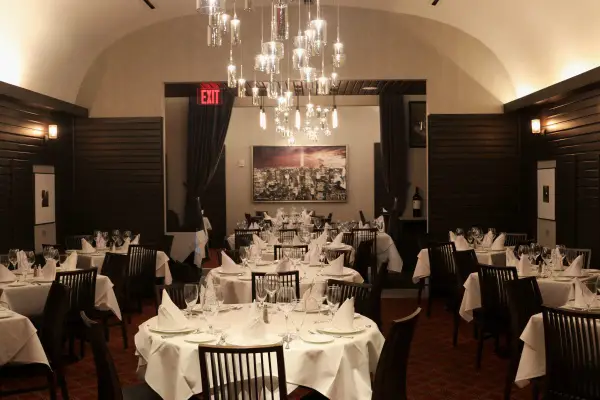 Academy award-nominated actor Chazz Palminteri has partnered up with Empire Steak House to bring the best of homestyle Italian cooking to Midtown Manhattan. For private events in a space that seems right for a Rat Pack night out, give a look at Chazz Palminteri Italian Restaurant. Dedicated private dining coordinators help plan the perfect night. The restaurant boasts a full-service bar, capacity for up to 150 guests, a semi-private space that's perfect for meetings and smaller parties, a state-of-the-art sound system, and ample AV support (projector, screen, and flatscreen TVs). Various food and beverage packages are available, all focused on the best of authentic Italian cuisine. 30 W. 46th St., 212-355-5540, chazzpalminterinyc.com
Best Holiday Group Dining NYC: David Burke Tavern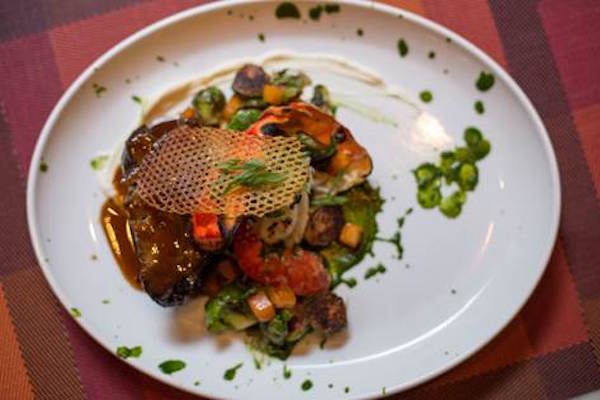 David Burke Tavern, located on the Upper East Side, can accommodate myriad options for your event needs, from a dinner party in a private or semi-private space to a cocktail reception. Three-course dinner options are available starting from $100/pp, including an appetizer/salad, or David Burke's famous "Clothesline Bacon," your choice of entree (pork chop with garlic clams and rock shrimp casino/ginger salmon with green curry farro and spiced apple salad/roasted chicken with pistachio ravioli, carrots, peas, and chimichurri), vegetable (house-cut fries, asparagus with parmesan and truffle, creamy spinach and leeks), and choice of dessert (cheesecake lollipop tree, apple tart with ice cream,and caramel). 135 E. 62nd St., 212-988-9021, davidburketavern.com
Best Holiday Group Dining NYC: Darbar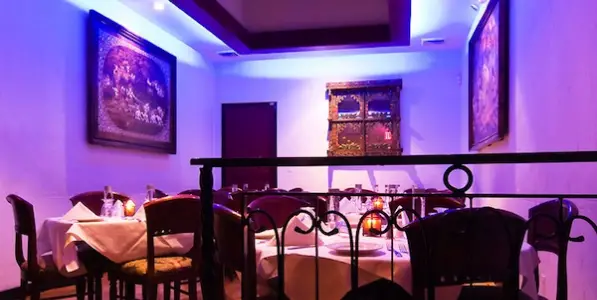 Darbar boasts some of New York City's most authentic Indian food at more than reasonable prices. If you're looking to celebrate a birthday or other milestone, Darbar's private party room and terrific array of drinks makes for a great combination. 152 E. 46th St., 212-681-4500, darbarny.com
Best Holiday Group Dining NYC: Del Frisco's Double Eagle Steakhouse New York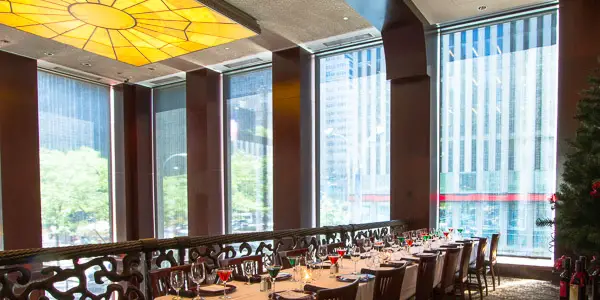 Del Frisco's Double Eagle Steakhouse New York boasts a sophisticated space that reflects the energy, vibrancy, and romanticism of the city. For group events here, guests can customize menus and choose from a variety of ambiances, including wine cellars and city views, to create an unforgettable experience. For more information, reach out to Christina Migliorelli, sales & event planner at cmigliorelli@dfrg.com. 1221 Avenue of the Americas (entrance on 49th St.), 212-575-5129, delfriscos.com
Best Group Dining NYC: Empire Steak House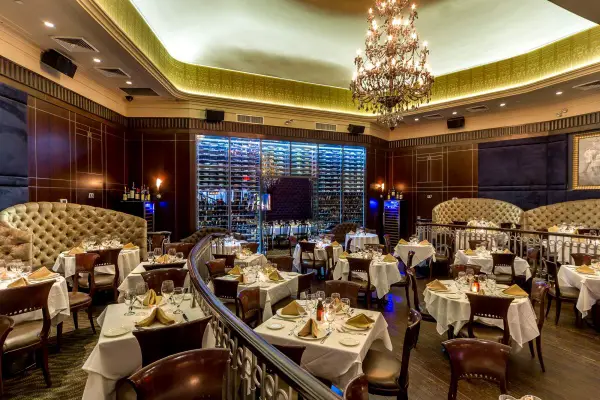 Built by a trio of brothers who learned their trade at the legendary Peter Luger Steakhouse, Empire Steak House shows off the finest cuts of steaks, the freshest seafood, and a premium selection of wine. The Midtown East location reflects the elegant 1920s opera house that once filled the space. With refined service and a focus on the customer, dedicated private dining coordinators help plan and personalize events here. There are two levels, two full-service bars, capacity for up to 450 guests, and amenities like an upstairs lounge and cocktail area; a private chef's room and wine cellar; state-of-the-art sound systems and DJ booth; flatscreen HD TVs and projection screens; and a private back room to accommodate more intimate gatherings. 151 E. 50th St., 212-582-6900, empiresteakhousenyc.com
Best Holiday Group Dining NYC: Fogo de Chão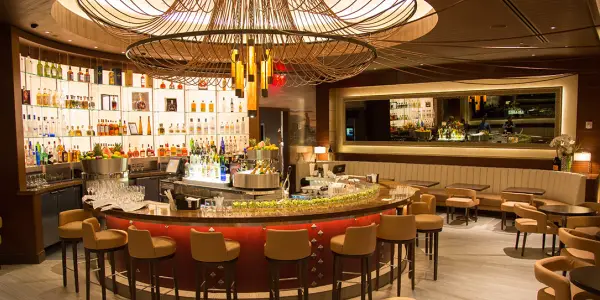 New and seasonal menu items are included as a part of the regular full churrasco price on Christmas Eve, New Year's Eve, and New Year's Day at Fogo de Chão. Enjoy the delicious preparations of gaucho chefs along with a gourmet salad bar, authentic Brazilian side dishes, and an award-winning wine list. The three-level stunner includes a round bar that can accommodate up to 125 and private dining. 40 W. 53rd St., 212-969-9980, fogodechao.com
Best Holiday Group Dining NYC: Haswell Green's
Haswell Green's is a bi-level spot with a range of spaces for every style and size of event. They can cover corporate events, wedding parties, and pre-theatre rendezvous. A stylish interior speaks to the age of the Industrial Revolution with exposed brick and piping, punctuated with modern, colorful twists. Iconic New York decor includes a map of Central Park, a focal point of the career of the original Haswell Green, a city planner sometimes called "the Father of Greater New York. There's even a stage for live music, should you really want to spice up your event. Three pricing options run from a "Liquor and Finger Food Package" to a "Liquor Package" to a "Consumption Package," aka a tab covered by the host. 240 W. 52nd St., 212-245-2801, haswellgreens.com
Best Holiday Group Dining NYC: Heartland Brewery & Chophouse
Handcrafted beers and a hearty steakhouse menu can be found at the Heartland Brewery & Chophouse in Times Square. A handsome, roomy space combines the rich character of a steakhouse from yesteryear with a modern sensibility. Buffet lunches and dinners, cocktail receptions, happy hours, and sit-down lunches and dinners are among the options for group dining and events. 127 W. 43rd St., 646-366-0235, heartlandbrewery.com
Best Holiday Group Dining NYC: Heartland Brewery and Rotisserie Empire State Building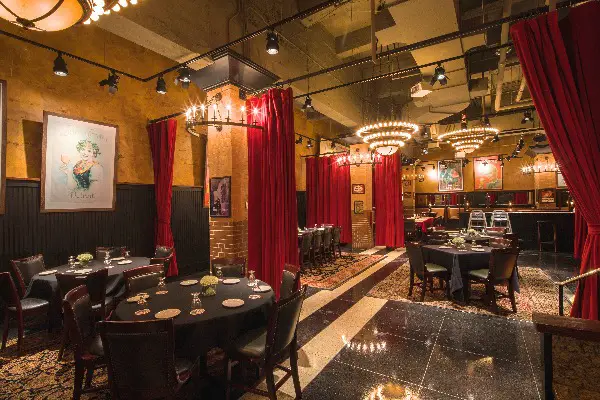 New York City's most famous landmark, the Empire State Building, now houses New York's number one brewery, a two-story 450-seat Heartland equipped with two large bars and four giant flat-screen TV's. Heartland has consistently brewed New York's freshest craft beers, including six classic brews and a wide range of seasonal ones. Enjoy them on a special occasion or work function at one of two stylish and comfortable spaces (28 and 30 person capacities). 350 Fifth Ave., 212-563-3433, heartlandbrewery.com
Best Holiday Group Dining NYC: Morton's The Steakhouse 5th Avenue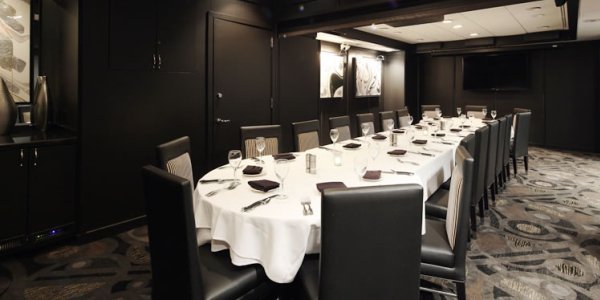 Famous for USDA prime-aged beef, fresh seafood, fine wine, and elegant desserts, Morton's is the ideal place for a memorable dinner. Private dining rooms are perfect for meetings and celebrations. 551 Fifth Ave., 212-972-3315; also visit their downtown location near the 9/11 Memorial at 136 Washington St., 212-608-0171, mortons.com
Best Holiday Group Dining NYC: Morton's The Steakhouse World Trade Center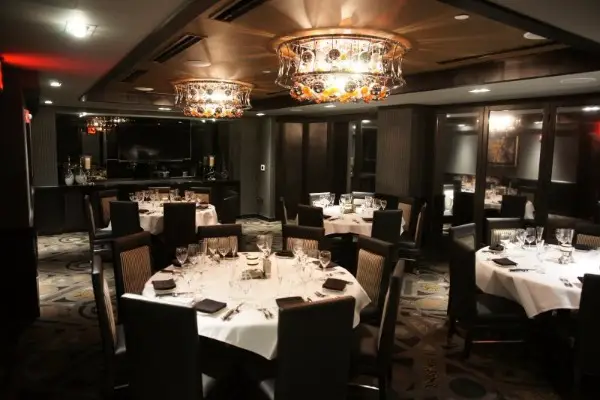 From business meetings to holiday celebrations or rehearsal dinners, the Financial District location of Morton's is ready for any occasion. Leave a lasting impression on 10 or 100 of your closest friends or esteemed colleagues, while enjoying great food, fine wines and specialty cocktails, and professional service. State-of-the-art audio and visual capabilities are available. 136 Washington St., 212-608-0171, mortons.com
Best Holiday Group Dining NYC: Obicà Mozzarella Bar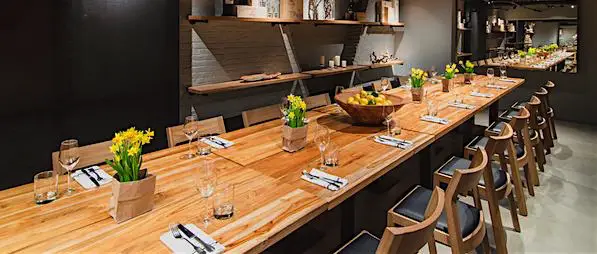 Obicà is a casual contemporary Italian restaurant, offering a genuine Italian dining experience centered on the freshest Mozzarella di Bufala Campana DOP from Italy, fresh homemade pasta, and authentic products from Italy's rich regional heritages. A soaring historic location in the Flatiron District offers three private dining spaces and a semi-private lounge. The spaces are flexible, making them ideal for social functions, business dinners, receptions, presentations, wine tastings, press events, and much more. Delectable, shareable Italian food is perfect for a bridal shower, graduation, or season networking event and Obicà makes it easy to mix and match pre-fixed menus, open bar packages, buffet stations, and passed tray hors d'oeuvres. Gluten-free, vegetarian, and vegan options are all also available. You can reach the events team to check availability or schedule a walk-through at 212-777-2754 (extension #2). 928 Broadway, 212-777-2754, obica.com
Best Holiday Group Dining NYC: One World Observatory
"One size fits one" is the philosophy behind the event space at One World Observatory. Bespoke special occasions are hosted here, from weddings to business meetings, in one of the world's unique places. Flexible spaces, all kinds of onsite amenities, great cooking, and room for up to 300 guests make this an excellent choice. And that's even before taking in the views from the 102nd floor! 285 Fulton St., 844-696-1776, oneworldobservatory.com
Best Holiday Group Dining NYC: Patsy's Italian Restaurant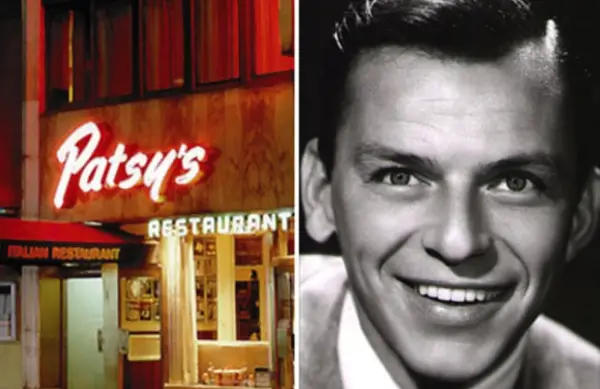 One of the greatest attractions in the Theater District, Patsy's Italian Restaurant is renowned for its celebrity clientele (it was Frank Sinatra's favorite). Family-run since 1944, this landmark's highly rated authentic Neapolitan is heavenly, including succulent veal chops Siciliano, spicy lobster Fra Diavolo, and savory calamari stuffed with seafood. For private dining, there is an entire second floor where Ol' Blue Eyes himself used to hold court. Custom menus can be designed, drawing on Chef Sal Scognamillo's authentic Neapolitan cuisine. 236 W. 56th St., 212-247-3491, patsys.com
Best Holiday Group Dining NYC: The Sea Fire Grill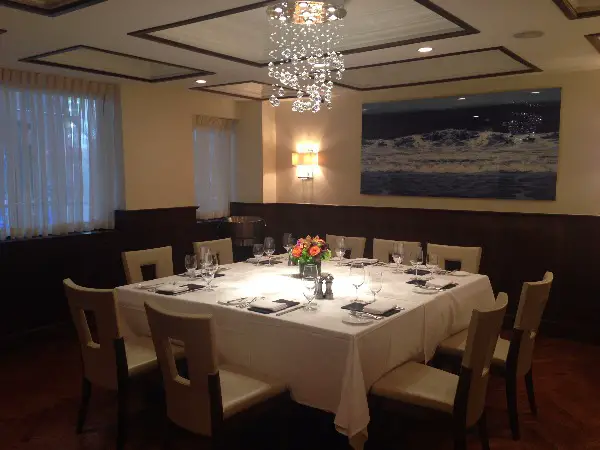 Benjamin Steakhouse moved on to create The Sea Fire Grill once they'd perfected their steak, and the seafood here is every bit as delicious. For group events, the crystal lighting, walnut accents, and contemporary artwork of private dining space "The Board Room" (above) exude sophistication. With seating for 26-30 guests, The Board Room is ideal for exclusive business dinners or lively celebrations. For larger parties, the "Mid Dining Room" accommodates up to 65. It's off to the side of other diners, giving groups a nice sense of isolation, while still enjoying the ambiance. Contemporary décor with mirrored features, wood floors, elegant chandeliers, and flowing sheer curtains highlight the roaring marble fireplace of the Main Dining Room. Surrounded by floor-to-ceiling customized dark wood wine racks, this sophisticated space can seat up to 75 guests. The chef's offerings of seasonally focused prix-fixe menus and complementary sommelier selections are sure to impress. 158 E. 48th St., 212-935-3785, theseafiregrill.com
Best Holiday Group Dining NYC: SoHo Park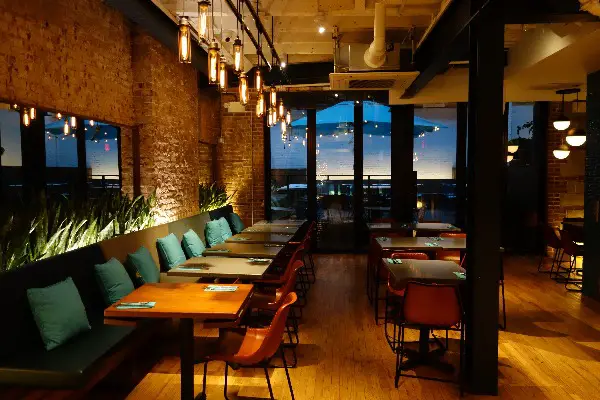 A newcomer to the Theater District, SoHo Park is an elegant spot for special occasions, private events, and social gatherings. A chic and modern design provides a charming setting, with an open floor plan providing versatility. Across three floors you'll find two full-service bars, an outdoor patio, and a private third floor with large windows looking out onto the energy of Eighth Avenue. The second floor is also available for events, with patio seating for 30 and an adjacent dining area that can accommodate 40. A window-side bar area has space for 30+ sitting and standing guests. 832 Eighth Ave., 212-757-4667, sohoparknewyork.com
Best Holiday Group Dining NYC: Strip House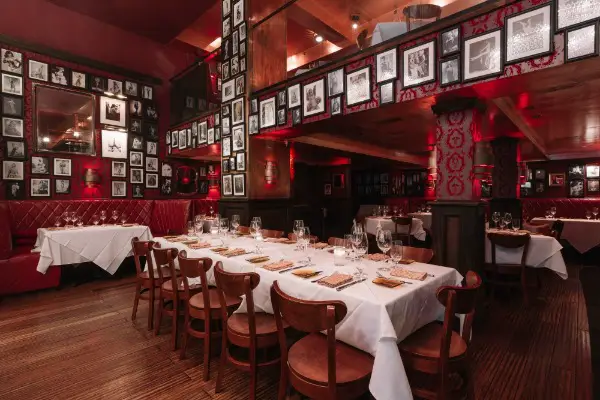 You can indulge all your senses when experiencing the famed New York City steakhouse Strip House. Signature prime cuts of beef are matched by striking dining room with a siren-red interior and black and white vintage photography. Two locations, Union Square and midtown, are both perfectly equipped for a group event. Downtown's more intimate location seats 100 and accommodates 130 standing. The Speakeasy downstairs at the downtown location holds 32 seated and 40 standing guests. The large, bi-level midtown location has a private lounge for a party of 20 and semi-private spaces on the mezzanine level. The entire restaurant seats 200 and accommodates 220 standing guests. Strip House Downtown is located at 13 E. 12th St. Call 212-328-0000 or visit striphouse.com/venues/downtown for reservations. Strip House Speakeasy is located at 11 E. 12th St. Call 212-838-9197 or visit striphouse.com/venues/speakeasy for reservations. Strip House Midtown is located at 15 W. 44th St. Call 212-336-5454 or visit striphouse.com/venues/midtown for reservations.
Best Holiday Group Dining NYC: Suzuki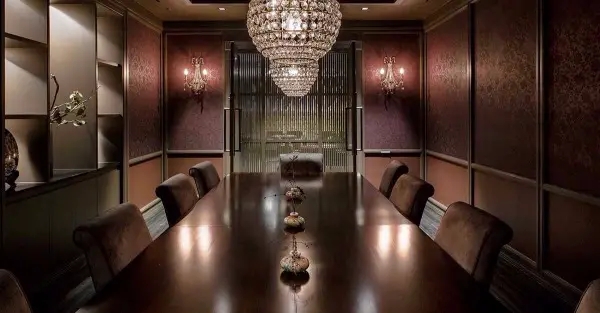 A newcomer to midtown Manhattan, Suzuki is one of New York City's most intriguing destinations, specializing in omakase sushi and the multi-course Japanese dining tradition known as kaiseki. The Rose Room is Suzuki's luxury private room, featuring a 10-seat dining table that can host events ranging from dinners to cocktail parties to trunk shows to conferences and business meetings. A variety of prix fixe options are available including the ultimate—a bespoke kaiseki dinner experience. 114 W. 47th St., 212-278-0010, suzukinyc.com
Best Holiday Group Dining NYC: Tanner Smith's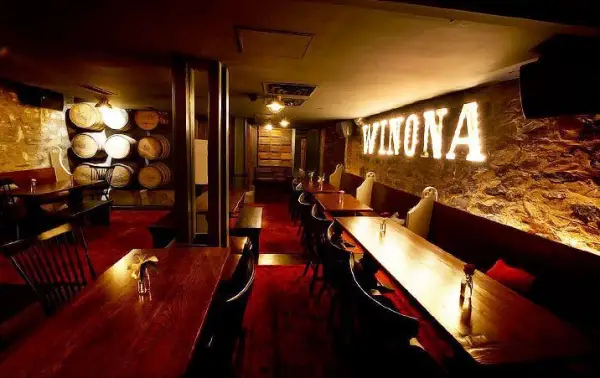 Named for a historical New York gangster from the Prohibition Era, Tanner Smith's takes inspiration from local tradition, with a main bar area styled as an early 20th-century New York drinking house. This beloved midtown spot is available for private functions of all sizes, including corporate meetings and events, weddings, birthdays, graduations, and engagements. Whether it's a casua or elegant cocktail, Tanner Smith's has the flexibility for intimate gatherings all the way up to a full venue buy-out. The latest audio and visual equipment will enhance any event, with microphones, HDTVs, a full DJ booth, and HDMI-ready inputs for video presentations. Choose from three pricing options and party platter selections that run from seafood to sliders to flatbreads to classic bites like deviled eggs, pigs 'n' blankets, and dry-rubbed chicken wings. 204 W. 55th St., 646-590-2034, tannersmiths.com
Best Holiday Group Dining NYC: Vida Verde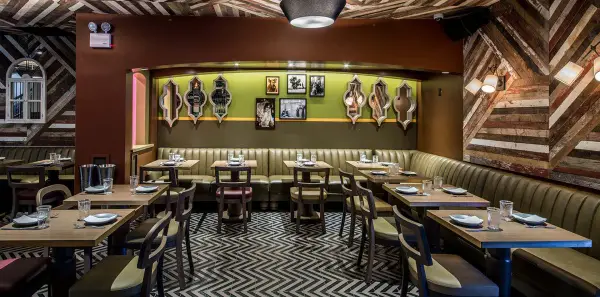 Vida Verde brings the tastes, colors, sounds, and scents of Mexico to Midtown West. NYC cocktail culture meets flavorful, shareable bites with contemporary twists here. A bi-level space offers tons of possibilities, including company dinners, corporate events, and cocktail parties. Arrangements include long high-top tables, cozy lower table hubs for more intimate gatherings, and a sprawling balcony area on the upper level with a full view of the space's vibrant graffiti murals. Choose from three pricing options; Vida Verde will work with you to work up the perfect plan. 248 W. 55th St., 646-657-0565, vidaverdeny.com
Best Holiday Group Dining NYC: Villa Mosconi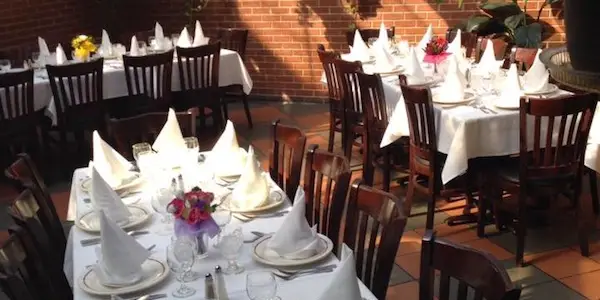 Villa Mosconi is celebrating 40 years feeding Greenwich Village. Their three dining rooms (including a four-season garden) offer the perfect setting for celebrating any occasion, whether it's a romantic evening out, family gathering, or business dinner. 69 MacDougal St., 212-673-0390, villamosconi.com
Best Holiday Group Dining NYC: Zavo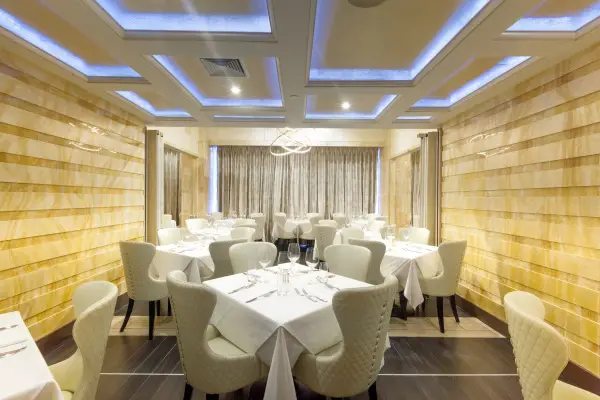 Outstanding fine modern American cuisine with a Mediterranean twist awaits at Upper East Side newcomer Zavo. In addition to hosting an elegant evening out, Zavo has several options for private parties and group gatherings. The Deja Vu room accommodates intimate dinners of 20-40 seated guests. Guests enter from a private hallway. Floor-to-ceiling windows overlook the excitement and energy of Third Avenue. "Rendezvous" also accommodates intimate dinners of 20-40 seated guests, while the Crystal Room can handle 40-75 seated guests. Each private room is equipped with a high-tech projection system along with state-of-the-art sound, ideal for corporate meetings or special events and parties. Full restaurant buyouts are available upon request. 1011 Third Ave., 212-753-5500, zavonyc.com
---
More Fun for Kids & Company Parties
Best Group Spaces NYC: Gotham Comedy Club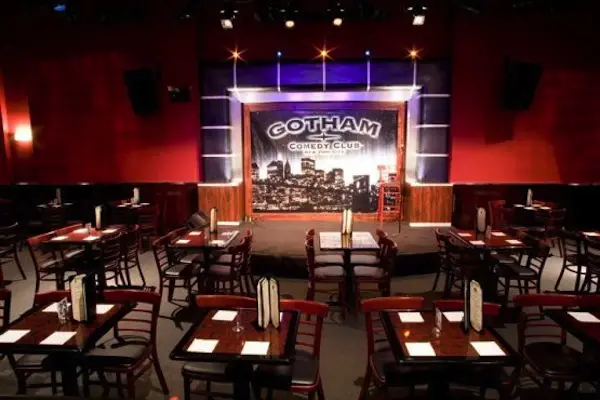 Gotham Comedy Club's on-site special events team will help you create your most memorable event. Their sophisticated space comes equipped with a full-service staff. The Main Show Room (capacity 300) features two bars, stage, and a state-of-the-art sound system. The Vintage Lounge has a capacity for 75. Custom packages available; contact Kelsey. 208 W. 23rd St., 212-367-9000, gothamcomedyclub.com
Best Group Dining NYC: Dave & Buster's Times Square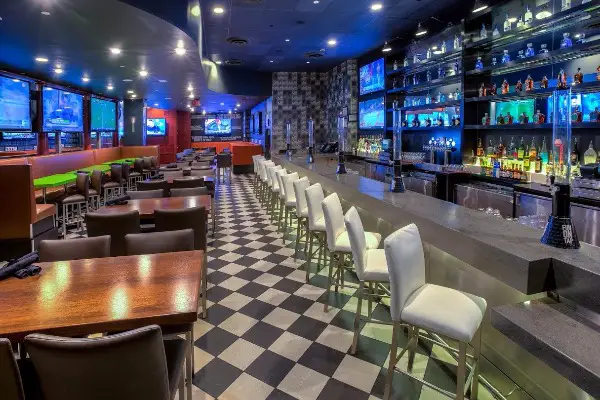 Dave & Buster's in Times Square is packed with everything you need to celebrate the holidays—including fun. Create a perfect event with the newest games, private rooms and casual spaces, team-building activities, and tons of food and beverage options customized just for any group. Event planners will work with you from start to finish to make sure every detail is right, from finding the perfect date to working with your budget and everything in between. 234 W. 42nd St., 646-495-2015, daveandbusters.com
Best Group Dining NYC: Platform at The Pennsy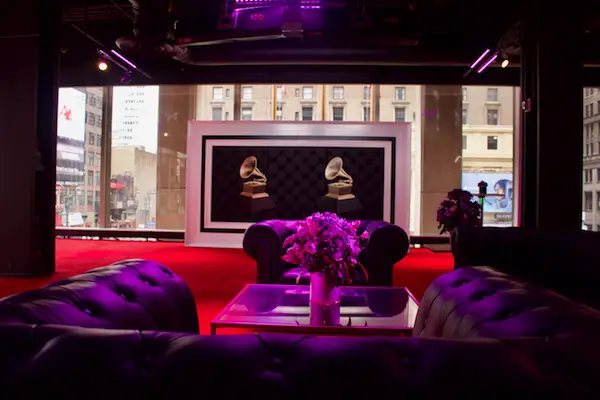 Host your next event at The Pennsy's The Platform, the newest private event space in midtown, with sweeping streetscape views. Conveniently located on the corner of 33rd Street and Seventh Avenue next to Penn Station and Madison Square Garden, Platform at The Pennsy's versatile floor plan offers from 6,000-16,000 square feet of usable space; the ability to host events from 20-1,500 guests; seated events, up to 200 guests, and for cocktail receptions, up to 1,500 guests. Spaces are wi-fi accessible, with modern industrial decor; there's a large pantry with industrial refrigeration and a prep area; and a full-service management staff is on hand. Audio-visual services are available upon request. thepennsy.com
Best Group Dining NYC: Planet Hollywood
From families and school groups to conventioneers and the ultimate movie buffs, Planet Hollywood offers guests a window into the fabulous world of film and television. Six customizable event spaces are available for corporate receptions, dinners, celebrations, or a memorable destination for a pre- or post-Broadway experience. Options include The Bar, equipped with flat screen TVs and perfect for a casual reception up to 80, and a private screening room that can comfortably accommodate up to 50. Comprehensive, customizable menus cover any type of breakfast, lunch, or dinner, with possibilities running from a NY strip steak to movie-inspired meals. For a creative event that comes alive with movie magic, reach out to the party professionals at Planet Hollywood. 1540 Broadway, 212-333-7827, planethollywoodintl.com
---