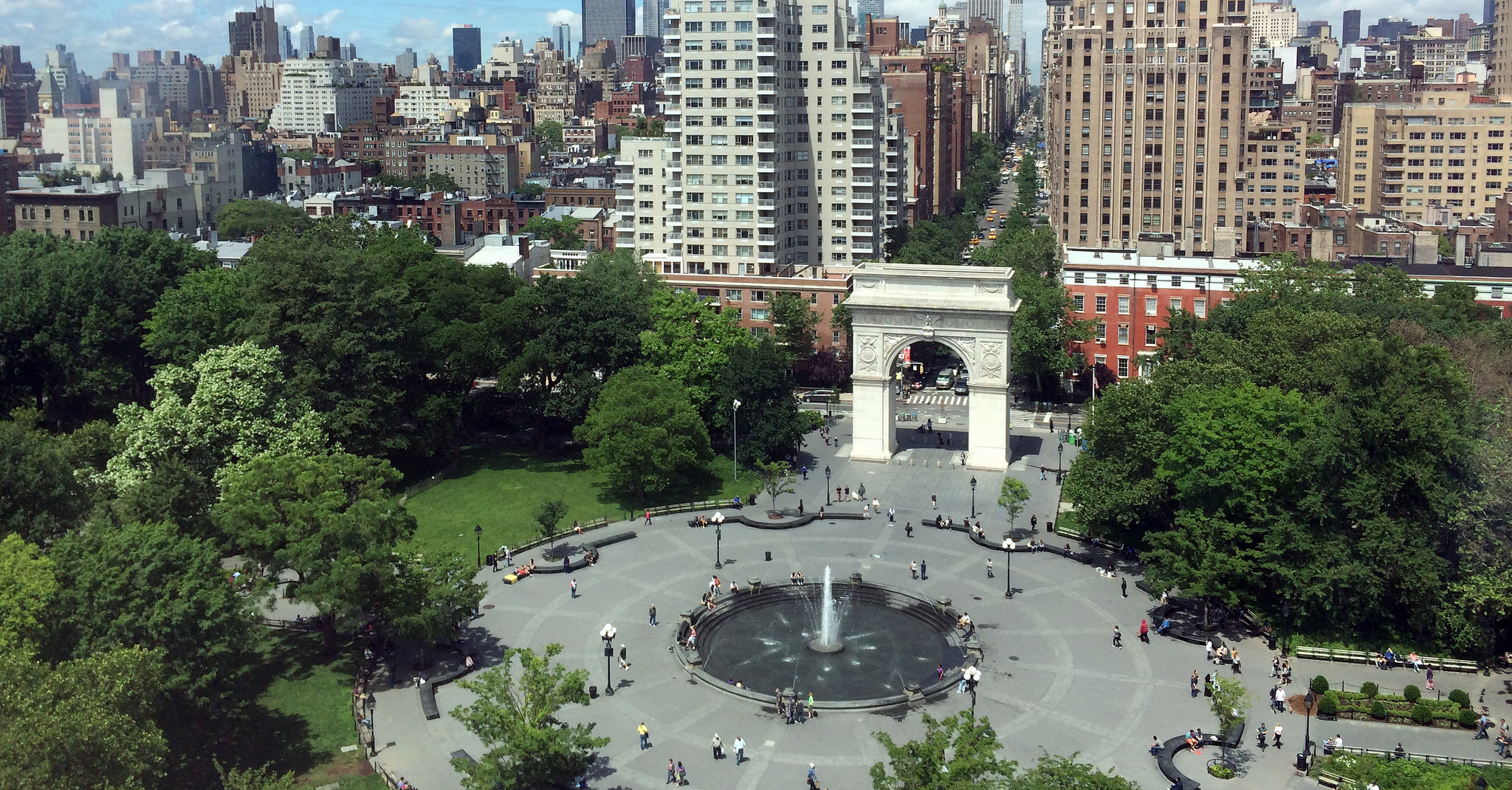 Photo: Doc Searls/Flickr

Home to Washington Square Park, the Stonewall Inn, and NYU, Greenwich Village always has a lot going on, which is exactly why this guide for things to do in Greenwich Village this week will come in handy. City Guide has rounded up some of the most entertaining, delicious, and memorable things to do in this scenic neighborhood no matter your budget.


Choir Rehearsal - Judson Memorial Church
November 11, 2018 - New York
MEETING ROOM (Enter by way of 55 Washington Square South)
Musical Salute To Buena Vista Social Club Feat. The Rumberos - Cafe Wha?
November 11, 2018 - New York
Begin your weekend to an End at The Legendary Cafe Wha? in NYC for a lively Latin music fiesta starring The Rumberos. This energetic quintet of musicians from around the world specializes in performing songs from bands with a strong Latin influence, among them Buena Vista Social Club, Gypsy Kings and Santana. The Rumberos are sure to stimulate your musical senses when they perform live.
All is Calm: The Christmas Truce of 1914 - Sheen Center
Through November 11, 2018 - New York
"A heartbreaking tribute to the men, who, in defiance of their commanders had the courage to affirm their common humanity." ?? The New Yorker "All is Calm puts a human face on WWI." ? San Francisco Globe "One of the top live events for Christmas in North America." ? BBC Music Magazine Christmas of 1914. Out of the violence- a silence, then a song. A German soldier steps into "No Man's Land" singing Stille Nacht. This begins an extraordinary night of camaraderie, music, peace. A remarkable true story told in the words and song of the men who lived them.
TAKE 6 - Blue Note Jazz Club
Through November 11, 2018 - New York
TAKE 6 is the most awarded a cappella group in history, with ten Grammy's, ten Dove Awards (Gospel Music Awards), Best Jazz Vocal Group honors for seven consecutive years in Downbeat's prestigious Reader's and Critic's Poll, a Soul Train Music Award, BRE (Black Radio Exclusive) Vocal Group of the Year, two NAACP Image Award nominations, induction into the Gospel Music Hall of Fame and countless other musical and humanitarian citations. Showing the global appeal of this phenomenal group, they celebrated their 25th Anniversary last year with a World Tour including stronghold favorite markets Asia, South America, eastern and western Europe and the United States and TAKE 6 opened up new markets with debut tours of Australia and Canada. They receive rave reviews and overwhelming audience reception wherever they go. From New York's famed Blue Note to the Montreux Jazz Festival, from PBS to ABC-TV specials, they remain the quintessential and pre-eminent a capella group in the world, working harder than ever, and loving every minute of it. Most recently, TAKE 6 had the honor of being the first American vocal group to perform in Cuba since diplomatic relations were restored. One of th... (read more)
Mount Olympus: To glorify the cult of tragedy (a 24-hour performance) - NYU Skirball
Through November 11, 2018 - New York
Belgian director Jan Fabre?s monumental masterpiece, Mount Olympus: To glorify the cult of tragedy (a 24-hour performance), will have its North American premiere with a one-day-only performance at NYU Skirball from Saturday, November 10 at 5pm through Sunday, November 11 at 5 pm. This is the only chance for U.S. audiences to experience Mount Olympus - there are no other performances scheduled this year. Mount Olympus is a graphic, Dionysian orgy of madness, murder and that invites audiences to join its 27 performers in a transformative, 24-hour catharsis. It is not a modernization of Greek tragedy, but rather a hallucinatory vision of Homeric themes and characters, blending dance, poetry, and music with stories of murder, bloody battles, rampant sexuality, death and raving madness. Jan Fabre takes the audience to the marrow of the tragedy. Over the course of 24 hours, the Gods, heroes and demons of Greek mythology spring to life: Dionysus, Odysseus, Ulysses, Phaedra, Hercules, Jason, Agamemnon, Oedipus, Medea, Electra and Clytemnestra appear, wrenching open their flaws until they are left in tatters, smashed by violence, hubris, laughter and ecstasy. Mount Olympus is ... (read more)
Backstage Broadway: Come From Away - Sheen Center
November 12, 2018 - New York
On September 11, 2001, more than 6,600 passengers found themselves stranded in the airport in Gander, Newfoundland, Canada. Out of adversity, came the Tony Award-winning musical Come From Away, which told the stories of several of the strangers stranded in a town that increased its size by two-thirds and went out of its way to be hospitable to strangers from all over the world who came from away. The story of Kevin Tuerff, author of Channel of Peace: Stranded in Gander on 9/11, is one of those told in the award-winning musical. When Kevin and his partner began their flight from France to New York City on September 11th in 2001, they had no idea that the world?and their lives?was about to change forever. As US airspace closed in the aftermath of the terrorist attacks, Kevin, who was experiencing doubts about organized religion, found himself in the small town of Gander, Newfoundland in Canada with thousands of other refugees or "come from aways" who were stranded on 38 airplanes. Yet, when all seemed dark, the people of Gander rallied and the "plane people" experienced boundless acts of kindness and generosity over the next several days. Kevin Tuerff will interview himself . . . ... (read more)
Guitar Masters Series: Jack Wilkins Trio - Zinc Bar
November 12, 2018 - New York
"Limitless technique, imagination and identity." ?New York Post Acclaimed jazz guitarist Jack Wilkins brings his formidable trio to Zinc jazz club on Monday, November 12. He's supported by bassist Andy McKee and drummer Sylvia Cuenca. Guitarist Jack Wilkins has been on the International jazz scene since the early 1970's. His flawless technique and imaginative chordal approach have inspired collaborations with Chet Baker, Sarah Vaughan, Bob Brookmeyer, and Buddy Rich among many others. A native of Brooklyn, Jack began playing guitar at age thirteen. His mentors included Johnny Smith, Django Reinhardt, Charlie Christian, Wes Montgomery, Joe Pass, Bill Evans, Clifford Brown and Freddie Hubbard.
Nashville based blues artist James House will be performing at City Winery in New York City on 11/12 - City Winery
November 12, 2018 - New York
Nashville based blues artist James House will be performing at City Winery in New York City on November 12, 2018. A widely respected songwriter in many genres, James House has spent over two decades writing songs that have been honored with Grammys, Country Music Association and Academy Country Music Awards, and countless other Billboard Chart Toppers for various artists, including Martina McBride, Rod Stewart, Tina Turner and most recently Joe Bonamassa. James and his band, The Blues Cowboys, will perform original songs from his latest self-titled album, which is available now on iTunes, Amazon and Spotify. The show will also feature Mary Gauthier and Terry Radigan and will benefit SongwritingWith:Soldiers. For more info: JamesHouseMusic.com
Judson Arts Wednesdays Presents: Dead Darlings - Judson Memorial Church
November 14, 2018 - New York
MEETING ROOM (ENTER by way of 55 Washington Square South) Judson Arts Wednesdays artist - in - residence Amanda Duarte thrills again with her delightful Dead Darlings. Doors open at 55 Washington Square South at 7:15pm. Free Drinks and eats until the show at 8:00pm. JAW FOOD. ART. COMMUNITY. SPACE. FREE.
The Selects Pop-Up Store Opening Party - The Selects
Through November 14, 2018 - New York
WHO: The Selects, a collaborative project to promote Korean fashion designers and assist them to break into the American fashion market. This will be the first time most of the designers will have direct retail exposure to American consumers. WHAT: The Selects is opening a pop-up store in Soho, New York, featuring ten emerging Korean fashion designers along with ten curated K-beauty brands. FASHION: The Selects represents ten of the most promising designers evolving in the Korean fashion industry; Bmuet(te), Beyond Closet, The Centaur, Heohwan Simulation, Hidden Forest Market, KYE, LIE, Nohant, SWBD, and Wnderkammer. K-BEAUTY: The Selects have partnered with ten K-beauty brands for the pop-up. K-beauty is highly focused on health and hydration, and the ingredients are innovative and inspired by nature. The beauty brands that will be highlighted and sold in the store; Agerin, IPKN, Jinsoon, Knours, Meg, Moart, SKINRx Lab, Too Cool for School, Vika and Whal Myung, represent some of the best Korean skincare and makeup on the market. WHEN: Opening Party: October 26th from 5pm - 8pm. The store will be open Sunday-Thursday 12:00 PM - 7:00 PM, Friday-Saturday 11:00 AM... (read more)
Madame's Soiree - The Duplex Cabaret Theatre
November 15, 2018 - New York
Eccentric cabaret patroness Madame Mathieu presents an eclectic evening featuring rising stars in stand-up, concert music, poetry, dance, songwriting, and performance art showcasing their work, and more established artists accepting creative dares that arise from Mme. M's insane imagination. A true variety show with an avant garde twist, the Soiree is as unpredictable as the host herself. The evening concludes with a party in the outer bar, because the only thing more interesting that Mme. M's show is her audience. $10 Ticket in Advance & a 2 Drink Minimum in the Cabaret Theatre* $15 Ticket at the Door (plus service fee) & a 2 Drink Minimum in the Cabaret Theatre* *Drinks Must be purchased In the Cabaret Theatre to count towards the Minimum. No One Under 21 Allowed Doors open 30 minutes before show time. There is a 2 Drink Minimum per Person in the Cabaret Theatre
PORTALS, A Photo Experience from Canon - Soho Pop-Up
Through November 18, 2018 - Manhattan
Canon will be hosting PORTALS, A Photo Experience from Canon. The 11-day pop-up will be built around photo moments that will transport visitors to an entirely new world by embedding camera tips and tricks into the consumer journey. Made up of five unique photography setups, PORTALS will allow photographers (amateur and experienced) to open up their imaginations while producing exciting ? and Instagrammable ? photos.
Bob James Trio - Blue Note Jazz Club
Through November 18, 2018 - New York
In a career that spans five decades, Bob James has produced an impressive body of work. Over 30 solo albums and collaborations have resulted in 15 Grammy nominations plus innumerable awards, beginning in 1962 at the Notre Dame Jazz Festival and most recently with the George Benson Lifetime Achievement Award in April of 2006. In between there has been Jazz Artist of the Year, Jazz Producer of the Decade, #1 Jazz radio hits and five #1 tracks on the Billboard Jazz Charts. The first four albums were produced by Creed Taylor on his CTI label. At CBS another 14 solo albums were released in the 1970's and 1980's before Bob's move to Warner Bros. There, while Vice President of A&R, ten more titles were produced and released by James in the 80's, 90's and into the 21st century. Recent titles include 'Take It From the Top' (2004) a trio album, 'Urban Flamingo,' a contemporary jazz project (2006) and 'Angels of Shanghai,' (2007) ? all on Koch Records. 'One On One' with Bob James and Earl Klugh as well as 'Double Vision' with Bob James and David Sanborn won the Grammy Award and sold in excess of one million copies each. James composed the theme song for the television series 'Taxi' as well... (read more)
---