Football season certainly makes it easy for New Yorkers and their crews to transition into fall. The official kickoff Sunday for the NFL is coming right up,so grab the crowd and head out to one of these city hotspots. This lineup of sports-friendly destinations ranges from pub-style bars to more upscale spots and offers everything from beer and shots to wine and cocktails.
Watching Football in NYC: Midtown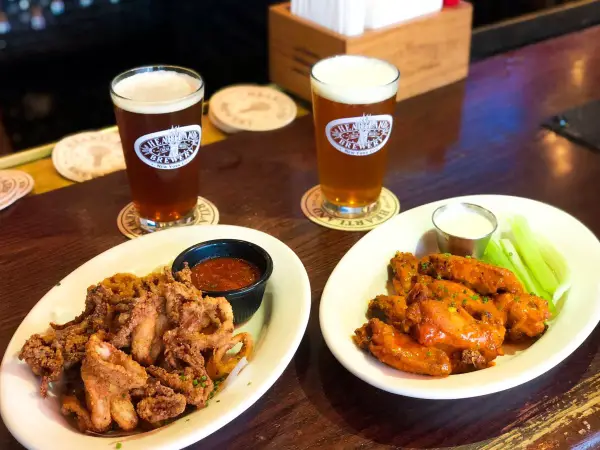 All American-style Heartland Brewery locations will be showing the NFL games all season long, so come cheer on your favorite teams. All screens will be tuned into the games! A pioneer in the craft beer movement in New York City, Heartland Brewery traces its history back to 1995. While watching the games, enjoy sampling six classic brews and a wide range of seasonal beers. (Outside of football, Happy Hour is offered Monday through Friday from 4 to 7pm; there are deals like $6 drinks, including select beer, wine, and cocktails, and $2 sliders.) Locations include Times Square, The Empire State Building, HB Burger, and Midtown West. 212-582-2057, heartlandbrewery.com
Watching Football in NYC: East Village
BoultonWatt, photo by Oleg March.
Chic, industrial style sports hub Boulton & Watt will show football games on seven of its HDTV screens, which are located at strategic spots throughout the bar. New this season, Boulton & Watt is launching a Sunday NFL menu of shareable sliders, taquitos, nachos, and drink specials. Another fave is the bar's signature burger paired with a cold beer and picklebacks made with the chef's homemade pickle juice. The TV sound will be turned on only during the Sunday games. For those seeking a more exclusive viewing experience, a VIP booth comes with its own private TV and two in-table beer taps. 5 Ave. A, 646-490-6004, boultonandwattnyc.com
Watching Football in NYC: Murrray Hill
Brother Jimmy's loaded fries, photo by Alexander Stein.
Whether you're a NFL enthusiast or a college football fan who wants to cheer on the ol' alma mater, the recently revamped Brother Jimmy's has you covered from all end zones. Sunday specials include all-you-can-eat ribs and beer for $30. On Mondays, all-you-can-eat-and-drink wings, rib tips, and beer are offered for $20, and on Thursdays, a bucket of beer (5 bottles) is offered for just $15. There's also picklebacks, JaMo, and Jack shots for $5 each; and Swamp Water (a green chartreuse cocktail for two or more) for $15. Beyond the enticing drink specials, a new menu offers chicken and waffle skewers served with a side of maple mustard to dip; "Flaming" Pig Pick, made of pulled pork, rip tips, naked wings, hush puppies, and frickles (fried pickles), and beyond. Signature items include the award-winning black Angus brisket, which is smoked for 14 hours and served lean or marbled. Two locations: Murray Hill, 181 Lexington Ave., 212-779-7427, and Madison Square Garden, 416 Eighth Ave., 212-967-7603, brotherjimmys.com/new_york_city
Watching Football in NYC: Lower East Side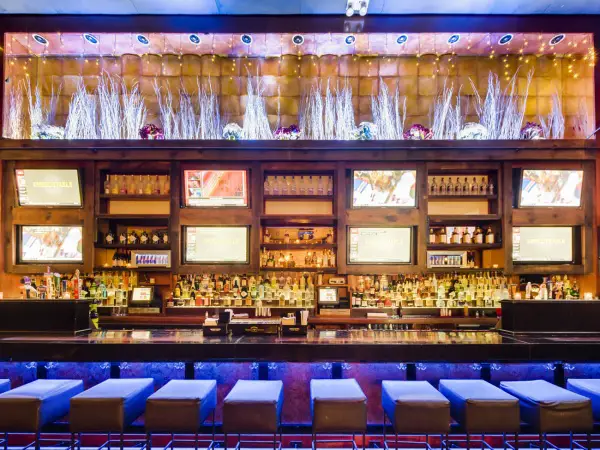 Libation, photo by Oleg March.
Those seeking a more rowdy game watching experience can head over to Libation. This stylish, three-floor bar boasts 16 screens, which are split between HDTVs on the first floor and projection screens on the third level. It's always happy hour on Sundays, with specials offered all day long. Deals include $5 draft beers, $6 glasses of wine, $6 well drinks, $15 pitchers, and $6 tailgate snacks. Come early for a pregame brunch party or stay late to enjoy weekend DJs who inspire revelers to get moving. Indulge in bottle service or rotating drink specials. Without any team allegiances, the bar is a safe space for all football fans. reservations@ingoodcompany.com, 137 Ludlow St., ingoodcompany.com
Watching Football in NYC: Midtown East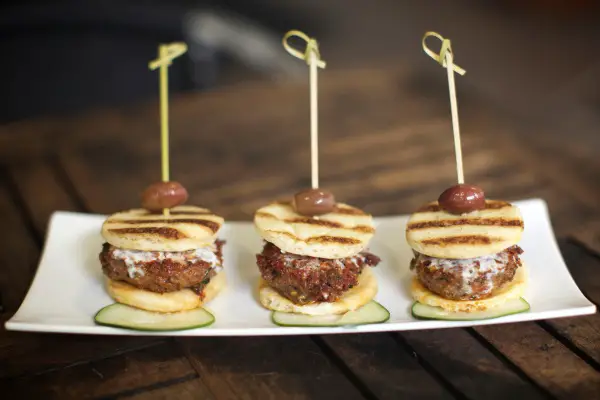 Raise New York will show all of the NFL games being broadcast all season long. The sports-friendly space boasts 32 flat screens and a large projection screen. On Saturdays and Sundays, there's a $35 two-hour bottomless brunch from 11am-5pm. Weekend deals also include buckets of Bud Light for $25 and buckets of Corona for $30. On Monday nights, Raise New York offers half priced bottles of wine, three sharing plates for $29, and for $14, guests can indulge in a burger and beer combo or burger and wine combo. Each month, Raise New York partners with a charity and donates a percentage of its profits.For September, it's working with a trio of charities, which include KEEN New York, which empowers youth with disabilities; juvenile diabetes research foundation JDRF; and Marfan Foundation,which strives to advance research and raise awareness about Marfan Syndrome. Those who pre-book tables prior to game day are given a free pitcher of beer. To take advantage of the NFL table specials, email info@raisenewyork.com and mention the special pitcher offer. 416 Third Ave., 212-481-1712, raisenewyork.com
Watching Football in NYC: Times Square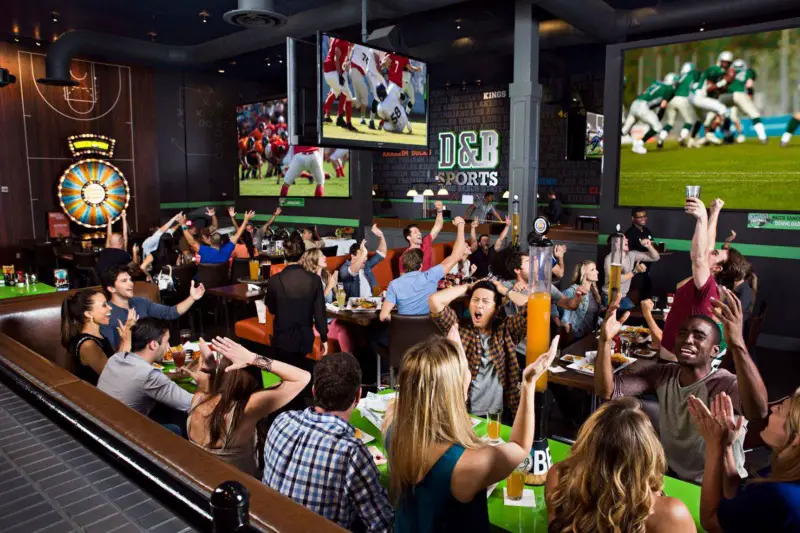 Dave & Buster's is a casual, super-fun destination for great American fare, signature drinks, and incredible football. Look for 22-oz draft and specials every Thursday, Sunday, and Monday of football season. Dave & Buster's is the only place to watch the games and play the games this football season! Massive HDTVs and "better than the stadium" viewing. 234 W. 42nd St., 3rd flr., 646-495-2015, daveandbusters.com
---
---