Where Can I Watch the Oscars in New York?
February 20, 2018 - by Merrill Lee Girardeau
Wondering where to watch the Oscars in New York this year? We're leaning on some fine establishments to give us our fix of red carpet coverage, teary speeches, and Saoirse Ronan's irresistible Irish accent. It's a seminal year for this awards show (not just because the list of nominees is so diverse; this is the 90th birthday), which kicks off at 8pm EST after a red-carpet show at 6:30. Find our picks for the best restaurants and other venues screening the Academy Awards on March 4, 2018. (Black-tie optional.)
Where to Watch the Oscars in NYC: 230 Fifth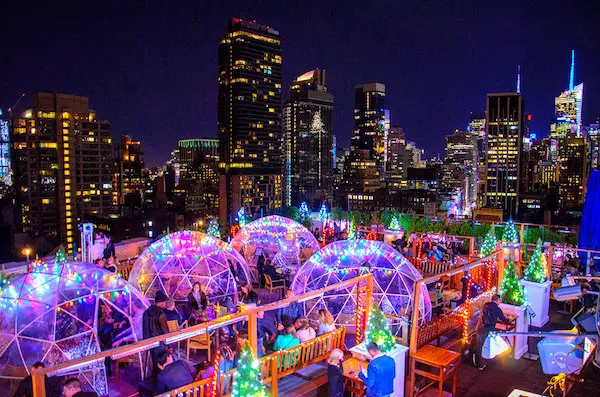 This rooftop bar in Flatiron is exactly where you want to be if you're looking for glamor and champagne. Tickets are $35 and include hors d'oeuvres and an open bar. Seating is first come first served, so come a little early! The party starts at 7pm. 230 Fifth Ave., 212-725-4300, 230-fifth.com
Where to Watch the Oscars in NYC: The Big Oscars Quiz Thing at Caveat
Think you know all things Oscar? Watched Get Out so many times you can quote the Georgina's "No, no, no" monologue? You'll kill it at the Big Oscars Quiz Thing at Caveat, a spacious new bar on the Lower East Side. Quizmaster Andy Peeke will host a round of trivia—complete with prizes!—before the broadcast, which airs at 8pm. Tickets are $10 advance and $15 at the door. 21 A Clinton St., 212-228-2100, caveat.nyc
Where to Watch the Oscars in NYC: Rag Trader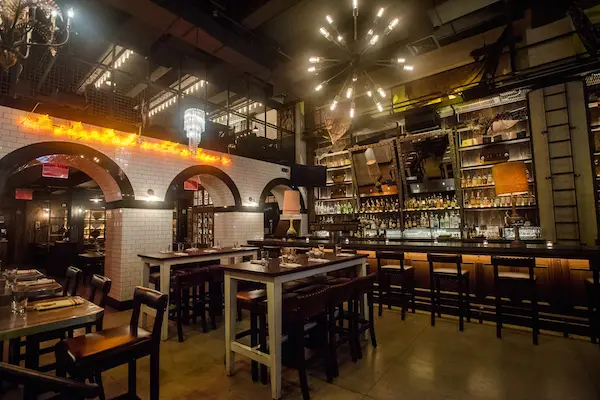 Brand new Midtown hotspot, The Rag Trader, will be screening this year's Academy Awards on a large projection screen in their main dining room. Swing by for cocktails, bites, and the potential to win much much more. The restaurant will be hosting an Oscar ballot competition costing $10 to participate and whoever guesses the most categories correctly will be going home with the full cash pot! ragtradernyc.com
Where to Watch the Oscars in NYC: Northern Territory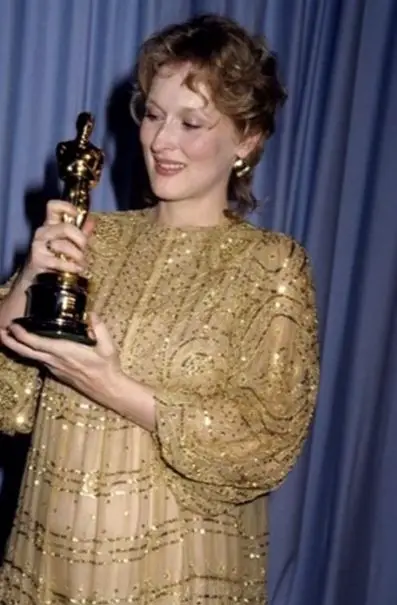 Meryl Streep fans should head out to Greenpoint, Brooklyn for the second annual Oscars Watch Party at Northern Territory. Meryl Streep fan account Taste of Streep (that's a food/Meryl Streep mashup Instagram feed, ICYDK) will be along as the bar fills with Meryl Streep-themed decor, trivia, and chances to win Taste of Streep prizes. Free admission, first-come first-served. Starts at 6:30 pm with the Red Carpet Ceremony! 12 Franklin St., 347-689-4065, northernterritorybk.com
Where to Watch the Oscars in NYC: Ocean Prime New York
Grab a handful of truffle popcorn at an Oscars screening inside Ocean Prime New York, an upscale seafood restaurant in the Theater District. Fill out a ballot of predictions before the ceremony starts—yes, even those of you pulling for The Darkest Hour to win Best Picture. (Last year's awards proved anything is possible, right?). The winner with the most correct guesses will receive a $150 gift card to Ocean Prime. Admission to this party is free, but there is a two drink minimum. 123 W. 52nd St., 212-956-1404, eventbrite.com
Where to Watch the Oscars in NYC: Q.E.D.
The Oscars are in the house in Queens at favorite local hang Q.E.D. Cohosted by Trivia NYC, your $12 admission ticket gets you one ballot and all-you-can-eat popcorn and catered snacks. Drink specials will run through the niught and there will be prizes based on random drawings, trivia, and ballot results. Don't worry, they don't talk during the show. Just the commericals. 6:30pm doors for Red Carpet arrivals and pre-show hang out. 27-16 23rd Ave., Astoria, Queens, 347-451-3873, qedastoria.com
Where to Watch the Oscars in NYC: Metrograph
Lower East Side movie mecca Metrograph will be hosting the Oscars all through their complex: in both theaters, the Commissary, and the lobby. Dinner and drinks will be served until the Best Picture winner is announced. You can also get in the running for a dinner and a movie prize by participating in the annual ballot competition. Entries are available at the box office or downloadable here. All ballots must be submitted in person by 8pm on Sunday to be eligible. 7 Ludlow St., 212-660-0312, metrograph.com

Where to Watch the Oscars in NYC: Osteria Morini
Remember the sound mixing in Dunkirk? Us either. Regardless, check out Osteria Morini's special happy hour for the Oscars, which will be playing in the restaurant while you tuck in to some cappelletti with truffle butter. Winner of the predictions ballot wins a $100 gift card! 218 Lafayette St., 212-965-8777, osteriamorini.com
Where to Watch the Oscars in NYC: Le District

Le District, the 30,000-square-foot French food hall which serves up glorious pastries, dinners, and even cocktails, will be hosting a Sunday night Oscars soiree. Grab a front row seat for all the glitz and glam with a fitting beverage: you can raise a toast of Dom Perignon by the glass ($45) or Moet by the bottle ($55). Both the ceremony itself and the Red Carpet warm-up will be shown on the big screen at Bar a Vin. How's your Oscar pool game? If you guess all the winners correctly, you'll get $150 toward your meal! Le District at Brookfield Place, 225 Liberty St., 212-981-8588, ledistrict.com

Where to Watch the Oscars in NYC: Videology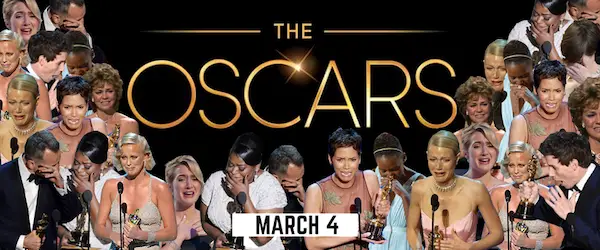 Williamsburg's premiere venue for trivia nights, Big Lebowski Drink-Alongs, and midnight showings of Glitter, Videology has a big party for the Oscars each year. Come at 5:30 for a seat at this popular bar/theater and share your love for up-and-coming actors like Meryl Streep. 308 Bedford Ave., videologybarandcinema.com
Where to Watch the Oscars in NYC: Littlefield
Kumail Nanjiani, star and co-writer of the Oscar nominiated The Big Sick, shot some of the film's scenes in Littlefield!
Come to the cool kids' hangout in Gowanus, Brooklyn for your Oscars fun. Littlefield is serving free champagne, popcorn, awards ballots, and a photo booth for its party March 4. The ceremony will be projected on the big screen in the venue, and admission is free. Fun fact: best original screenplay nominee was filmed in part at Littlefield! 635 Sackett St., RSVP at eventbrite.com
Looking for Free Group Planning Services?
Get free advice on planning your group's trip to New York.
RESTAURANTS

Vida Verde brings the tastes, colors, sounds, and scents of ...

THEATER

The Tony-winning creators of "Ragtime" transport us from the...

SHOPPING

At Build-A-Bear Workshop®, it's the most fun you'll ever mak...

SIGHTSEEING

Manhattan's premier all-glass, European-inspired dining crui...