What's the Best Gluten-Free Pasta in NYC?
April 13, 2018 - by Merrill Lee Girardeau
Wondering what's the best gluten-free pasta in NYC? Whether you have Celiac disease, gluten intolerance, or you're just going wheat-less for a while, dining Italian poses a unique challenge. You have to skip the bread placed on the table to start, the wood-fired pizza with wheat crust, and perhaps the gluten-avoidant's most devastating loss: pasta. Luckily, more and more Italian restaurants in the city have stepped up and offer gluten-free versions of spaghetti noodles, penne, rigatoni, and more. Places like Senza Gluten and Santina offer exclusively gluten-free pastas, while other restaurants like Marea and Del Posto serve GF noodles by special request. Here are eight of your best bets for gluten-free pasta in New York City!
Best Gluten-Free Pasta in NYC: Marea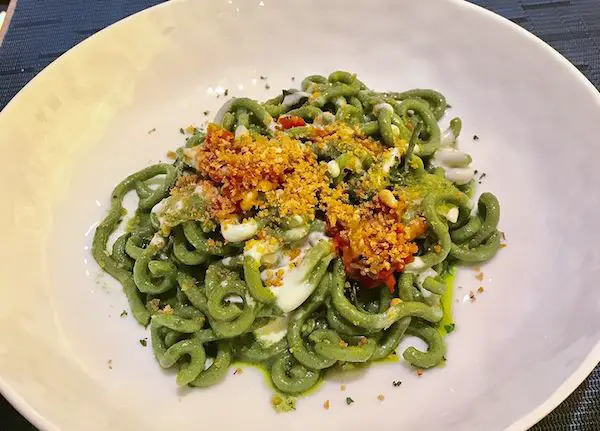 Gramigna nettle pesto, with pepperonata, fonduta, and kale. Via Facebook.
At the southern end of Central Park lies Marea, one of the preeminent seafood restaurants in the city. Their two-Michelin-star cuisine will wow you from amuse bouche to dessert, and nearly everything can be ordered gluten-free. You can have fresh, handmade pasta with jumbo lump crab, chili, and basil, or with octopus with bone marrow and red wine sauce. Just ask one of their courteous servers to accommodate you, and you'll be sailing through a note-perfect meal with no gluten in sight. 240 Central Park South, 212-582-5100, marea-nyc.com
Best Gluten-Free Pasta in NYC: Del Posto
A cream-of-the-crop Italian restaurant near the Hudson River, come to Del Posto if you're looking for the Cadillac of gluten-free pasta. Their prix-fixe menus offer a variety of pastas, all of which can be made gluten-free, from the spaghetti with sea urchin to the orecchiette with rabbit sausage. Celiac and gluten-free customers rave about even the focaccia bread that starts off the meal. This revelation by Joe and Lidia Bastianich shines in the competitive world of New York fine dining. Pro tip: save money and come for lunch, where the prix fixe menu is $59 per person. 85 10th Ave., 212-497-8090, delposto.com
Best Gluten-Free Pasta in NYC: Bistango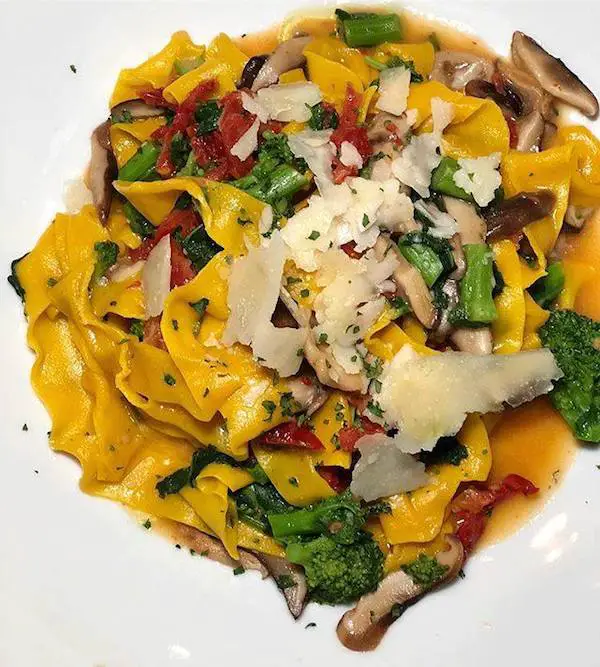 Saffron Pappardelle, wild mushrooms, sundried tomato, broccoli rabe, with Pecorino. Also available gluten-free. Photo: eats.and.the.city
An established Italian eatery with locations in Midtown East and Kips Bay, Bistango generously offers any dish on its menu in gluten-free form. That's everything from the complimentary bread on the table to ravioli with butternut squash to the chocolate lava cake to finish off your meal. The gluten-free lasagna is excellent, as is the spicy cavatelli with sausage and kale. Check out their prix-fixe deals for pre-theater dining and lunch as well! Midtown East: 145 E 50th St., 212-888-4121, bistangonyc.com/kimberly; Kips Bay: 415 3rd Ave., 212-725-8484, bistangonyc.com/29thstreet
Best Gluten-Free Pasta in NYC: Senza Gluten
It's all in the name: senza gluten means "gluten-free" in Italian. This Greenwich Village gem is 100% gluten-free, with no wheat flour or other gluten products on the premises for those with more serious sensitivities. Start with breaded cauliflower with buffalo parmesan and tomato sauce. The Bolognese sauce is to-die-for, whether smothered on doughy lasagna noodles, rigatoni, or fettuccine. Senza Gluten serves gluten-free pizza crust and sandwich bread as well! 206 Sullivan St, 212-475-7775, senzaglutennyc.com
Best Gluten-Free Pasta in NYC: Tali Restaurant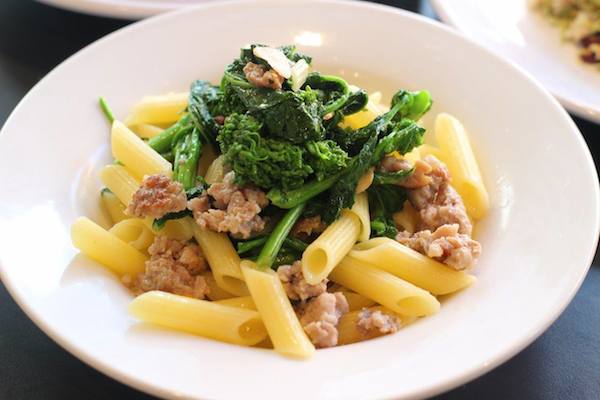 Penne with sweet fennel sausage, broccoli rabe, garlic & lemon. Facebook.
Tali Restaurant offers exclusively gluten-free Italian dishes at its Kips Bay location. Pastas include rigatoni with Bolognese, spaghetti with eggplant and parmesan (our pick), and penne with roasted butternut squash and sage. Perfect for a take-out lunch or a relaxed dinner, the place is a bit of a hybrid, with a coffee counter/bar in addition to the dining area. That means you'll find gluten-free cookies and muffins, plus $7 negronis til 7pm. 77 Lexington Ave., 212-245-5560, talirestaurant.com
Best Gluten-Free Pasta in NYC: Aunt Jake's
Aunt Jake's is serious about pasta. They hand-make their noodles in-house and offer rotating selections of gluten-free goodness, such as rigatoni, spaghetti, and penne. Just ask your server for the day's gluten-free options! The menu is mix-and-match, with your selection of pasta and the sauce to go with it (vodka, broken meatball, marinara, carbonara, etc.). At both the West Village and Little Italy locations, you'll find cute, antique-meets-modern decor and plenty of sangria. West Village: 47 W 8th St., 212-253-9333; Little Italy: 151 Mulberry St., 646-858-0470; auntjakesnyc.com
Best Gluten-Free Pasta in NYC: Santina

Santina is not just a feast for the gluten-sensitive but a feast for the eyes as well. From the colorful ceramics holding plates of tortellini and swordfish to the springy glass chandeliers on the ceiling, it's a designer's dream at this posh space under the High Line. The Italian menu is entirely gluten free. You have your pick from the spaghetti blue crab and the rigatoni with eggplant and ricotta. Their chickpea pancake is a favorite brunch option as well. 820 Washington St, santinanyc.com
Best Gluten-Free Pasta in NYC: Tavola
Tavola ("table" in Italian) is a dependable option in Midtown West if you're on the hunt for authentic Italian food and intimate, low-lit atmosphere. After enjoying a glass of red wine and some local calamari, you can try any of their pasta sauces on gluten-free penne (though it's $2 extra). Go with the mushroom veal ragu, or eggplant with almond pesto and tomato. 488 9th Ave., 212-273-1181, tavolahellskitchen.com
Looking for Free Group Planning Services?
Get free advice on planning your group's trip to New York.
RESTAURANTS

Multi-concept restaurant offering modern Japanese cuisine, a...

THEATER

In a heartbeat, 38 planes with 6,579 passengers were strand...

SHOPPING

DataVision is redefining retail with their new, fully intera...

SIGHTSEEING

The only provider of ferry transportation to the Statue of L...