What to See This Winter at the New-York Historical Society
January 26, 2018 - by Merrill Lee Girardeau
With a diverse display of art and artifacts, the exhibitions at the New-York Historical Society reveal unexpected similarities between the New York of centuries ago and New York today. Read on for our picks of the best things to see at the NYHS in winter 2018!
Holiday Express: Toys and Trains from the Jerni Collection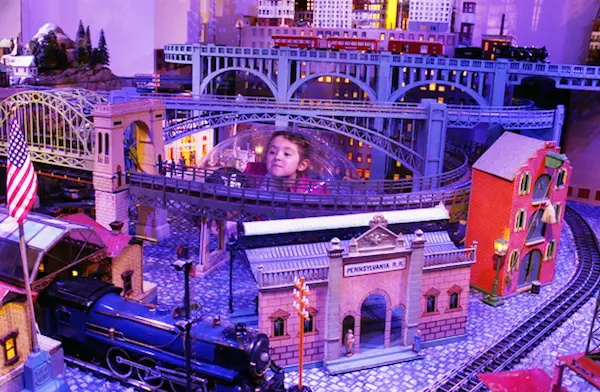 All aboard for this beautiful, exciting exhibition of toy trains, towns, and snow! The Jerni Collection has taken over the first floor of the NY Historical Society with an incredible winter wonderland, which your kids can see up-close in a special bubble-shaped window in the middle of the display. Through February 25.
Collecting the Women's Marches
An incredible historical moment happened only one year ago, when millions of women marched in cities across the nation on January 21, 2017. The NY Historical Society will feature signs, sashes, and other objects from the women's marches at Collecting the Women's Marches. The exhibit will occur in conjunction with a showing of protest clothing by designer Olek and a performance piece by Brick x Brick. January 19 through June 3.
Hotbed
Hotbed transports visitors to Greenwich Village a century ago. A neighborhood full of counterculture ideas and strident activism, the community in the Village contributed to the women's suffrage movement with promotional posters and marches, which you can see for yourself through March 25.
The Vietnam War: 1945-1975
Men of the 173rd Airborne Brigade on a search and destroy patrol after receiving supplies, 1966. National Archives at College Park, MD.
A multifaceted look into America's long involvement with Vietnam, The Vietnam War covers a difficult period of history from many sides. Pith helmets from American troops, American protest posters, a Viet Cong bicycle, and art native to Vietnam are all on display. Through April 22.
Billie Jean King
Featured on the fourth floor, NY Historical Society's Billie Jean King installation is a must for every feminist and/or tennis fan. A timely exploration of this 39-time Grand Slam winner, the installation features the tennis dress King wore at Wimbledon, her cerulean Adidas sneakers, and Bancroft tennis racket. Ongoing.
Gallery of Tiffany Lamps
Find 100 stained-glass masterworks at the Gallery of Tiffany Lamps. Explore the hidden history behind the "Tiffany Girls" who created these lamps, with Louis C. Tiffany and Clara Driscoll at the helm of their intricate design. You'd never know these lamps date to the turn of the twentieth century; they are impeccably maintained, gorgeously ornate, and always lit. Ongoing.
Feathers: Fashion and the Fight for Wildlife
Did you know New York was once the premiere source of feathers in the U.S.? The upcoming Feathers exhibit takes a look at the entwined histories of wildlife preservation and fashion's use of plumage a century after the Migratory Bird Treaty Act of 1918. This display will feature feathery fashion looks, photographs, and Audubon watercolors, plus recordings of bird songs! April 6 through July 15.
The New York Historical Society is located at 170 Central Park West. Call 212-873-3400 or visit nyhistory.org for more information.
Looking for Free Group Planning Services?
Get free advice on planning your group's trip to New York.
RESTAURANTS

Beer hall casual meets craft cocktails with a healthy dose o...

THEATER

Beloved diva Bernadette Peters and four-time Tony nominee Vi...

SHOPPING

DataVision is redefining retail with their new, fully intera...

SIGHTSEEING

A state-of-the-art Coney Island amusement park that's home t...