Valentine's Gift Ideas in NYC
January 30, 2018 - by City Guide News Desk
In the gifting world, mid-February means one thing—and one thing only—Valentine's Day. Whether you choose to celebrate with a romantic dinner or a night with friends, we've scoured the best NYC shops for something special to bring along.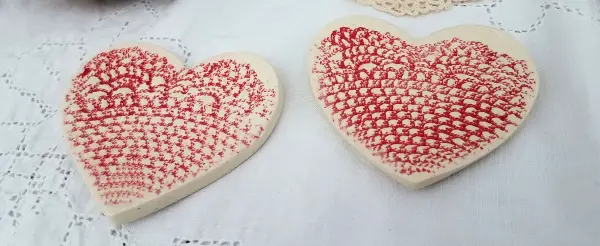 Grand Bazaar NYC is New York's largest curated market—and most distinctive. On Sunday, February 11th (10am-5:30pm) don't miss the Sweethearts Bazaar, where you can find unique Valentine's gifts among NYC artisans and antique/vintage dealers, all while enjoying some tasty treats. Look for highlights like Ayala Jewelry, Loving Hands Soap, and Cereally Baked,with cereal-inspired cookies like their Fruitfetti, made with Fruity Pebbles. 100 W. 77th St. (Columbus Ave.), 212-239-3025, grandbazaarnyc.org
PANDORA, one of the leading names in jewelry, offers a universe of high quality, hand-finished, modern, and genuine jewelry products at affordable prices. PANDORA's locations in Herald Square and Times Square are inspired spots to pick up the perfect Valentine's gift, like this PANDORA Sterling Silver Bracelet featuring charms from the 2018 Valentine's Day collection. Herald Square: 1284 Broadway (btw. 33rd & 34th Sts.), 212-643-9760; Times Square: 110 W. 42nd St. (btw. Broadway & Sixth Ave.), 212-273-3267, pandora.net
The gift shop at the New-York Historical Society (also available online) is a great place to look for Valentine's gifts. Romantic made-in-Brooklyn pieces include this Aqua Curly Necklace, mixing original materials with modern updates (vintage brass meets floating "branches" of semiprecious faceted gems—turquoise chalcedony, chrysoprase, and pale periwinkle chalcedony—here). 170 Central Park W. (btw. 76th & 77th Sts.), 212-873-3400, nyhistory.org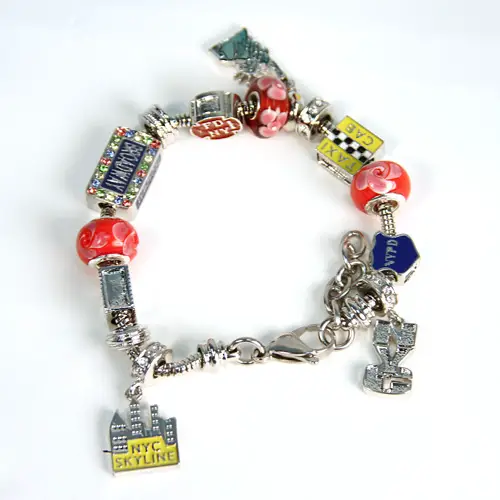 At the FDNY Fire Zone, guests meet official members of New York City's Fire Department and learn all about the special equipment and gear they use daily to battle fires and rescue people from danger. The shop here is a great place for souvenirs and even a Valentine's Day gift or two, like this sweet New York City charm bracelet (merchandise, including legendary calendars, is also available online). 34 W. 51st St. (btw. Fifth & Sixth Aves.), 212-698-4520, FDNYShop.com
On Saturday and Sunday February 10th and 11th, you can find vintage purses, oriental rugs, handmade pottery, tribal jewelry pieces, authentic fur coats, and antique furniture, among the many unique gifts at the Hell's Kitchen Flea Market. It's the special Sweetheart's Market for Valentine's Day Shopping and to add to the experience on Saturday there will be a Valentine's Day dog adoption event from noon to 4pm. W. 39th St., 212-220-0239, annexmarkets.com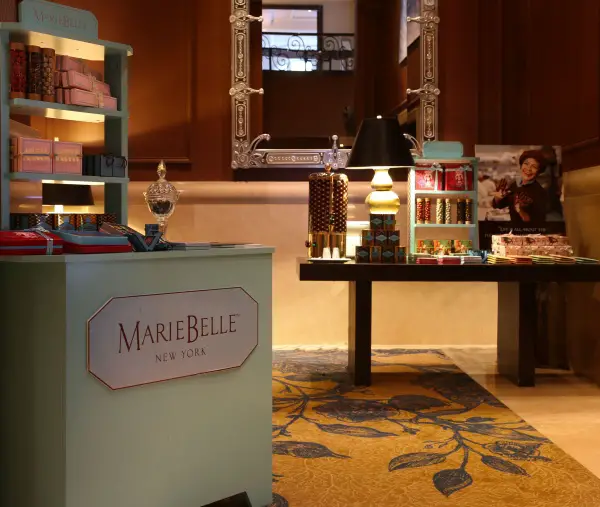 Nothing says Valentine's Day like a gift of chocolate, and nothing says love like the artistic gourmet choices at MarieBelle New York. From fine artisanal beans to unique ganaches to bar chocolates made in Brooklyn with top-quality cacao, you'll find an amazing selection at this elegant SoHo favorite. For some additional gift shopping, MarieBelle has partnered with the Benjamin hotel in Midtown. Here you'll find fine artisanal bean-to-bar chocolates made in Brooklyn, elevated hot cocoas, and other gift ideas, arrayed in the lobby and just in time for Valentine's Day. The Benjamin, 125 E. 50th St. (Lexington Ave.); MarieBelle New York: 484 Broome St. (btw. Wooster St. and W. Broadway), 212-925-6999, mariebelle.com

Big Love Ball, designed by Wendy Williams Watt, a creative director in Vancouver, is spreading love through social media and word of mouth. The Guggenheim celebrates this month of love; Big Love Ball travels to destinations in a smartly packaged box. Inside the box is an inflator allowing Big Love Ball to be activated immediately. Different colors available, can be purchased from the Guggenheim Store online. 1071 Fifth Ave. (89th St.), 800-329-6109, guggenheimstore.org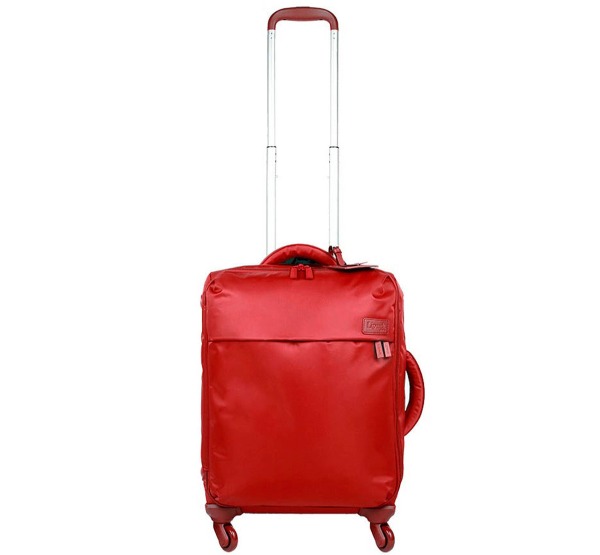 A thoughtful, stylish gift is always appreciated. Family-run New York favorite S. Feldman Housewares is full of them, including this Lipault brand carry-on suitcase. It has four spinning wheels and a lightweight but durable nylon construction. Now available in a lovely Valentine's Red. 1304 Madison Ave. (btw. 92nd & 93rd Sts.), 212-289-7367, sfeldmanhousewares.com
Indulge in natural luxury with the softest bedding on the planet™! Cariloha sheets are made of eco-friendly bamboo and are softer than 1,000-thread-count cotton. Visit the store and get $40 off your sheet purchase. FREE shipping to your home! Bamboo apparel and fitness wear, too. 637 Broadway (btw. Bleecker & Houston Sts.), 212-674-0555
Jack's Place

You'll find a full line of electronics (and the experts to repair them) at Midtown East's Jack's Place. Buy your sweetie a Galaxy S8, S8+, or Note 8 and get a wireless charger ($80 value) thrown in for free! Now through February 15th. 235 E. 51st St. (btw. Second & Third Aves.), 212-486-7090, jacksplaceny.com
Looking for Free Group Planning Services?
Get free advice on planning your group's trip to New York.
RESTAURANTS

Brings together the character of Hell's Kitchen past with th...

THEATER

The Tony-winning creators of "Ragtime" transport us from the...

SHOPPING

A premier destination for family entertainment....

SIGHTSEEING

Voted one of New York's most unique attractions, Madame Tuss...