What to Catch at the Rubin Museum This Fall
September 29, 2017 - by Mari Gold
Whether you contemplate a visit to the Himalayas or can't think further than New York's Chelsea, a visit to the Rubin Museum of Art can spark new ways of seeing the world. You can look at art—painting, sculpture, objects, even an entire shrine-- that spans 1500 years; enjoy immersive experiences, join gallery tours; attend workshops solo or with families; see films; listen to music and eat at Café Serai, open whenever the museum is as well as during Wednesday Happy Hours 6-9 PM with discounts and complimentary live music.
Coming up in October:
Sound and Healing, a workshop with Dr. Andrew Weil, pioneer of integrative medicine, and composer/performer Meredith Monk, October 23 at 2 PM, exploring how sound affects our bodies, encourages healing, and re-tunes us to our environment.
Buddhist Rock-Cut Monasteries of the Western Ghats, an illustrated lecture by architectural historian George Mitchell about the Indian mountain range, one of the eight "hottest hot-spots" of biological diversity in the world, October 25 at 7 PM with new photos of spectacular Buddhist architecture and a signing of Mitchell's new guidebook.
Cabaret Cinema: Soundtrack, music from the best movies you've ever heard, on select Fridays at 9 PM. On the Waterfront, October 6; The Conversation, October 20; The Young Girls of Rochefort, October 27.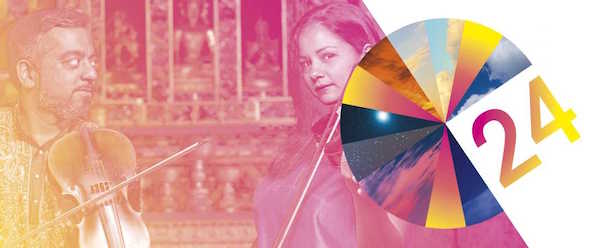 Ragas Live Festival: 24 Hours of Sacred Sound, a 24 hour celebration of Indian music, October 21 10 AM–Sunday, October 22; 10 AM (you can make it a sleepover.)
Weekly Mindfulness Meditation Series, Wednesdays at 1 PM led by meditation guide and author Sharon Salzburg.
The Art & Yoga Urban Retreat September 16 in partnership with NY YOGA + LIFE magazine was a full day of workshops and classes held in many galleries and the theater of the Rubin museum. The program included asana sessions with a warm-up by MC Yogi who had us snapping fingers and clapping; Mantra, Meditation and Flow with Alan Finger who taught meditation techniques before Sarah Platt-Finger's yoga class; Healing Crystals and Chakras with a guide to the metaphysical and geographical nature of crystals led by Paula Pavlova; Coloring Sound with Miriam Castillo, who draws inspiration from her journey as a yoga instructor, and other workshops including a Sound Bath and a Mala workshop focusing on the strands of 109 beads that carry certain energies and are used during some types of meditation. For anyone with even a passing interest in all things yoga-related, the day was a whirl of art and inspiration enriched by being surrounded by items from the Museum's vast collection. A big OM all around.
Looking for Free Group Planning Services?
Get free advice on planning your group's trip to New York.
RESTAURANTS

Multi-concept restaurant offering modern Japanese cuisine, a...

THEATER

Gaston Leroux's famous period thriller is now one of Broadwa...

SHOPPING

Specializing in the great vineyards of California, France, A...

SIGHTSEEING

Sweeping, unobstructed, open-air views of NYC from the top o...