5 Unique NYC Dining Experiences
April 11, 2017 - by Chelsey Grasso
Looking for somewhere special to dine the next time you're in New York City? These five restaurants below offer some of the most creative dining experiences Manhattan has to offer, whether that be through the cooking setup or the food itself. Take a look below to see which one-of-a-kind restaurant speaks to your heart (and stomach).
Best of NYC Unique Dining: Black Ant (East Village)

Black Ant is a contemporary Mexican restaurant with a menu that is not for the faint of heart. You'll find ants, grasshoppers, and chapulines in many of the restaurants dishes, as well as incorporated into some of the cocktails (ant salt rim, anyone?). While the idea of dining on insects might freak you out, the food here is well above par, making every dining experience at Black Ant one not only to remember, but to savor. 60 2nd Ave., 212-598-0300, theblackantnyc.com
Best of NYC Unique Dining: Takashi (West Village)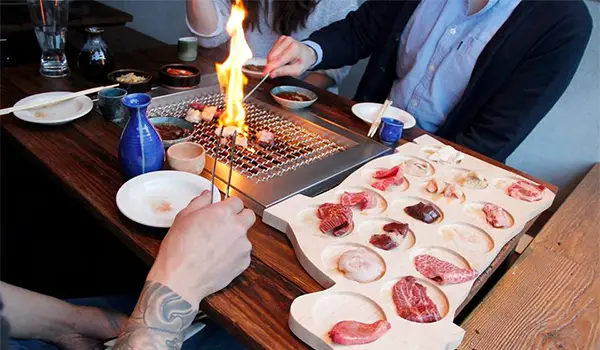 Not only do you get to grill your own dinner at Takashi, you also get to chow down on some of the not so commonly served parts of a cow. Calf's Brain Cream is served in a tube, while Testicargot consists of cow balls served escargot style in a garlic shiso butter. If the sound of these two menu items has you reaching for the garbage, worry not, choice cuts of Premium Japanese and American Angus are also available to be grilled right at your table. 456 Hudson St., 212-414-2929, takashinyc.com
Best of NYC Unique Dining: Obica Mozzarella Bar Pizza e Cucina (Flatiron)

Never indulged in a mozzarella bar? Well now you can thanks to Obica. Made from the milk of water buffalo, the mozzarella at Obica comes in a variety of combinations, including naturally smoked, with black truffle, and served with eggplant and mint. Once you've eaten all the mozzarella you can possibly handle, move on to their small plates, where you'll find Tartare di Salmone and Pomodori e Pesto on the menu amongst other tasty dishes. 928 Broadway, 212-777-2754, obica.com
Best of NYC Unique Dining: D? (Greenwich Village)

Who needs cookies when you can simply eat the dough? D? is the latest and greatest dessert spot in the Greenwich Village, and considering that you can order safe-to-eat cookie dough on an ice cream cone, we're definitely part of its growing fan base. Choose between flavors such as Confetti (sprinkles, white chips, chocolate chips), Gimme S'More (Hershey bar, toasted marshmallows, graham crackers), and Nuts for Nuts (peanut butter, Reese's Cups, Reese's Pieces). 550 LaGuardia Pl., 646-892-3600, cookiedonyc.com
Best of NYC Unique Dining: Ikinari Steak (East Village)

Owned by chef Kunio Ichinose, Ikinari Steak is part of the Japan based standing steak restaurant chain. Yes, you read that correctly — you stand while you eat at this fast-turnaround steakhouse. Order your cut, tell the chef how you want it cooked (they, of course, recommend it rare), and pour some of the Special J-Sauce onto the plate for some added flavor. If you're craving a hearty (and high quality) steak, but don't have time for a full sit-down dining experience, Ikinari Steak has got you covered. 90 E. 10th St., 917-388-3546, ikinaristeakusa.com
Looking for Free Group Planning Services?
Get free advice on planning your group's trip to New York.
RESTAURANTS

Brings together the character of Hell's Kitchen past with th...

THEATER

In a heartbeat, 38 planes with 6,579 passengers were strand...

SHOPPING

The world's largest source of cameras, camcorders, and more ...

SIGHTSEEING

Manhattan's premier all-glass, European-inspired dining crui...