Things to Do in September in NYC
July 18, 2017 - by City Guide News Desk
NYC's September calendar is brimming with excitement, including tons of festivals, exhibits, and Broadway fall previews. The US Open starts the month off, plus there are blockbuster concerts, the San Gennaro Festival, the Rolex Central Park Horse Show, and much more!
Things to Do in New York in September: Exhibits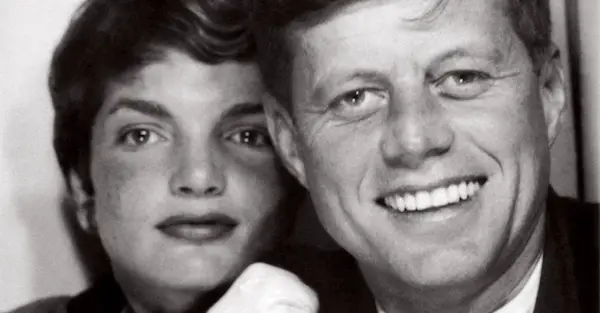 Photo booth portrait, 1953. (Courtesy John F. Kennedy Presidential Library and Museum)
(Now 1/7/18) The photographs in the new exhibit American Visionary: John F. Kennedy's Life and Times at the New-York Historical Society convey the sensation you've seen them before: JFK in the White House, his kids joyfully playing nearby; JFK with wife Jackie at an event, both of them elegant and assured (in truth, many images here have only rarely been shown). It's part of the famous Kennedy allure, conveying a world that's simultaneously approachable, glittering, and rarefied. This well-curated exhibition charts JFK's trajectory as a politician, as well as the cultural and historical pulse of the times, when photojournalism was at an apex. It's a wonderful opportunity to observe a world both familiar and lost, and to reflect on where the country was—and is.
PLUS
(9/8-1/7/18) Magnificent Gems: Medieval Treasures at the Morgan Library & Museum. The treasure bindings on view include star sapphires, diamonds, emeralds, pearls, and garnets, alongside illuminated manuscripts and printed books that depict two-dimensional representations of these precious materials. Among the exhibition highlights will be the ninth-century Lindau Gospels, one of the two finest Carolingian jeweled bindings in the world, and the thirteenth-century Berthold Sacramentary, the most luxurious German manuscript of its time.
(Now-10/1) Frank Lloyd Wright: Unpacking the Archive opens at MoMA. MoMA's acquisition of 55,000 drawings, 300,000 pages of letters, 125,000 photos, and 2,700 manuscripts, along with models, movies, and other memorabilia inspired this exhibit, timed to coincide with Wright's 150th birthday.
(Permanent) The New-York Historical Society's Fourth Floor Renovation, now complete, includes a brand new Tiffany Lamps Gallery, in addition to the opening of its Women's History Center.
(Now-9/3) Final days! Also now at N-YHS, WWI Beyond the Trenches at New-York Historical Society. World War I Beyond the Trenches features powerful works by artists like John Singer Sargent, George Bellows, and Georgia O'Keeffe, joined by artifacts from the museum's collection (propaganda posters, letters, sheet music, uniforms, and military gear) that provide insightful context.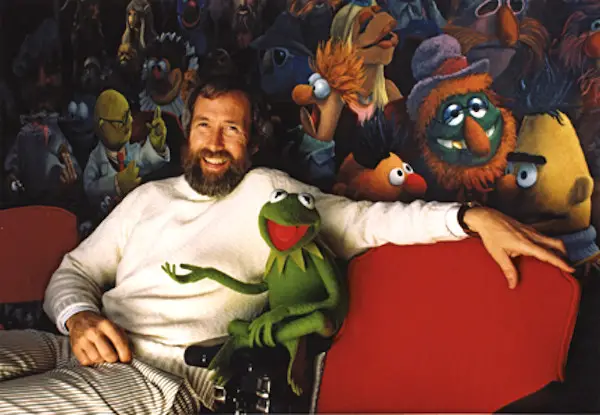 (Permanent) New! The Jim Henson Exhibition at the Museum of the Moving Image will celebrate the life and legacy of the famed Muppet creator, exploring both his prolific career and the enduring effect his work has on pop culture to this day. Visitors can expect to learn more about the creation of such beloved works as The Muppet Show, Sesame Street, Fraggle Rock, The Dark Crystal, and Labryinth, as well as to discover the cutting-edge experimental works Henson made throughout his career.
(now-12/31) Drones: Is the Sky the Limit? at Intrepid Sea, Air & Space Museum is the first major museum exhibition on pilotless aircraft to open in the U.S. The large-scale exhibition, located in a huge, custom-designed pavilion, will reveal the history of drone technology, from its WWI origins to its current applications in solving complex humanitarian challenges. The exhibition will include a mix of small and large scale drones, including Volantis, the world's first flying dress, designed and worn by Lady Gaga. intrepidmuseum.org. Use this coupon and take $5 off!

(now-10/29) CHIHULY at the New York Botanical Garden: breathtaking works of art by world-renowned glass artist Dale Chihuly will be on view at NYBG in his first major garden exhibition in New York in more than ten years. CHIHULY, presented by Bank of America, will showcase approximately 20 installations and include drawings and early works that reveal the evolution of Chihuly's artistic process during his celebrated career. Special weekend celebrations, films, poetry, and nature-inspired art programs for kids offer colorful and imaginative tributes to nature. On CHIHULY Nights (Thurs -Sat), the exhibition takes on a magical energy as the garden's vistas and Conservatory become living canvases for these works of art.
(now-9/6) Final days! Visionaries: Creating a Modern Guggenheim at the Solomon R. Guggenheim Museum provides a rare chance to explore in-depth some of the key artists of this essential New York institution. Framed by the interests of six leading patrons, Visionaries brings together canvases from masters like Max Ernst, René Magritte, and Yves Tanguy, and sculptures by Joseph Cornell and Alberto Giacometti. In addition, Jackson Pollock's Alchemy (1947) is being shown in the U.S. for the first time in nearly 50 years. More than a dozen works on paper by Picasso and Van Gogh, rarely on view to the public, can be seen in the Thannhauser Gallery, and paintings by Pierre-Auguste Renoir, Paul Gauguin, and Édouard Manet are displayed on the museum's legendary ramps.
(Permanent) The Museum of the City of New York presents NY at Its Core. Ten years in the making, New York at Its Core presents the compelling story of New York's rise from a striving Dutch village to today's "Capital of the World." The exhibition captures the human energy that drove New York to become a city like no other and a subject of fascination the world over. Entertaining, inspiring, important, and at times bemusing, New York City "big personalities," including Alexander Hamilton, Walt Whitman, Boss Tweed, Emma Goldman, JP Morgan, Fiorello La Guardia, Jane Jacobs, Jay-Z, and dozens more, parade through the exhibition.
Things to Do in New York in September: Comedy
(9/28-9/30) Jim Gaffigan: Noble Ape Tour, stops at the Beacon Theatre.
PLUS
(9/15-9/16) Colin Kane at Gotham Comedy Club.
(9/6) The Legion of Skanks at The Creek and the Cave, with Big Jay Oakerson, Luis J. Gomez, and Dave Smith.

(9/22-9/23) Deon Cole at Gotham Comedy Club.
(9/28-9/30) Bill Bellamy at Gotham Comedy Club.
(9/1, 9/8, 9/15, 9/22, 9/29) Every Friday at 10pm check out comedy hypnosis at LOL Times Square Comedy Club. The performance is led by Warren Thackeray, a classically trained hypnotist who has been performing for almost a decade around the world. The show is a fabulous mix of comedy, hypnosis, and laughter, as participants take on wild roles. Maybe you'll be the next star... Use this LOL Comedy Club coupon and save 50% off!
Things to Do in New York in September: Kids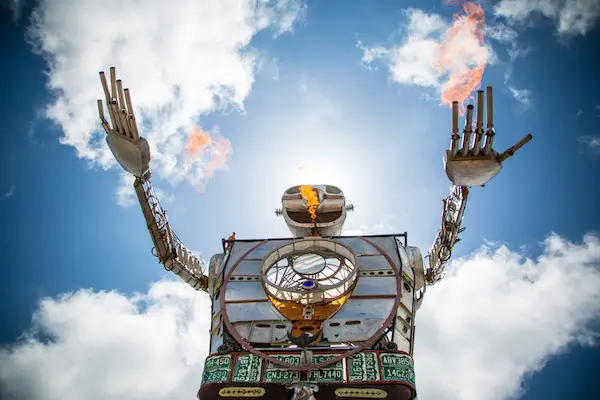 (9/23-9/24) The World Maker Faire returns to the New York Hall of Science! Get inspired to make, create, learn, invent, craft, recycle, build, think, and play while celebrating art, science, and technology. Hundreds of "makers" will present fun and unusual creations such as rockets and robots. There will also be arts and crafts, artisanal foods, live music, and much more. 10am-6pm. Specially priced family passes available. nysci.org, makerfaire.com
PLUS
(9/24) Now in its 35th year, the traditional County Fair at the Queens County Farm Museum features blue ribbon competitions in produce, livestock, arts and crafts, and more. Enjoy the Amazing Maize Maze, pie-eating and corn-husking contests, pig-racing, hayrides, carnival rides, and a midway. Visit craft vendors, food vendors, enjoy music, and more. 11am-6pm. queensfarm.org
(now-10/9) Eloise at the Museum reveals the creative collaboration between cabaret star Kay Thompson (1909-1998) and the young illustrator Hilary Knight (b. 1926) that brought the precocious character to life. The exhibition showcases more than 75 objects, ranging from original manuscript pages to sketchbooks, portraits, photographs, and vintage dolls.
Things to Do in NYC in September: Nightlife
(9/9-9/11) Depeche Mode at Madison Square Garden, with special guest Warpaint.
PLUS
(9/7-9/13) It's New York Fashion Week, and there will be afterparties. nyfw.com
(9/7-9/8) Eric Clapton at Madison Square Garden.
(9/2-9/3) Michael Feinstein's Showstoppers at Feinstein's/54 Below.
(9/8-9/14)Bloodline's Norbert Leo Butz performs at Feinstein's/54 Below.
(9/9) PopUp Dinner Governors Island. A benefit for the Friends of Governors Island, the dinner is an elegant picnic that brings together thousands of people to celebrate summer, spontaneity, creativity, and community.
(9/11-9/12) Roger Waters: Us & Them Tour at Barclays Center.
(9/11, 9/18) War Paint's Christine Ebersole at Feinstein's/54 Below.
(9/13) Adam Ant at the Beacon Theatre.
(9/14) Pat Benatar & Neil Geraldo at the Beacon Theatre.
(9/15) Gypsy Kings at the Beacon Theatre.
(9/15-9/17) The Meadows Music and Arts Festival will top billing Jay-Z, Gorrilaz, Red Hot Chilli Peppers and more performing in the parking lot outside Citi Field. (Queens) There will also be a special 'Feastival' with vendors including Arancini Bros, Luke's Lobster, Wowfulls, Roberta's and more. themeadowsnyc.com
(9/22) Mac DeMarco at Radio City Music Hall.
(9/21-9/24) The 15th Annual New York Burlesque Festival. The popular New York Burlesque Festival turns 15, and it's hotter than ever. With starting events at Brooklyn Bowl and The Bell House, the festivities continue at Highline Ballroom and culminate with the Saturday Spectacular at B.B. King Blues Club & Grill in the heart of Times Square. The festival's sexy finale features 20+ of the best burlesque performers on the circuit, in a 1920s supperclub atmosphere. bbkingblues.com, thenewyorkburlesquefestival.com
(9/26) Saint Etienne at Music Hall of Williamsburg.
(9/26) Brian Wilson perfoms Pet Sounds at The Beacon Theatre.
(9/28) Harry Styles performs at Radio City Music Hall.
Things To Do in New York in September: Sightseeing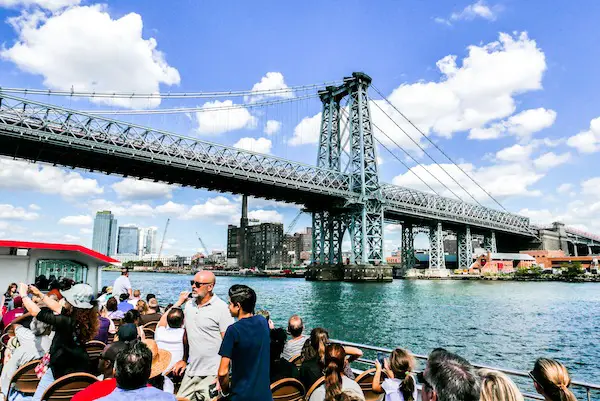 (Ongoing) Explore the best of Brooklyn with Circle Line's Landmarks + Brooklyn Cruise!
PLUS
(9/3) The annual Brazilian Day Festival returns to Manhattan's Little Brazil (around 46th Street between Fifth and Sixth Avenues). Load up on tasty food, music, vendors, and more. brazilianday.com
(8/28-9/10) Game, set, match! The US Open continues at Arthur Ashe Stadium.
(9/10) Annual Anniversary at Grand Bazaar NYC.
(9/17) 35th Annual Antique Motorcycle Show at Queens County Farm. This show will include a display of various makes and models of motorcycles that have been out of production for 10 years or more. Music, farmhouse tours, hayrides, and food will provide fun for the entire family. 11am-4pm. $7. queensfarm.org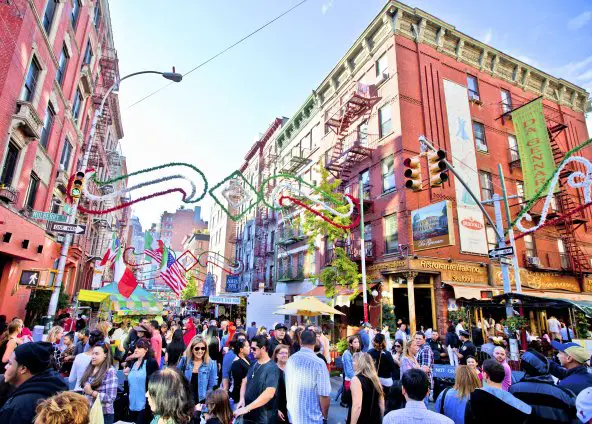 © Stu99 | Dreamstime.com - Little Italy Photo
(9/14-9/24) The Feast of San Gennaro celebrates its 91st anniversary this year! It's NYC's longest running, biggest religious outdoor festival, stretching along the streets of Little Italy. sangennaro.org
(9/16) The German-American Steuben Parade kicks off at noon, marching along Fifth Ave., from 68th Street to 86th Street. The festivities continue at the 2017 OktoberFest at Watermark Pier 15, (9/15-9/17, 9/22-9/24, 9/29-10/02). Prost!
(9/20-9/24) The fourth annual Rolex Central Park Horse Show makes a triumphant return to New York City. Wollman Rink in Central Park plays host to daily exhibitions of varied breeds and disciplines, including Arabians, Show Jumping, Dressage, and Hunters. The events culminate with a Family Day that features demonstrations, face painting, and more. cphs.coth.com
(9/24) The 43rd Annual Atlantic Antic is the largest street festival in NYC, taking place along Atlantic Avenue in Brooklyn. atlanticave.org
Things to Do in New York in September: Ongoing
Image: Anthony Quintano/Flickr
Every year New York marks the September 11th attacks with the Tribute in Light, a display of 88 searchlights visible in the night sky for miles around. There will be other tributes and memorials all around the city, and a visit to the 9/11 Memorial & Museum will provide moving context. Click here for information on additional 9/11 related events.
Part tour, part show, all entertainment! Take THE RIDE and see NYC like never before!
Experience Downtown NYC, enhanced with virtual reality, with THE RIDE's DOWNTOWN EXPERIENCE.
Explore NYC in miniature at Gulliver's Gate.
Visit the sites of Ghostbusters, Friends, Seinfeld, Trainwreck, Gossip Girl, Sex and the City, and many other NYC film sites with On Location Tours.

Learn more about the fascinating history of New York City's Financial District with Wall Street Walks tours.
Grab a photo with Taylor Swift, One Direction, Lady GaGa, JLo, and more at Madame Tussauds New York.
Ripley's Believe It or Not! Odditorium brings people of all ages face-to-face with the world's most unbelievable curiosities. With 18,000 square feet of astonishing artifacts and exciting interactive exhibits. Here's a coupon!
Zip up 100 stories in 60 seconds and see New York City atop One World Observatory.
Explore New York City from the best vantage points with Helicopter Flight Services Tours. Choose from four different itineraries.
Bring a loved one to take in the breathtaking view at Top of the Rock.
New York Weather in September

Come September the summer heat is fading and there can be a crispness in the air, particularly in the evenings, making this a great month to visit the city. Highs average 81°F (28°C) on September 1st and cool down to 69°F (21°C) by September 30. Average lows overnight go from 66°F (19°C) at the month's start all the way down to 55°F (13°C) by month's end. There's rain on about 10 days, but it usually isn't heavy—4 inches in total precipitation is scattered across the month. Bringing an umbrella can't hurt, but generally you won't need many layers for September, with little more than a lightweight jacket necessary to meet the elements.
---
Like what you see here? Share it with your friends on Facebook!
Looking for Free Group Planning Services?
Get free advice on planning your group's trip to New York.
RESTAURANTS

Multi-concept restaurant offering modern Japanese cuisine, a...

THEATER

The Tony-winning creators of "Ragtime" transport us from the...

SHOPPING

Shop or sell at this weekend bargain hunters' paradise....

SIGHTSEEING

Voted one of New York's most unique attractions, Madame Tuss...