The Best Things to Do in NYC in May
March 27, 2017 - by City Guide News Desk
They say April showers bring May flowers, which makes the merry month of May a terrific time to be in New York City. Indeed, from April 29-April 30, 2017 cherry blossoms will be the focus at the Brooklyn Botanic Garden's Sakura Matsuri festival. Mother's Day, Fleet Week and its special festivities at the Intrepid Sea, Air & Space Museum, and the unofficial kick-off of summer on Memorial Day are also among the highlights. Read on for the best things to do in NYC in May.
Things to Do in New York in May: Exhibits
(5/5-5/7) Frieze Art Fair. Head over to Randall's Island Park this spring to experience the contemporary art world in an alfresco environment. Interact with public installations, sit in on "Frieze Talks," enjoy the Frieze Art Fair's Reading Room, and of course, lay your eyes on some of the most talked about artwork in the city. friezenewyork.com
(5/10-12/31) Drones: Is the Sky the Limit? at Intrepid Sea, Air & Space Museum is the first major museum exhibition on pilotless aircraft to open in the U.S. The large-scale exhibition, located in a huge, custom-designed pavilion, will reveal the history of drone technology, from its WWI origins to its current applications in solving complex humanitarian challenges. The exhibition will include a mix of small and large scale drones, including Volantis, the world's first flying dress, designed and worn by Lady Gaga. intrepidmuseum.org
(5/3-5/7) Art New York and CONTEXT New York at Pier 92/94, an important exhibition facility for the arts that annually attracts over 150,000 collectors. Art New York will offer both noteworthy and fresh works by important artists from the modern, post-war, and pop eras, and feature paintings, photography, prints, drawings, design, and sculpture.

(now-10/29) CHIHULY at the New York Botanical Garden: breathtaking works of art by world-renowned glass artist Dale Chihuly will be on view at NYBG in his first major garden exhibition in New York in more than ten years. CHIHULY, presented by Bank of America, will showcase approximately 20 installations and include drawings and early works that reveal the evolution of Chihuly's artistic process during his celebrated career. Set within NYBG's landmark landscape and buildings, this groundbreaking exhibition will be a must-see throughout the changing seasons from spring through fall. Special weekend celebrations, films, poetry, and nature-inspired art programs for kids offer colorful and imaginative tributes to nature. On CHIHULY Nights, the exhibition takes on a magical energy as the garden's vistas and Conservatory become living canvases for these works of art. nybg.org
(5/5) Catch a special family performance, Cinco de Mayo: Calpulli Mexican Performance, as a Mexican dance company presents a celebration of Mexican and Mexican-American cultural heritage. Museum of the City of New York
(5/27-5/29, 6/3-6/4) The Washington Square Outdoor Art Exhibit is held right in the heart of Greenwich Village every spring. This eclectic art exhibit was inspired by Jackson Pollock in 1931, when he brought some of his paintings to a sidewalk near the park in hopes of making a few bucks. The event has since grown to become traditional happening in Lower Manhattan with artists requiring a nomination in order to showcase their work. wsoae.org
(5/31-6/2) BookExpo returns to Javits Center! Guests for talks will include Stephen King, Alan Alda, James Patterson, Marc Maron, Neil Patrick Harris, NASA's Dr. Scott Kelly, Zac Posen, and more. bookexpoamerica.com. (BookCon takes place following weekend, 6/2-6/4).
(now-9/6/17) The newest show at the Solomon R. Guggenheim Museum, Visionaries: Creating a Modern Guggenheim, provides a rare chance to explore in-depth some of the key artists of this essential New York institution. Framed by the interests of six leading patrons, Visionaries brings together canvases from masters like Max Ernst, René Magritte, and Yves Tanguy, and sculptures by Joseph Cornell and Alberto Giacometti. In addition, Jackson Pollock's Alchemy (1947) is being shown in the U.S. for the first time in nearly 50 years. More than a dozen works on paper by Picasso and Van Gogh, rarely on view to the public, can be seen in the Thannhauser Gallery, and paintings by Pierre-Auguste Renoir, Paul Gauguin, and Édouard Manet are displayed on the museum's legendary ramps.
(now-8/13) Making Space: Women Artists & Postwar Abstractions at the Museum of Modern Art (MoMA). Making Space shines a spotlight on the stunning but still relatively under-recognized achievements of women artists between the end of World War II (1945) and the start of the Feminist movement (around 1968). In the postwar era, societal shifts made it possible for larger numbers of women to work professionally as artists, yet their work was often dismissed in the male dominated art world, and few support networks existed for them. Abstraction dominated artistic practice during these years, as many artists working in the aftermath of World War II sought an international language that might transcend national and regional narratives—and for women artists, additionally, those relating to gender.
(now-5/21) I'm Nobody! Who are you: The Life and Poetry of Emily Dickinson at Morgan Library & Museum. Bringing together nearly 100 rarely seen items, including manuscripts and letters, I'm Nobody! Who are you?—a title taken from Dickinson's popular poem—is the most ambitious exhibition on Dickinson to date. It explores a side of her life that is seldom acknowledged: one filled with rich friendships and long-lasting relationships with mentors and editors.
(new! permanent) The Museum of the City of New York presents NY at Its Core. Ten years in the making, New York at Its Core presents the compelling story of New York's rise from a striving Dutch village to today's "Capital of the World." The exhibition captures the human energy that drove New York to become a city like no other and a subject of fascination the world over. Entertaining, inspiring, important, and at times bemusing, New York City "big personalities," including Alexander Hamilton, Walt Whitman, Boss Tweed, Emma Goldman, JP Morgan, Fiorello La Guardia, Jane Jacobs, Jay-Z, and dozens more, parade through the exhibition.
(now-7/30) Muslims in NY, also at the Museum of the City of New York, features 34 images by four photographers who have documented Muslim New Yorkers from the mid-20th to the early 21st century. Works by Alexander Alland date to ca. 1940, a time when New York's diverse Muslim community included Arabs, Turks, Afghans, East Indians, Albanians, Malayans, African Americans, and others. Photographs by Ed Grazda come from his 1990s project "New York Masjid: The Mosques of New York City," and cover both immigrant populations and native New York Muslims, including converts, the long-standing African-American community, and a growing Latino Muslim community. Mel Rosenthal's photographs of Arab New York Muslims from the early 2000s were commissioned for the Museum of the City of New York's exhibition A Community of Many Worlds: Arab Americans in New York (2002). Robert Gerhardt's images, a promised gift to the Museum's collections, document Muslim New Yorkers in the early 2010s.
(now-7/3) Georgia O'Keeffe: Living Modern provides a new look at an iconic American artist at the very institution that hosted her first solo museum exhibition in 1927—the Brooklyn Museum. Presenting O'Keeffe's remarkable wardrobe in dialogue with iconic paintings and photographs, this singular exhibition focuses in on the modernist persona O'Keeffe crafted for herself. With photographs by luminaries like Alfred Stieglitz, Ansel Adams, and Annie Leibovitz, the show reflects O'Keeffe's radical rethinking of female identity, and the artist's commitment to elements of modernism—minimalism, seriality, simplification—not only in her art, but also in her distinctive style of dress.
Things to Do in New York in May: Comedy

(5/18) Jerry Seinfeld at Beacon Theatre.
(5/3) Homo Comicus with Kate Clinton at Gotham Comedy Club.
(5/6) Jackie Mason at B.B. King Blues Club & Grill.
(5/5-5/7) Godfrey at Gotham Comedy Club.
(5/10) Whose Live Anyway? The current cast members of the Emmy-nominated TV show Whose Line Is It Anyway? are proud to present their new improv tour: WHOSE LIVE ANYWAY? at Gotham Comedy Club. 8pm. 18+
(5/12-5/13) Vic DiBitetto at Gotham Comedy Club.
(5/21) Ricky Gervais: Humanity at the Theater at Madison Square Garden.
Things to Do in New York in May: Kids
(5/6) Peter Rabbit Tales at the Skirball Center for the Arts.
PLUS
(Ongoing) Kids of all ages will want to check out the brand new Gulliver's Gate, a $40 million extravaganza that allows visitors to travel the globe without leaving Times Square. Latin America, Asia, the Middle East, Russia, and Europe are all here in incredibly detailed miniature. And don't let that word "miniature" fool you—Gulliver's Gate feels like it covers acres, stretching a full city block with the wonders of the world.
(ongoing) Aspiring scientists and astronauts will want to explore the New York Hall of Science in Queens, brimming with interactive exhibits (plus an outdoor playground).
For more kids activities, check out our sister site nymetroparents.com!
Things to Do in NYC: Nightlife

(5/19-5/20) British group The XX kick off Forest Hills Stadium's summer 2017 season lineup. The band will be performing songs from their third album, I See You. foresthillsstadium.com
PLUS
(5/3) Don Giovanni at the Metropolitan Opera.
(5/3) The Revolution at Webster Hall.
(5/5) Celebrate Cinco de Mayo with a special Circle Line Boat Party. Choose open bar beer & wine, or open bar beer, wine, and spirits. Includes comp appetizers. Sails 7pm. $69, $89.
(5/6) Dog Whisperer and star of Cesar 911 on Nat GEO Wild Cesar Millan appears at Kupferberg Center by Queens College. 8pm.
(5/6) Legendary Barbra Streisand at Barclays Center.
(5/9-5/10) Empire of the Sun at Terminal 5.
(5/10) Father John Misty at Brooklyn's Kings Theatre.
(5/12) The Five Boro Craft Beer Festival. As its name suggests, this is the festival craft beer fans won't want to miss. Attendees pay one price for the evening, allowing them to choose between over 100 brews. Catered food is also provided, as well as live music for entertainment. fiveborocraftbeerfest.com
(5/13) Soulful songstress Chaka Khan performs at Brooklyn Center for the Performing Arts.
(5/13-5/14) Midnight Oil at Webster Hall.
(5/15-5/21) The 2017 Harlem Eat Up! Festival offers a sampling of Harlem's sights, flavors and sounds. DINE IN HARLEM evenings show off the best in local bites, while the HARLEM STROLL brings art and culture into the dining mix. An opening concert on 5/16 brings more than 10 artists, including the Alvin Ailey Dance Company, to The Apollo Theater for an Homasge to Billie Holiday. harlemeatup.com
(5/17) Metallica: WorldWired Tour performs at the newly renovated Nassau Coliseum.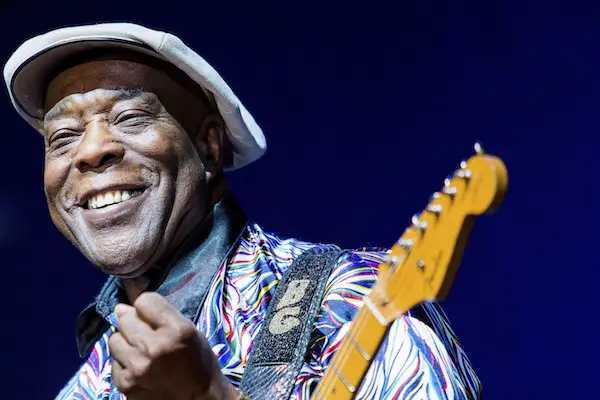 (5/19-5/20) Blues guitar legend Buddy Guy plays two nights at B.B. King Blues Club & Grill.
(5/20) New York City Gay Men's Chorus with London Gay Mens' Chorus at Skirball Center for the Performing Arts.
(5/20) The Growlers at Terminal 5.
(5/24) Pixies at Webster Hall.
(5/26-5/29) DanceAfrica. Hosted by BAM, DanceAfrica is the country's biggest festival dedicated to African dance. This year's festival will be focusing on West African rhythms, exploring the culture through art, film, performance, and a spectrum of community events for those wanting to learn more about African dance. bam.org
(5/26-5/27) Nick Cave & the Bad Seeds play two nights at Kings Theatre.
Things To Do in New York in May: Sightseeing

(5/24-5/30) It's the 29th Annual Fleet Week in NYC! Festivities will be taking place all week long at the Intrepid Sea, Air & Space Museum. For additional info, visit fleetweeknewyork.com.
(5/30) Catch the Memorial Day Parade Ceremony aboard the Intrepid Sea, Air & Space Museum. Additional Memorial Day parades are held in Brooklyn and Douglaston, Queens.
PLUS
(5/7-5/8) The Makeup Show NYC at Metropolitan Pavilion.
(5/12-14) Enjoy Mother's Day Early Brunch, Brunch and Dinner Cruises aboard the Spirit of New York.
(5/13-5/14) Mother's Day Weekend Garden Party at the New York Botanical Garden.
(5/20-5/21) The Ninth Avenue International Food Festival has been a New York favorite since 1973. Closing Ninth Avenue from 42nd Street to 57th Street in Hell's Kitchen, and filling it with delicacies from Poland, Italy, Spain, Greece, Japan, Thailand, and beyond, the festival provides a great way to nibble your way around the world. There are games and other activities for kids, and live international music and dancing at 55th Street. No entrance fee; the festival runs rain or shine, noon to 5pm.
(5/20-5/21) At the NYC Vegetarian Food Festival, you'll learn about sustainability, healthy living, and going green. Attendees can sit in on lectures and get cooking tips from big name chefs during the two-day event. nycvegfoodfest.com
(5/27-9/5) NY Water Taxi's The Shark returns! This heart-pounding, white-knuckle 30-minute speedboat adventure captures the excitement and energy of the city as it roars around the harbor in a shower of waves! Take $5 off your next ride with this coupon.
Things to Do in New York in May: Ongoing
(ongoing) Baseball season is here! Take a Yankee Stadium Tour!
PLUS
Part tour, part show, total entertainment! Take THE RIDE! Plus, Check out the new RIDE DOWNTOWN Experience!
Bring a loved one to take in the breathtaking view at Top of the Rock.
Visit the sites of Friends, Seinfeld, Trainwreck, Gossip Girl, Sex and the City and many other NYC film sites with On Location Tours.

Learn more about the fascinating history of New York City's Financial District with Wall Street Walks tours.
Grab a photo with Taylor Swift, One Direction, Lady GaGa and six different James Bonds at Madame Tussauds New York.
Ripley's Believe It or Not! Odditorium brings people of all ages face-to-face with the world's most unbelievable curiosities. With 18,000 square feet of astonishing artifacts and exciting interactive exhibits. Here's a coupon!
Zip up 100 stories in 60 seconds and see New York City atop One World Observatory.
Explore New York City from the best vantage points with Helicopter Flight Services Tours. Choose from four different itineraries.
New York Weather in May
As we said at the top, the April showers have passed, and we're reaping the benefits as blossoms are everywhere in New York in May. Things are warming up quite nicely, with the average daily high starting off at 66°F (19°C) on May 1 and working its way up to 75°F (24°C) by May 31. Lows at the beginning of May get down to an average of 50°F (10°C), but by the end of the month nights are only getting down to about 60°F (15.5°C). Despite the passing of the April showers, you can still expect to encounter some rain on a visit to New York—in fact, May is a slightly wetter month than April. Look for an average of about 4 inches of rain, and about half the days of the month experience some precipitation. The odds of snow and extreme weather are very low in New York in May, so you won't need more than a light jacket and maybe an umbrella.
---
Like what you see here? Share it with your friends on Facebook!
Looking for Free Group Planning Services?
Get free advice on planning your group's trip to New York.
RESTAURANTS

Conveniently located in the Port Authority Bus Terminal, the...

THEATER

In this new musical, Jenna, supported by her quirky crew of ...

SHOPPING

A premier destination for family entertainment....

SIGHTSEEING

Enjoy a narrated harbor tour including views of the Statue o...