Things to Do in NYC in August
June 21, 2017 - by City Guide News Desk
August is a great month to visit New York City. Sure, it's a hot season, but there are great restaurants and museums for cooling off (the subways are air conditioned, too). And with plenty of folks on vacation, you can access great New York festivals and attractions without the major crowds of other times of year. August 2017 you can dine at NYC's best restaurants for a discount with NYC Restaurant Week, take to the outdoors with Lincoln Center Out of Doors, catch the Afropunk Festival in Brooklyn, a Blues BBQ Festival, the 27th Annual Hong Kong Dragon Boat Festival, and much more!
Things to Do in New York in August: Exhibits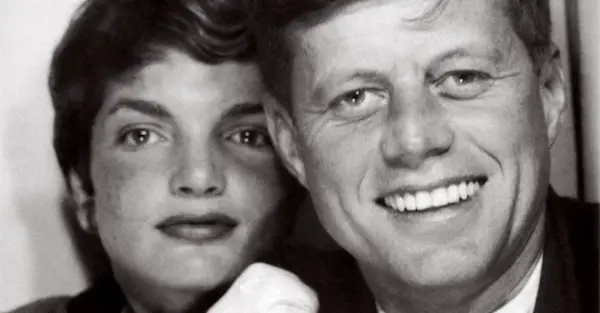 (Now 1/7/18) American Visionary: John F. Kennedy's Life and Times at New-York Historical Society. This exhibition, one of the most exhaustively researched collections of Kennedy photos ever assembled, brings together images from the John F. Kennedy Presidential Library, the John F. Kennedy Library Foundation, Getty Images, private collections, and the Kennedy family archives which capture public and private moments from the iconic president's life. Some of the photographs on display are classics; others have never before been published.
PLUS
(Permanent) The New-York Historical Society's Fourth Floor Renovation, now complete, includes a brand new Tiffany Lamps Gallery, in addition to the opening of its Women's History Center.
(Now-9/3) Also now at N-YHS, WWI Beyond the Trenches at New-York Historical Society. World War I Beyond the Trenches features powerful works by artists like John Singer Sargent, George Bellows, and Georgia O'Keeffe, joined by artifacts from the museum's collection (propaganda posters, letters, sheet music, uniforms, and military gear) that provide insightful context.
(Permanent) New! The Jim Henson Exhibition at the Museum of the Moving Image will celebrate the life and legacy of the famed Muppet creator, exploring both his prolific career and the enduring effect his work has on pop culture to this day. Visitors can expect to learn more about the creation of such beloved works as The Muppet Show, Sesame Street, Fraggle Rock, The Dark Crystal, and Labryinth, as well as to discover the cutting-edge experimental works Henson made throughout his career.
(now-12/31) Drones: Is the Sky the Limit? at Intrepid Sea, Air & Space Museum is the first major museum exhibition on pilotless aircraft to open in the U.S. The large-scale exhibition, located in a huge, custom-designed pavilion, will reveal the history of drone technology, from its WWI origins to its current applications in solving complex humanitarian challenges. The exhibition will include a mix of small and large scale drones, including Volantis, the world's first flying dress, designed and worn by Lady Gaga. intrepidmuseum.org. Use this coupon and take $5 off!

(now-10/29) CHIHULY at the New York Botanical Garden: breathtaking works of art by world-renowned glass artist Dale Chihuly will be on view at NYBG in his first major garden exhibition in New York in more than ten years. CHIHULY, presented by Bank of America, will showcase approximately 20 installations and include drawings and early works that reveal the evolution of Chihuly's artistic process during his celebrated career. Special weekend celebrations, films, poetry, and nature-inspired art programs for kids offer colorful and imaginative tributes to nature. On CHIHULY Nights (Thurs only in August), the exhibition takes on a magical energy as the garden's vistas and Conservatory become living canvases for these works of art.
(8/12-8/13) Chillin' with CHIHULY--Spend the day exploring the beauty of CHIHULY's work, live glass fire work demonstrations, relax to live music on the Conservatory Lawn, and stay cool with treats and refreshments. 10am-6pm. nybg.org.
(now-9/6) Visionaries: Creating a Modern Guggenheim at the Solomon R. Guggenheim Museum provides a rare chance to explore in-depth some of the key artists of this essential New York institution. Framed by the interests of six leading patrons, Visionaries brings together canvases from masters like Max Ernst, René Magritte, and Yves Tanguy, and sculptures by Joseph Cornell and Alberto Giacometti. In addition, Jackson Pollock's Alchemy (1947) is being shown in the U.S. for the first time in nearly 50 years. More than a dozen works on paper by Picasso and Van Gogh, rarely on view to the public, can be seen in the Thannhauser Gallery, and paintings by Pierre-Auguste Renoir, Paul Gauguin, and Édouard Manet are displayed on the museum's legendary ramps.
(now-8/13) Making Space: Women Artists & Postwar Abstractions at the Museum of Modern Art (MoMA). Making Space shines a spotlight on the stunning but still relatively under-recognized achievements of women artists between the end of World War II (1945) and the start of the Feminist movement (around 1968). In the postwar era, societal shifts made it possible for larger numbers of women to work professionally as artists, yet their work was often dismissed in the male dominated art world, and few support networks existed for them. Abstraction dominated artistic practice during these years, as many artists working in the aftermath of World War II sought an international language that might transcend national and regional narratives—and for women artists, additionally, those relating to gender.
(Permanent) The Museum of the City of New York presents NY at Its Core. Ten years in the making, New York at Its Core presents the compelling story of New York's rise from a striving Dutch village to today's "Capital of the World." The exhibition captures the human energy that drove New York to become a city like no other and a subject of fascination the world over. Entertaining, inspiring, important, and at times bemusing, New York City "big personalities," including Alexander Hamilton, Walt Whitman, Boss Tweed, Emma Goldman, JP Morgan, Fiorello La Guardia, Jane Jacobs, Jay-Z, and dozens more, parade through the exhibition.
Things to Do in New York in August: Comedy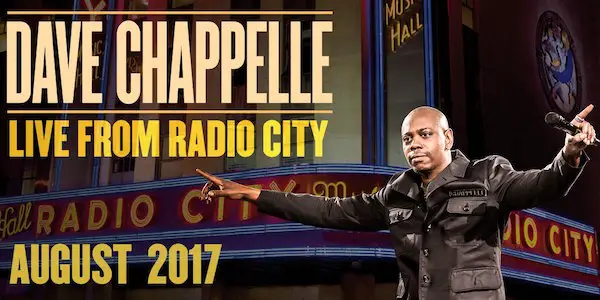 (8/1-8/6, 8/9, 8/15, 8/18-8/19, 8/24) Dave Chappelle & Special Guests at Radio City Music Hall, including The Roots, Chris Rock, Erykah Badu, Trevor Noah, Childish Gambino, Ali Wong and others), chappelleradiocity.com.
(8/17-8/20) 30 Rock's Tracy Morgan at Carolines on Broadway.
(8/3-8/5) HBO's Crashing with Artie Lange at Carolines on Broadway.
(8/9) HBO's Crashing with Pete Holmes & Friends at Bell House.
(8/10-8/13) Aries Spears at Gotham Comedy Club.
(8/3-8/5) Ben Gleib at Gotham Comedy Club.
Things to Do in New York in August: Kids

(8/26) The Arthur Ashe Kids Day, part of the 2017 U.S. Open in Queens, offers a fun-filled Saturday of tennis clinics, performances, facepainting, and more! arthurashekidsday.com
PLUS
(now-10/9) Eloise at the Museum reveals the creative collaboration between cabaret star Kay Thompson (1909-1998) and the young illustrator Hilary Knight (b. 1926) that brought the precocious character to life. The exhibition showcases more than 75 objects, ranging from original manuscript pages to sketchbooks, portraits, photographs, and vintage dolls.
(7/1-8/27) Angry Birds Fans of the popular Angry Birds games can join Red, Bomb, Stella and the rest of the flock, at the New York Hall of Science . The colorful birds land at the museum on July 1 for the U.S. premiere of Angry Birds Universe: The Art and Science of a Global Phenomenon. The summer exhibition uses hands-on activities to explore mass, energy, simple machines, architecture and other science topics. Twenty hands-on exhibits place museum visitors inside the world of the Angry Birds games.
(8/14) Movies Under the Stars: Zootopia at George Seuffert Bandshell in Forest Park (Queens).
(8/26-8/27) Kids Food Festival. Learn about the importance of achieving balance in food choices, through fun activities and sampling family-friendly foods. Get your forks ready for a weekend full of flavorful fun! Appetites of all ages will be satisfied! 10am-4pm. kidsfoodfestival.com
(ongoing) Aspiring scientists and astronauts will want to explore the New York Hall of Science in Queens, brimming with interactive exhibits (plus an outdoor playground).
Things to Do in New York in August: Nightlife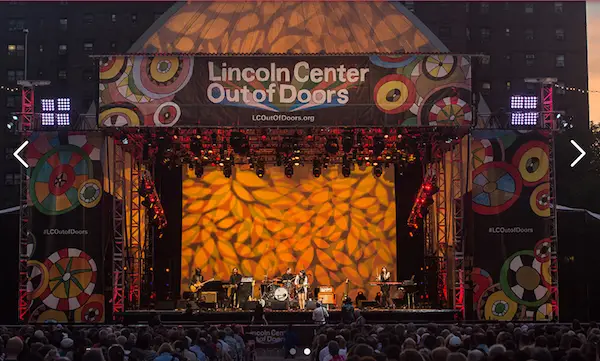 (7/26-8/13) Lincoln Center Out of Doors returns, kicked off with NPR Music's Turning the Tables Live, Paul Taylor Dance Co, a double dutch tournament, An Evening with Rumer, Nick Lowe, a silent screening of The Big Lebowski and much more! lincolncenter.org
PLUS
Photo: Agaton Strom
(Through 8/24) Enjoy Cocktail Thursdays at the Cooper Hewitt Museum.
(7/24-8/18) NYC Restaurant Week.
(now-8/13) The popular free Shakespeare in the Park program returns to Central Park, with A Midsummer Night's Dream.
(7/25-8/20) Mostly Mozart Festival at Lincoln Center.
(8/1) Blondie & Garbage: Rage & Rapture Tour at The Beacon Theatre.
(8/2) The Warriors-free screening! at Brooklyn Bazaar.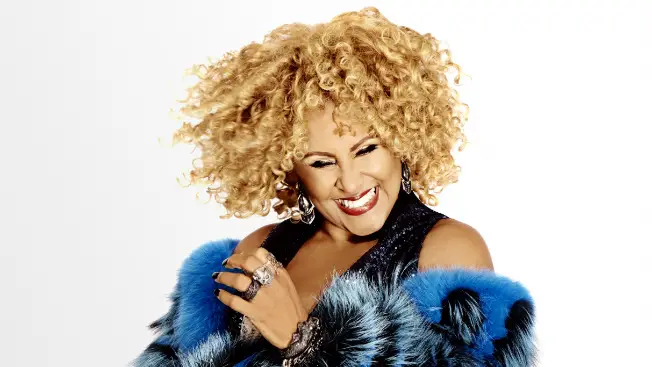 (8/3) Darlene Love at BB King Blues Club and Grill.
(8/3) Erykah Badu at Coney Island Ford Amphitheater.
(8/6) Outdoor Movie Night: A League of Their Own at Randall's Island.
(8/9) Summer on the Hudson: Pier I Picture Show with The Big Lebowski.
(8/18) Sheila E. at BB King Blues Club & Grill.
Things to Do in New York in August: Sightseeing
(8/19) The Blues BBQ Festival at Pier 97 will feature tasty goodness from Arrogant Swine, Dinosaur Bar-B-Cue, and Fort Gansevoort BBQ. There's also live entertainment, with The Campbell Brothers, Sugar Ray and the Bluetones, Dumpstaphunk, Terri Odabi, and more!
PLUS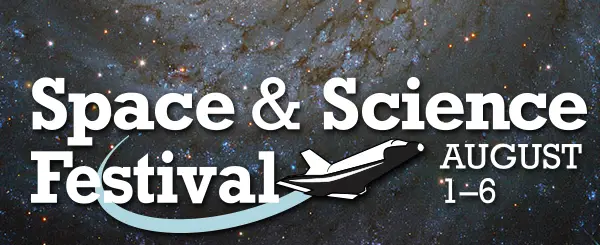 (8/1-8/6) Intrepid Museum's Space & Science Festival -Get set for a week of talks, films, special guests from NASA and cutting-edge displays. Hear from innovators forging new paths on this planet and off it, meet astronauts, and get a look at NASA technology, including a Mars rover concept vehicle. Highlights will include a screening of The Martian with Matt Damon, NASA panel on James Webb Telescope, a screening and panel of Hidden Figures and more. intrepidmuseum.org.
(8/3, 8/10) Broadway in Bryant Park. 12:30pm. Free Broadway performances from Miss Saigon, The Great Comet of 1812, Broadway Dreams/ Come From Away, Charlie and the Chocolate Factory, Bandstand, and Curvy Window.
(8/5, 8/12, 8/19) Citi Summer Streets returns to make a splash with traffic-free stretches of roadway opened up across the city. Centre Street in Lower Manhattan will be transformed into a makeshift beach and waterpark, including a giant 300-foot waterslide. New this year, a water park shaped like a dishwasher. Get an early start: Citi Summer Streets runs from 7am-1pm.
(8/12-8/13) 27th Annual Hong Kong Dragon Boat Festival at Flushing Meadows Corona Park in Queens. hkdbf-ny.org
(8/20) India Parade NYC 2017 fianjt.org.
(8/26-8/27) Afropunk Festival 2017: This year's music festival takes place at Commodore Barry Park in Fort Greene, Brooklyn afropunkfest.com.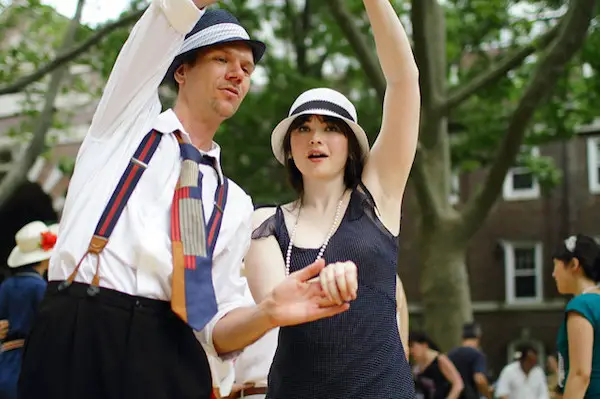 (8/26-8/27) The Jazz Age Lawn Party on Governors Island. Just a short ferry ride from Brooklyn or Lower Manhattan will bring you to festivities the whole family can enjoy. The weekend celebrates the 1920s with dancing lessons and a Charleston dance contest, a motorcar exhibition, a pie contest, and more! jazzagelawnparty.com
(8/28-9/10) We can think of one good reason to look forward to the end of the summer, especially if you're a big-time tennis fan: the 2017 U.S. Open Tennis Championships, held right here in New York City. This will be the tournament's 137th year, with Flushing Meadows, Queens hosting all the excitement. One of the most prestigious events in tennis, the U.S. Open is the final event in the Grand Slam, following the Australian Open, French Open, and Wimbledon. The matches are easily reached by subway; some 700,000 fans attend the U.S. Open every year. Tickets for the biggest matches can be scarce, but with tennis of this caliber, even a warm-up rally on a side court can be thrilling. For grounds passes and tickets to the courts, Prominent Tickets can help. Just getting onto the grounds is exciting, and you'll find a full range of food to keep your energy from flagging. usopen.org
Ongoing

Bring a loved one to take in the breathtaking view at Top of the Rock.
Visit the sites of Friends, Seinfeld, Trainwreck, Gossip Girl, Sex and the City, and many other NYC film sites with On Location Tours.

Learn more about the fascinating history of New York City's Financial District with Wall Street Walks tours.
Grab a photo with Taylor Swift, One Direction, Lady GaGa, Johnny Depp, and countless other celebs at Madame Tussauds New York.
Ripley's Believe It or Not! Odditorium brings people of all ages face-to-face with the world's most unbelievable curiosities. With 18,000 square feet of astonishing artifacts and exciting interactive exhibits. Here's a coupon!
Zip up 100 stories in 60 seconds and see New York City atop One World Observatory.
Explore New York City from the best vantage points with Helicopter Flight Services Tours. Choose from four different itineraries.
New York Weather in August

The dog days of summer are upon New York City come August. It's full summer, which of course means hot—although not as hot as July. Highs average 82°F (28°C) on August 1st and cool down to 80°F (27°C) by August 31. Average lows overnight go from 69°F (21°C) down to 65°F (18°C) by month's end. Rain is also down from July, with just an average of 3 inches, although you'll often find plenty of humidity. Do like New Yorkers do and dress light for August in the city. You'll see flip-flops and minimal outfits everywhere. Subway trains are air conditioned, but platforms aren't, so avoiding too many layers is a good strategy. Days are long and outside of a few thunderstorms you shouldn't expect extreme weather, making this a very appealing month to visit the city.
---
Like what you see here? Share it with your friends on Facebook!
Looking for Free Group Planning Services?
Get free advice on planning your group's trip to New York.
RESTAURANTS

Multi-concept restaurant offering modern Japanese cuisine, a...

THEATER

The Tony-winning creators of "Ragtime" transport us from the...

SHOPPING

Shop or sell at this weekend bargain hunters' paradise....

SIGHTSEEING

Voted one of New York's most unique attractions, Madame Tuss...