See Luke Skywalker's Authentic Lightsaber at Ripley's!
September 28, 2018 - by Merrill Lee Girardeau
Ripley's Believe It or Not! Times Square is a sightseeing experience unlike any other, and through the month of October there's a special rarity making it even more attractive: Luke Skywalker's actual lightsaber from Star Wars! Mark Hamill, who played Skywalker, wielded this prop in The Empire Strikes Back.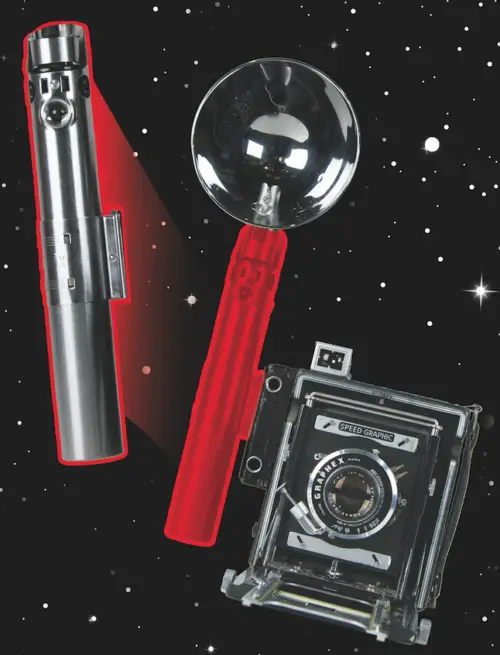 This piece of iconic prop design was crafted from vintage camera equipment: a 1930s Graflex flash gun. Last year, Star Wars set dresser Roger Christian told starwars.com that after many rounds of failed lightsabers, he was under pressure to create a successful model before shooting began on the first film. Christian was rummaging through a box of old camera equipment in a central London shop when he found "the holy grail," a flash gun that looked like what he and George Lucas had envisioned for the lightsaber.
Christian fiddled with the piece until it looked just the way he'd imagined. "And I called George over," says Christian on the flash-gun-turned-lightsaber, "and he just held it and smiled."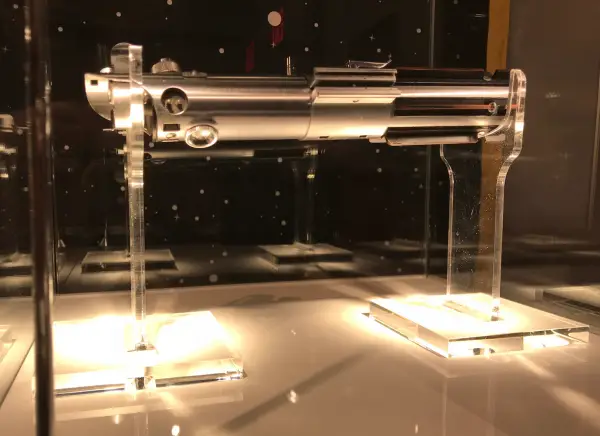 This piece was acquired from the estate of the late Gary Kurtz, producer of Star Wars and The Empire Strikes Back. Kurtz, who passed away from cancer in late September, partnered with George Lucas on American Graffiti in addition to the first two films of the Star Wars franchise. A student of world religions, Kurtz was apparently instrumental in crafting the meaning of "the force" in the Star Wars universe. He auctioned off many items from his estate last year and provided a letter of authenticity for the lightsaber.
Mark Hamill as Luke Skywalker in Star Wars: The Empire Strikes Back.
In a film franchise full of unforgettable design, the lightsaber represents the Star Wars universe perhaps more than any other. In the first film, Obi Wan-Kenobi gives Luke a lightsaber, saying, "This is the weapon of a Jedi Knight. Not as clumsy or random as a blaster. An elegant weapon, for a more civilized age."
Little does Luke know the saber's original owner (no spoilers!). This saber also plays a key role in Star Wars: The Force Awakens.
See this once-in-a-lifetime sight before the exhibition closes on November 1. Also on display will be "Staple Art: Darth Vader." That's right: an artist sculpted the famous head from staples! It's among a display of one-of-a-kind Star Wars art, which can only be seen at Ripley's.
Located in the middle of everything on 42nd Street, Ripley's takes you inside a black hole and through a gallery of shrunken heads, among other strange and mysterious sights. While you're there, check out Ripley's new escape-room adventure Ripley's Relic. This experience, suitable for kids 5 and up, invites you to solve a series of clues in an underground cave until you uncover the mysterious Ripley's Relic at the end.
Better yet, use offer code CITYGUIDE or mention us at the box office for reduced admission! You'll get $5 off adult tickets and $4 off kids' tickets for either Ripley's Believe it or Not! admission or a Ripley's & Ripley's Relic combo.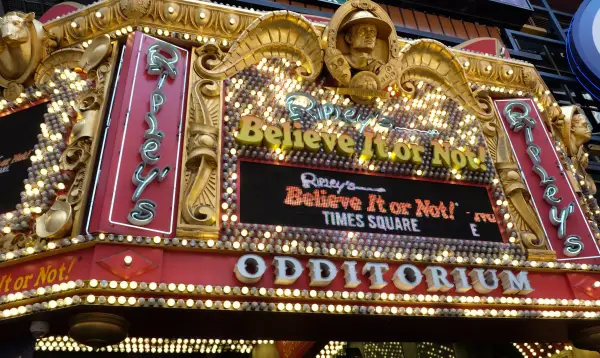 Ripley's Believe It or Not! is located at 234 W. 42nd St. Call 212-398-3133 or visit ripleysnewyork.com for tickets and more.
Looking for Free Group Planning Services?
Get free advice on planning your group's trip to New York.
RESTAURANTS

Multi-concept restaurant offering modern Japanese cuisine, a...

THEATER

In a heartbeat, 38 planes with 6,579 passengers were strand...

SHOPPING

PANDORA, one of the leading names in jewelry for more than 3...

SIGHTSEEING

The 9/11 Memorial honors the nearly 3,000 people killed in t...