Restaurants with Play Areas for Kids in NYC
August 15, 2018 - by Merrill Lee Girardeau
If you're in the city with energetic children, you might be looking for a place where they can play and you can enjoy a glass of wine and a plate of pasta. Dear parents, we're here to help! Below are six restaurants in New York with child-friendly play areas and activities like coloring to keep them occupied at the table. These restaurants provide kids menus too, such as mac 'n' cheese, mini barbecue sandwiches, and chicken tenders. Everyone wins!
Restaurants with Play Areas for Kids in NYC: Gigino at Wagner Park
In the list of kid-friendly restaurants around the Financial District, Gigino might belong at the top. This open-air tent sits near the shore of the Hudson River and overlooks Lady Liberty nearby. The play area is the green-green lawn adjacent to the dining area, where kids are always around, enjoying the open space. Gigino has an extensive menu of Italian classics like penne alla vodka and scrumptious osso buco-style chicken. When they're tuckered out, the kids can try pollo alla milanese and ravioli al pomodoro. 20 Battery Pl., 212-528-2228, gigino-wagnerpark.com
Restaurants with Play Areas for Kids in NYC: American Girl Cafe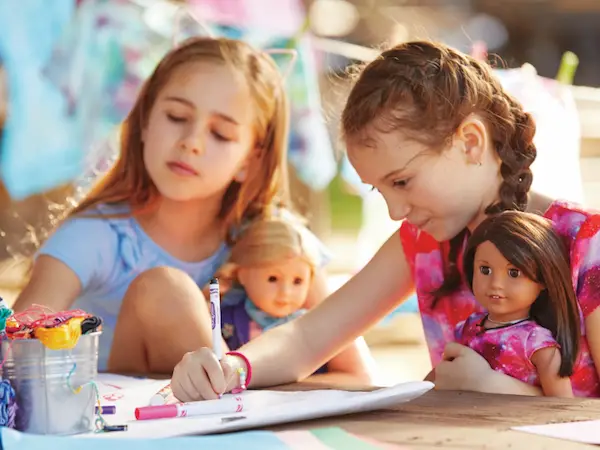 This is the place your daughter will never want to leave: the American Girl Place! Inside is a classy white-and-pink cafe where you and your child can have a meal with her American Girl doll. Have brunch like pink lemonade and pancakes, or tea with doll-sized sandwiches in the afternoon. The cafe also serves lunch and dinner with kid-friendly options like bowtie-pasta and pizza. For adults, you can enjoy a cauliflower salad or grilled chicken sandwich with a glass of wine. The cafe and store are conveniently located at Rockefeller Center. 75 Rockefeller Plaza, 877-247-5223, americangirl.com
Restaurants with Play Areas for Kids in NYC: Dave & Buster's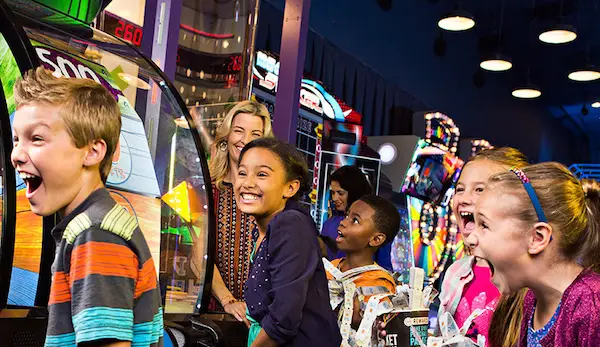 If you have energetic kids who need to blow off steam, take them to Dave & Buster's for arcade games galore. Air hockey, Mario Kart, Dance Dance Revolution, Skee Ball… The list goes on and on. Luckily, you and your family can also fuel up with crowd-pleasers like mini pretzel dogs, chicken fingers, and mac 'n cheese. 234 W. 42nd St., 646-495-2015, daveandbusters.com
Restaurants with Play Areas for Kids in NYC: Brother Jimmy's BBQ
Brother Jimmy's two locations make ideal spots for tots! Their kids menu is full of approachable eats like hot dogs, chicken fingers, and mini pulled pork barbecue sandwiches. The menu also doubles as a coloring page where your children can scribble to their hearts' content with crayons provided at the restaurants. Adults can have barbecue, Nashville hot chicken, and mac 'n cheese with a beer at this Southern restaurant, which locations near Madison Garden and in Murray Hill. MSG: 416 8th Ave., 212-967-7603; Murray Hill: 181 Lexington Ave., 212-779-7427; brotherjimmys.com
Restaurants with Play Areas for Kids in NYC: by CHLOE
The smash-hit by CHLOE specializes in vegan spins on fast food: burgers, sandwiches, fries, and smoothies (just shakes by another name, right?). These picks are perfect for kids: great-tasting and familiar, but with a few more veggies snuck in. Each of the five locations also provides coloring pages and crayons to occupy your child before or after the meal. We recommend the Guac Burger with black bean-quinoa-sweet-potato patty (gluten-free buns available!). Visiting the Greenwich Village location? Pop next store to its dessert shop for vegan treats your child will love. Think chocolate chip cookies, cupcakes, and vegan Kale Cookies and Cream ice cream. 5 locations, hello@eatbychloe.com, eatbychloe.com
Restaurants with Play Areas for Kids in NYC: Good Day Play
Good Day Play makes a valuable asset in kid-packed Park Slope, Brooklyn. The place is half play-place, half cafe, serving acai bowls, coffee, juice, and smoothies. The play area has a slide, plenty of toys, and a ball pit! You'll have to pay an hourly rate for your child or children, but it'll be worth it knowing they're safe and well-occupied while you enjoy your coffee nearby. 591 Fifth Ave., Brooklyn, 347-294-4334, gooddayplaycafe.com/park-slope
Looking for Free Group Planning Services?
Get free advice on planning your group's trip to New York.
RESTAURANTS

Vida Verde brings the tastes, colors, sounds, and scents of ...

THEATER

In a heartbeat, 38 planes with 6,579 passengers were strand...

SHOPPING

PANDORA, one of the leading names in jewelry for more than 3...

SIGHTSEEING

In addition to 360-degree views from Midtown Manhattan, the ...