NYC's 5 Best Seafood Restaurants
March 27, 2017 - by Chelsey Grasso
Given how close New York is from the sea (the East River isn't actually a river at all, connected to the Atlantic Ocean), wouldn't be wrong to assume that the seafood dining in the city is up to par. In fact, we'd go so far as to say it's way above par, especially when left in the hands of these five expert seafood restaurants. Enjoy your chowders, your caviars, your squid ink noodles, and your roasted haddocks at any of these fine New York dining establishments.
Best of NYC Seafood Restaurants: Le Bernardin (Midtown West)

Le Bernardin holds three stars from the Michelin Guide, and Chef Eric Ripert runs the kitchen with one simple rule in mind: "fish is the star of the plate." Customers can enjoy a four course prix-fixe menu for $150 or a three course prix-fixe menu for $87, satisfying their appetites with dishes such as the Caviar Tartare, Charred Octopus (served with daikon-ginger relish and yuzu kosho broth), Sea Urchin, and Pan Roasted Monkfish (served with squid ink fideos and chorizo sauce). The Equitable Bldg., 155 W. 51st St., 212-554-1515, le-bernardin.com
Best of NYC Seafood Restaurants: Upstate (East Village)
Upstate has major bragging rights, and that's because you won't find a single freezer in their entire kitchen. The fish here is ordered daily, meaning that the menu is always changing. Shared plates have been known to include house-cured salmon, crab cakes, squid salad, salmon tartar, and sea urchin. Beer steamed mussels or clams (steamed in the draught beer of your choosing) is also another popular order. 95 First Ave., 917-408-3395, upstatenyc.com
Best of NYC Seafood Restaurants: The Sea Fire Grill (Midtown East)

The Sea Fire Grill offers some of the freshest, locally sourced seafood available in New York City. Enjoy the chic interior design while devouring raw bar favorites (Chilled Lobster, West Coast Oysters, Seafood Sampler), flavor-packed appetizers (Pan Roasted Scallops, Giant Madagascar Prawns, Jumbo Lump Crab Cake), and seasonal entrees (Organic Scottish Salmon, Pan Roasted Dorade, Orecchiettte Pasta) at The Sea Fire Grill. 158 E. 48th St., 212-935-3785, theseafiregrill.com
Best of NYC Seafood Restaurants: Marea (Midtown West)
Marea focuses in on high-quality Italian seafood dining, inviting patrons to enjoy Chef Michael White's fresh interpretation of coastal inspired dishes. Begin your meal with sliced raw fish or shellfish dish, such as the Cuttlefish Tagliatelle, Jumbo Pacific Needlefish, or Wild Striped Bass. Any of the entrees are likely to melt in your mouth, from the Adriatic Seafood Soup (clams, langoustine, scallop, prawns, bass) to the Grilled Swordfish (sunchokes, roasted peppers, bagna cauda). 240 Central Park S., 212-582-5100, marea-nyc.com
Best of NYC Seafood Restaurants: Ed's Chowder House (Upper West Side)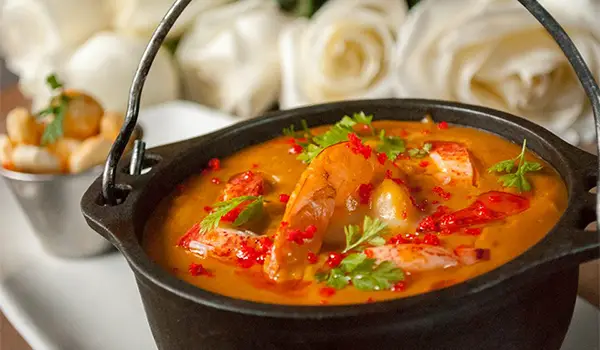 Ed's Chowder House's mission is to "bring Montauk to the heart of Manhattan," and we have to say, they do a pretty good job of it. Located in the historic Empire Hotel, Ed's Chowder House obviously excels at their namesake, including Manhattan Style Blue Crab Chowder, Shellfish Chowder, and New England Style Clam Chowder. Their main dishes are also a seafood lover's dream, with entrees such as Crab Lasagna and Chatham Cod with a potato chip crust making the cut. The Empire Hotel, 44 W. 63rd St., 212-956-1288, edschowderhouse.nyc
Looking for Free Group Planning Services?
Get free advice on planning your group's trip to New York.
RESTAURANTS

Multi-concept restaurant offering modern Japanese cuisine, a...

THEATER

In a heartbeat, 38 planes with 6,579 passengers were strand...

SHOPPING

The world's largest source of cameras, camcorders, and more ...

SIGHTSEEING

In addition to 360-degree views from Midtown Manhattan, the ...