New York Savings | Ride THE RIDE for Less with City Guide's Coupon Code
March 21, 2018 - by City Guide Discounts
A new twist on a bus tour, THE RIDE turns the streets of New York into a stage. Enjoy it at a $10 discount with City Guide's coupon code. You'll cruise in comfort in a patented $1.5 million traveling theater. Technology galore and floor-to-ceiling glass with side-facing VIP seating provide perfect views to dazzling holiday performances you'll find along a 4.2-mile journey through Manhattan. Original music, videos, and hilarious hosts complete the experience, definitely one to remember.
Save $10 on THE RIDE with coupon code RDCG.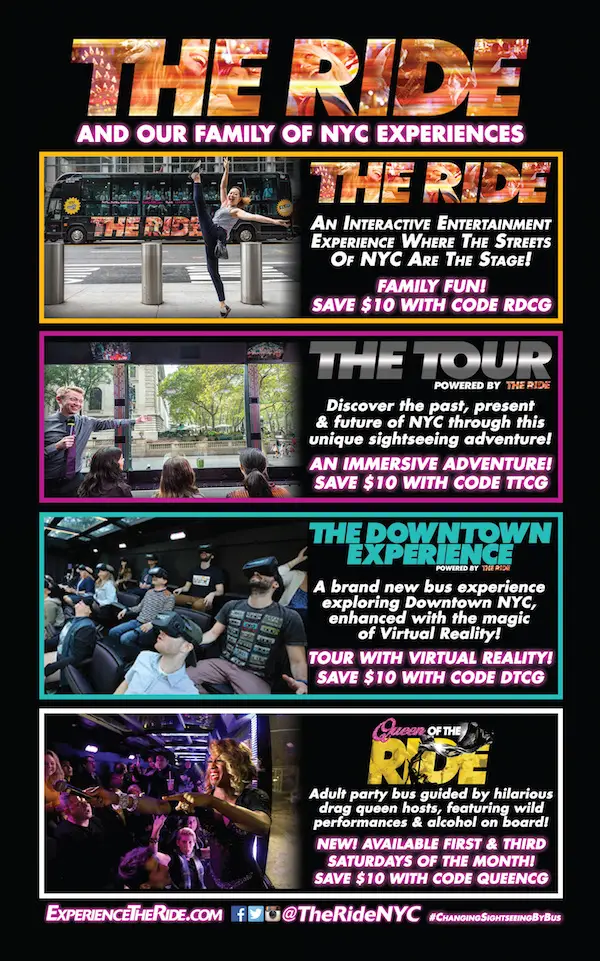 For more information, visit experiencetheride.com.
Looking for Free Group Planning Services?
Get free advice on planning your group's trip to New York.
RESTAURANTS

New York City's most famous landmark, the Empire State Build...

THEATER

In a heartbeat, 38 planes with 6,579 passengers were strand...

SHOPPING

PANDORA, one of the leading names in jewelry for more than 3...

SIGHTSEEING

Opened to the public in 1913 thanks to the ingenuity and amb...