Reel Things: NYC's 10 Best Movie Theaters
January 5, 2018 - by Merrill Lee Girardeau
One of the most filmed—and most film-obsessed—cities in the world is New York. Naturally, we have our share of movie theaters as a result. We've gathered here 10 of the best theaters around, whether you're in the mood for a new release, a critical favorite, or a nostalgic classic. Cue the MGM lion...
AMC Loews Lincoln Square 13
This place puts the mega in megaplex. AMC Loews at Lincoln Square has one of the best selections in the city, showing your favorite new releases and independent movies in several large, comfortable theaters where you can reserve your seats in advance. Its IMAX screen was the first in the U.S. when it opened in 1994. Check it out for an extra-spectacular movie experience. 1998 Broadway, amctheatres.com
The Paris
Take a page out of the Carrie Bradshaw playbook, and go on a date with the city at The Paris. Just steps away from The Plaza and Central Park, this little treasure shows the best new independent films in its deluxe, red velvet-filled theater. Bona fide city-lovers fill the seats around you, making The Paris the best pick for people-watching on this list as well. 4 W. 58th St., 212-823-8945, citycinemas.com
Museum of Modern Art Film Series
You know the Museum of Modern Art for its brilliant and sometimes baffling collection of artistic masterworks. We love the museum and its immaculate theater on the basement floor, where you can find engaging film series all year round, with no extra cost if you already have a museum ticket. Sometimes the curators showcase a certain country's cinema, focus on a theme, or explore a director's catalog. 11 W. 53rd St., moma.org
The Landmark Sunshine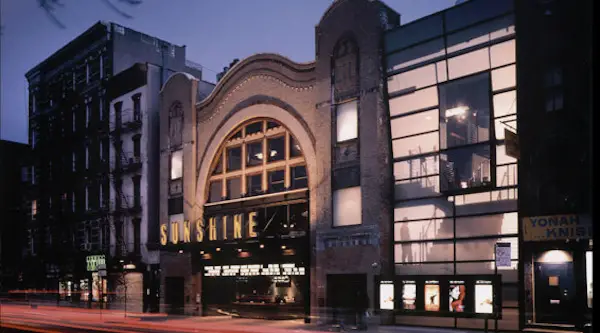 The Landmark Sunshine has a lot going for it: a hip atmosphere, an impeccable selection of independent and foreign films, and monthly midnight screenings of the so-bad-it's-good classic The Room. Go bar-hopping on the Lower East Side and cap it off at the Sunshine with a midnight movie. Hurry! Due to a lost lease, the Landmark will be closing soon. 143 E. Houston St., landmarktheatres.com
AMC 84th Street 6
This AMC has everything you need at the movies—great selection of movies, popcorn and candy, nice facilities—but with one key advantage. This Upper West Side multiplex has giant red recliners so you can enjoy your movie lying down. These things are so cushy, be careful you don't fall asleep! 2310 Broadway, amctheatres.com
Film Forum
A modest, non-profit theater on the border of West Village and Hudson Square, Film Forum shows all the retro and classic movies you could ever want, plus some foreign and indie picks for good measure. With nearly 50 years in Manhattan, this film-lover's cinema offers screenings of quality films from masters like Charlie Chaplin, Jean-Luc Godard, and many others. 209 W. Houston St., 212-727-8110, filmforum.org
Nitehawk Cinema
Nitehawk gives you dinner and a show with full menus for brunch, dinner, and drinks. Special drinks and menu items are paired with featured movies, like "You are Tearing Me Apart, Lisa!", the pizza entree to accompany James Franco's The Disaster Artist. A choice selection of nostalgic picks like Willy Wonka and the Chocolate Factory, midnight movies, and new releases, come to Williamsburg and enjoy this Brooklyn gem. 136 Metropolitan Ave., nitehawkcinema.com
Regal Battery Park
With plenty of screens, immaculate facilities, and a location convenient to ferries for the Statue of Liberty, it's a wonder more people don't visit The Regal (which is notoriously empty for a Manhattan multiplex). If you're looking for a mellow movie alone or on a date, catch a flick at the Regal, then take a walk along the Hudson River in beautiful Battery Park City. 102 North End Ave., 844-462-7342, regmovies.com
Museum of the Moving Image
In a city full of film nerds, the Museum of the Moving Image has planted its flag in Astoria, Queens. Its large, funky, space-age theater shows a wide variety of new releases, classics, and selections from independent and foreign cinema. Here you can catch a screening of 2001: A Space Odyssey in 70mm and tour an exhibit of Jim Henson's work afterward in the museum galleries. Pro tip: grab a margarita and tacos at Tacuba across the street before your movie! 36-01 35th Ave., 718-784-0077, movingimage.us
Alamo Drafthouse
This multiplex resides on the very top level of the City Point complex in Downtown Brooklyn. Beneath Alamo, you'll find a Century 21, Target, and Trader Joe's. So… we all live here now, right? Maybe not, but Alamo Drafthouse is another theater where you can eat and drink, whether you're taking in a musical, a slasher, or an Adam Sandler disaster. 445 Albee Square West, 718-513-2547, drafthouse.com
Looking for Free Group Planning Services?
Get free advice on planning your group's trip to New York.
RESTAURANTS

Beer hall casual meets craft cocktails with a healthy dose o...

THEATER

In a heartbeat, 38 planes with 6,579 passengers were strand...

SHOPPING

Specializing in the great vineyards of California, France, A...

SIGHTSEEING

Start by ascending to the top of the tallest building in the...