11 Immersive Theatre Experiences in NYC
November 2, 2018 - by Merrill Lee Girardeau
Thanks to the many theatre companies staging immersive shows in New York City, if you've ever dreamed of a seat in a Prohibition-era seance, a flight through Neverland, or a dance party with Cleopatra, you can live it here. Read on for the immersive theatre happening now in New York City, where audience participation reaches a whole new level.
Immersive Theatre Experiences in NYC: Sleep No More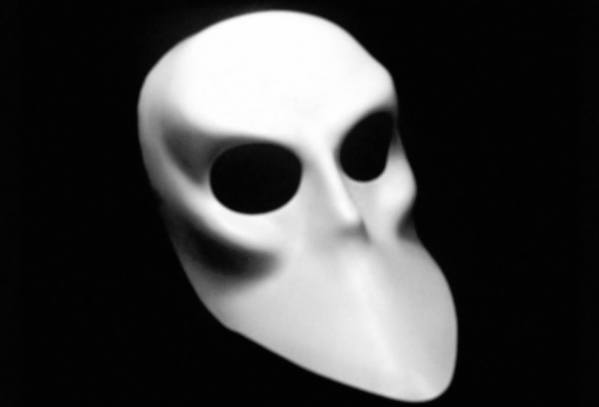 Engage with the show that started it all: Sleep No More. Staged throughout a vintage Chelsea Hotel, Sleep No More reimagines Shakespeare's Macbeth through a noir lens. The first big hit in interactive theater, Sleep No More has been running since 2011 and invites each audience member to move at his or her own pace and view selected scenes for as long as desired. Roam from room to room, and see actors perform surreal and suspenseful scenes as a masked crowd looks on (that's right, you'll be wearing a mask too). Shake off your spooks at the on-site Manderley Bar after you're finished with your experience. Sleep No More was created by Punchdrunk and EMURSIVE at The McKittrick Hotel. Ongoing. 530 W. 27th St., 212-352-3101, mckittrickhotel.com/sleep-no-more/
Immersive Theatre Experiences in NYC: Say Something Bunny!
There's nothing quite like Say Something Bunny! This critically lauded show allows you to interact with its creator, Alison S. M. Kobayashi, who leads you through her obsession with a mysterious audio recording. Along the way, this funny and fascinating documentary experience reveals the lives of a real Jewish family in New York, whose voices are captured on the recording, and the rich imagination of Kobayashi herself. Through January 27, 2019. 511 W. 20th St., saysomethingbunny.com
Immersive Theatre Experiences in NYC: Drunk Shakespeare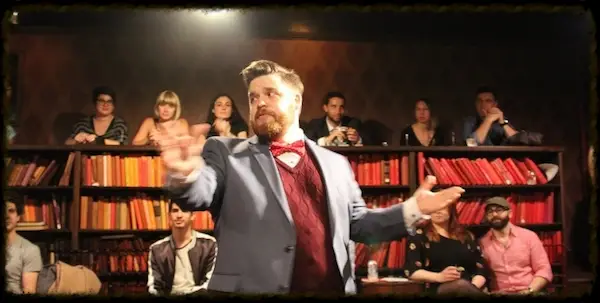 Fans of Drunk History and the Bard himself will have a jolly time at Drunk Shakespeare, staged Off-Broadway in the Theater District. One actor starts the show off with five shots of whiskey as audience members drink cocktails and look on from their seats in a large library set. The show proceeds with one very drunk actor and his or her scene partners, all of whom perform a Shakespearean play that careens from profundity to absurdity and back (i.e. not all content will be strictly "Shakespearean"). Two VIP audience members sit in thrones and command actors to drink as they see fit. The privileged King or Queen also eats caviar, drinks champagne, and wears a crown. Ages 21+. Ongoing. 777 Eighth Ave., drunkshakespeare.com
Immersive Theatre Experiences in NYC: The Hidden Ones
At a secret Midtown location, encounter two families hiding from the horrors of the Holocaust. This passionate production, produced by Miller-Coffman, incorporates moving dance numbers and intimate stories based on the accounts of Holocaust survivors. The stories of the two families in this show convey hope in the midst of loss. The audience size is limited to six people per performance—intimate, indeed! Through November 30. Secret location, 732-660-5483, artful.ly/the-hidden-ones
Immersive Theatre Experiences in NYC: Then She Fell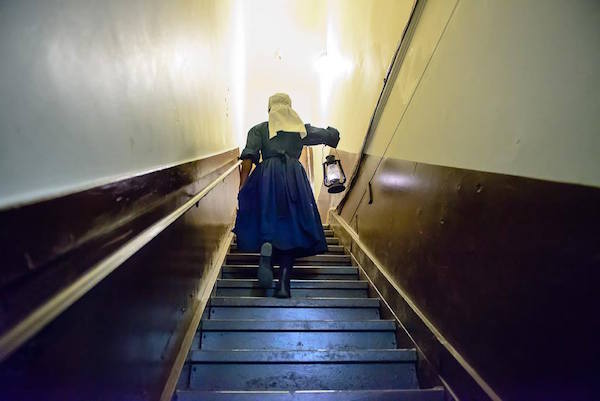 In the spirit of Sleep No More, this mind-bending show invites 15 audience members at a time to explore a Williamsburg mental ward. Lewis Carroll's Alice in Wonderland lends its imagery to this topsy-turvy world, created by Third Rail Projects. The choose-your-own-adventure format leads you through the looking glass, where you'll encounter actors one-on-one, use skeleton keys, and drink strange potions (don't worry, they're just craft cocktails). Most performances ages 21+, select performances 18+. Through January 27, 2019. 195 Maujer St., thenshefell.com
Immersive Theatre Experiences in NYC: The Girl Who Handcuffed Houdini
Follow a female private eye through Harry Houdini's final days with this exciting new production, set in the Roaring Twenties. Detective Minky Woodcock investigates history's most famous magician, unraveling his secrets and witnessing his mysterious death. Each audience member has a character profile, which comes with tasks like attending a seance, seeing Houdini's body in the morgue, and sipping absinthe. The show is staged inside a historic East Village brownstone and was created by Cynthia von Buhler. Ages 21+. Through November 10. 78-80 St. Marks Place, minkywoodcock.com
Immersive Theatre Experiences in NYC: Cleopatra
You're invited to a rager in ancient Egypt! Come celebrate the rule of Cleopatra in a Chelsea basement, where you'll wine and dine until the party screeches to a halt and the show kicks into high gear. While the show features historical figures like the Queen of the Nile, her lover Marc Antony, and the Roman emperor Octavian, this liberal take on the Cleopatra story also thumps to an original pop/EDM score spun by a live DJ. One new character is The Mistress of Ceremonies, played by a rotating cast of RuPaul's Drag Race alums. Food and drink will be available, including Sunday brunch, in the new Chelsea Music Hall located beneath Chelsea Market. Through March 10, 2019. 407 W. 15th St., cleopatraexperience.com
Immersive Theatre Experiences in NYC: Six Impossible Things
Magician Joshua Jay. Instgagram
You're part of the magic at Six Impossible Things, a show full of illusions where you're one of just 20 audience members. Magician Joshua Jay personally leads you through the space and dazzles with sleight-of-hand and mind-bending tricks. Performances are staged in Wildrence, a performance space on the Lower East Side, and feature masterful atmospherics in set design. Keep your eyes peeled, as you're only allowed to see the show once! Ages 14+. Through May 12, 2019. 59 Canal St., siximpossiblethingsshow.com
Immersive Theatre Experiences in NYC: shadowplay
Interact with Peter Pan's creator and step into Neverland at shadowplay, coming to Access Theater in Tribeca. Creator Rachel Garnet and her team have fashioned this space into the home of J.M. Barrie, the Scottish playwright who, like his beloved character, never quite grew up. You'll interact with Barrie as he describes Pan and endures personal struggles during the writing process. Other setpieces transport audience members to Kensington Gardens in London and to the otherworldly home of the Lost Boys and mermaids: Neverland. Previews begin Nov. 23, show runs Nov. 28-Dec 16. 380 Broadway, 4th Floor, theshadowplaynyc.com
Immersive Theatre Experiences in NYC: The Enigmatist
Solve an intricate puzzle inside the "cradle of cryptology" at The Enigmatist, beginning in January 2019. Renowned magician and cruciverbalist (crossword constructor) David Kwong will both perform illusions and lead audiences through a series of secret codes. The show is set at Riverbank, a historical estate where the science of cryptology was developed during World War I. Kwong has created crosswords for the New York Times and consulted on the set of Now You See Me, while other production staff have worked on Hamilton and Harry Potter and the Cursed Child. Performances will be staged at The High Line Hotel's Hoffman Hall near High Line Park. Tickets go on sale mid-November. 180 10th Ave., enigmatistshow.com
Immersive Theatre Experiences in NYC: Accomplice
What better stage than the streets of New York? Accomplice explores the wonderful theatricality of the city with walking tours that turn into full-blown showpieces, as actors perform scenes throughout the hilarious interactive production. The show is about 3 hours long and runs April through October (it is staged in the elements, after all). After its success, Accomplice has also launched a Greenwich Village-specific iteration, as well as versions fit for kids in Central Park, bachelorette parties in the Meatpacking District, and private events. Secret location, 347-559-6223, accomplicetheshow.com
Looking for Free Group Planning Services?
Get free advice on planning your group's trip to New York.
RESTAURANTS

Multi-concept restaurant offering modern Japanese cuisine, a...

THEATER

Gaston Leroux's famous period thriller is now one of Broadwa...

SHOPPING

The sweetest experience in Times Square!...

SIGHTSEEING

Opened to the public in 1913 thanks to the ingenuity and amb...