How to Win at the Upright Citizens Brigade
October 12, 2018 - by Merrill Lee Girardeau
The Upright Citizens Brigade theater is the mecca of improvised comedy in New York. UCB shows run the gamut from improv comedy to scripted sketch performances, and there are shows seven nights a week. The theater was established in the 90's by three statuesque comedians—Matt Walsh, Ian Roberts, Matt Besser—and the tiny, ferociously funny Amy Poehler. The so-called "UCB 4" have gone on to great show-business success and now rarely grace their home stage, but the performers who have succeeded them are just as creative, bold, and, most of all, hilarious.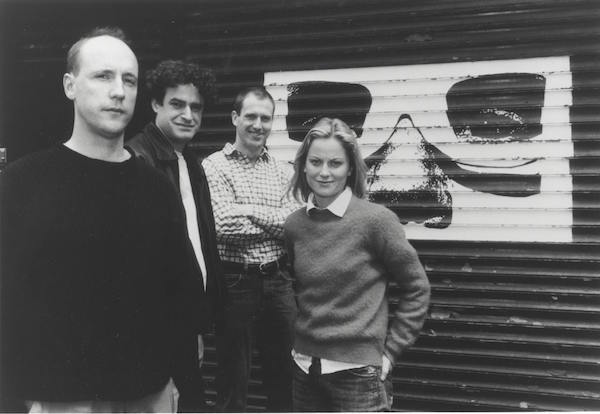 The UCB founders -Matt Walsh, Matt Besser, Ian Roberts, and Amy Poehler.
Looking at the calendar, and choosing between both New York locations, it's easy to get overwhelmed. If you want to get the most out of your trip to UCB, use these non-improvised tips for getting the most out of your improv experience!
How to Win at the Upright Citizens Brigade: Know Where to Go
As much as we hate to admit it, the original UCB (it recently moved from Chelsea to Hell's Kitchen) offers better selections than the second location in the East Village. On Sunday nights at UCB Hell's Kitchen, you can see ASSSSCAT 3000, the theater's flagship improv show, for free!! At ASSSSCAT, some of the city's best improvisers perform a spontaneous, unscripted show based on stories told by a visiting celebrity. Expect a slightly grungy underground room filled to the brim with audience members. Two of the improvisers will come out first to warm up the crowd. Note that if you're visiting the city, they might want to talk to you. Consider it an honor!
How to Win at the Upright Citizens Brigade: Know When to Go
As you might expect, the most popular UCB shows occur on weekend nights. Some favorites include the improv team The Stepfathers on Friday nights at 9, and Grandma's Ashes, Saturday nights at 10:30. At the latter show, the improvisers make up a show based on anonymous secrets submitted by you, the audience. But don't be afraid to venture in on a weeknight too! We laughed until we cried at Rumpleteaser, which improvises a musical on the fourth Wednesday of every month, and Mermaids, an improv team that performs on Harold Night every Tuesday.
How to Win at the Upright Citizens Brigade: Buy Tickets in Advance
No matter what show you're planning to see, purchase your tickets on the UCB website as soon as you and your crew have decided on a plan. Otherwise, you'll be marooned to the standby line, hoping some ticket-holders are no-shows (which is pretty likely, but nerve-wracking all the same).
How to Win at the Upright Citizens Brigade: Line Up Early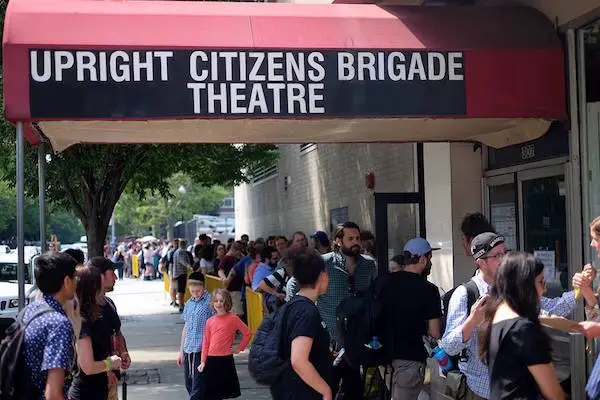 Andrew Bisdale/Facebook
At UCB, theater seats are first come, first serve. There will inevitably be NYU students at the very front of the line who've been there since 1 p.m., but you don't need to compete with them. Come 45 minutes early on weekend nights for the best seats in the house. 25-30 minutes early is plenty early for a weeknight show.
For the free ASSSCAT performance, which occurs at 9:30 p.m., we recommend lining up at 7:00. You'll receive a numbered ticket at 8:15, go to dinner, come back, and everyone will line up in their original order.
How to Win at the Upright Citizens Brigade: Bring Cash
UCB has a tiny, but very friendly, bar! Drinks are cheap, but it's cash only. Plan accordingly.
How to Win at the Upright Citizens Brigade: Bring Everybody!
With UCB's irreverent atmosphere and often zany comedy, it's easy to assume only young people should attend. But everyone likes to laugh, no matter their age. Yes, you'll probably hear some off-color jokes, but if you can watch SNL as a group, you can watch this too. Besides, laughing together at some off-the-cuff silliness will create some of your favorite memories in New York.
UCB Hell's Kitchen, 555 W. 42nd St., 212-366-9176; UCB East Village, 153 E. 3rd St., 212-366-9231, ucbtheatre.com
Looking for Free Group Planning Services?
Get free advice on planning your group's trip to New York.
RESTAURANTS

Multi-concept restaurant offering modern Japanese cuisine, a...

THEATER

In a heartbeat, 38 planes with 6,579 passengers were strand...

SHOPPING

PANDORA, one of the leading names in jewelry for more than 3...

SIGHTSEEING

The 9/11 Memorial honors the nearly 3,000 people killed in t...