Custom Valentine's Gifts in NYC
February 6, 2018 - by Regina Molaro
This year, get creative for Valentine's Day, New York! Say adieu to flowers and opt for bestowing your lover with a specially made, custom gift such as a personalized fragrance or handmade (by you!) chocolates.
Scenterprises
Manhattan is home to a few custom fragrance studios such as Scenterprises, which offers hands-on workshops—an ideal Valentine's Day date idea. Whether you do it à deux or send her—or him solo, this novelty gift truly expresses a very personal sentiment. Scenterprises offers a Custom Scent Experience For Two, which enables fragrance enthusiasts to learn about the magic, mystery, and allure of scent. Renowned perfume expert, Sue Phillips will lead guests on a scent discovery journey, which provides insight into various fragrance families. These are at the base of any perfume. After evaluating Scenterprises' topnotch perfume blends, fragrance buffs will learn how to create their own custom perfume, 220 E. 65th St., 646-350-6562, scenterprises.com
Fragrance Shop New York
Specializing in creating distinctive, individualized scents that are unlike any in the commercial market, the Fragrance Shop New York boasts an expert staff that is eager to assist fellow fragrance enthusiasts in creating their very own scent. The scents are created with you, by you, and exclusively for you. The powers behind the studio will keep your special formula on file, so it can easily be retrieved and recreated. Your personalized fragrance can even be formulated into a luxurious perfume oil, decadent lotion, spray, bath/massage oil, or even soothing bath salts. This Valentine's Day, share some passion and creativity, and ignite some sparks. 65 E. 4th St., 212-254-8950, fragranceshopnewyork.com
Voilà Chocolat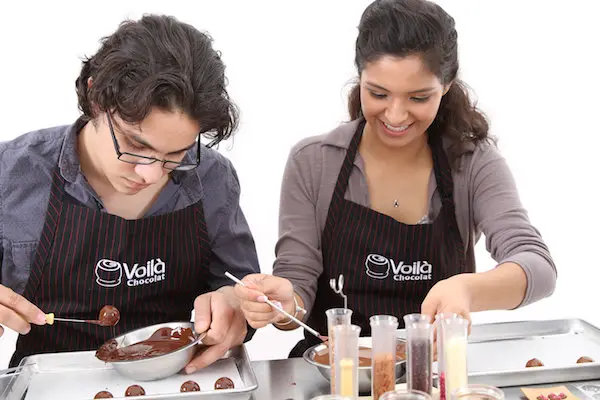 This whimsical shop in Manhattan invites lovers to create and then embellish their own gourmet chocolates. Guests can experience the fun of chocolatiering as they personally craft gourmet chocolate into one-of-a-kind confections. Several types of chocolate-making experiences are offered at Voilà. Indulge in the art of creating delectable, rich chocolate truffles, "Voilàllipops," dipped treats, bars, or bark. Join the chocolatiers at the uptown studio or opt to have them travel to you for a unique date night idea. 221 W. 79th St., 212-920-8799, voila-chocolat.com
MarieBelle New York
Handcrafted, artisan chocolate and sweets boutique MarieBelle is committed to creating tasty treasures. We suggest that you leave the highly coveted recipes and process of perfecting the perfect ganaches to them, but you can still get creative by assembling your own hand-selected assortment. With a focus on artful presentation, MarieBelle offers gift-worthy, decorative jewel boxes. There's also a Cacao Bar Salon on the premises. It serves up a great menu of savory food and sweets. 484 Broome St., 212-925-6999, mariebelle.com
Looking for Free Group Planning Services?
Get free advice on planning your group's trip to New York.
RESTAURANTS

Brings together the character of Hell's Kitchen past with th...

THEATER

In a heartbeat, 38 planes with 6,579 passengers were strand...

SHOPPING

Specializing in the great vineyards of California, France, A...

SIGHTSEEING

Spirit Cruises is New York City's most vibrant and entertain...