The Best Sushi in New York City
June 6, 2019 - by Merrill Lee Girardeau
The New York sushi circuit boasts stiff competition. Legendary sushi chefs establish their counters both small and large here, importing delectable fish, seaweed, crab, roe, and basically anything edible from under the sea. They create both deceptively simple sushi pieces and sushi so intricate you could photograph it and hang it on your wall forever. On this list, you'll find life-changing sushi that will change the way you think about rice. As for the first seven restaurants, they'll also run your bill into the triple digits. But trust us, sushi in New York is the ultimate opportunity to treat yourself. Take a bite of yellowtail and a sip from a Mount Fuji-themed cocktail, and luxuriate in New York City's world-class sushi.
Best Sushi NYC: Midtown West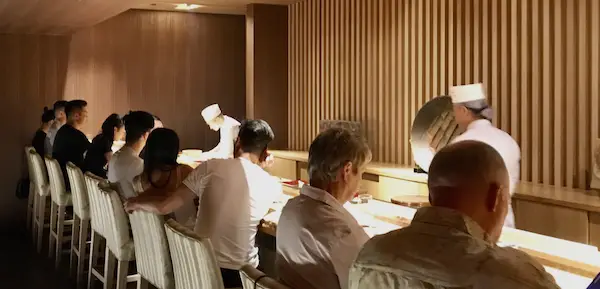 Omakase is a chef-selected meal of sushi, sashimi, and other dishes, and a typical feature of upscale sushi restaurants like Satsuki. An offshoot toward the back of the exquisite kaiseki restaurant Suzuki near 30 Rock, Satsuki is helmed by Chef Toshio Suzuki, who curates exquisite omakase inside shells, tiny ceramic boxes, and atop deep-red plates, all with perfectly balanced flavors and tender, fresh fish. Book your table now; there are only 10 seats! 114 W. 47th St., 212-278-0047, satsuki.nyc
Best Sushi NYC: Midtown West
A popular upscale sushi restaurant in midtown, Nobu 57 delivers on every front, from the attentive service to the posh atmosphere to the sushi, of course. This is some of the freshest, most innovative Japanese cuisine you'll find in the city. Go for the rock tempura shrimp, black miso cod, and the bento box for a choice assortment of Nobu's best offerings. 40 W. 57th St., 212-757-3000, noburestaurants.com
Best Sushi NYC: Upper East Side
If you're on the lookout for high-quality sushi on the Upper East Side, come to Tanoshi. It's another omakase option where your wallet will feel it, but Tanoshi is a world-class stop on your sushi tour of New York. The simple, homespun aura of the place might surprise you, but the uni on sweet shrimp and seared king salmon will make you throw up your hands in submission. 1372 York Ave., 917-265-8254, tanoshisushinyc.com
Best Sushi NYC: Chelsea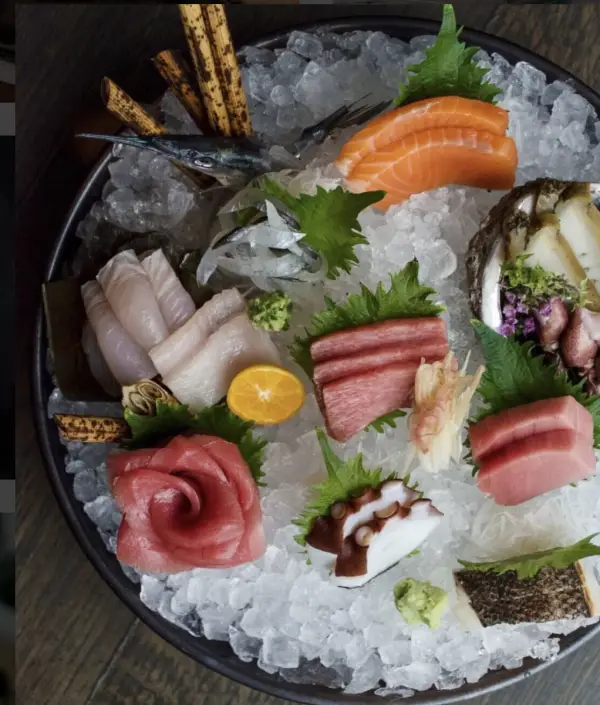 If you watch Iron Chef America, you already know the mastery of Chef Masaharu Morimoto. His namesake Chelsea establishment serves out-of-this-world fusion sushi and other Japanese-inspired cuisine in a large, sleek dining room. Try the oyster foie gras, tuna pizza, the more traditional hand rolls, or toro tartare on ice. His innovative desserts also get lots of buzz, particularly chocolate cake with popcorn ice cream. 88 10th Ave., 212-989-8883, morimotonyc.com
Best Sushi NYC: Greenwich Village
If you've seen the extraordinary documentary Jiro Dreams of Sushi (a must-see!), you'll be thrilled to know Chef Daisuke Nakazawa apprenticed at Sukiyabashi Jiro in Tokyo. Nakazawa offers gorgeous omakase, with live scallop with yuzu pepper, wagyu beef, and Hokkaido uni as hard-to-choose standouts. 23 Commerce St., 212-924-2212, sushinakazawa.com
Best Sushi NYC: Flatiron
NYC also branches out into innovative sushi, like the unique takes you'll find at newcomer ROLLN. They feature high-quality ingredients at moderate prices, with specialties like quinoa and a vegan tuna avocado roll. Yes, you read that right: vegan tuna, made from tomatoes! 38 E. 23rd St., 646-869-0826, rollnco.com
Best Sushi NYC: East Village
An intimate East Village dining room, Kura's counter is presided over by Chef Norihiro Ishizuka. His omakase, prepared in front of diners, offers transcendent marinated tuna, mackerel, Japanese uni, and eel on rice. An excellent downtown option for fine sushi lovers! Call for reservations: 130 St. Marks Pl., 212-228-1010
Best Sushi NYC: Midtown West
A bit more affordable and versatile than the other omakase places on the list, Sushi of Gari offers fine sushi and teriyaki in the Times Square area. Order the omakase (you'll have to pay per piece, though, which can rack up the price) and look forward to the excellent eel, fatty tuna, and Tuna of Gari. 347 W. 46th St., 212-957-0046, sushiofgari.com
Best Sushi NYC: Upper East Side
With locations in more bustling neighborhoods like Hell's Kitchen and Chelsea, we recommend the Upper East Side Sushi Seki because it's the original (and less crowded). Find affordable sushi dinners like the Seki Special and quality omakase at this Manhattan institution. 1143 First Ave., 212-371-0238, sushiseki.com
Best Sushi NYC: Union Square
The sister restaurant of the celebrated Sushi Nozawa, SUGARFISH lies just north of Union Square, offering more reasonably priced warm hand rolls. Try the blue crab roll or yellowtail sashimi, or the "Trust Me" meal with best-of-the-best selections, prix fixe. 33 E. 20th St., 347-705-8100, sugarfishsushi.com
Best Sushi NYC: Upper West Side

Come to Sushi Yasaka for flavorful, affordable rolls on the Upper West Side. The Sushi Deluxe and Sashimi Deluxe are popular options where you can get full on a variety of pieces from the sushi bar. Other favorites are the sweet potato tempura maki and spicy salmon roll. 251 W. 72nd St., 212-496-8460, sushiyasaka.com
Looking for Free Group Planning Services?
Get free advice on planning your group's trip to New York.
RESTAURANTS

Beer hall casual meets craft cocktails with a healthy dose o...

THEATER

Gaston Leroux's famous period thriller is now one of Broadwa...

SHOPPING

An array of quality branded merchandise showcasing HBO's® aw...

SIGHTSEEING

Opened to the public in 1913 thanks to the ingenuity and amb...