Do the Twist: Where to Celebrate National Pretzel Day in NYC
April 19, 2017 - by Chelsey Grasso
April 26th marks National Pretzel Day, so if you find yourself in New York City on that final Friday (or Friyay!) of April, make sure you stop by these great spots to celebrate. Grab a free pretzel at Heartland Brewery, a flavored pretzel at Sigmund's, or a giant pretzel at Reichenbach Hall—no matter which you pick your pretzel from this list, you can't go wrong.
Best of NYC Pretzels: Heartland Brewery (Midtown West)

They're enormous, they're salted, and they go perfectly with beer… so of course you should be stopping by Heartland Brewery to scarf down some pretzels from time to time. As for that beer? You'll have at least 15 to choose between, including lagers, pale ales, stouts, and porters. On pretzel day only, receive a free pretzel with the purchase of a beer! (Additional locations in Hell's Kitchen and the Empire State Building). 127 W 43rd St., 646-366-0235, heartlandbrewery.com
Best of NYC Pretzels: Sigmund's Pretzels (Midtown East)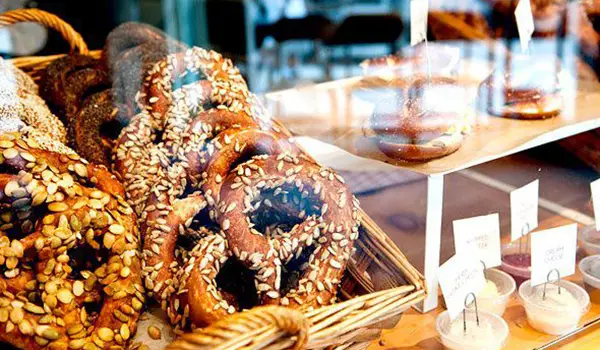 Didn't know that pretzels come in different flavors? Head to Sigmund's to have your mind blown. Or opt for their free NYC delivery option! While there are always the classic plain or salted options to choose from, you'll also find Truffle Cheddar, Garlic Parsley, Guyere Paprika, Feta Olive, and Churro styles at Sigmund's. The pretzels here are never over-buttered and there are even dipping sauces for those interested in taking things to the next level (the fondue cheese pilsner dip is a must!). Vanderbilt Urbanspace, 230 Park Ave., sigmundnyc.com
Best of NYC Pretzels: City Bakery (Flatiron)

OK, so City Bakery isn't technically serving a pretzel, at least not in the traditional sense, but it is serving a Pretzel Croissant that is totally worth writing home about. In fact, the Pretzel Croissant at City Bakery may even be more famous than its hot chocolate and homemade marshmallows — yes, it's that good. This unique rendition of the pretzel comes with all the salty goodness, but in the soft and fluffy form of a croissant. Trust us, if you have one, you will be back for more. 3 W. 18th St., 212-366-1414, thecitybakery.com
Best of NYC Pretzels: Reichenbach Hall (Midtown West)

A pretzel will cost you $8.99 at Reichenbach Hall, but considering that you can practically fit your entire head through each of it's holes, that's actually quite the deal. This enormous pretzel goes by the name of Giant Bavarian Pretzel and is served with German mustard. Just because you can't make it to Germany doesn't mean that you can't participate in eating Oktoberfest-style pretzels in the world's capital. Also, all sandwiches are served on pretzel bread for the ultimate, pretzel-filled experience! 5 W. 37th St., 212-302-7744, reichenbachhall.com
Looking for Free Group Planning Services?
Get free advice on planning your group's trip to New York.
RESTAURANTS

Brings together the character of Hell's Kitchen past with th...

THEATER

In a heartbeat, 38 planes with 6,579 passengers were strand...

SHOPPING

DataVision is redefining retail with their new, fully intera...

SIGHTSEEING

Opened to the public in 1913 thanks to the ingenuity and amb...